Weekly Watch Photo – Blancpain X-Fathoms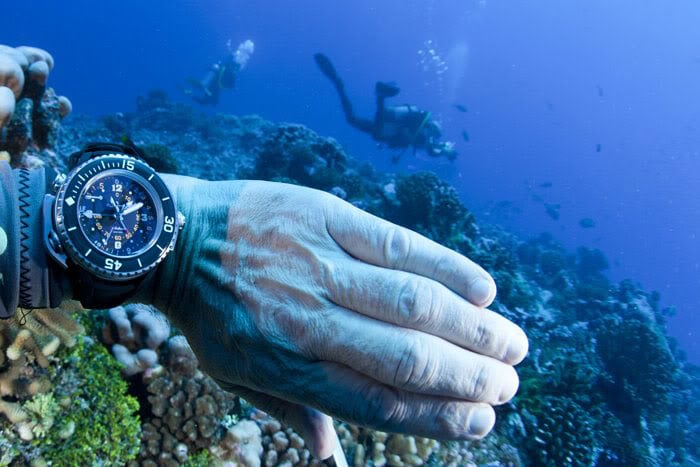 For more then 18 months we've been sharing the coolest, most stunning and impressive photos of watches with you every week. But today we show you something extremely special. Something we've never shown you before and we're pretty sure this is a first. 
Today's photos are under water photos of Blancpain's super dive watch, the X-Fathoms that we told you about last year. Nice underwater photos, but that isn't so spectacular. Unless you realize these photos are made by Marc A. Hayek… yes, Blancpain's CEO himself!
Apparently Marc Hayek is a passionate diver and underwater-photographer, resulting in these beautiful photos. More over he also compiled the specifications for the new X-Fathoms. The depth gauge indicates the depth with two central hands; one indicates depths from 0 to 15 meters and a second hand indicating to depths of 90 meters.
This is actually very easy to read when diving, because the first 15 meters can be read with much more precision. And these meters, at least in my experience, are the most critical part of every dive.
This is the second time mr. Hayek takes the X-Fathoms diving; the first time was during the spectacular launch event in the  11-meter deep Dubai Mall Aquarium. An interesting fact is that the first Fifty Fathoms in 1953 was co-developed by Jean-Jacques Fiechter, managing director of Blancpain at the time and one of the earliest sports divers in Switzerland.
The photo below shows a group of barracuda's, swimming over mr. Hayek and his camera. We love seeing a watch on the wrist. Especially when the brand's CEO shares his photos of a cool and rugged dive watch in his natural habitat.
Check out more under water photos made my Marc A. Hayek here. Stay tuned for more news about Blancpain and Marc Hayek.
This article was written by Frank Geelen, executive editor for Monochrome Watches.
https://monochrome-watches.com/weekly-watch-photo-blancpain-x-fathoms/