Value Proposition Review – The Fromanteel Pendulum – Dutch Entrepreneurship and Swiss Precision (live pics, specs & price)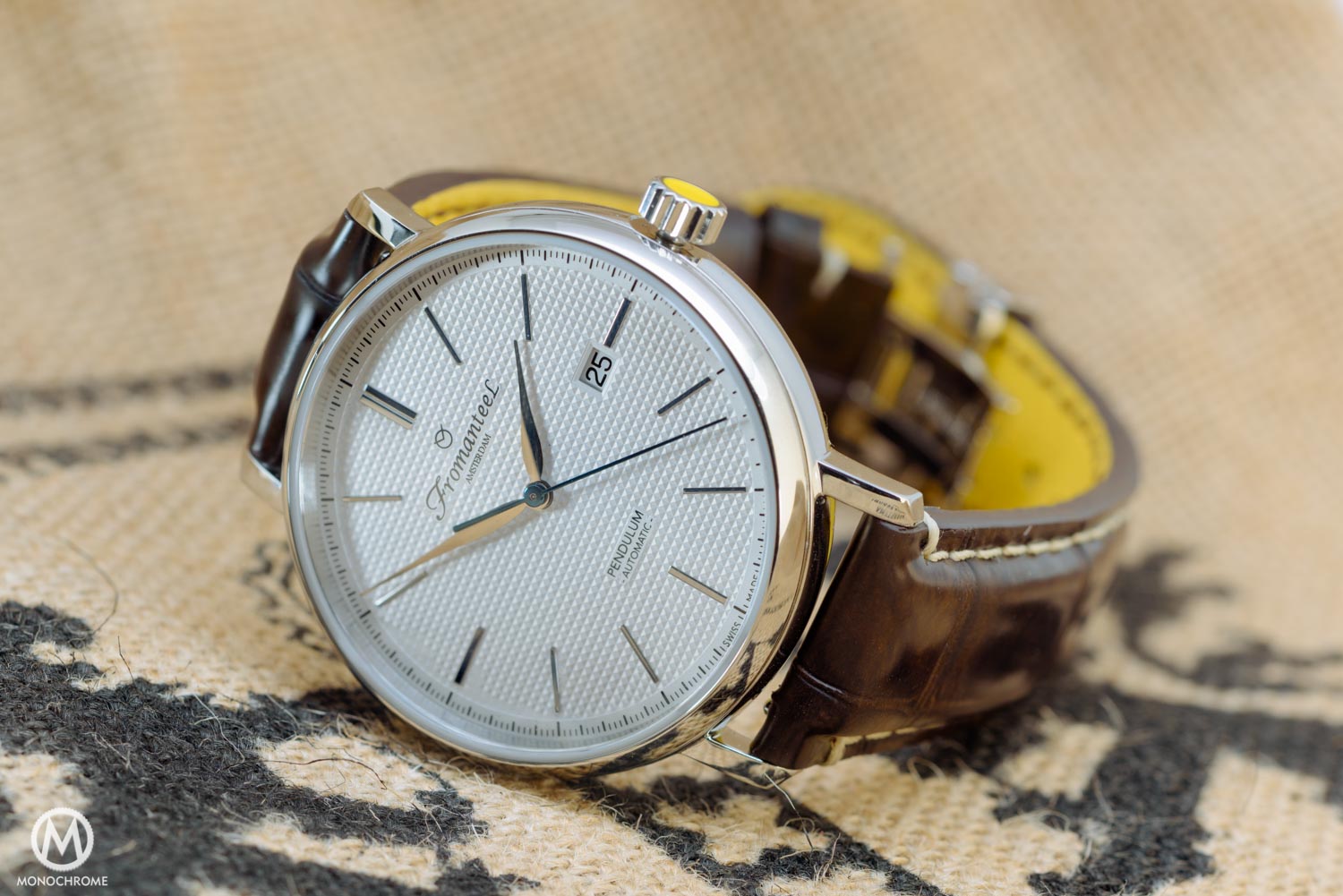 How do you build your own brand amidst the giants with huge development and marketing budgets? Alfredo Silva and Martijn van Hassel, the founders of Fromanteel, are doing it. And you have to admire their entrepreneurial spirit, dedication and enthusiasm. There is no way you can do this without hard work, persistence and belief in one's own products and/or services. Their entrepreneurial spirit resulted late 2015 in the launch of their first mechanical watch, the self-winding Fromanteel Pendulum, with ETA 2824-2 movement. So, it's time to have a closer look at Fromanteel as a company and the Pendulum as their first mechanical watch – and with a bit of Dutch proudness…
About Fromanteel
While it may seem romantic and exciting, starting your own watch brand requires hard work, dedication and confidence in your own skills and products. You must absolutely love what you do. No entrepreneur survives without passion (and a few other qualities). The founders of Fromanteel are inspiring entrepreneurs who are passionate about their company and products, and gradually expand their business to other markets and other products.
Alfredo Silva and Martijn van Hassel officially founded the company Fromanteel in June 2009. Being long-term friends from College, they both shared a passion for watches. Their busy jobs in advertising and real estate kept them initially from chasing their dream of once having their own watch brand. That changed during the financial crisis. Alfredo and Martijn started talking seriously about the "what", "when" and "how". They wanted to deliver stylish, understated design-watches at an affordable price. Each having a budget of 5000 euros, they got in touch with a Swiss Studio that was able to produce 85 watches for them. This first 'limited edition' was sold to family and friends.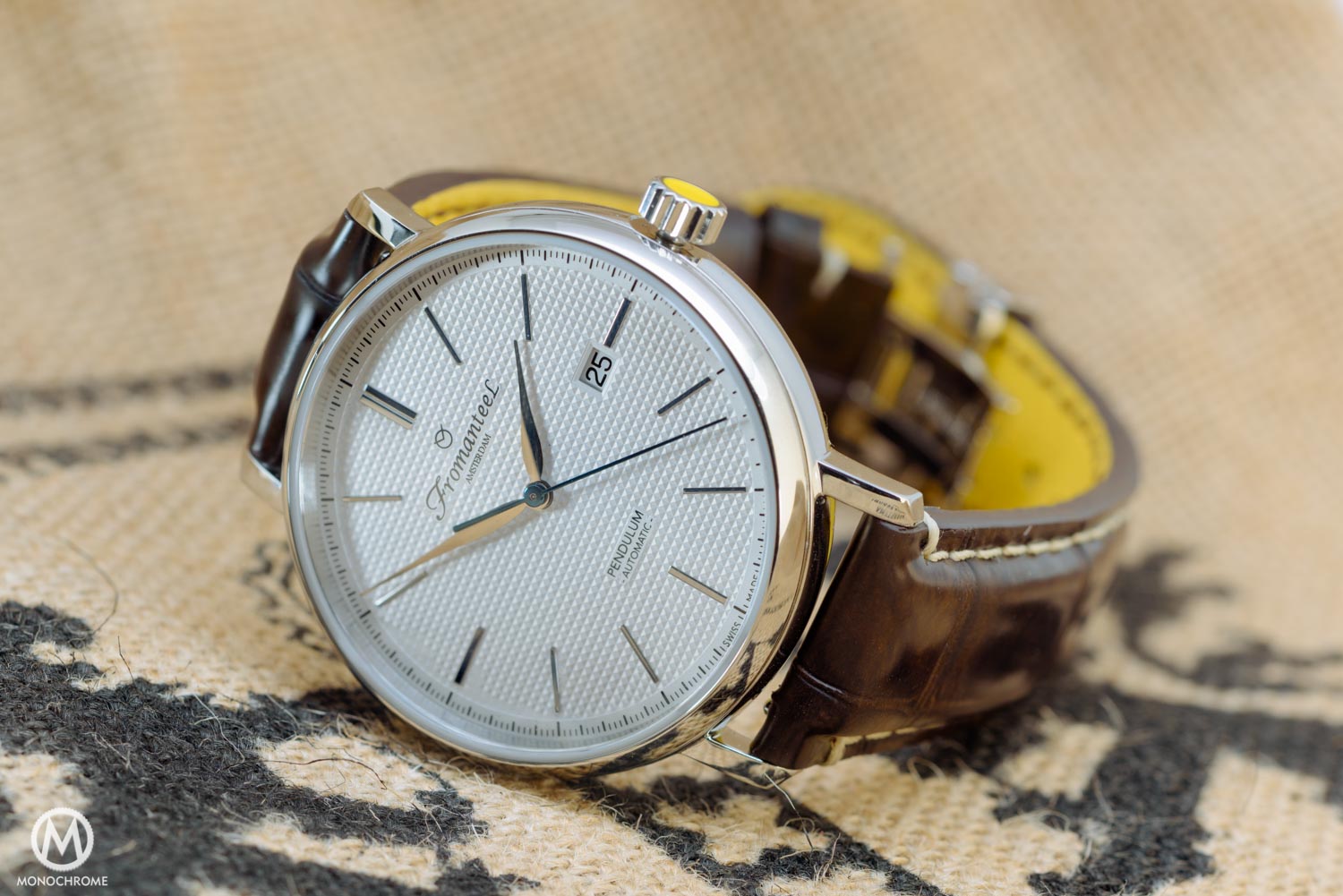 The Studio then offered to produce 1000 watches for Alfredo and Martijn. That was the moment to incorporate activities. While looking for an appropriate name for the company, the Fromanteel founders read about Ahasverus (Ahasuerus) Fromanteel, who lived in Amsterdam in the 17th century and belonged to a family of clock makers. They learned that the name Fromanteel stood for entrepreneurship and craftsmanship in those days. Ahasverus dared to be different and that is something Fromanteel aims to be. They want to be and remain different, to grow and to differentiate themselves from the established brands.
Fromanteel aims to deliver "Affordable Luxury" and puts this in a lifestyle context. Their customer base includes business people of all ages, who buy smart: get good quality at an affordable price level. The watches reflect their lifestyle that Fromanteel captures. Large brands do this naturally, but brands with lower-priced watches often do not do this. The link to the 17th century clockmaker from Amsterdam is a bonus for those with Dutch roots.
The company initially focused on watches with quartz movements. Late 2015 the first mechanical watch was announced: the self-winding Fromanteel Pendulum.
The Role of the Swiss Studio
We asked Fromanteel about the role of the Swiss Studio. Alfredo Silva: "Fromanteel designs the watch and case from an aesthetical and technical standpoint. The movements are purchased from our vendors: Ronda for quartz movements and ETA for mechanical movements. The various parts – indices, dials, hands, etceteras – are assembled in the Swiss Studio. Obviously all watches are also tested for quality, such as water resistance and pressure. The fully assembled watch is then sent to the Netherlands".
Case and Dial of the Fromanteel Pendulum
The Pendulum has an off-white dial with 'Clous de Paris' pattern, hours, minutes, central seconds and a date window. Hour markers (applied, which is a plus), and hands are in steel. The seconds hand is made of blued steel. The 42mm polished steel case is water-resistant to 5ATM. Front and back are made of antireflective sapphire glass. The lugs are rounded to fit the watch comfortably on your wrist. The balanced design is classic and does not look cheap at all.
The yellow tip on the crown is a nice detail. It makes the watch a tad less classic but its subtleness does not make you loose your image of being a professional who appreciates a nice, understated watch. You will not run into the risk of being viewed as a "showing off" person.
Strap and buckle
The Pendulum comes with Fromanteel's own quick release handmade calfskin strap, contrasting stitches and double folding steel buckle. The inner side of the 18mm strap is yellow. The outer side is retro brown or oiled brown. The Quick Release system works well, so no longer do you need to spend too much time on changing straps.
The Movement
The movement is the Swiss automatic ETA caliber 2824-2 with 25 jewels, and a power reserve of 38 hours, with a Fromanteel-specific rotor. The -2 indicates it is the version that is produced since 1982. The reliable 'workhorse' movement features a central, bidirectional winding, incabloc shock protection, a stone lever escapement, an ETACHRON regulator system, central seconds with hacking system and a date with quickset feature. See Watch Wiki for more information about this movement. Even if there's not a lot to say about this movement, which most of you certainly know by heart, keep in mind that it is one of the most reliable, easily serviceable and precise classical movements available on the market. It will perfectly do the job – and this, for decades.
The Fromanteel Pendulum in daily use
The watch fits comfortably on the wrist and has a good diameter (42mm). The readability is good. Changing date and winding are as to be expected from a watch like this. The use of the proven ETA movement ensures rapid self-winding. All in all the Fromanteel Pendulum a nice dress men's watch for work, for use at home and for special occasions. And to my opinion, both for men and for women.
Concluding words about the Fromanteel Pendulum
If you do not want to spend more than 1000 euro on a self-winding mechanical watch and if you want something a bit different, not from those mainstream brands, this might be a watch for you. It has a nice size, a classic and professional look, very descent finishing and a reliable movement. The Dutch roots makes it attractive to the Dutch and those with Dutch ancestors. Whether the price of 999 euros is justified, is up to you to decide. In our view, the company deserves its place in the watch industry. The Dutch government should be proud of the entrepreneurs behind the brand and the people working for the company. The Netherlands needs more entrepreneurs like Alfredo Silva en Martijn van Hassel.
---
Specifications
Two versions: ref. GP-1101-023 (retro brown strap) and GS-1101-024 (with oiled brown strap).
Case: polished steel, diameter 42.0mm, height 9.95mm, crown 6mm, sapphire glass with antireflective coating, see-through caseback.
Dial: off-white with Clous de Paris pattern
Functions: center hours, minutes and seconds, day of the month at 3 o'clock.
Movement: mechanical ETA 2824-2, self-winding bidirectional central rotor, 38 hour power reserve, frequency 28,800 semi-oscillations per hour, 25 jewels, Incabloc shock protection, a stone lever escapement, an ETACHRON regulator system. Diameter: 25.6mm, height: 4.6mm.
Strap: Handmade calfskin strap with double folding buckle with quick release system, 18mm
Price: 999 euro
Link to webshop: https://fromanteel.nl/pendulum (which also provides you an overview where you can try and buy the watch in a store)
https://monochrome-watches.com/value-proposition-review-fromanteel-pendulum-live-pics-specs-price/