Hands-on
All the Details you Need to Know about the New Tudor Pelagos FXD ref. 25707B
Deciphering Tudor's new mil-spec dive watch for the French Navy.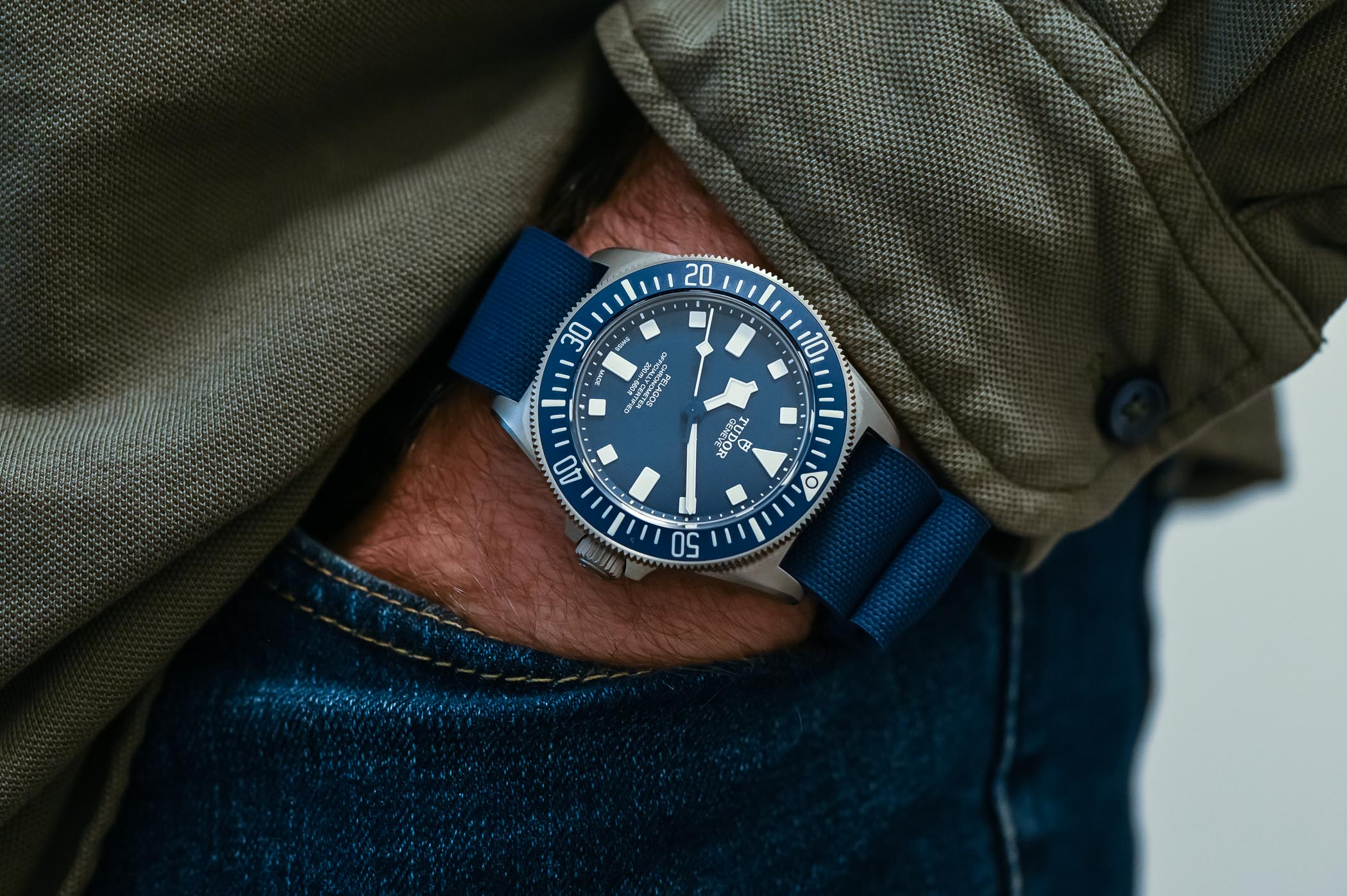 So yes, the news broke yesterday, the new and highly-anticipated Tudor watch made with the French Navy, or Marine Nationale has been released. And naturally, the watch generated heated debate because there were a lot of expectations and wishes surrounding this model, and in the end, it probably wasn't what some had in mind. So no, the new Tudor M.N. watch is not an evolution of the Black Bay 58. Not it's not worn on a green elastic strap. And no, it's not a proper vintage re-edition. What it is is actually quite interesting. It's not a commercial watch per se, but it is a true military watch designed by and for combat divers – so yes, it marks the comeback of the mil-spec watch. And if some were surprised by some of the features (WR, bezel), once you get to see the watch in the metal and try to look beyond its looks, it all makes a lot of sense. So, without further developments, let's look at what this new Tudor Pelagos FXD ref. 25707B Marine Nationale is all about. 
A Concise History of the collaboration between Tudor and the French Navy
It is no secret that Rolex and its sister company Tudor have long been involved with military forces or professional diving organisations (COMEX, for instance), providing them with the perfect testing ground for their diver's watches and experimentation. After creating the Submariner watch in 1953, Rolex offered more accessible watches under the same name in Tudor's collection. And soon, these watches caught the attention of the Marine Nationale or French Navy.
As early as 1954, Tudor had launched its own versions of the Submariner, sharing its Oyster case but also crown, bezel and multiple other components with Rolex models, yet stamped with Tudor reference and serial numbers. From 1954 to 1999, there would always be a Tudor Oyster Prince Submariner in the collection, showing how enduring the Submariner was. 
The first watches delivered to the Marine Nationale were actually the earliest Tudor Submariners ever created, the references 7922 and 7924 – watches that were extremely close in conception to Rolex Submariners 6402 and 6538. Still, these watches quickly showed their limitations, and the French Navy required something more robust for its divers. The second batch of watches delivered to the Marine Nationale was equipped with square crown guards, the reference 7928. These watches didn't feature any identifying military engravings yet (the iconic MN identification on the back). 
Following these models, Tudor introduced the reference 7016 in the late 1960s, first with round markers identical to a Rolex 5513 model. In 1974, a batch of watches was delivered to the Marine Nationale, and these were the first watches to receive the emblematic signature on the back, the iconic 'MN 74' engraving. And behind part of an older generation of reference 7016, these featured the snowflake hands and squared markers, resulting from a request from the Navy to have a more legible display. 
Since the black dials of the MN 74 watches were prone to damage from moisture, Tudor provided another batch of watches, this time Submariner reference 94010 models now with blue dials and bezel inserts. These also feature engravings on the back, with the full year disclosed – it reads MN 1975. These watches were used until the early 1980s, when the Submariner moved back to Mercedes hands and triangle dials, under the reference 76100. These models were still delivered to the Marine Nationale, with the MN 81 and MN 82 models. 
One of the specificities of these MN watches was soldered lugs, and thus they were worn on all kinds of straps… the most iconic one was the green elastic strap that was actually made from parachute belts, making the watches comfortable to wear and allowing easy adjustment over a diving suit.
For more details about the Tudor Submariner and the Marine Nationale, you can consult our article here and BulangandSons here.
The new Tudor Pelagos FXD, a true Mil-Spec watch
One thing is certain, this new Tudor Pelagos FXD is not a simple collaboration watch, with a few tweaks on an existing model and a logo vaguely stamped on the dial or caseback just for the sake of remembering that some royalties are paid to the other party of the collaboration. What the Pelagos FXD shows, however, is pretty rare these days. It is a legitimate mil-spec watch that has been designed according to the requirements of actual combat divers and not a watch that could potentially, one day, be used as a demonstration piece.
This watch follows a tradition that lasted from the 1950s to the 1980s (as explained above) when Tudor was delivering professional dive watches. This watch was developed in conjunction with the French Navy's combat swimmers, to be precise, the Commando Hubert – special forces specialised in counterterrorism and underwater tactical assault missions. What's important to understand here is that this Tudor Pelagos FXD is not meant to be a traditional dive watch, corresponding to the ISO 6425:2018 standard. Instead, it responds to a set of specifications defined by the French Navy according to the real needs of these combat divers. So yes, some features might seem odd in the first place, or at least not what you'd usually find on a classic Pelagos or Black Bay, but that's what makes this FXD Marine Nationale model so special and niche. And that, in a certain way, is rather cool!
The details about the Tudor Pelagos FXD
If, at first glance, this new FXD edition looks somewhat similar to a classic Pelagos model, it actually differs in almost all aspects. The case, the dial, the shape, the specifications, the movement, the dimensions… You'll have to look closely to find common parts between this Tudor Pelagos FXD and a classic blue dial Pelagos. And this is entirely due to the exact set of specifications defined by the French Navy.
To understand this watch, keep in mind a few things. First of all, combat divers only dive in shallow waters – at depths of 10 to 30 metres most of the time. Thus, for them, a deep dive watch is of no use. Instead, the frogmen favour comfort and robustness in a watch that is protected against shocks, and that won't get stuck when they are swimming. Also, the countdown bezel is not used to time the length of a dive, as in a classic dive watch, but it's a tool for navigation. More on that later.
Let's dive into the details, starting with the case. What is shared with a classic Pelagos is the diameter of 42mm and the use of titanium. And… that's about is. In most regards, the Pelagos FXD is very different. First of all – and despite the fact that it retains a classic look with elongated lugs and a lateral bevel and the pointy crown guards – the whole case has been updated. As said, Marine Nationale frogmen don't need a deep dive watch, but a thinner case was a prerequisite for them. As such, the water-resistance has been reduced to 200m – which, in reality, is more of a security than anything else, and also, it is more than enough for 99.99% of professional or recreational divers. Also, the helium escape valve found on the standard Pelagos has been removed because it was simply irrelevant in this context. As such, the Tudor Pelagos FXD is thinner, with a profile of 12.75mm, or about 1.5mm less than the classic Pelagos with a manufacture movement. And in the metal, as you can see in our comparison image below, this is far from negligible. And if the 52mm lug-to-lug measurement seems scary at first, the watch is actually not that large on the wrist. It is present, for sure, but not behemoth-sized (note: the watch is photographed on Frank's 18cm wrist).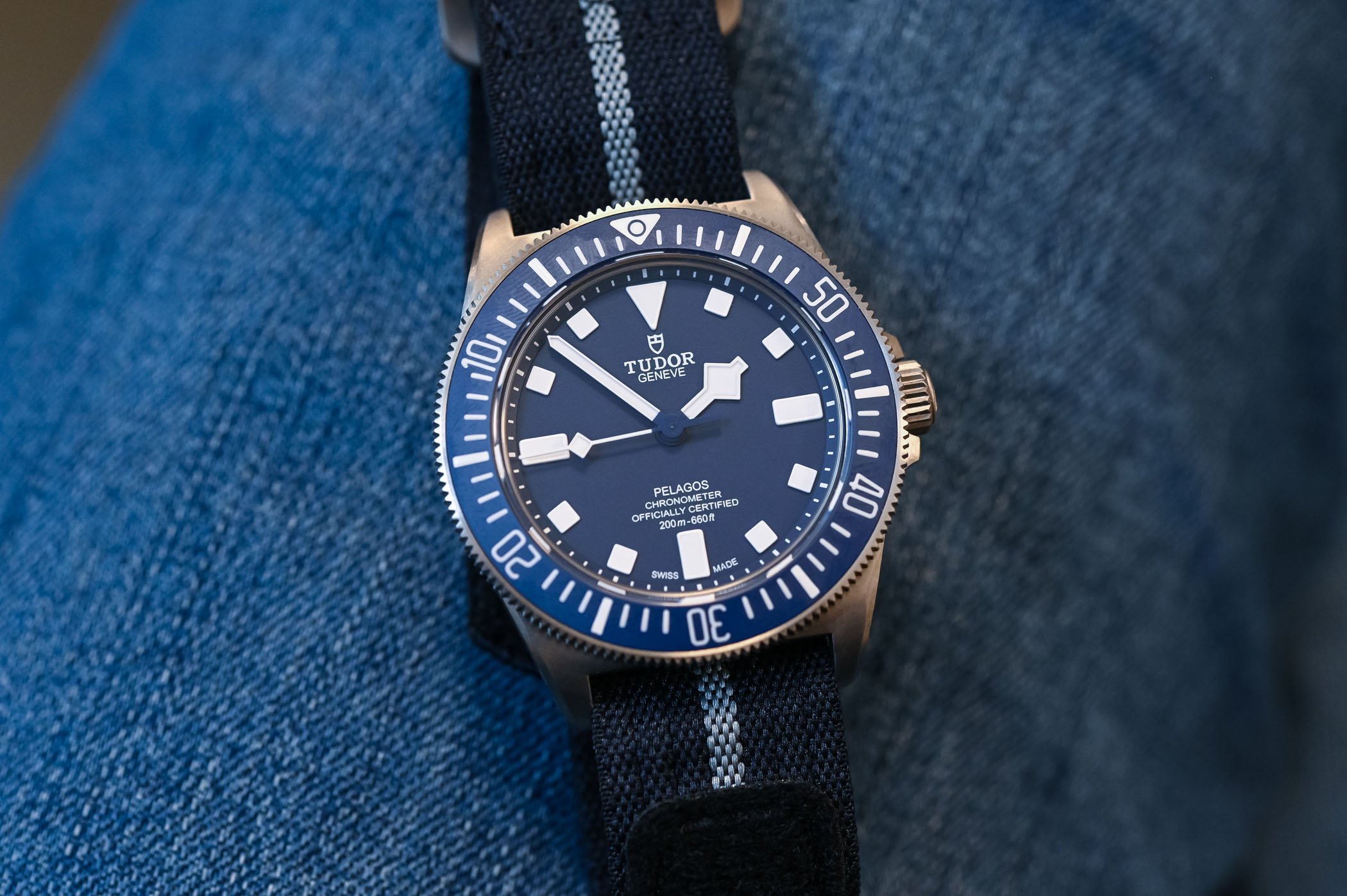 The entire case of the FXD feels like a piece of instrument, with no concession to luxury or design-oriented features. It is a rugged, entirely matte, purpose-built piece of equipment that is designed for a mission. Nevertheless, the overall quality is exactly what you'd expect from a Tudor… Impeccable. Features are quite standard otherwise, with a titanium screw-down crown and a sapphire crystal on top with a very efficient anti-reflective coating. The caseback is stainless steel and is screwed, and, as an ode to vintage watches delivered to the French, it is engraved with M.N.21 and the logo of the Marine Nationale.
Then comes the real point of difference: the lugs. Indeed, the Tudor Pelagos FXD brings back the concept of fixed strap bars that were once used on mil-spec watches. But instead of basic soldered bars, Tudor has developed a module that ensures comfort and robustness. The case and the lugs are milled from a single block of titanium, and these "loops" on the back ensure that the whole case will resist pretty much anything you can imagine – no risk of the bars breaking here. And coincidentally, to make sure that these loops won't cut the strap, all the surfaces have been bevelled to smoothen the angles. You can look at the watch from any perspective; it really feels like an overly-engineered piece of equipment, with no room for approximation.
Another characteristic feature of the Tudor Pelagos FXD is its rather unique bezel, which is the main reason why this watch does not correspond to the ISO 6425 standard. Why? Because it is bidirectional and it comes with a retrograde (countdown) graduation from 60 to 0. The reason for this specific bezel can be easily understood by the actual work of the Marine Nationale frogmen, which mostly consists of underwater navigation and reaching a precise location by sea, without surfacing, by following a meticulously planned route.
Technical note: the countdown bezel

Divers carry out underwater navigation in pairs, connected to one another by a strap known as a "life line" and complete a series of straight swims guided by a magnetic compass, by following a pre-planned route. They swim at a constant speed for a set time in each section, completing as many sections as necessary whilst timing each one exactly. This navigation entails restarting a countdown at each change of course. The anti-clockwise graduation and luminescence of the bezel of this model make it easy to set up and monitor each countdown, by aligning the time set for the section to be covered on the bezel with the minute hand. When the minute hand arrives opposite the triangle, the team changes course and the diver in charge of timing begins the next countdown.
Also note that the 120-click, bidirectional bezel of the Pelagos FXD has been fitted with a large bezel ring, which exceeds the diameter of the case for optimum grip, even with neoprene gloves and hands that are numb from long dives in cold water. And the profile has deeper notches compared to the coin-edge profile of the classic Pelagos, again enhancing the grip. The insert is made of sandblasted ceramic to avoid reflections, and the scale is executed with luminescent material.
Looking at the dial of the Tudor Pelagos FXD, you could imagine that the evolution is minimal again. But, of course, that would be too simple. In fact, most elements have been discreetly updated for this new model. First of all, the colour is Navy blue, and thus darker than the rather saturated blue tone used on the standard Pelagos 500m. To me, this is a significant upgrade, as I've always found that blue dial/bezel was way too pronounced. Here, the colour is more subtle. Then, as you've probably seen, Tudor and the Navy have decided to go no-date because, well, a combat diver doesn't need the date displayed on his diving equipment (plus it's a few tenths of millimetres less for the watch). Finally, the whole inner minute flange has been redesigned with a simpler shape that doesn't frame the markers anymore.
As for the rest, the signature snowflake hour hand and the square hour markers, two elements that are intrinsically related to the M.M. watches, have been kept. These are entirely white and generously filled with extra-strong Super-LumiNova. Also, there's a bit less literature at 6 o'clock, with only four lines of text instead of five on the classic Pelagos. Still not brilliant, but a bit better.
Under the M.N.21 engraved caseback is the brand's manufacture chronometer movement, the COSC-certified calibre MT5602 – a movement that is also used in the 41mm Black Bay. Built for precision and robustness, it has 70h of power reserve, a 4Hz frequency, a solid transversing bridge and a non-magnetic silicon balance spring with variable inertia balance. It is also regulated internally between -2 and +4 seconds' variation in its running when it is completely assembled.
Straps… but not all straps…
Historically, the French Navy had Tudor watches delivered without bracelets and then fitted them with their own straps, using what was available at hand. Two strap types appear to have been particularly used over the years: black straps made from a single piece of braided nylon, and, less commonly, handmade straps made from parachute elastic, which could be recognised by their green colour – which is the strap we all associated with the M.N. watches. The reason behind this was simple: the fixed bars. There was no way to use a classic 2-piece strap.
And since the new Tudor Pelagos FXD also features these fixed strap bars, it means that special one-piece straps had to be created. Two of them will be delivered with this watch. First is a 22mm navy blue polyethylene woven ribbon with a silver central thread, a titanium D buckle and a self-gripping fastening system – as such, it can adapt to different wrist sizes. The second is a one-piece rubber strap with an embossed motif and titanium buckle. Finally, if you prefer, the watch can easily be worn on an outsourced NATO strap of your choice, but forget about the usual 2-piece leather strap.
Thoughts
I'm not going to ask you whether you love or hate this watch here. Design, colours and preferences are certainly personal. What I can tell you is this: to see it in the metal is to understand this watch. At first, when the watch was launched, I shared the same mild feeling as many watch enthusiasts – "nice but not spectacular" or things like "I don't understand the 200m water-resistance." I haven't encountered many hard feelings about this watch, but nor have I encountered extremely enthusiastic reactions.
However, once you handle this watch and understand the work that has been done to create a proper mil-spec model, a watch that isn't built for commercial reasons, and to please the usual desk diver, you can change your position. While this watch is certainly niche and special, it actually has a lot to tell. And when you think about it, everything in this watch makes sense, and the overall package is of superb coherence. Even the countdown bezel can be practical for cooking pasta… Jokes apart, I must applaud the fact that we're looking at a proper military watch, designed without concessions.
Some will see this watch as a downgraded Pelagos. I prefer to see it as a model apart, a watch that has been conceived with a precise, utilitarian set of specifications in mind. So yes, maybe you'll prefer a classic Pelagos over this watch, and that's fine. But I also think this version has its place in the collection, as something purpose-built and special. Plus… It's fairly cheaper than the normal Pelagos and is equally impeccable in execution.
Availability & Price
This new Tudor Pelagos FXD reference M25707B/21-0001 is now (on paper at least) available from retailers and boutiques. It is priced at EUR 3,650 or USD 3,900 compared to EUR 4,290 or USD 4,575 for all three iterations of the Pelagos 500m. More details at tudorwatch.com.
https://monochrome-watches.com/tudor-pelagos-fxd-marine-nationale-25707b-hands-on-review-price/