OPINION – Joining Forces For The Best? The Tudor / Breitling Mechanical Alliance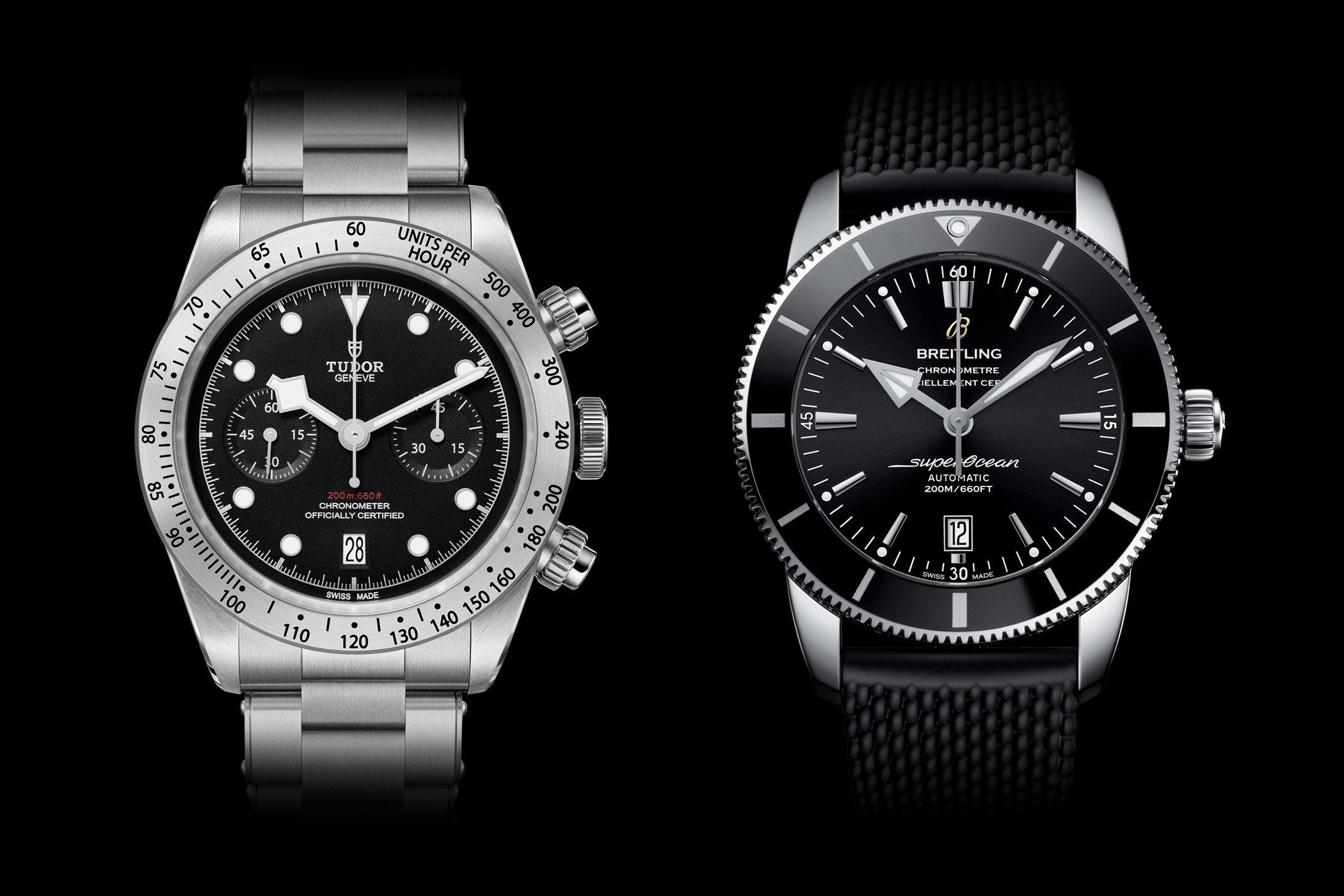 Prior to Baselworld 2017, at their annual pre-Basel event, Tudor unveiled the new Black Bay Chronograph. The first thought of the crowd of journalists present (us included) was "in-house chronograph movement!" The excitement lasted for less than 5 minutes however, as the announcement was quickly followed by the official disclaimer. Indeed, despite the "MT" nomenclature, this movement is not produced by Tudor, but rather by Breitling, which soon after, announced the launch of a new 3-hand movement, based on a… Tudor calibre. The question is, is this a good thing or not? It looks like we're going to find out with the new Tudor / Breitling alliance.
The "in-house" debate
Before going into the details of this recently announced Tudor / Breitling Mechanical Alliance, it's worth taking a look back at the notion of "in-house" or "manufacture", which has been one of the main trends of the last 10 / 15 years. Prior to the insanely fast development of the watch industry, which started in the early 2000s, most entry-level and mid-range brands were using out-sourced movements – basically ETA for 3-hand watches, Valjoux for the chronographs and when complications were needed, some movements and modules developed by companies such as Dubois-Depraz or Vaucher. This was the case for Omega, for Cartier, for IWC, for Panerai, for Ulysse Nardin and for TAG Heuer – and those same brands are now all claiming "in-house" and "manufacture". Proprietary movements (externally produced but exclusive to a brand / model) and proper in-house calibres were mainly reserved for high-end brands, simply because they needed some extra-complications, a specific display or a specific decoration, or brands like Rolex (even if they really only started to produce in-house in 2003 – see why here).

Tudor's Manufacture Movement, in the 2015 North Flag
Nowadays, countless brands have their own movements, said to be in-house – and I really want to emphasize on the "said to be", as in fact, it often happens that the movements are partially or mostly produced externally, even if exclusive to one brand. Why this switch in the industry? Well, for 2 reasons. First of all, due to the fast development of the industry and growth in sales, the main movement supplier, that is ETA, had to reduce external deliveries (plus they were asked by the Swiss Concurrence Commission to do so). Watch brands had to find other solutions. Alternatives existed: Soprod, Sellita and even Seiko. Another solution was to develop their own movements, and many did. The second reason is simple. Watchmaking is an industry and as every industry, it needs to create value and profits. Market-wise, the idea of in-house movements was seen from the beginning as a way to create more value. Even if creating a movement is long and costly, the return on investment is proven, because such movements can be sold for higher prices, as they increase the perceived value of the watch.
Breitling's in-house chronograph B01
With such a description, you might think we have something against the concept of in-house. Actually, no, we don't. In-house movements are something we like and even applaud, but not always. To us, an in-house movement only makes sense if it brings added-value to the watch: a longer power reserve, some extra-features (a column-wheel chronograph for instance) or increased precision. If a brand creates a 3-hand movement that beats at 4Hz and boasts 40h power reserve, we can't see the point, as an ETA calibre offers the same, for a lower price and with proven reliability. In-house is relevant only when it it brings something more to the final client – and not if it's only done to bring more cash to the brand…
The Tudor / Breitling Mechanical Alliance
Following such an introduction, you're view of the industry may have darkened somewhat, and we're sorry for that. The truth is however, that that's how watchmaking, an industry after all, runs. What we have described here exists, but it is not the norm. Tudor, to us here, at Monochrome, is one of the brands that has a different approach.
Prior to 2015, Tudor was only using out-sourced movements: ETA-2824 no-date for the Black Bay, ETA-2824 with date for the Pelagos or ETA-2892 with Dubois-Depraz module for the Heritage chronograph. At Baselworld 2015 however, "the Shield" announced the introduction of the manufacture Calibre MT5612 on the Pelagos (3-hand and date) and of the Calibre MT5621 (3-hand, date and power reserve) on the North Flag, followed in 2016 by the Calibre MT5602 (3-hand, no-date) on the Black Bay.
The main point was that this addition of in-house calibres was linked to an increase in price of only EUR 200 (and the effect of the new movement might be even lower, diluted by the annual price increase…) Overall, the arrival of in-house movements at Tudor was positive: low price increase, longer power reserve (70h vs. 38h for ETA), silicon hairspring (antimagnetic), transversal bridge for the balance (reliability and resistance to shocks) and COSC certification. Honestly, on the technical side, there was nothing to complain about and, on the customer side, there was real added value.
Tudor MT5612 Manufacture Movement
As of now, Tudor use the MT56xx base on most of their 3-hand watches – Pelagos, North Flag, Black Bay – with the exception of classical watches, such as the Style, or on "entry-level" sports watches, such as the Ranger and the Black Bay 36 and 41. However, Tudor also have a wide range of chronographs (Heritage, Black Shield, Fast Rider and Grantour), all of them powered by the ETA-2892 with module or Valjoux 7753. Following its integration strategy, just before Baselworld 2017, Tudor introduced the Heritage Black Bay Chrono, powered by the Calibre MT5813, an automatic, integrated, chronograph movement with column-wheel and vertical clutch – sort of the ultimate chronograph architecture. However, stupefaction: this movement is not produced by Tudor, but by Breitling.
The Tudor Heritage Black Bay Chrono, equipped with Breilting-sourced Calibre MT5813
The Tudor Calibre MT5813 is indeed based on the Breitling B01, with a few technical and visual modifications. To create a link between this movement and the MT56xx, the B01 receives a high-precision regulating organ developed by TUDOR (variable inertia balance, micro-adjustment by screw and non-magnetic silicon balance spring) as well as a simplified decoration – a choice guided by the wish to offer the BB Chrono at an accessible price and because the movement is hidden behind a steel caseback anyway. Yet, technically, this movement is precise (COSC certified), efficient (70h power reserve) and features all the delicacies of high-end chronographs. One appreciable fact comes from the price, as the Black Bay Chrono starts at EUR 4,440 (to be compared to the EUR 3,850 of a Fast Rider or the EUR 4,150 of a Heritage Chrono), so-to-say a very restrained increase of price for a massive technical upgrade.
Tudor (Breilting-sourced) Calibre MT5813
At the same time, Breitling announced the introduction of a new series of watches, the Superocean Heritage II (a slightly vintage-inspired time-and-date dive watch), powered by the automatic Calibre B20. Stupefaction again, the B20 is actually derived from the Tudor Calibre MT5612 (the one found in the Pelagos and the Black Bay Date), meaning a 70h power reserve calibre, COSC certified with 4Hz frequency and variable inertia balance. The main difference with the Tudor version comes from the more advanced decoration, with Geneva stripes, applied on the Breitling version. Here again, proving that the Tudor movement can mix technical content with restrained price, the new Superocean Heritage II shows an increase of only 8% compared to the previous versions with ETA movement (roughly EUR 350 more).
The Calibre B20 as used by Breilting, derived the Tudor MT5612
Our Take on this Tudor / Breitling Mechanical Alliance
Is such an alliance something to applaud, fear or simply ignore? As often is the case, we tend to compare watchmaking to the car industry (both are industries, both are mechanical-oriented). In the car world, it is more than common to 1) out-source parts (try to find constructors that manufacture brakes or tires in-house…) 2) have joint ventures for the development of engines or chassis 3) see brands exchanging parts, such as engines or gear boxes. For instance, BMW and Peugeot, in the 2000's, exchanged engines (BMW developed a petrol engine-base and Peugeot a diesel engine-base), Audi provides engines to Lamborghini, Mercedes to Aston-Martin, and more… The reasons are simple: developing an engine or a chassis is extremely expensive, and such ventures reduce costs. The same has been done now in watchmaking, between Tudor and Breitling.
The Breilting Superocean Heritage II, with B20 (Tudor-sourced) movement
Developing a chronograph movement is definitely one of the most complex and time-consuming tasks for a watch brand. Surprisingly at first, we wondered why Tudor didn't use the base of the Rolex 4130 to develop their own chronograph. However, it might have resulted in a massive jump in price and a loss of exclusivity for Rolex. Plus, when the exchange of movements with Breitling was announced, everything made sense.
On one hand, this situation is extremely beneficial for Breitling, which has been in a rather difficult situation since a few years now. With Tudor sourcing movements, they can increase their production, absorbing some of the costs of development for their B01 and making sure that the manufacture is producing enough to absorb exploitation costs. Also, by using the Tudor movement for their 3-hand watches, Breitling will now offer a new engine for a rather small increase in price, and with added value for the final client (and a movement coming from a manufacture with quite a respectable name, knowing that Rolex is behind it…), without having to invest millions in developing a new calibre.
On the other hand, for Tudor, this alliance is the opportunity to offer a state-of-the-art chronograph movement – no one can complain about the properties and quality of the B01 – for a very decent price and without the need to invest in its the development – and the investment is not only cash but also time. Thus, Tudor can be more reactive to the market changes. This also guarantees Tudor a regular and larger production of their MT5612 calibre.
Overall, here at Monochrome, we can only applaud such an alliance, mainly because it 1) is beneficial to the brands themselves, and we prefer healthy watch brands to collapsing ones and 2) it is beneficial to the end-customer, who will be able to get reliable and high-performing movements for relatively measured prices. There's nothing wrong with this alliance, mainly because of the full transparency of both parties and because in the end, it is profitable for brands and customers (and that is not common nowadays.)
https://monochrome-watches.com/tudor-breitling-alliance-movements-exchange-opinion/