The World Premiere of the Greubel-Forsey, Willard Wigan Co-Creation: Art Piece 1
Over the course of two hectic days during the Shanghai Art Fair, I spend time with Stephen Forsey and Willard Wigan as they prepare to lift the cover off their new creation where nanoart and watchmaking mix!
(Dateline: Shanghai – Thursday afternoon September 6th)
Stephen Forsey is excited. He's excited and just a little bit nervous. In a few days Forsey and fellow 'Inventeur and Horologer' Robert Greubel are going to pull the cover off a new collaboration with micro-sculptor Willard Wigan. You would not be far off to consider the mechanical creations of Greubel-Forsey 'sculptures' or works of art – they are born out of both men's creative and technical vision of a 'perfected' watch… Adding a person of Willard Wigan's talents to the mix makes the possibilities mind-bending. For Wigan, the movement of a mechanical timepiece – while appearing so very small to a person such as myself – must look positively enormous! (In an attempt to preempt what I was about to see I brought my trusty 5x loupe with me. No need – 250x microscopes were provided! THAT is the scale that Wigan works on!)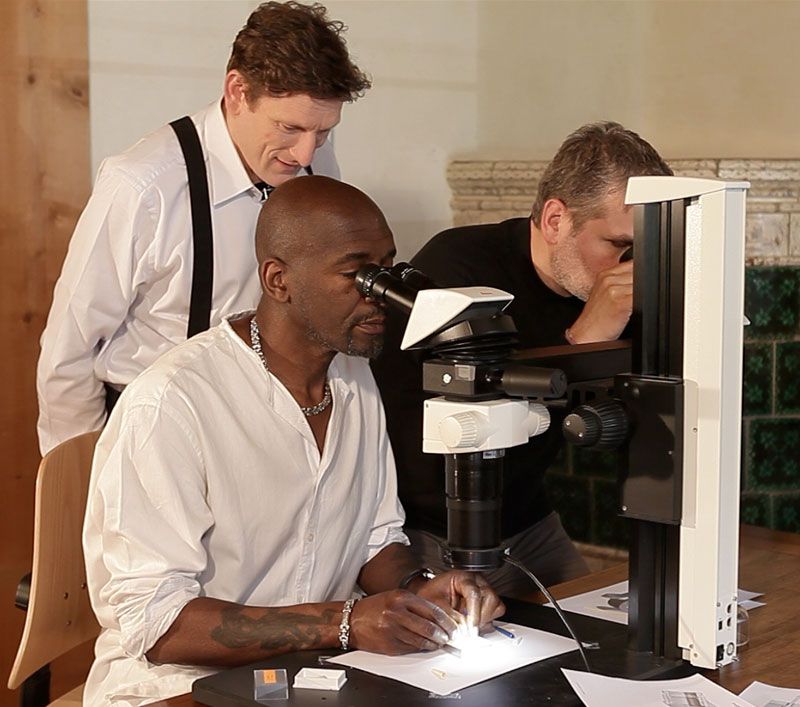 Speaking of China's seemingly unquenchable lust for luxury and refinement, Forsey is very proud to point out that Greubel-Forsey's Time Art Gallery has been very warmly received in a market where luxury is often defined by a successful marketing campaign. The 'gallery' acts like a starting point to present what true haute horology is about. Given the physical and logistical constraints on the Company's production it is extremely impressive (and as a resident of Shanghai, extremely gratifying as well) that they have committed to keeping an inventory of pieces to display.
To further enlighten, the Time Art Gallery have pieces of their own on display in the midst of 'other' master horologers. (When I went they had a Philippe Dufour Duality watch positioned next to a Vianney Halter Antiqua… not the kind of things you see every day! And NOT for sale!) The presence of other maker's creations does not detract from the Greubel-Forsey pieces – if anything it bolsters them by expressing other flavors of the rich tradition of independent horology. The space is also used to present works of art of a different nature – perhaps you might say a more traditional nature… Alex Angi of the Cracking Art Group is hardly traditional. The three dimensional sculptures on display were formed from recycled plastic – forming sturdy grids and nets and a few rather whimsical GIANT snails!
When the topic switches over to the 'Co-Creation' also dubbed 'Art Piece 1' the excitement is again tangible. Forsey was very keen to point out the high-power scientific microscopes that had to be brought into the installation to show-off Wigan's creations. He was very clearly enamored by the incredibly small scale that Wigan functions on and the impossibly detailed works that he is able to create. 'Art Piece 1' is destined to be something entirely new. Pointing out the parallelisms between the way Wigan's eye-of-the-needle sculptures focus your eyes to the artistry of the sculptures, he is very pleased to let me see the 'Invention Piece' 1 he wears on his wrist and how the oculus in the dial makes the viewer draw his or her eye into the movement – again where Greubel-Forsey's true artistry lay.
But where is the Art Piece 1? With a wistful laugh, I'm told it's not ready yet! Apparently, these things take time!
Now we wait…
(Saturday morning)
The Time Art Gallery is teaming with people! Scores of writers moving in and out, my journalistic competitors brothers and sisters looming around asking questions. I can see Mr. Forsey and Mr. Wigan – where is the Art Piece?
All of the sudden, the journalists leave and so do Mr. Forsey and Mr. Wigan… (But I haven't seen it yet.)It turns out that I was in for a very special treat! A press luncheon has been arranged at a private salon of one of the Bund's more spectacular hotels! (Sorry – I can't drop the name.) On the walk to the hotel I get to speak candidly with misters Forsey and Wigan. In that 15 min jaunt set against the backdrop of the HuangPu river, active with merchant vessels of all size, we weave a web of words and thoughts that started at global political relations between our 'homes' and carefully hones in on how John Harrison's creation of the first Marine Chronometers cemented British supremacy by sea. We get to the hotel and navigate past all of the regular dining rooms, to something very big and very special. The room is a complete throwback to the last period of time when Shanghai was a leading city of the world – over 100 years ago! (But where is the Art Piece?)
Sitting on the art-deco sofa, Mr. Forsey presents me with an elongated leather jewelry roll. Unfolding the first two folds, the Art Piece is there. At first it looks like a 'typical' Greubel-Forsey watch, about 44-45mm in diameter with the trademark 30 degree double tourbillon in one corner of the dial, set on a leather strap with a buckle. The very first thing I am drawn to is the large, frosted, blued plate. I comment on how unique it is to see a large frosted steel plate that has been blued, Mr. Forsey points out that it's not steel, but titanium! They had to perfect the process of treating the alloy so that it could be frosted, in the tradition of their other watches, but still be blued!
On the side of the case at 9 o'clock there is an oculus with a decorated bezel. Mr. Forsey invites me to peer through the oculus – behold! (Knowing that this was to be a nonesuch experience for the collective art and horology crowd gathered Mr. Wigan chose an utterly enigmatic image!) The mask of a golden goddess!
I immediately look at the top of the dial and can easily see the hemispherical dome, set on the side of the dial, there are indentations and I can plainly see 'where' the mask should be – but I have to confess that I could not reconcile that what I was seeing is 'where' I was seeing it; it is not just small it is practically nanometeric! For this exercise it is the perfect image! Greubel-Forsey are the masters of creating the 'perfected' watch. Joining with Willard Wigan, the trio has created an instrument that is perhaps one of the strongest statements of 'ars gratia artis'; a mechanical device that is artistically rendered and suffused with art. Wigan provides the most interesting first image – a perfected self – a golden goddess.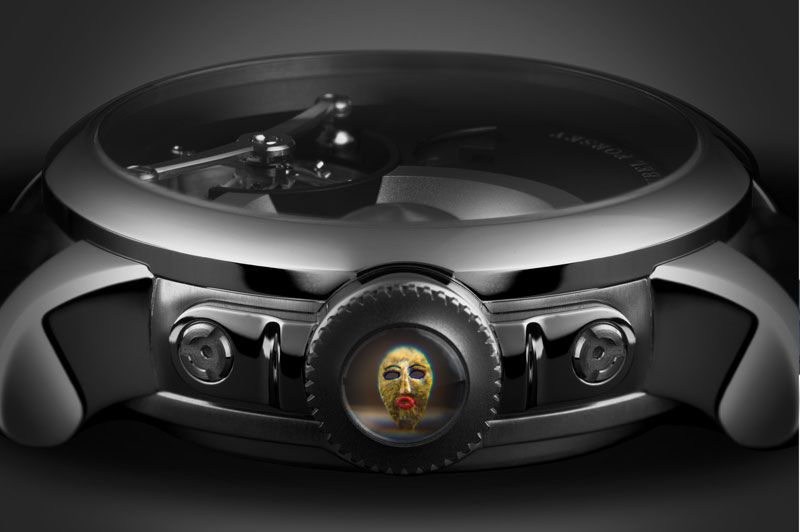 Stephen Forsey is ebullient as I go through my mental thesaurus for the words to try to describe this masterpiece. His excitement and trepidation have paid off! He and Mr. Greubel and Mr. Wigan achieved the first phase of what they set out to do: to prove that art is about creation and that they can lay legitimate claim to creating timepieces (or in this case, Artpieces!) that prove that the progression of time is not about destruction or erosion but of accumulation. Then he reminds me that what I am looking at is the very first prototype – a proof, if you will, that the concept can work!
Who knows what the next generations of Art Pieces will be? I am so mystified by the priceless creation I hold in the palm of my sweaty, bear-like paw, I fail to notice that there is one small thing missing from the prototype: a dial for a watch. If I possessed the cumulative curriculum vitae of Greubel-Forsey – in the face of such a monumental achievement (no pun intended) – a timekeeper would be the very least of my concerns!
This article is written by Mario Squillacioti, contributing writer for Monochrome Watches.
https://monochrome-watches.com/the-world-premiere-of-the-greubel-forsey-willard-wigan-co-creation-art-piece-1/