The Collector's Series – The "Cooler than ice-cream" Patek Philippe Nautilus 5726 of Kristian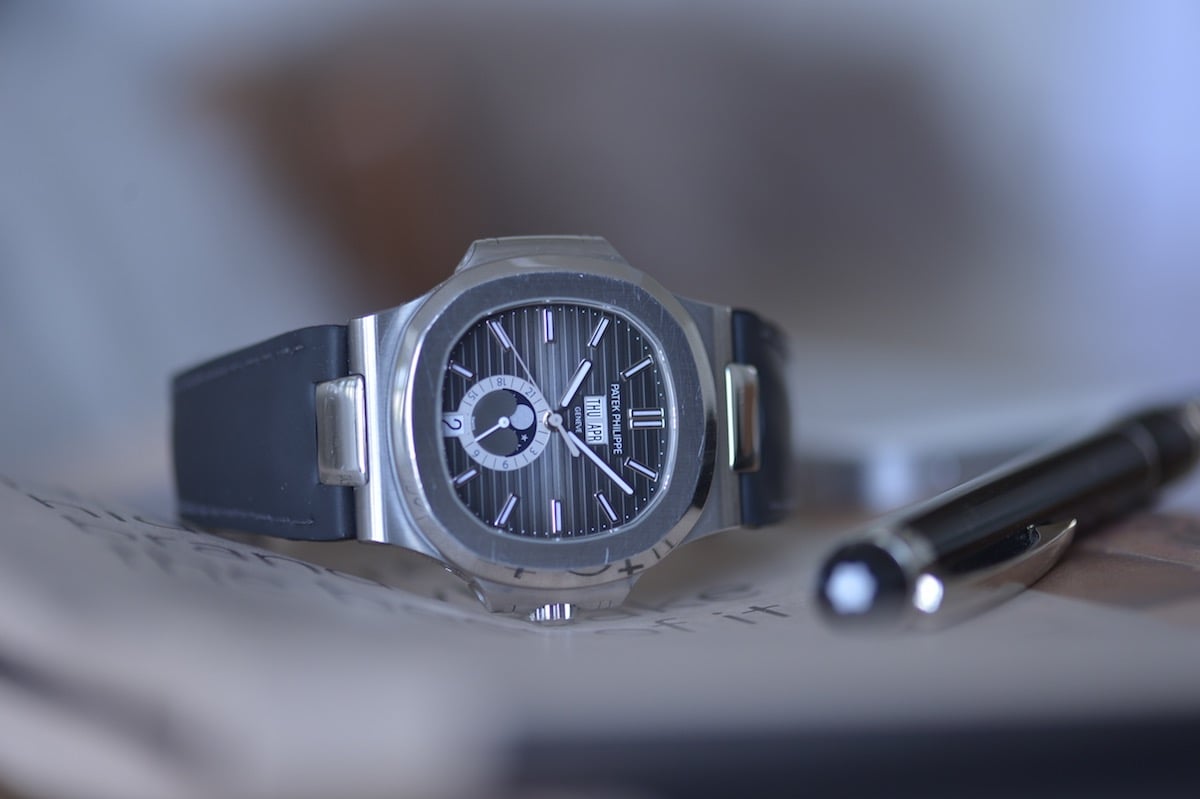 When I'm speaking to a collector and you glance down to see their watch proudly sports the scuffs and scratches of daily wear, it gently warms the soul. Not only do you know that the owner, more often than not, chooses that watch, but you know it has a story associated with it. As a watch geek, your mission is to try to extract those stories. In many cases, the owner generally does not require much persuasion to give you full brief. This couldn't have been more true than when I sat down with our old friend Kristian Haagen to discuss his Nautilus 5726. A Genta classic and his current favourite watch. On a leather strap, the Patek Philippe Nautilus 5726 offers a different look to many Nautilus out there. This week Kristian proudly showed us his beaten up Nautilus, what he thinks of Ed Sheeran wearing his watch (well, one like it) and why he became so fond of it.
When and where did you buy it Kristian? 
I bought it for my birthday in 2012. Actually wanted a different model, but when I came back from my "Let me think about it" walk, it was sold. So I went for the Patek Philippe Nautilus 5726 instead, acting perhaps a little hasty. Wasn't all that crazy about it the first week or so.
What is it about a Nautilus that's so special?
The sporty appeal and the great movement inside. Naturally, I am also a Gerald Genta fan and the whole aura around the Nautilus seduces me too.
Apparently Ed Sheeran wears on? 
Yeah, my daughter actually asked if he wore the watch as me. She had me watch him perform during MTV Awards in order for me to see if it really was a 5726 on strap. (and it is, as we told you here).
What does it feel like on the wrist? 
I wear in on the calf strap and not only does it look great (I recently bought the brown strap) but it also wears very well.
What's your favourite feature Kristian? 
I think the whole design works very very well. Even though I am a fan of uneven dials, the perfection of the Patek Philippe Nautilus 5726 dial really appeals to me. And annual calendar, AM/PM indicator and moon-phase are actually really useful.
What movement does it have and what have been your experiences with accuracy? 
The automatic calibre 324 offers a fantastic precision. I think it is the most precise watch I own.
Would you describe it as a good all-rounder? 
Indeed, I would. Especially on the calf strap.
Do you wear it with care or do you tend to let it get beat up? 
I wear it. A lot. And it shows! I love a watch to show the signs of wear. It tells the story. Watches are made to be worn right?
What's your experience been with servicing? 
I had it serviced within the first month of ownership. The date was stuck. Took three weeks for Patek Philippe to return it to me. So…pretty good experience I'd say. What 3 things would you say if someone wanted to know why they should by a Nautilus 5726? Versatile, perfect dial layout, rather useful.
Have you ever come across someone else wearing one in the wild? If so, what did you say to each other??
Nope, I've never seen anybody wearing it. Besides from that Ed guy…
Is it a keeper?
Certainly is. I like better each time I wear it. Probably not as much as my blue dial 5980, but I still think this watch is cooler than ice-cream.
3 words to describe it? 
Cooler than ice-cream
https://monochrome-watches.com/the-collectors-series-the-cooler-than-ice-cream-patek-philippe-nautilus-5726-of-kristian/