The Collector's Series
Eric a.k.a @jewpanese.dude and his Omega Speedmaster Silver Snoopy Award
Opening the box of his Speedmaster Silver Snoopy Award made everyone in the Ginza boutique smile, recalls Eric.
Omega and specifically the Speedmaster are big in Japan. The Land of the Rising Sun is one of the most mature markets for watches, with highly seasoned collectors and a huge fan base for the Moonwatch. And today, we'll share more proof of this love for the Speedy. A 51-year-old professor, Eric M. Skier lives in Tokyo, Japan, and may be better known under his IG tag @Jewpanese.dude. His love for Omega watches reached new heights when he obtained his Speedmaster Silver Snoopy Award. Today, he'll share the story of what makes this very watch special.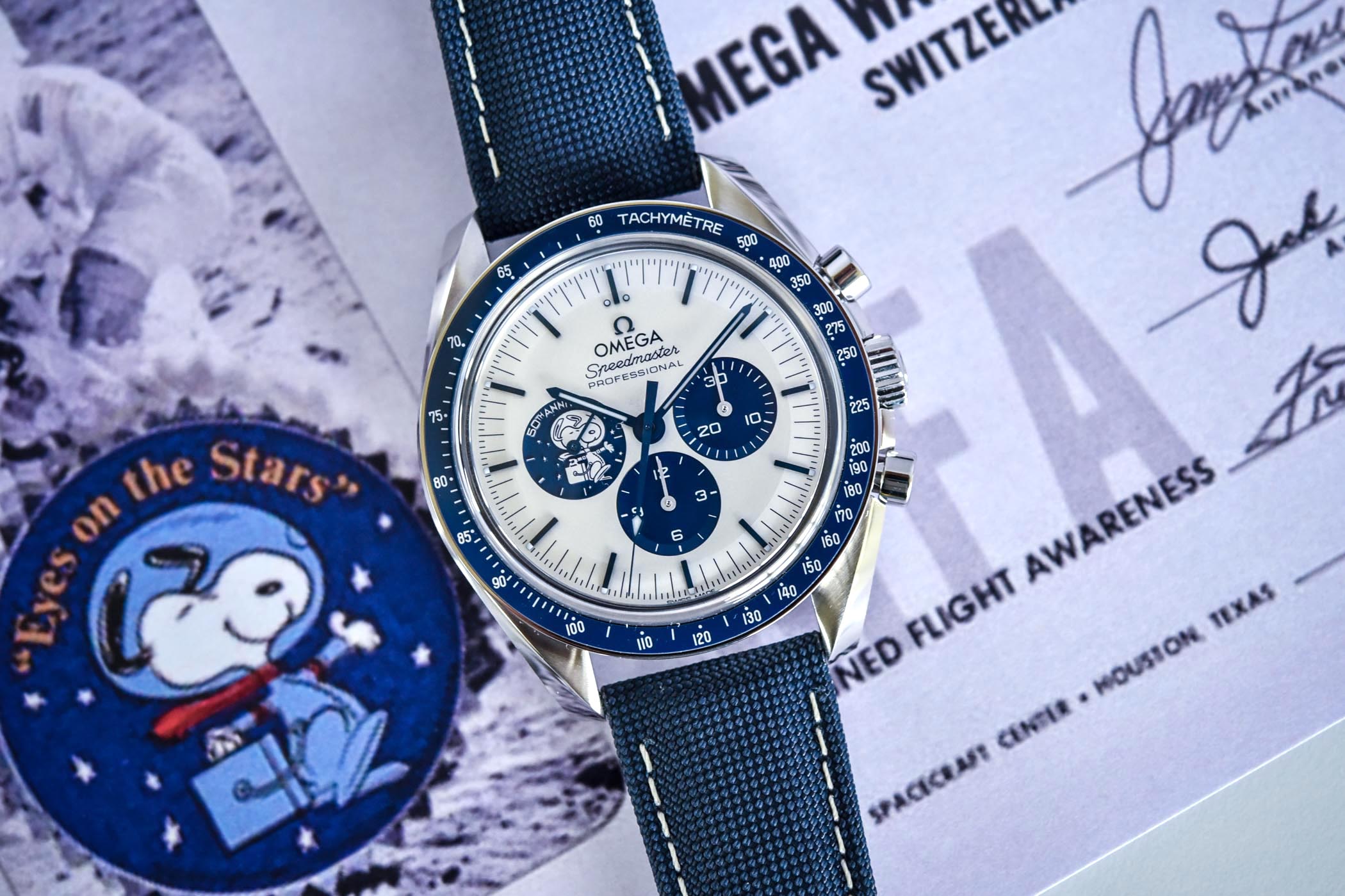 Frank Geelen, MONOCHROME – Why Omega? 
Eric M. Skier @jewpanese.dude – I have been an Omega fan for over 30 years and respect their relationship with NASA. In particular, as an Air Force brat, I have always been fascinated with pilots and astronauts and appreciate what it takes to become one. That they chose to wear an Omega in space or on the Moon means a lot to me. Anyway, in 1991, when I decided to move to Japan, where Omega has a great reputation, and after working my tuchus off one month in 1994, I was able to buy my first one: an Omega Seamaster 120 (black dial, automatic). I thought $1,000 was huge money for a watch back then. Funny how our perceptions change over time.
I love how Omega offers something for everyone. Of course, the Speedmaster Professional is what they are most famous for, but the Seamaster and other lines are distinctive, stylish, and yet they are tool watches, too. I admire this very much about Omega. I also love how Omega has been working with fans over the past few years to make releases that sincerely appeal to us, e.g. the Speedy Tuesdays.
So you're a NASA fan. Is that why this particular watch stood out to you?
The second the Omega Silver Snoopy Award was announced, I was in love. To be honest, it was the first Snoopy model that really appealed to me. I instantly loved the combination of colours, dial design, and the case back. The case back with Snoopy able to fly between the (revolving) Earth and Moon is genius, in my humble opinion. And the amazing details of both the Earth and Moon make it a piece of art to me. I would surely make a poster of a good picture of the case back. 
All of the reviews focused on the looks, but I was also happy to read about the inclusion of the 3681 movement. I have the Ultraman with the 1861 movement, and I love it, but I think the 3681 is a much better movement, and I was happy to pay extra (compared to Ultraman) for it. I have also been a huge fan of Charles Schulz and Peanuts since I was a kid. I remember watching the Halloween special every year when I was growing up. I have also been to the Charles Schulz Museum in Santa Rosa, California. The deeper messages he incorporated into his work have always resonated with me. Some see Snoopy just as a cartoon character, but I have never felt that way. I think Omega and Snoopy (via Charles Schulz) is a match made in heaven for their commitment to science, education, exploration, etc.… If I could sit down with just one man and have a beer, Mr Schulz would be high on my list.
When did you buy it, and where?
I honestly never thought I would get one. I emailed the folks at the Ginza boutique, and they replied that the waitlist (in just a few days) had become huge. Makes perfect sense, as both Snoopy and Omega are really popular here in Japan. Anyway, in very polite Japanese, they explained that it could be years before I got mine. I replied that I would be happy to wait. This was in October, if I recall correctly.
I think it was the end of January when I received an email from the boutique saying the watch had arrived, and they asked rather nonchalantly when could I go and pick it up. I think I whooped out loud, and my wife thought I was nuts. LOL. Anyway, I replied I would go the following week and get it in person. I know I wasn't the first in Japan, but I was definitely near the head of the line. I invited a good friend to join me (who accepted in seconds), and we picked up the watch on a Monday afternoon – a day I will never forget. The unboxing with the staff was something I will always remember, too. Heck, everyone in the room was grinning from ear to ear!
If anything, my Snoopy is a testament to the power of helping others. Soon after Omega announced they would make some watches to celebrate the 2020 Tokyo Olympics, I was contacted by friends asking for help to procure a few of them. Doing so put me on the "good side" of the boutique here, and I am pretty sure those purchases helped me get my Snoopy in a timely fashion. If I had not helped my friends, I am pretty sure I would not be wearing this wonderful timepiece as I answer this interview. 
And how is it now you are wearing it in real life?
This may get me in trouble with my followers on Instagram, but I honestly wear Snoopy 5-6 days a week since I got it – especially on an OEM bracelet. I know I share different pics on my Instagram feed, but the reality is I am wearing Snoopy more often than not. It would be the last watch in my meagre collection that I ever sell.
Do you ever get reactions from other people?
Again, my wife thinks I am nuts and doesn't understand what the big deal is. My sons? They like the watch but aren't as in love with it as I am. Most friends here in Tokyo are also into watches, so they love seeing it in person and are happy for me. Due to the pandemic, I am rarely out, but the other day when I was at Nakano Broadway (famous for its many watch shops), all of the staff in any shop I visited instantly took note of the watch. I had never seen such reactions before with any watch I had worn when shopping for watches. I was looking to buy a Cartier Santos; I need a dress watch and let them play with Snoopy while I was trying on watches. They kind of ignored me as they were mesmerized by the watch. A few female friends also love the watch. As I said before, Snoopy is REALLY loved here in Japan. If they made a Snoopy Land here in Tokyo, it would surely be a success.
Do you know the current market value of the watch? 
I see this watch already being sold for triple retail, which is a new thing for me. While I have bought and sold more than a few vintage watches and made some money, heck even doubling my money on more than one occasion, I have never bought a watch at retail and seen it instantly worth triple that. And I am pretty sure Snoopy will continue to go up in value – especially on the day Omega announces they will stop making them. Even so, I can't see myself ever parting with the watch. It may become a family heirloom like the simple Seamaster I have handed down to my son. 
How does it go with your other watches?
In addition to the Seamaster from 1994 (which I have given to my younger son), I already have a 145.022-69ST (from 1972) and the Speedy Tuesday Ultraman. I thought the Snoopy Silver Award would make a great addition as it is really quite different from the other three models.
Are those the only watches you own?
Certainly not! As many who follow me on Instagram know (or knew about me earlier via watch forums), I have had my hands on more than a few rather rare vintage watches these past few years. And ready access to the Japanese market has surely helped. Being punctual is Rule Number One (or maybe two?) here, so everyone wears a watch. And many people here have a great appreciation for a fine timepiece. As such, I have had my hands on some rather eclectic models from brands that aren't universally well known, i.e. Gallet, Enicar, Universal Genève, etc.…. Why? Simply because I was here in Tokyo. How some of these rather rare models found their way to Japan in the past will always impress, and I fear, be a mystery to me.
People also know that I am no fan of overlap. I have friends who have three or more of basically the same model from the same brand, and that isn't something that interests me. I love having watches with various functions, designs, and colour schemes. I am also a fan of "underdogs," i.e. watches that not everyone has. My first Rolex was a 216570; it was easy to buy at retail. Same with my first Panerai – a 320. My second Omega was a Speedmaster Broad Arrow GMT with a white dial. It was a great watch that few appreciated (or bought) compared to a Speedmaster Professional, but that is fine with me. I buy what sings to me. Recently, with the prices of vintage pieces climbing, I find myself having caught the "reissue bug." In addition to Ultraman, I have bought the 765 AVI and 806 reissues from Breitling and truly love them!
Are there any more watches you would like to possess?
As I mentioned earlier, I am looking to buy a true dress watch, and I think a white dial Santos from Cartier will be my next purchase. Other than that, with me being in love with Snoopy, I don't feel the need to increase the size of my current collection. I have found that I don't care to own more than 12 watches at a time. Why? I don't see the need to own something that I am not going to wear. Of course, if a true deal on a lovely watch comes around, and it does happen here in Japan from time to time, I will buy something. I have a particular soft spot for vintage Heuers and have bought some in the past purely on impulse. I would be lying if I said I don't always have my eyes wide open looking at watches here in Japan.
What are the odds other collectors may ever find an affordable Snoopy?
Sorry to laugh, but other than waiting possibly years to buy at retail, you will have to open up your wallet. And to be honest, if you decide to buy from a dealer, I would do it sooner than later. I cannot imagine these Snoopys going down in price. Sorry, I have no other useful tips in this regard.
Maybe some general tips then, for people who want to start collecting?
Buy what sings to you. I do get asked for advice on a regular basis, and my first question is always, "Have you tried the watch on?" I could never buy a watch that did not sing to me. Having said this, looking back, it has cost me. I could have bought various Omegas (that literally sat here in Japan for years) for next to nothing but was not moved by them at the time. An Omega Alaska Project BNIB sat for almost two years at a shop here in Nakano for $4K. Same with the Tin Tin and Japan Racing Dial models. They did nothing for me, and I never bought one when I could have. The Racing Dial now sings to me. A shame as it is too late. Sigh. 
And this is Lesson Two: never say never. The more I learn about watches, the more I evolve as a collector. And I think this is universal. What we appreciate now we may not care for in five years and vice versa. But in the end, if you put the watch on and you love what you see and feel, buy it! And don't worry about what others think.
Another bit of advice? As opposed to buying (or not buying) based on a brand name, buy based on model. There is no brand that is universally loved for all of its offerings, but there are surely models from almost any brand that are considered classics. Buy a classic, and even if it stops singing to you one day, you will surely be able to sell it to someone who will want it. This has happened to me on a few occasions, and I sincerely appreciate the mentors I have had over the years pointing me in this "right direction."
Do you mean other collectors?
Mos def! Since about 2010, I have made some amazing friendships through forums and various social media outlets. And pre-COVID19, it was nice to be able to travel the planet and know that anywhere I was visiting, I was going to be able to meet up with someone for a beer and a meal and to talk watches and life in general. And it has applied in reverse. I have met more than a few friends on their visits to Tokyo and had a great time showing them around here in the Big Mikan. And many of these friends are serious collectors and have shared their knowledge of watches with me, and for this, I will be forever grateful. Some of the nicest, trustworthy, generous, and most caring people I have ever met have been through this hobby of ours, and I have zero regrets about getting involved and making it a part of my daily life. 
https://monochrome-watches.com/the-collectors-series-jewpanesedude-omega-speedmaster-silver-snoopy-award/