The Collector's Series
HighendTime's Ultra-Rare Royal Oak Offshore Sincere Edition is a Beauty in Tantalum
Happiness comes from hardness... Well, from tantalum in this case!
Gaurav, alias @HighendTime on Instagram, is a 45-year old banker from Hong Kong. Although he has managed to complete the holy trinity of watches, understand the classic Royal Oak Jumbo, the Patek Nautilus and the Vacheron Overseas, we won't be talking about these ultra-coveted watches. Instead, Gaurav will share something far bolder and quite rare, to say the least. In our latest instalment of The Collector's Series, we look at his Audemars Piguet Royal Oak Offshore Sincere Tantalum Limited Edition, a watch that is one of his most desirable pieces.
Frank Geelen, MONOCHROME – Do you remember when you first heard about Audemars Piguet?
Gaurav, alias @HighendTime – In watch collector's terms, I'm considered an "OG", having participated in online watch communities since their inception in the early 2000s. These were pre-digital and early Internet days, and most watch collectors would congregate in hobbyist Internet forums.
It didn't take long for an aspiration to develop, and like most collectors, the bucket list at that point was to complete the holy watch Trinit – having a piece from all three brands – Audemars Piguet, Patek Philippe and Vacheron Constantin. Given Audemars' heritage, it was right at the start of that dream! Watching watch roll videos of how the light reflects off that beautiful Royal Oak bracelet definitely didn't help either. Today, of course, I am fortunate and honoured to own more than a few coveted pieces from all three brands!
What is it you admire in Audemars Piguet?
Firstly, I'm a massive fan of Gérald Genta and his design sensibilities. Although the Royal Oak was his first masterpiece, I actually started with the Nautilus, but it wasn't long after that I added a Royal Oak to my collection.
Secondly, I love how Audemars Piguet has pretty much kept its core ethos intact. If you look at the Jumbo, for example, it's practically unchanged after 50 years, including the anniversary model just released.
Finally, I belong to an old business family spanning multiple generations, so I can appreciate how Audemars Piguet has remained independent and family-owned since its founding. This resonates with me due to the values that underpin a family business: that of maintaining a consistently high standard and continuing to innovate whilst retaining its heritage.
And why did you want to talk about the Royal Oak Offshore, in particular?
Of course, I adore the Royal Oak, as do so many collectors, but one of the models that really speaks to me is the modern Offshore. I love how it has defied conventions ever since its introduction in 1993 as "just" an anniversary piece to celebrate the original Royal Oak.
While it was first considered a commercial failure by the market and also publicly criticised by Genta, who considered this to be a crude design with none of the finesse of his original, it eventually found much success amongst wealthy Italian collectors. It soon became the company's favourite testing ground for innovative materials, limited editions, and high-profile endorsements.
Without being overly philosophical, to me, the Offshore signifies achievement, progress and evolution; the struggle we all face through life and the success that follows once we persist.
This is one of those limited editions, is it not?
I am fortunate to own not one but two of the most limited and rarest Offshores released; my favourite of these being the Sincere Tantalum Limited Edition manufactured in 50 pieces, and I believe only 20 were made in the charcoal dial. This is my favourite AP, and the story behind how I acquired it and its rarity is what makes it so desirable. It's also impossible to photograph, having more than 50 shades of grey and especially with that tantalum giving off multiple hues of metallic bluish-grey gorgeousness.
By the way, tantalum is one of the hardest and rarest metals to manufacture; not only is it impossible to source with the mines primarily being in sanctioned countries nowadays, but I hear it can break APs polishing machines given its hardness, so it is nearly impossible to work with. I also think it's one of the reasons behind the popularity of the F.P. Journe Chronomètre Bleu; there's nothing quite like it in terms of precious materials.
Since when has it been a watch you desired to possess?
I've wanted an Offshore ever since I was interested in Audemars Piguet as a brand for the reasons above. Another reason for my madness was that the classic Royal Oak bracelet scratches easily, and the Offshore with a leather strap was a bit more wearable. It also seemed to be the more modern sibling and so a sexier, cooler variant. I was also a bit cooler at that age!
When did it become yours?
This was a fortunate accident. I participated in a private sale that included a few pieces from a prominent business family in Hong Kong (I am not going to say who, but just that they are very famous) and I had also heard from the seller that someone at AP was also interested in the watch.
Not knowing anything about the particular model and never having heard of tantalum, I was attracted to the strange bluish-grey metal with the weight of platinum and this white grey leather strap that seemed to have been cut out of a Hermès Birkin Himalaya handbag. It felt so good on the wrist, it really spoke to me and not knowing anything about it, I bought it.
Wanting to find out more, I posted a photo in a collectors' group and was a bit surprised to get almost 35 calls and messages within the next hour. It was only when a well-known auction house called me a few days later that I realised I may have bought something special; also later confirmed by a collector friend who knew the family I bought it from.
This turned out to be a very limited production commissioned by the Sincere Watch Company of Singapore from which the first watch (apparently mine) was presented to a major distributor of the brand who happened to be related to the family that owned the watch. I have since acquired another really rare AP Offshore also in tantalum; the Orchard Road – the very same watch that was featured in the Royal Oak book by Wehrli and Heimann (on page 264).
Wow, I can imagine you don't wear it a lot!
It gets a lot of eye time; and wrist time only when I visit my bank locker, although I would love to wear it to an AP-hosted event where they tend to invite local collectors and customers. Ironically, even though it's tough to scratch and not at all as delicate as those beautiful Royal Oaks, I don't wear it much due to its rarity; it's like new!
So tell us more about the reactions you got…
For a watch devoid of colour, I am amazed at just how many people notice it. I have lost count of how many people asked me what model this is; usually 3-4 every single time I have worn it. It's impressive in its austere simplicity and, ironically, very noticeable.
I've even had an overseas collector offering to trade two modern APs plus cash for this piece. The lovely people at AP adore it as well and are very happy that it remains in Hong Kong; I have taken it to them a few times and have even had them manufacture a new leather strap for it.
It took a while before that came through. The particular batch of alligator skin that Sincere Watch Company of Singapore had procured when they commissioned this very limited production is nowhere to be found and it took several attempts and calls to Singapore and Le Brassus before an alternate colour could be found.
What do you think is the actual market value today?
I paid a fair bit more than I expected, given its provenance and also whom I bought it from, and I don't think I would ever sell it even for twice what I paid. I did receive an offer that was heading towards a high five-digit USD number and turned that down as well. That may seem like a lot for an Offshore, but we should note that tantalum watches aren't really made anymore and this is perhaps the best example of the handful that do exist, given its limited production (even though I have never seen another in this condition).
Personally, I think the Offshore range is really undervalued and worth a serious look. With classic Royal Oak prices reaching stratospheric heights, these present a relative bargain. It's also a little known fact that AP Offshore technology powered Richard Mille watches when the brand first started (through Renaud et Papi's involvement), and looking at the prices for the RM models today, one can only imagine just how much value currently exists in the Offshore.
How would you describe your watch collection so far?
I don't consider myself just a collector. I think I'm more of a romantic really, hopelessly in love with everything horology – the mechanical aspects, the design, the emotion, the heritage, the aesthetics; all of it.
I think Aurel Bacs called himself an addict, and it's something I relate to totally – forever chasing that fix of a perfect watch, which (thankfully) never exists.
Consequently, the collection varies and has changed over the years. I used to be fairly brand conscious and typical. However, this has given way to a much more eclectic mix of Haute Horlogerie, limited editions and even classic independents such as Roger Dubuis and Daniel Roth, which I feel are hugely underrated.
What other brands are worth considering? 
If I let my imagination run wild, I would love a tantalum AP Jumbo with a salmon dial; this would be my mythical holy grail!
But since that currently doesn't exist (please AP…), I would be content with an Openworked Double Balance or a Royal Oak Perpetual since I love the perpetual calendar complication.
Why do you like QPs so much?
I suppose in a world where everything is temporary, we all crave and aspire to something timeless. Perpetuity is really the ultimate aspiration so perhaps that subliminally attracts me to this complication as "forever" is usually unattainable.
Do any other brands spark your interest?
Other than the obvious big three and AP, which I think continues to strike the right balance between heritage and innovation, I do think this is the day of independents such as Kari Voutilainen, Moser and De Bethune, and even some micro-brand watchmakers such as Le Comte, who is what I would call a true master of his craft.
But I wouldn't want to limit this to just brands currently in existence but even those from a bygone era; for example, I was introduced to Daniel Roth by a dear friend @watchfoodwithme (who has been featured here on MONOCHROME) and by a local collector in HK and am completely beyond infatuated. Therefore, another dream watch for me is the vintage Daniel Roth Monopusher; been on the lookout for this grail and promise to review it in your magazine once I find one.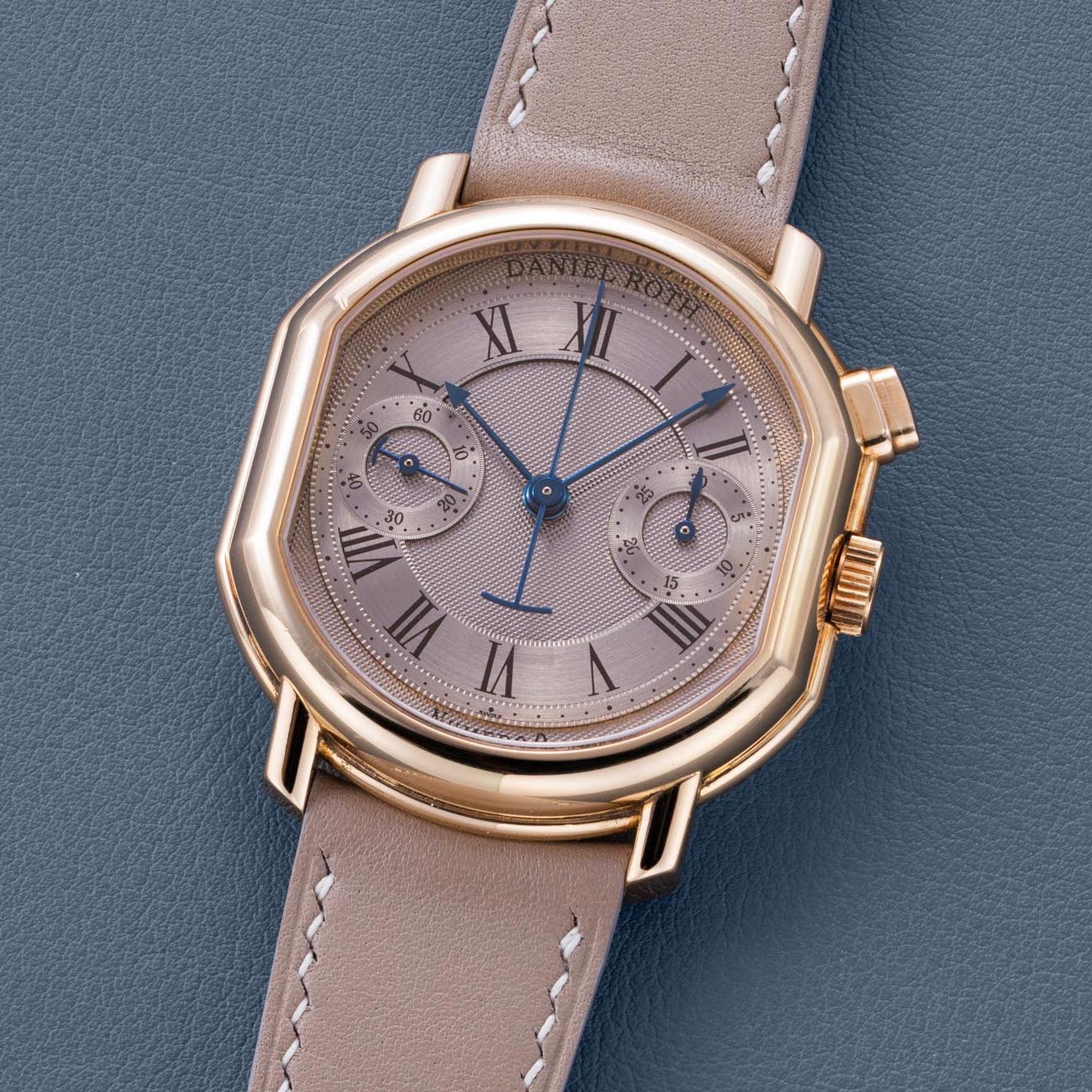 I also find vintage Roger Dubuis hugely under-appreciated; Patek quality blended with a classic design with their Sympathie model, in particular, holding its own against a Royal Oak or a Nautilus. Even Breguet, especially their older high complications, are amazing with quality that is leagues above anything at a similar price point; I have just taken possession of an untouched early perpetual made by Daniel Roth when he worked at Breguet.
How does one acquire a holy grail watch?
There is no science to finding these grails; I honestly believe if you are truly driven by your love for watches and this is a real passion for you as an individual, as opposed to those who just want to flex, what you seek will seek you as well. Persistence, a lot of faith and a little bit of luck are always welcome and it may sound a bit trite but just don't give up on what you truly crave.
Voir cette publication sur Instagram
What tips do you have for starter watch collectors?
I think this obsession with watches is here to stay, so firstly, it's never too late to start on your collecting journey. I also don't consider watches as just expensive toys; a recent article comparing investment performance across asset classes found watches to be as solid an investment as real estate, stocks and even gold.
I consider watches to be mechanical art but with some real fundamentals of supply and demand behind them, unlike art, which can often be a relatively subjective form of expression.
Finally, these are products that evoke the romance of a time gone by when life was deliberately slow, craftsmanship was mechanical as opposed to digital and when we all had time (pun unintended) so don't forget to slow down and enjoy your beautiful watches in your rush to build a collection.
Are you in touch with other collectors?
All great pursuits, businesses and hobbies are underpinned by relationships, and watches are certainly no different. As collectors, I love how our passion connects us across all walks of life, cultures, countries and disciplines without bias – it's a great unifier that harmonises us and brings us all on a common footing. It's also encouraging to see how great world leaders might differ on ideology and politics but are all connected by their love for watches.
Whether it's relationships built through Daniel Roth collector groups (thanks once again to Frank and @watchfoodwithme) or on other forums and groups online, the relationships are what make this worth it, and some of my best watches have been bought over a casual drink with collectors initially set up just to get to know them better.
I think the word "watchfam" sums it up nicely; I continue to be amazed at how this love of watches can make two complete strangers act as long lost family members; this is what it is all about!
https://monochrome-watches.com/the-collectors-series-highendtime-shares-audemars-piguet-royal-oak-offshore-chronograph-sincere-limited-edition-tantalum/