A Technical Perspective
The Key Features of a Pilot's Watch
Deciphering the main features that make a watch a pilot's watch.
If there is an official standard defining the features for a watch suitable for diving (ISO 6425), no such definition or standard exists (at least one that would be used throughout the industry) for another popular watch category: the pilot's watch. Each and every brand has its own vision of what a pilot's watch should be, depending on the needs of the wearer. However, there are some key elements that single these watches out from the crowd.
Pilot's watches are extremely popular, appreciated for their utilitarian aesthetics and sharp legibility. Positioned more as statement pieces today than the vital tool watches originally used in the air, pilot's watches, like dive watches, were born from necessity. The first pilot's watch is often considered to be the wristwatch created by Louis Cartier for dandy aviator Alberto Santos-Dumont to time his flights. Its technical specifications were basic, far from those of military watches of the mid-20th century, which have shaped the design and features of many of modern pilot's watches.
Military forces were not necessarily brand loyal. The French Aéronavale, the British Ministry of Defense, the German Luftwaffe or the Italian Aeronautica Militare often used a number of different manufacturers to produce watches according to precise specifications. These specifications gave birth to legendary models: the Type 20 and 21 chronographs, the Mark series, the B-Uhren, and more.
Cockpit instruments
In his five-part series on the history of pilot's watches, our contributor Max E. Reddick reported that "These watches (editor's note: The German Beobachtungsuhren or B-Urh) were big, 55mm big. The size accommodated large hand-wound movements typically used in pocket watches, but the B-Uhr was always to be a watch for the wrist. Each one used a Breguet balance spring. Inside, the movement was surrounded by an iron core, making the B-Uhr anti-magnetic – a must for aviation. To correct for time discrepancies, the movements were capable of stopping the central seconds hand by pulling the crown, or hacking, and the oversized diamond or onion crown could be operated with gloves on the hand. A very long, double-riveted leather strap, long enough to go over the leather flight jacket, held the B-Uhr in place." For more information, read our series on the history of pilot watches Part I, Part II, Part III, Part IV and Part V.
The specifications of the B-Uhr say it all. Pilot watches should be large enough to be read when flying. Also, for the sake of readability, the dials were as contrasted and luminous as possible (matte black dials with large numerals and markers, all painted in radioactive material). Operating the watches was also made as simple as possible, to avoid errors. Last but not least, accuracy and precision were paramount… And taking into account the stringent conditions of utilisation, ideally, these should feature protection against shocks, magnetic fields and sudden drops in pressure (with a crystal secured against any displacement).
We often get questions on the reasons behind certain details found on pilot's watches, which is why we thought it would be relevant to bring you a (non-exhaustive) list of the distinguishing features that make a watch a pilot's watch.
Orientation triangle
Contrasting, highly legible displays have always been a distinctive feature of pilot watches. Their dial is often reduced to the bare essentials, with striking luminescent hands and indications, as well as Arabic numerals that can be read more easily.
The triangular index at 12 o'clock, a luminescent equilateral upright triangle with two dots on either side (for the B-Uhr-inspired watches), allowed a pilot to immediately figure out the 12 o'clock indication in relation to the upright orientation of the dial, and hence to read the time at a glance, both during daytime and nighttime.
Flyback Chronograph
Appreciated by pilots as it saves time when recording several elapsed times in a row, flyback chronographs (also known as retour-en-vol in French) can be returned to zero and restarted instantly with a single push of a button. Instead of the traditional stop-reset-start sequence, which necessitates 3 operations (thus pressing the pushers 3 times), the Flyback goes through all the steps by just pressing the reset push-button once. Such quick resets helped waypoint navigation and grid searches, allowing pilots to transition "on the fly".
Here are two examples of famous pilot's watches with a flyback function. On the left is a Breguet Type XX 3800ST, the modern version of the watch commissioned by the French Navy to Breguet in the 1950s and 1960s. On the right is a Zenith Pilot Cronometro Tipo CP-2 Flyback, inspired by the Zenith Cronometro Tipo CP-2 commissioned by the Aeronautica Militare Italiana through Roman retailer A. Cairelli. Both watches feature this specific mechanism, as did the vintage pieces on which they are based.
Fluted bezel with red marker
The red marker applied on the fluted rotating bezel of pilot's watches can be used as a count-up or count-down bezel, for instance, to monitor navigation or bombing (these watches were after all military tools). Pilots relied on maps to define the time they would reach certain landmarks. Setting the red marker at the minute hand, they could quickly read elapsed times. The notches on the bezel allow for precise, slip-proof operation.
Here are two examples of military-issued, vintage pilot's watches with fluted bezels and red markers. On the left is a 1930s Hanhart chronograph – the tachymeter and telemeter scales on the dial are used to measure navigational information, for instance, the average speed thanks to poles on the runway. On the right is a Tutima Glashütte Fliegerchronograph featuring a red marking on the bezel.
The onion or conical crown
In the pioneering days of aviation, pilots flew in unheated cockpits. Because they were exposed to intense cold, they were equipped with thick gloves to prevent their hands from freezing. A prominent crown was a crucial feature to operate the watch easily, even with gloved hands. This is why most pilot's watches were equipped with oversized (so-called "Big Crown" watches) crowns, with two recurring shapes: onion (rounded) or diamond (conical).
Above, two modern but vintage-inspired pilot's watches. Zenith opted for the rounded "onion crown" (like its antique pilot's watches) while IWC goes for the sharper, conical "diamond-shaped" crown (inspired by those found on B-Uhr).
Bomb timers also featured a trigger actuated recorder/countdown function that could also be operated while wearing gloves.
Soft Iron cage
Mechanical watches are at risk when exposed to magnetic fields. Protection against this negative influence is therefore needed for all-purpose tool watches, but even more when it comes to pilot's watches, as a cockpit is one of the most magnetic environments a watch can encounter. Traditionally, anti-magnetism was achieved using the principle of a Faraday cage: a soft iron inner cage surrounding the movement and protecting it against magnetic fields. For instance, the specifications of the Mark XI watches, contracted to IWC and Jaeger-LeCoultre, required the use of a soft iron dial.
With the advent of anti-magnetic materials, modern pilot's watches are less and less equipped with such heavy, space-consuming cages. Their movement components, crafted in silicium or amagnetic alloys, are inherently protected against magnetic fields.
Slide rule bezel
The slide rule bezel, a Breitling invention for its Chronomat watch, is a mechanical calculator for pilots – a sort of mini-computer of the pre-digital age – that allows for all types of inflight calculations. It is based on a fixed scale on the dial and a second, mobile scale on the bidirectional bezel. The rotating bezel and logarithmic scale used by Breitling can be used to determine fuel consumption, speed, distance, flight time, unit conversions…
Hour Angle
This rare function aims at helping an aviator determine his geographical position. Charles A. Lindbergh perfected the system devised by Captain P.V.H. Weems and developed the hour angle watch with Longines. Perfectly synchronized to the minute beeps emitted by a radio time signal, it allowed for the calculation of longitude based on the hour angle between GMT and true solar time. (For a detailed explanation you can watch a video by Longines here).
The Long Riveted Strap
Typical of the German Beobachtungsuhren (observation watches) the long riveted calf leather straps were used so that a pilot could wear it over the sleeve of his flying jacket. The rivets were there to ensure that the bracelet was solidly attached to the watch (because of the fixed bars) – as seen above on Lindbergh's Longines Hour-Angle Watch.
GMT indication
A more modern, non-military function often found on pilot's watches. The indication of multiple time zones is a useful feature for anyone travelling across different time zones, including pilots. The Rolex GMT Master, first released in the mid-1950s, is the archetype of the GMT watch. It was designed with Pan American Airways to equip their crews – civilians, but still pilots. The GMT (or second time zone) is shown using an additional hour hand rotating on a 24-hour scale and is read on the two-tone bezel showing day and night.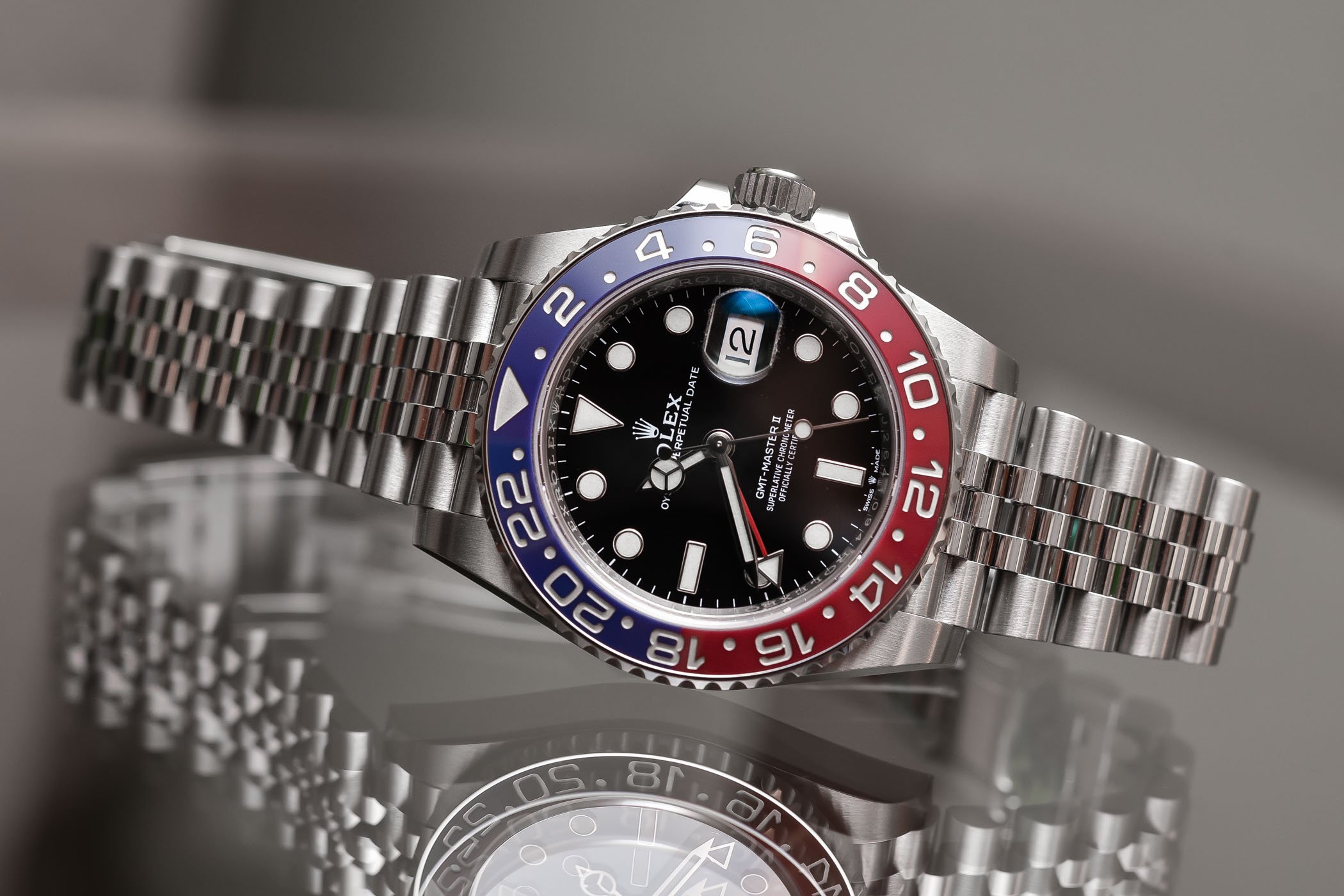 https://monochrome-watches.com/technical-perspective-key-features-of-a-pilots-watch/