Spotted
The Cool Watches of Shelby and Miles, Back in The Days and in Movie "Ford v. Ferrari"
Reality and silver-screen spotting of cool vintage chronographs!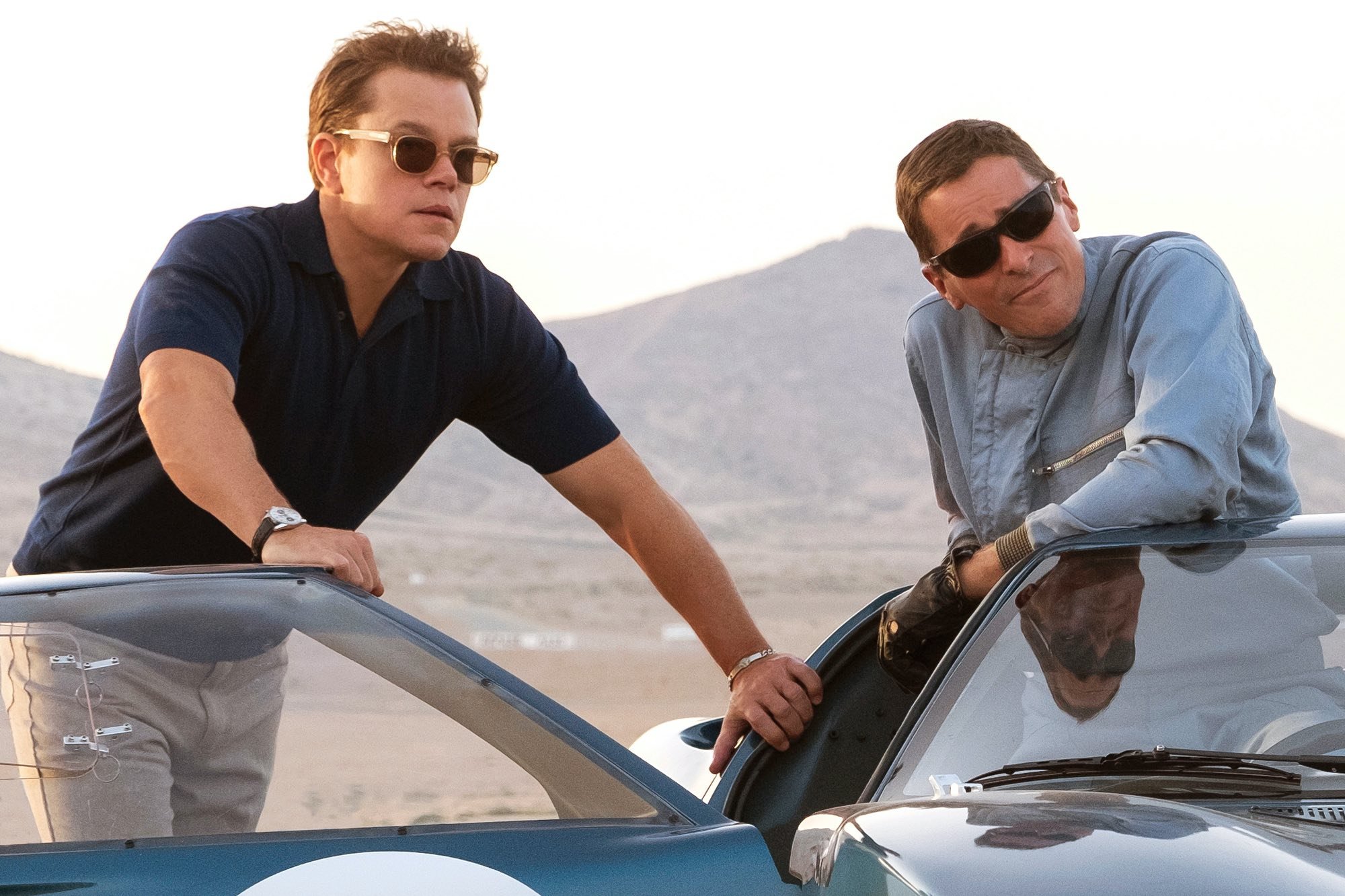 Recently launched movie Ford v. Ferrari is based on the true story of the failed attempt by the Ford Motor Company to purchase Ferrari and the subsequent efforts by Ford to produce a car to beat Ferrari at the prestigious 24 Hours of Le Mans. Paramount to the success of Ford GT40 that would finally beat Ferrari at Le Mans in 1966, was Carroll Shelby, a former American racing driver turned car designer and British-born racing driver and engineer, Ken Miles. In the movie, Matt Damon plays the role of Shelby and Miles is played by Christian Bale. And as often with motorsport, there are some cool watches involved.
Caroll Shelby raced in Formula One from 1958-59 and won the 1959 24 Hours of Le Mans driving an Aston Martin DBR1 with co-driver Roy Salvadori. 
Shelby retired from active racing due to health problems a few months after his victory at Le Mans 1959. Shelby proceeded to open a high-performance driving school and in 1962 founded Shelby-American, a car customisation company. Shelby produced the AC Cobra (sold as the Shelby Cobra in the United States), which relied on the chassis of the British-made AC Ace and a Ford V8 engine. Assisting Shelby in the testing of the vehicle was Ken Miles.
Ken Miles was born in Birmingham, England and served as a Tank Commander in World War II before starting a career in motor racing. In the early 1950s, Miles moved from England to the United States, settling in Los Angeles, where he continued to race. In 1953, Miles won 14 straight races in an MG-based car of his own design and construction in Sports Car Club of America (SCCA) racing. In 1955, Miles entered his first 24 Hours of Le Mans finishing in 12th place racing an MG with co-driver John Lockett.  
Miles is pictured below talking to Steve McQueen at the Los Angeles Examiner Grand Prix on March 8, 1959.
In 1964, Shelby was approached by Ford to perfect the Ford GT40, which had still failed to beat Ferrari at Le Mans. As a trusted test driver, Miles was heavily involved with Shelby and the rest of their team to iron out any problems in the car. Miles also assisted in the testing of the Shelby Mustang GT350.
In 1965, Miles and his co-driver Lloyd Ruby, driving a Ford GT40 Mk II, won the Daytona Continental 2,000 km, marking the first time the GT40 won a prestigious race. I discovered the photograph which showed Miles and Ruby each receiving a Rolex 6541 Milgauss with smooth bezel, for winning the race.
Ken Miles' regular watch was a Breitling Co-Pilot Chronograph, which he is wearing while sitting in a Porsche 906 in April of 1966.
In Ford v Ferrari, Bale as Miles is shown to be wearing a Heuer Autavia for a couple of scenes and Damon as Shelby wore a Heuer Carrera reference 7753, as highlighted by On The Dash here. It has a white dial with black sub-dials. It was made in the early-1970s, which was long after the events of the film, so it is a small faux pas. 
I have seen photos of Shelby from 1959 to 1965 with a Rolex Oyster and a two-register chronograph but not a Heuer Chronograph.
Shelby is wearing his two-tone Rolex in a picture taken for Sports Illustrated in 1959.
At Le Mans in 1964, Shelby was still sporting the two-tone Rolex
1966 saw a change to the format of the Daytona Continental. Instead of a 2,000 km race, it followed the same timeframe as Le Mans and the race became the 24 Hours of Daytona. Miles and Ruby won the inaugural 24 Hours of Daytona, once again driving the GT40 Mk II and the second and third place vehicles were also Mk II GT40s.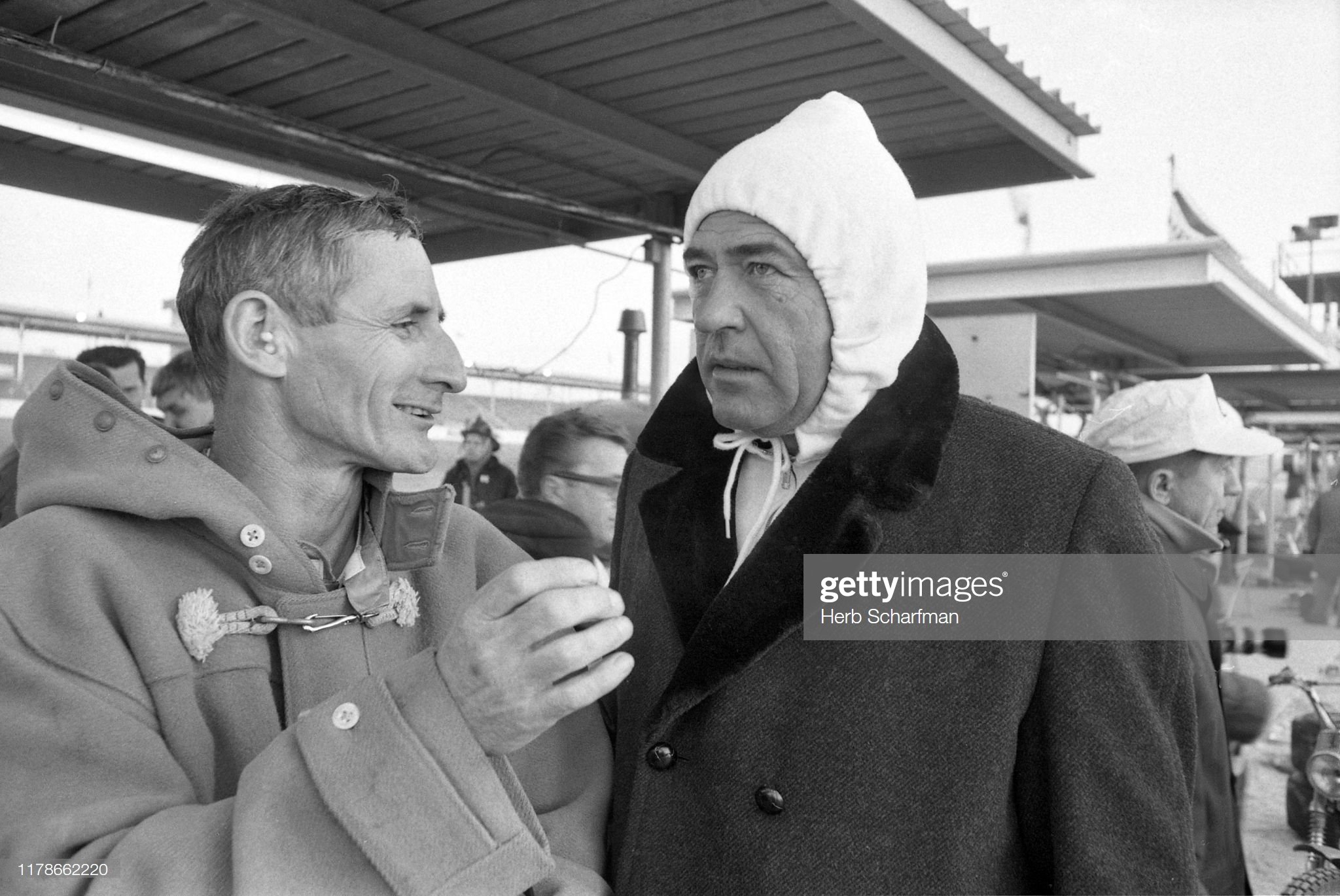 At the 1966 12 Hours of Sebring, with Miles and Ruby driving a GT40 X-1, they finished in first place, further highlighting the GT40 as a formidable machine.
The 1966 24 Hours of Le Mans, saw Ford finally triumph over Ferrari with the Ford GT40 taking first, second and third place.  
The finish of the race was controversial, as Ford wanted the first two cars to cross the line simultaneously. The Ken Miles/Denny Hulme GT40 #1 that was leading the race slowed down to allow the second GT40 #2 of Chris Amon/Bruce Mclaren to pull alongside to cross the finish line together.
Due to a rule at Le Mans in the event of a tied finished, the car that started the race furthest back at the start of the race on the grid would be deemed to have finished first.  As Amon and Mclaren's car #2 had started 20 feet behind Miles and Hulme's GT40 #1, they were declared the winners.
This turn of events denied Ken Miles winning the endurance racing "Triple Crown" of the 24 Hours of Daytona, 12 Hours of Sebring and the 24 Hours Of Le Mans.
Miles passed away in a testing accident on the 17th of August 1966, two months after the 24 Hours Of Le Mans. Carroll Shelby continued to design vehicles under his Shelby brand, as well as Dodge, Ford and Oldsmobile. Shelby passed away in 2012 at the age of 89.
https://monochrome-watches.com/spotted-the-cool-watches-of-shelby-and-miles-back-in-the-days-and-in-movie-ford-v-ferrari/