First Look
The Return of the Seiko Prospex Marinemaster, with the SJE097, SJE099 & SJE101
An emblematic name at Seiko is back, yet with a deeply updated design.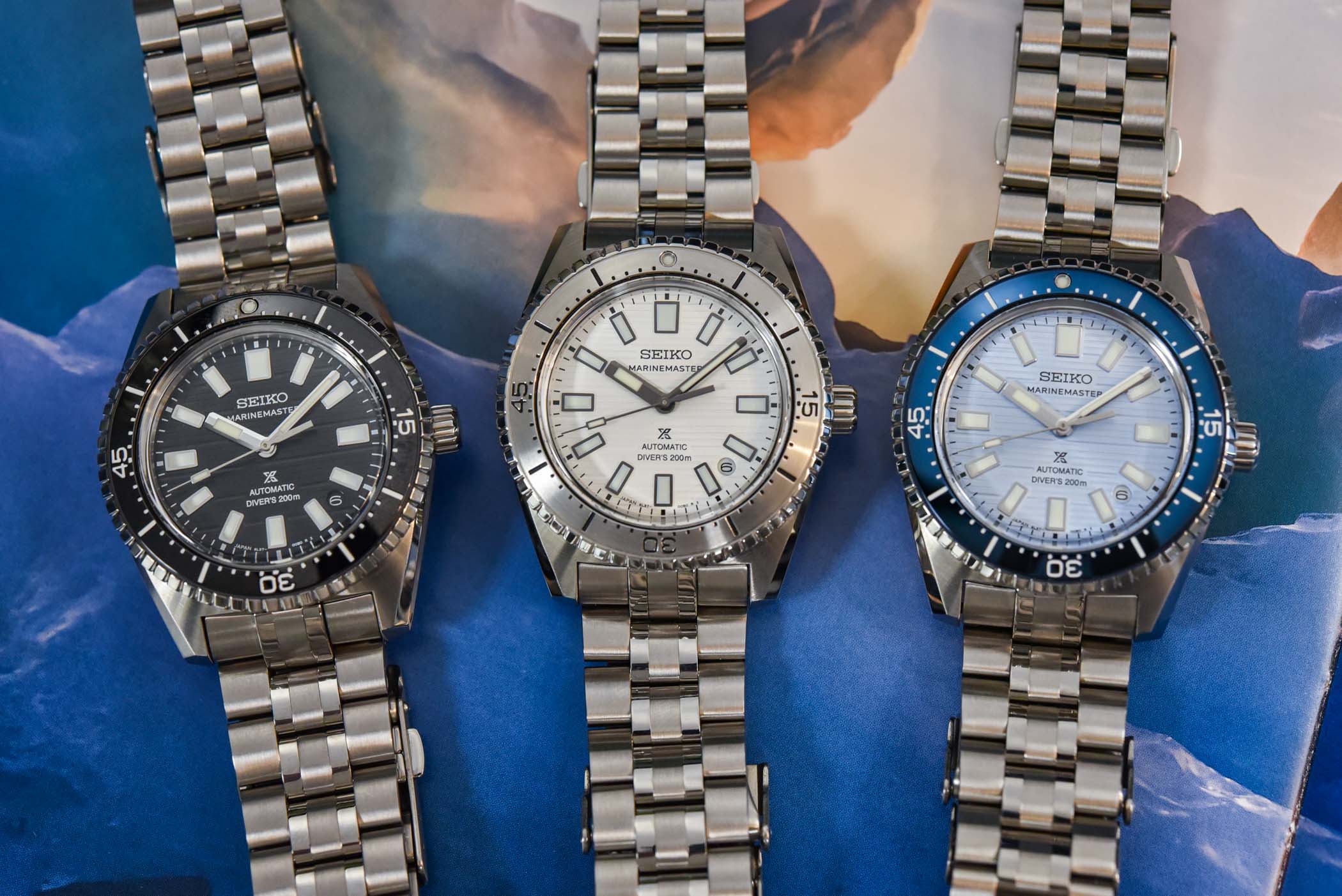 There are some names or references at Seiko that will undoubtedly tickle the interest of watch fans. 62MAS, Tuna, Sumo, Willard, SKX007… Among these names, one will surely resonate strongly among dive watch enthusiasts; Marinemaster. First heard in 2000 (or even 1999 on JDM), the Seiko Marinemaster SBDX001 is one of the most emblematic modern divers of the brand. A strong, oversized, powerful and modern watch that was the top of the range for the brand. Several years later and after multiple references, the name wasn't used for some years but it's now back, with a global debut (no JDM this time) of a new trio of Seiko Prospex Marinemaster watches – SJE097, SJE099 and SJE101 – but you'll see that a lot has changed with these contemporary watches. 
The name Marinemaster at Seiko refers specifically to one watch, the reference SBDX001. Regarded as the most advanced dive watch of the brand in that era, it established a distinctive style with a large one-piece 44mm steel case and a no-nonsense appeal. Featuring an automatic 8L35 calibre inside, with a 300m water resistance, a Hardlex crystal and a no-valve, helium-proof construction, it laid the roadmap for most modern Prospex watches to come later. First released in 2000 (or 1999 according to some sources), the Marinemaster will then be seen in other variations such as the SBDX003, the SBDX012 anniversary version and the SBDX017.
For 2023, the Seiko Prospex Marinemaster makes a comeback but it now refers to a much different type of watch. The new Marinemaster remains a higher-end dive watch, but one with a mix of modern construction and vintage-inspired elements, modelled after the first of the genre, the 1965 62MAS. And while the original model represented the top tier of Prospex watches, this new one feels more restrained, yet still highly appealing. Slimmer, smaller, slightly less instrumental but nevertheless visually appealing, it's a new Marinemaster that we're seeing here – in fact, three new Marinemaster watches, with the SJE099 and SJE101 in the permanent collection and the SJE097 as a limited edition to commemorate the return of the name.
Compared to past models, the new series is far more compact, more elegant and much slimmer. At 39.5mm in diameter, it has a great presence on the wrist but is comfortable on a daily basis too. The use of a slimline movement from the 6L range allows for a watch being only 12.3mm in height, even with a box-shaped sapphire crystal on top. Other features are traditional, such as the screw-down crown and caseback – but the latter now gives a view on the movement – and a 200m water-resistance (yes, that's less than in the past, take it or leave it).
What strikes most is the shape and attention to detail on the case, with a combination of hairline finishes and strong polished bevels. Also, you can note strong chamfering on the sides and bezel, giving the watch a highly dynamic look and something interesting, different from the rest of Seiko's production. It surely feels less tool-like than the original Marinemaster, but these new references are (at least to me) quite appealing in the metal and more luxurious. A different philosophy. But watches that are great on the wrist.
The unidirectional bezel and the dial, all with textured horizontal stripe pattern, are available in three different versions, which create the three new references. The SJE099 is by far the most original, with its light blue dial and blue bezel insert. The SJE101 is the classic look you expect from a dive watch, with a black dial and a black bezel. These two have glossy metallic inserts with a white contrasting scale and a luminous pearl. The SJE097, a limited edition, is fitted with a silvery-white dial and a brushed steel bezel insert, giving this model a modern and sleek appeal. All dials have large raised markers and hands, with a generous amount of LumiBrite, as well as a circular date window at 4:30 (which will be a source of debate).
All three references are worn on a new stainless steel bracelet. Rounded and a bit old-school in its design, it features ellipse-shaped links with mirror-finished, dual-curved surfaces. It is closed by a complex clasp with push-button release, secure lock, and diving extension. Inside the case is a slim movement, the calibre 6L37. It features the same accuracy and power reserve as the trusted 6L35 movement, yet with durability and shock resistance that meet the standard of a dive watch. It is regulated to +15 to -10 seconds per day.
This new Seiko Prospex Marinemaster will, I'm sure, be a source of discussion. Some, like me, will like the more compact, more high-end and slightly vintage appeal of these 3 new models. Others, long-terms fans, will probably regret the classic instrument-like look of the old Marinemaster…
Availability & price
The new Seiko Prospex Marinemaster SJE097, SJE099 and SJE101 will be be exclusive to Seiko Boutiques, starting in December 2023, and then will be available at select retail partners worldwide in January 2024. The silver SJE097 is limited to 1,000 pieces, the other two are part of the permanent collection. All are priced identically at EUR 3,400. For more details, please visit seikowatches.com.
https://monochrome-watches.com/seiko-prospex-marinemaster-return-2023-inspired-1965-62mas-reference-sje097-sje099-sje101-hands-on-specs-price/