Introducing
Seiko Prospex Diver's Shogun Titanium SPB189 & SPB191 (Live Pics & Price)
Seiko brings back one of its emblematic dive watches, modernized and in lightweight attire.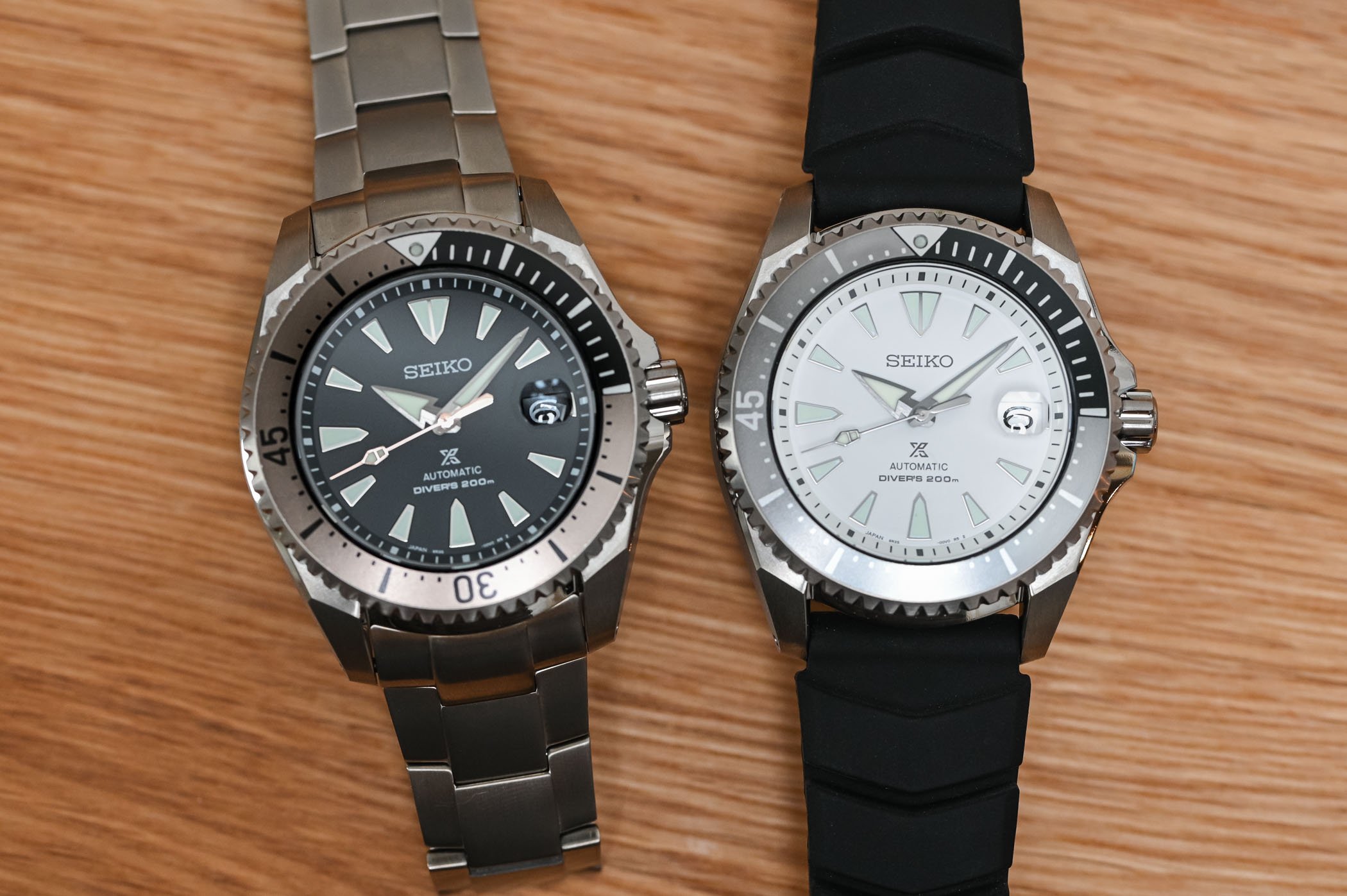 Sumo, Samurai, Turtle, Monster or Tuna… Most of Seiko's dive watches have their own nickname. While not official, they often reflect the true nature of these watches. One that we haven't heard recently is "Shogun", yet another ultra-robust, relatively accessible diver's model that has remained in the shadow of its most successful counterparts, and often reserved to the domestic market. Things are changing this year as the Prospex line welcomes new Shogun models: the Automatic Diver's 200m Titanium SPB189J1 and SPB191J1. And we're not talking about models limited to the Japanese Domestic Market (JDM) any longer. 
Behind every nickname, there's a reality. For this watch, the sobriquet is Shogun, meaning military general in Japanese, so you can easily understand that there's a notion of strength and imposing presence here. In this instance, the full armour of the case, the sharp lines and the resilience of the materials gave the initial reference SBDC007 its collector's name: Shogun. This watch, which appeared on the market in the early 2010s, has long been restricted to the Japenese market – as we explained in this article. With its case close to a Samurai watch, its hands resembling those of early Monster watches and the same calibre as a Sumo, this watch might not have been distinctive enough and was soon discontinued. Still, it remained beloved by some collectors, mostly because of its ultra-resistant and lightweight titanium case.
For 2020, the Shogun is back, and we're not referring to JDM-only models. The new Seiko Prospex Automatic Diver's 200m Titanium SPB189J1 and SPB191J1 (hence the use of a nickname…) are typical Shogun watches, with a mid-range movement, superior robustness and, of course, titanium cases. In addition to keeping the overall look almost intact, Seiko has introduced new colours to make these 2020 Shogun watches more appealing.
First things first, the original design of the watch, with its imposing and sharp case, has been retained. There can be no doubt concerning the origins of these new references, which have all the classic elements of a Shogun watch, with robust shoulders, sharp crown protection, angled inner lugs and a deeply notched bezel. As you would come to expect from a watch that bears this name, the case is made of brushed titanium with Seiko's so-called "super-hard coating". In addition to its resistance to corrosion and durability, titanium allows for a lighter watch; it weighs 121 grams on a bracelet and 99 grams on a silicone strap, whereas a King Samurai in stainless steel weighs 205 grams on bracelet. The proportions are rather large, with a 43.5mm case and 51mm from lug to lug. On the wrist, the watch is large but remains comfortable.
Regarding the bezel, which is unidirectional and also executed in titanium, the inserts have been remodelled for more visual appeal. Made of titanium in a two-tone colour scheme, the crucial first 15 minutes are on a black background while the rest is bronze/grey or anthracite, depending on the model. Protected by a sapphire crystal with a magnifier over the date, the dials are available either in black or in white and the hour markers have drastically changed to a triangular profile, instead of the dots used previously. The hands, however, retain the same overall inspiration as before.
Inside the case, the new Automatic Diver's 200m Titanium SPB189J1 and SPB191J1 "Shogun" follow the same direction as most other mid-range Prospex watches with the use of the in-house calibre 6R35, an evolution of the 6R15 that was used in the past. This automatic movement now boasts a comfortable power reserve of 70h while still beating at 3Hz.
Depending on the model, future owners will have the choice between a bracelet or a strap. The black SPB189J1 is fitted with a titanium bracelet, closed by a three-fold clasp with secure lock, push-button release and dive extender. The SPB191J1 comes on a black (well-integrated) silicone strap with pin buckle.
Availability & Price
The Seiko Prospex Automatic Diver's 200m Titanium SPB189J1 and SPB191J1 "Shogun" are available from November 2020 from retailers worldwide. The black model retails for EUR 1,550 and the white model for EUR 1,350. More details at seikowatches.com.
https://monochrome-watches.com/seiko-prospex-diver-shogun-titanium-spb189j1-spb191j1-review-price/