Rolex Predictions 2023 – The New Models Rolex Might Launch During Watches and Wonders 2023
The MONOCHROME team delivers its yearly forecast on the potential 2023 Rolex Collection.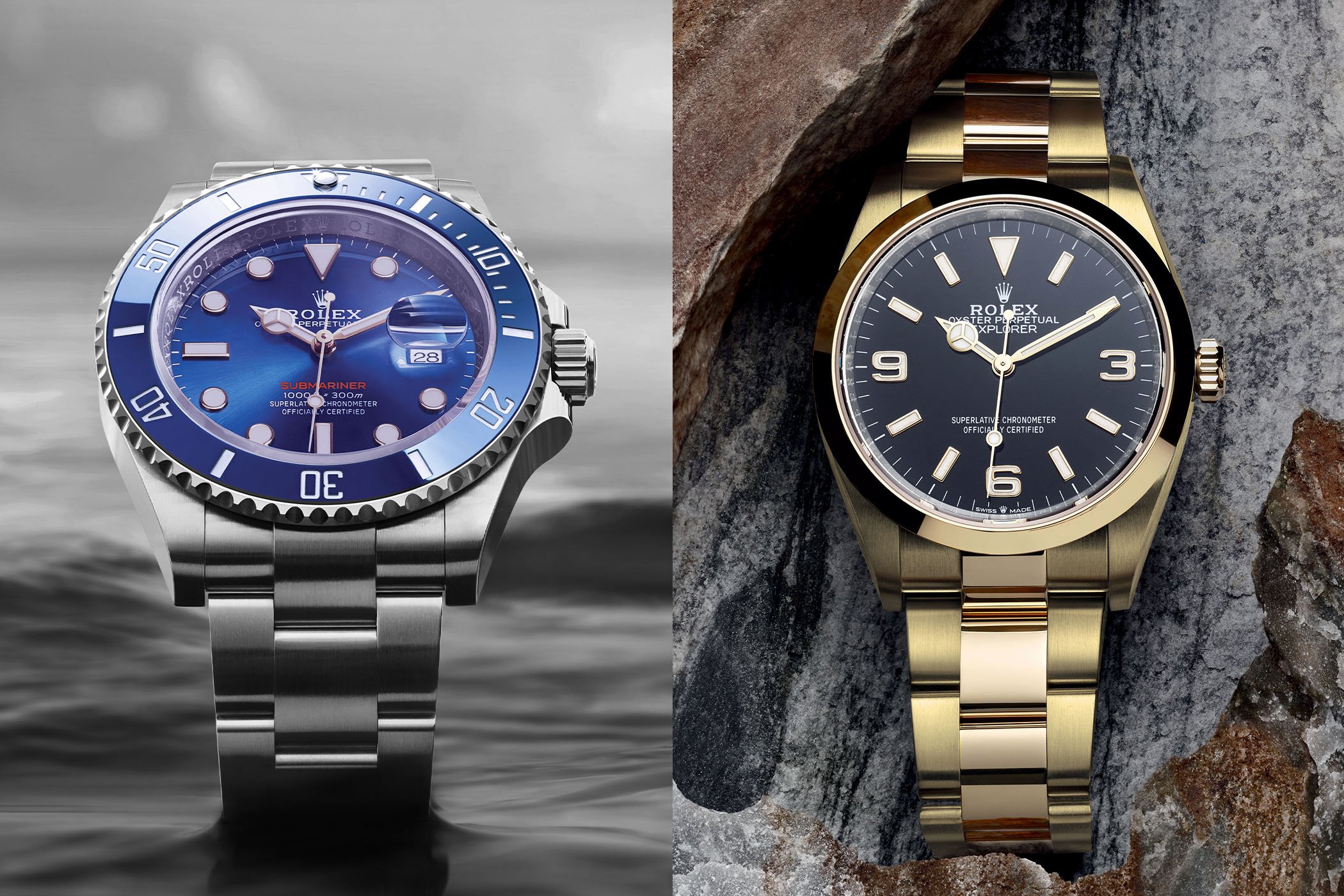 One month… This is the time left before the largest watch fair, Watches and Wonders Geneva 2023, opens its doors. And, as some of you were expecting, it is time for the MONOCHROME team to get creative and come up with its predictions for the upcoming Rolex launches. Once again, Rolex will be participating in the Geneva-based salon now that Baselworld is a thing of the past. And on March 27th, at around 9 AM in the morning, the Crown will present its 2023 collection. But for now, it is time for us to look into our crystal ball and imagine what the upcoming watches could be. Just like our predictions for 2014 – 2015 – 2016 – 2017 – 2018 – 2019 – 2020 – 2021 – 2022, we've been working hard to guess and design what the future Rolex collection might look like. Here are our Rolex Predictions 2023, the watches we anticipate Rolex might present this year.
Please note that this article is a figment of our imagination. These are just predictions. Nothing is official. It is based on our own expectations and analyses.
These predictions have become a ritual for us at MONOCHROME. We love doing them, and we know that you, our readers, enjoy participating in this exercise with us. What started as a rather light-hearted ritual has now become more serious, and we take great care in producing realistic renderings and accurate portrayals of potential models. Although we still have great fun discussing, predicting and designing these potential novelties, that doesn't mean that there isn't logic behind these predictions. We spend a lot of time exploring current collections as well as the brand's strategy in the past to try and come up with a series of watches that make sense. Obviously, we can't expect the brand to launch a redesigned Explorer II or a new Air King this year since both have been recently revamped. There's a logic behind these new launches, and so is there with our Rolex Predictions 2023.
But enough background details, time for us to look at the watches we expect Rolex to present as part of its 2023 Collection.
A Titanium Rolex Submariner For the Model's 70th Anniversary (126617LB) With Full-Blue Scheme
As we mentioned in this article earlier this year, there are plenty of important jubilees and anniversaries to celebrate this year. One of them will be the 70th anniversary of Rolex's most important sports watch, the Submariner, born in 1953. Rolex has demonstrated in its recent history that it can celebrate important milestones with special models – think about the 50th-anniversary Submariner Kermit reference 16610LV with its green bezel or the 50th-anniversary Daytona in platinum – but commemorative models aren't always produced by the brand. Nevertheless, for its 70th anniversary, we expect the Submariner to get a brand new version… And one that could be an absolute killer watch!
As part of our Rolex Predictions 2023, we've imagined a new edition of the Submariner Date watch, which could benefit from the brand's recent move to incorporate titanium. The alloy, named RLX Titanium, was first seen on the mighty and ultra-robust Deepsea Challenge 126067 – one of the world's most impressive commercially available dive watches. Of course, the use of titanium on this beast of a watch, with its massive dimensions and prerequisite resistance, made complete sense. But what if Rolex would be willing to introduce a lightweight, more instrumental-looking edition of its cult dive watch? The result, as we envisioned it, is this watch.
What can we say about this possible Rolex Submariner Titanium 70th Anniversary – which could be the reference 126617LB, according to the usual Rolex nomenclature? First of all, we don't expect any changes regarding the overall design and specifications. The Submariner, in its current guise, is a fairly recent model that was revamped in 2020. The base would be the classic Date model, with its 41mm diameter and calibre 3235. The updates would involve the use of RLX Titanium for the case and bracelet and a new colour scheme. The colour green, which has once been associated with the 50th-anniversary watch, is now part of the permanent collection. So for a change, we decided to bring a full blue version – dial and bezel – as a new combination that isn't currently available. And because we're allowed to be creative, we gave it a red Submariner on the dial. And, of course, a fully brushed case and bracelet, and why not, some polished bevels on the sides, like the Deepsea Challenge.
A Full-Green White Gold Daytona 116509LV for the 60th Anniversary
As we explained in this article, there's another watch that will be celebrating an important milestone in its history this year. Born in 1963, the Rolex Cosmograph Daytona is coming up for its 60th birthday. Rolex already presented a dedicated 50th-anniversary model in 2013 – the reference 116506, a platinum model with a light blue dial and a brown Cerachrom bezel. The Daytona is arguably the most collectable watch now in the entire brand's portfolio, and a new special edition or commemorative model would be, again, a real hit in stores (as if the model needed that). But how do we envision the Daytona 60th Anniversary?
Well, to follow the tradition, a green watch! After all, the brand's signature colour, isn't it? But let's make something unprecedented, shall we? Green isn't new to the Daytona; this handsome colour is available with a yellow gold case and bracelet framed by a polished yellow gold bezel under the reference 116508. As a result, we have imagined this attractive dial to be fitted inside an 18k white gold model with a matching solid gold bracelet… And to make it truly different, we introduce the LV (lunette verte) to the Daytona combnined with a new green Cerachrom bezel.
Green on green on white metal… A bold and quite unexpected combination that would follow the brand's idea of having more colourful, more daring watches in its collections. As for the specifications, this possible 60th Anniversary Rolex Daytona would stick to the usual proportions and be equipped with the classic calibre 4130 … But we have more ideas for the Daytona too!
A Complete Update of the Daytona – Reference 126520
This could be the big one… A brand new Rolex Daytona for 2023. But why would Rolex update its most sought-after model? Well, if you exclude the 2016 update that added a Cerachrom bezel and black rings around the counters (ref. 116500LN), the Daytona has not changed since 2000. Technically speaking, whether it's the case or the movement, the watches available today are almost the same as when Rolex presented the reference 116520 in 2000 – a model that was most notable for the launch of the in-house automatic chronograph calibre 4130. If you look at things from a technical perspective, twenty-three years have passed without a major update to the Daytona. It might be time for a change.
What could we expect from a new, updated 2023 Rolex Daytona (potentially reference 126520)? Considering the brand's recent strategy and looking at the updates of the Submariner in 2020, the Explorer II in 2021 and the Air King in 2022, we can hardly imagine Rolex drastically changing its racing chronograph. Evolution rather than revolution… That being said, the updates practised on the Submariner mandate the design cues of the new collections: slightly larger cases, a redefined balance of the design with larger bracelets and slimmer lugs, more modern mechanics and small adjustments on the dials. For our new 2023 Daytona, we would expect minor changes to the design, with slimmer lugs, maybe a 41mm diameter with a wider bracelet, and for the sake of having something more sporty, a comeback of the fully brushed bracelet as well as brushed top surfaces of the lugs.
Other updates would include a return of the steel bezel – with the Cerachrom bezel as an option – and a panda dial with fully black counters to bring back the classic 116520 look. The Daytona would (unfortunately) retain the screwed pushers (yes, we don't like them at MONOCHROME) as well as the high position of the counters. The bracelet would retain its 5mm Easylink comfort extension and Oysterlock clasp (no need for an update here). The question that remains unanswered concerns the movement. What could be done to an already very powerful and fully equipped movement like calibre 4130? It has a Parachrom hairspring, a vertical clutch and a column wheel and stores 72h of energy. There's not much room for improvement, except if Rolex decides to add a date… Something that has been a topic of discussion for many years now.
A Full Gold Rolex Explorer 36mm (124278) for the 70th Anniversary of the Model
Indeed, there's a third model celebrating an important anniversary this year, and it's the classic Explorer, a watch also born in 1953 which turns 70 this year. The watch was revamped in 2021 when Rolex introduced the new Oystersteel 124270 and Rolesor 124273. And importantly, the Explorer 1 returned to its original size of 36mm – quite a bold move from Rolex to downsize a watch from 39 to 36mm. This update was also the occasion to inject some modernity into the mechanics with the calibre 3230. And yes, apart from the classic steel version, Rolex made a questionable move when it introduced a two-tone Rolesor (steel and 18k yellow gold) edition, knowing that precious metals have never been used on the Explorer in its entire history.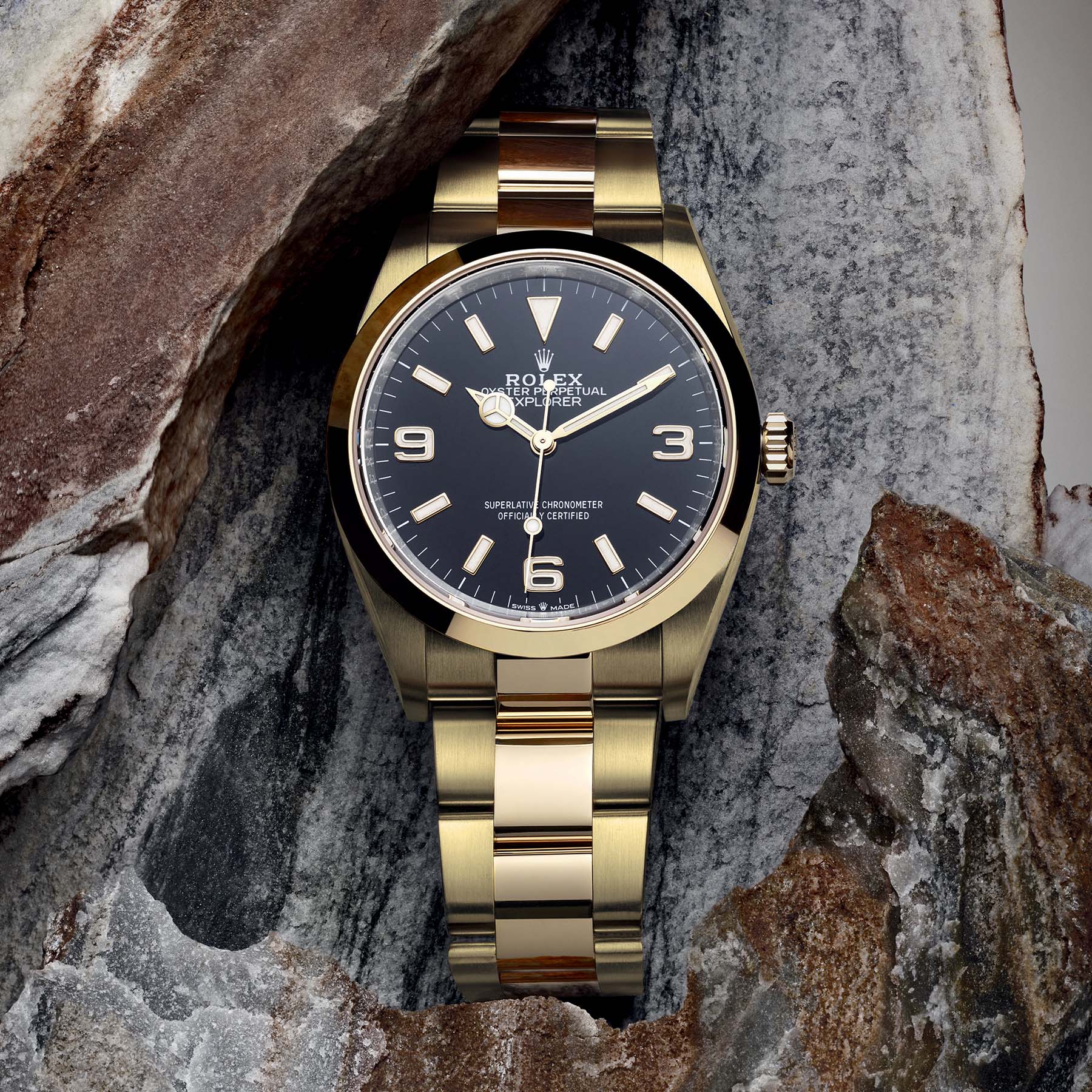 Since the model is celebrating its 70th anniversary, we've decided to go full gold… And why not? Now that there is a bi-metal version, everything goes, even a solid 18k yellow gold Rolex Explorer 36mm. Knowing that Rolex is very keen on pushing precious metals these days, it would even make sense commercially. The update here would only concern the materials used for the case, bezel and bracelet, which would all be made entirely of yellow gold. The dial, still glossy black and featuring applied markers and numerals in gold, would remain identical to the one found on the Rolesor reference 124273.
This Rolex Explorer 70th Anniversary would carry the reference 124278 (8 being the number associated with yellow gold in the Rolex collection), and it would form part of the permanent collection – there are no limited-edition models at Rolex unless, of course, there is a complete change of strategy. Surprisingly, the combination of this luxurious, warm and bold metal with a compact case and a black, sleek, sporty dial is rather appealing. There's something cool about this watch, more than we would like to admit…
Our Dream Explorer 36mm 124270 Polar White
If you've read our previous prediction articles, you should be familiar with this watch and realise that we've been using these predictions to nudge Rolex into creating this watch. We've been predicting (or actually wishing for) this watch for several years now, and we know the chances to see it coming are slim. But one can still dream, right?
So here we are again this year with our latest interpretation of the Rolex Explorer Polar dial, based, of course, on the latest 36mm generation of this model. The idea is rather simple: using the base of the reference 124270 and changing the dial to white would create a mirror image of the classic black version. The whole concept isn't just a figment of our imagination since white dials have existed in the past – see this extremely rare example once auctioned by Christie's, based on a vintage reference 6610. And even though this white dial Rolex Explorer will undoubtedly retain its unicorn status, we can still dream of it coming back into standard production in a modern shape.
And since the closest you could get in the past to this watch, the Oyster Perpetual 39 White Dial reference 114300, is no longer part of the updated OP collection, there's room for a white dial Explorer. And again, once you've done a two-tone Explorer, anything can be done…
A Necessary Update of the Rolex Milgauss (126400GV)
Last year, when we published our predictions for the 2022 collection, we made it very clear that two models needed updating. First, there was the Air King, which was revamped last year with a newly designed case and an updated movement. Second was the Milgauss. And since Rolex still hasn't changed its anti-magnetic watch, we believe that this relatively confidential model has to be updated soon. The Milgauss as we know it today is one of the last models to be powered by a movement from the 31xx generation, and except for slight colour changes, it hasn't been updated since 2007. This has to change – and quickly. The main reason, besides the implementation of a 32xx movement, is the fact that the competition provides far more advanced technologies regarding anti-magnetism. Magnetism is a subject of great importance in the industry today, and Rolex has been beaten fair and square by Omega with its Master Chronometer certification. Omega provides resistance to 15,000 gauss on most of its watches, while the level of magnetic resistance offered by the Milgauss is the same as stated in its name when it was released in 1954 – Mille Gauss, meaning 1,000 gauss.
We really think Rolex should strike back with a major accomplishment in the field of magnetic resistance. It has to in order to stay relevant… Even entry-level watches from Mido, Tissot or Hamilton offer better resistance to magnetism with their Nivachron technology, without forgetting that Tudor has been experimenting with the Master Chronometer certification. Besides a cosmetic evolution of the Milgauss, we expect Rolex to launch something impressive, and we have a major innovation in mind: a movement that isn't magnetic-resistant to a certain level but fully, entirely AMAGNETIC. And by amagnetic, we are referring to a watch and movement that are totally impervious to magnetic fields. For that, Rolex would either need to adapt its calibre 3230 by using silicon and non-ferrous parts or maybe develop an entirely new calibre. And nobody can underestimate the power of Rolex when it comes to R&D.
Visually, and following the update of the Air King (which has been closely related to the Milgauss), we expect the new anti-magnetic watch to be housed in an identical case shape with the newly introduced crown guards. For the rest, we predict some updates on the dial that don't interfere with fundamental traits like the quirky but cool green sapphire crystal and the signature lightning-shaped orange seconds hand. Also, this new edition – which could be the reference 126400GV – would benefit from more angular lugs, a slightly thinner bezel and shoulders, a wider bracelet, and a larger dial opening (all found on the Air King). And since anti-magnetism would no longer be provided by an inner cage but incorporated directly into the movement, this would result in a thinner case overall.
Finally, this evolution of the Milgauss would pick up on recent codes of the brand with double markers combined with the classic orange accents. All in all, a watch that needs to be updated on all levels… And mostly because anti-magnetism is such a hot topic today.
The Comeback of the Rolex Day-Date Tridor Bracelet
For the last of our 2023 predictions, we've decided to go wild… To do something that once existed and that many of you might have forgotten or simply never encountered. Of course, we've made it more modern, but still, the idea was to bring back a typical 1980s look. And we're not talking about a two-tone style but a showy three-tone style that appeared on the Day-Date Tridor, mixing white, rose and yellow gold on a single watch. The idea, back when these watches were produced (late-1970s to early-1990s), was that of a white gold Day-Date with a yellow gold fluted bezel worn on a President bracelet in white gold, with a central link alternating bands of rose, yellow, and white gold. And often, a gold-toned champagne dial too. You can't get more Gordon Gekko than that…
Now, why are we bringing it back? There's a bit of logic behind the return of the Rolex Day-Date Tridor. First of all, the 1980s are clearly in the limelight, and we've seen many models inspired by the flamboyance of this era. Second, Rolex is currently pushing its multi-tone watches hard, with textures and gold tones all around. Looking at the brand's website, you can see several Rolesor models advertised as hero watches. Finally, just for the sheer sake and pleasure of being bold and flashy – and even Rolex has to embrace this younger generation's love of flashy objects.
The return of the Tridor concept is quite simple. It would be based on a Day-Date 40 reference 228239 (40mm, white gold) with an updated rose gold bezel (slightly more discreet than the yellow gold on the original 1970s version) and a champagne-toned dial using either Roman numerals or baton markers. Of course, the main update would be the white gold President bracelet, with a central link with five bands in rose, yellow and white gold. The probability of seeing this Day-Date Tridor materialise is low, but still, it has its own appeal.
---
Note: This Rolex Predictions 2023 article is based on our own Photoshop mock-ups; Rolex has provided nothing officially. These are predictions based on our imagination and expectations. All images are under license of MONOCHROME and should not be used without agreement or copyright (©Monochrome-Watches, 2023).
If you liked this Rolex Predictions 2023 article, we would love to hear your thoughts and reactions. Please use the comment box below. You can also share via our Instagram account (@monochromewatches).
https://monochrome-watches.com/rolex-predictions-2023-new-rolex-models-2023-rolex-watches-wonders-2023-new-daytona-steel-new-milgauss-anniversary-submariner-titanium-full-gold-explorer-day-date-tridor/