Opinion
A True Diver or A Daily-Beater With A Sporty Edge? A Personal Take On The Tudor Pelagos 39
A great one-watch-collection model with a casual, sporty edge... but not a true instrument anymore.
About a month ago, Tudor dropped a new edition of what is its most hardcore dive watch to date: the Pelagos. First released in 2012, this 42mm titanium watch was designed for action with its 500m WR and helium valve, its ultra-focused design and the use of lightweight, resistant and functional materials. It was followed by an evolution with a manufacture movement, then a rather funky LHD model and recently, a military-issued model, the FXD. All very instrumental tool watches… But now we have the Tudor Pelagos 39,  and since the dust has settled, I wanted to take a second look at the watch. I realised that this watch isn't just a downsized model… Despite its familiar look, it actually has a rather different purpose. 
The Facts
Let's not bother too much with this part. We've been there, done that already. The Tudor Pelagos 39 is, on paper at least, a reduced version of the classic Pelagos 42 with a less instrumental edge, or in different words, with a more urban lifestyle vocation. First, the diameter has been reduced from 42mm to now 39mm. Then, the case is still titanium (grade 2 in this context), still entirely brushed, still extremely well manufactured, and still has the familiar design that immediately recalls classic Rolex codes. Water-resistance? 200 metres. Height? A very decent 11.8mm, about the same as a Black Bay Fifty-Eight (and I've rarely heard anyone complaining about this watch). Lug-to-Lug? 47mm, which is even smaller than the BB58. The caseback is steel, screwed and plain simple. The crown screws down and is inserted between lateral guards.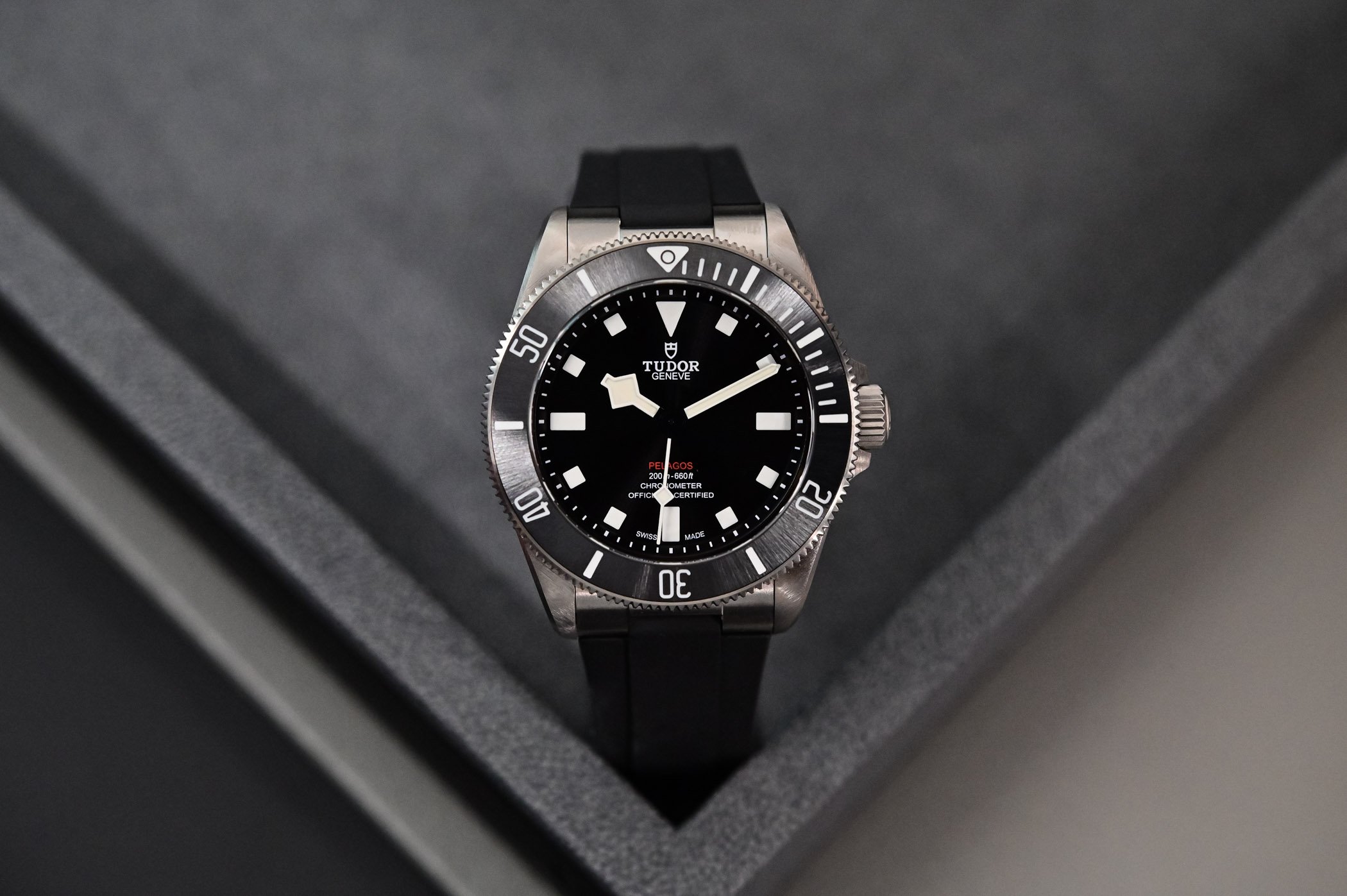 The novelty of this model is the textures. The bezel, unidirectional of course, has a radially brushed ceramic insert with a luminous, partially graduated 60-minute scale. The dial also has its own texture. It's black but sunray-brushed and not matte finished. The whole dial has been streamlined; the inner flange is simple in its design (not partially framing the markers, like on the 42mm model), and the hands are white, luminous and typical Snowflake-shaped. The markers are also white with a 3D shape and made of monobloc ceramic composite. The date has been removed, leaving us with a time-only display. A cherry-red Pelagos mention is the only pop of colour to break the monotony.
Inside the case is roughly the same movement as the BB58, the calibre MT5400. Made by Kenissi, it shares the same attributes as most Tudor watches: 70h power reserve, chronometer certification (-2 and +4 seconds variation per day as per Tudor's requirements), 4Hz frequency with a variable inertia balance and an anti-magnetic silicon hairspring, transversal bridge for more stability. A movement that is meant to be precise, practical and reliable.
Finally, the Tudor Pelagos 39 is presented on a 3-link grade 2 titanium bracelet, again entirely brushed. It's closed by a satisfying clasp, which includes a diving extension and the brand's quick adjustment comfort release (T-Fit system), allowing an adjustment window of 8 millimetres in 5 positions, on the fly, without a tool. A black rubber strap with its own titanium pin buckle is also included, as well as a 110mm rubber extension to wear the watch over a wetsuit.
Where to position the Tudor Pelagos 39?
This was a bit of an issue for me when the watch was first released. The Pelagos collection, up until now, was something of a niche collection, which I could easily define as Tudor's answer to the Sea-Dweller – and if I must be honest, a better answer than Rolex's watch, since it really has all the attributes of a proper tool to be used and abused. The original Pelagos is still one of the most impressive deep-dive watches on the market, without an ounce of luxury or any concession to elegance. It looks and feels like a piece of equipment for a diver and is basically equipped with everything you'll ever need. And because of this, it is a niche model. Of course, it can be worn on a normal day, on land. But I hardly imagine the Pelagos 42 being the only watch you'd own. A bit too extreme, I guess.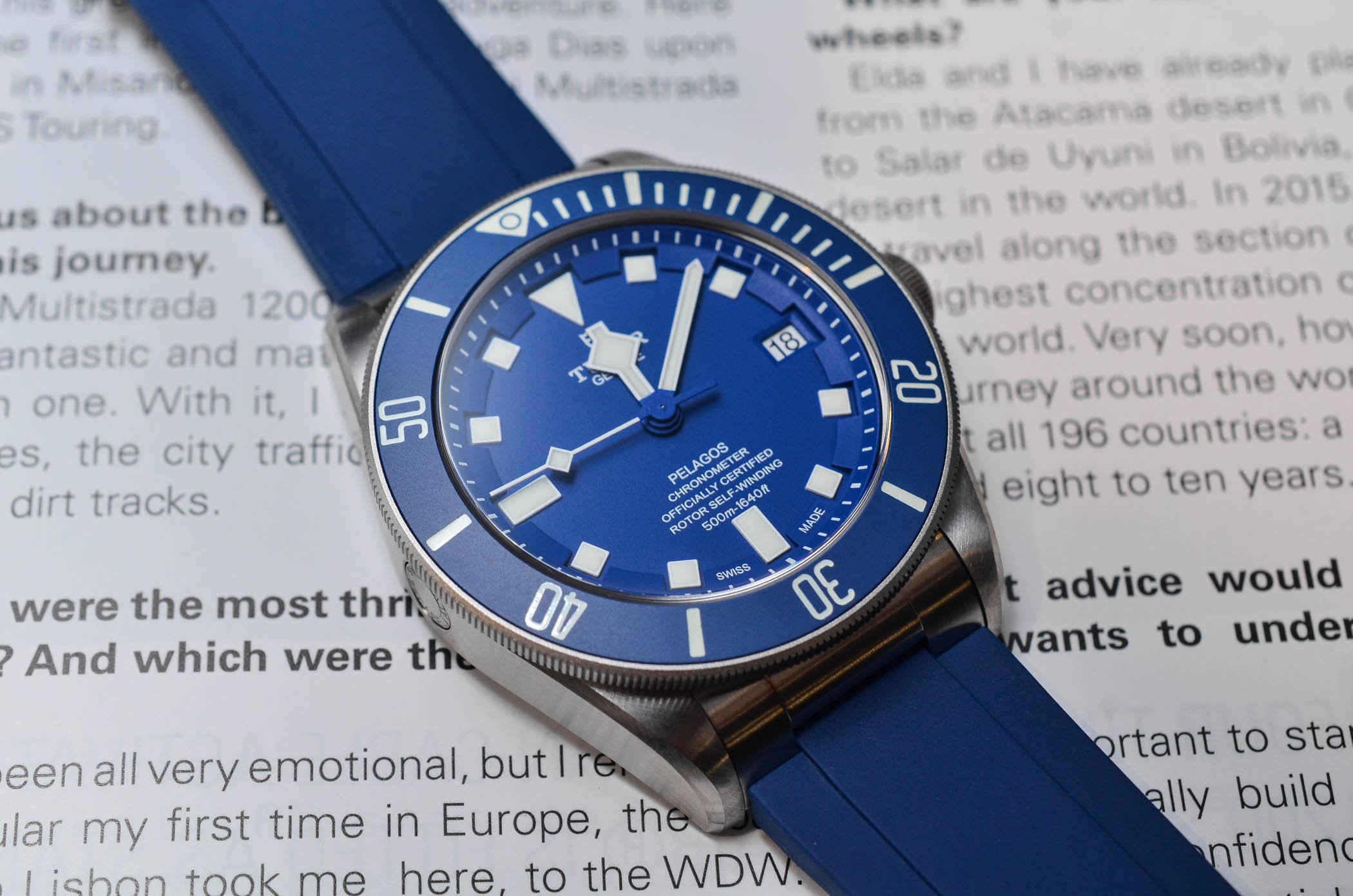 The Tudor Pelagos 39 is drastically different in its approach. In fact, it's not only the set of specifications but mostly the look and feel of the watch that changes the game. When first introducing the watch, I said that it felt like it sits in a small window, that of "the compact dive watch with traditional features and a more rugged and more modern look than the BB58." After a few weeks, I think it's necessary for me to change my words a bit.
In fact, I think the Pelagos 39 is a different kind of product, and its position on the market is not that of a pure dive watch anymore. It is far more mainstream than I first imagined. With its "less hardcore" specifications, its compact (but not small either) dimensions, its textured dial and bezel, bringing some refinement, and its classic, timeless design with reassuring codes, I think that Tudor has created a different style of daily beater.
We've often talked about the "one-watch-collection" models that could easily be identified as a steel Rolex Datejust 41 or an Omega Seamaster Aqua Terra. The do-it-all kind of watch, which is perfect for a business meeting, good for a night out, yet still resistant enough for a weekend at the beach. With the Pelagos 39, Tudor is bringing a more modern, younger, more versatile type of one-watch-collection model, the daily beater of the millennials, a daily-oriented watch with a fairly controlled sporty edge. A watch that is meant for those who don't need a jacket and shirt at the office but use a bicycle to get to work, wear a pair of jeans and sneakers at a meeting, and still want to use the same watch on weekends when surfing or jumping in a pool.
Obviously, the Tudor Pelagos 39 will be a very decent, well-performing dive watch. No doubt about that, it will do the job for 99% of recreational diving situations. But to me, this isn't the goal of this watch. It's an answer to changing mentalities, new lifestyles, new codes of fashion or fast-evolving mentalities in professional environments. In fact, I even think the Pelagos is very clever as a product intended for non-hardcore watch enthusiasts. It's softer than a Pelagos 42 without losing its diving attributes, it's classic and refined enough to maintain its beauty over the years, it's discreet and thus won't attract too much of the bad kind of attention, and its case has a gender-free edge regarding the dimensions… I mean, it's a very 2022 product indeed. And at the same time, recreational divers will still have plenty to enjoy with this watch.
What did I like about it? And What I didn't like?
Objectively, looking at the facts and the overall execution of the Tudor Pelagos 39, there really isn't much to complain about. The whole package is of a very high quality, the details are nice all around, the movement is precise and does its job to perfection, and the specifications are simply more than enough for the vast majority of users (and if it's not enough, the 42mm will solve the issue).
Subjectively, there are a few things to say. First of all, it's about the size. Yes, for most wrists – the range that covers most average sizes, excluding extremes (below 15cm or above 19cm) – this smaller Pelagos will be close to sports watch perfection. The diameter of 39mm (in fact, closer to 40mm at the bezel) and the relatively thin case, combined with a relatively compact L2L – yes, again, it's even better than a BB58, with about 1mm less, and a whopping 3mm less than the Pelagos 500m – is making it an extremely versatile watch. The fact that you have both the titanium bracelet and the rubber strap included is also adding to this feeling. And the toned-down instrumental look, thanks to some light textures on the dial and bezel, is again making this watch more usable on a daily basis.
Speaking of that, I definitely prefer the look and feel of this Pelagos 39 over its bigger brother. Specifically, the bezel and its radial-brushed texture. I've never been a fan of the all-matte bezel of the larger version. Altogether, it's making this watch more interesting visually…
But, more interesting doesn't mean really sexy. I know it's all down to preferences, but the Pelagos 39 isn't what you can call a hot watch, a talking piece, or a striking model. It might not be its vocation in the first place but let's be honest, it doesn't reinvent the wheel. It's a classic, streamlined, pure-looking dive watch. There's not much going on actually, and the whole thing lacks a bit of charm in my eyes… just a tiny dosage of eccentricity. A small imperfection. You know, the "beauty mark" of Cindy Crawford above her upper lip (yes, it's a mole…). Something to spice things up. In this respect, the BB58 with its vintage appeal and its warmer colours (specifically the black dial version) does a better job of being attractive…
The downside with the Pelagos 39 is, it's so good and well made that it actually becomes a bit cold. The upside is that the watch will not become out of fashion soon. And for someone who's buying it with the idea to wear it on a daily basis, and for the long run, this isn't a small aspect to consider.
The last thing with the Pelagos 39 that annoys me is that, if Tudor had the great idea to include both a bracelet and a rubber strap, there's no quick-change system. I've been pointing this issue to the brand and their answer, if somehow justified, doesn't satisfy me entirely. It's all down to the resistance of such systems over the years, and Tudor has yet to find a quick-change mechanism that is resistant enough. Well, at least there's room for improvement.
But yes, altogether, the Tudor Pelagos 39 is a rather impressive watch. Not the most striking, but one of the most coherent. And the price (CHF 4,200 or EUR 4,140), if not cheap by any means, feels justified and highly competitive compared to possible alternatives. Availability isn't yet as easy as we'd like, but it's not impossible to find one either.
For more details, please visit tudorwatch.com.
https://monochrome-watches.com/review-tudor-pelagos-39-titanium-dive-watch-opinion-specs-price/