Retrospective – The Entire Omega Seamaster x James Bond 007 History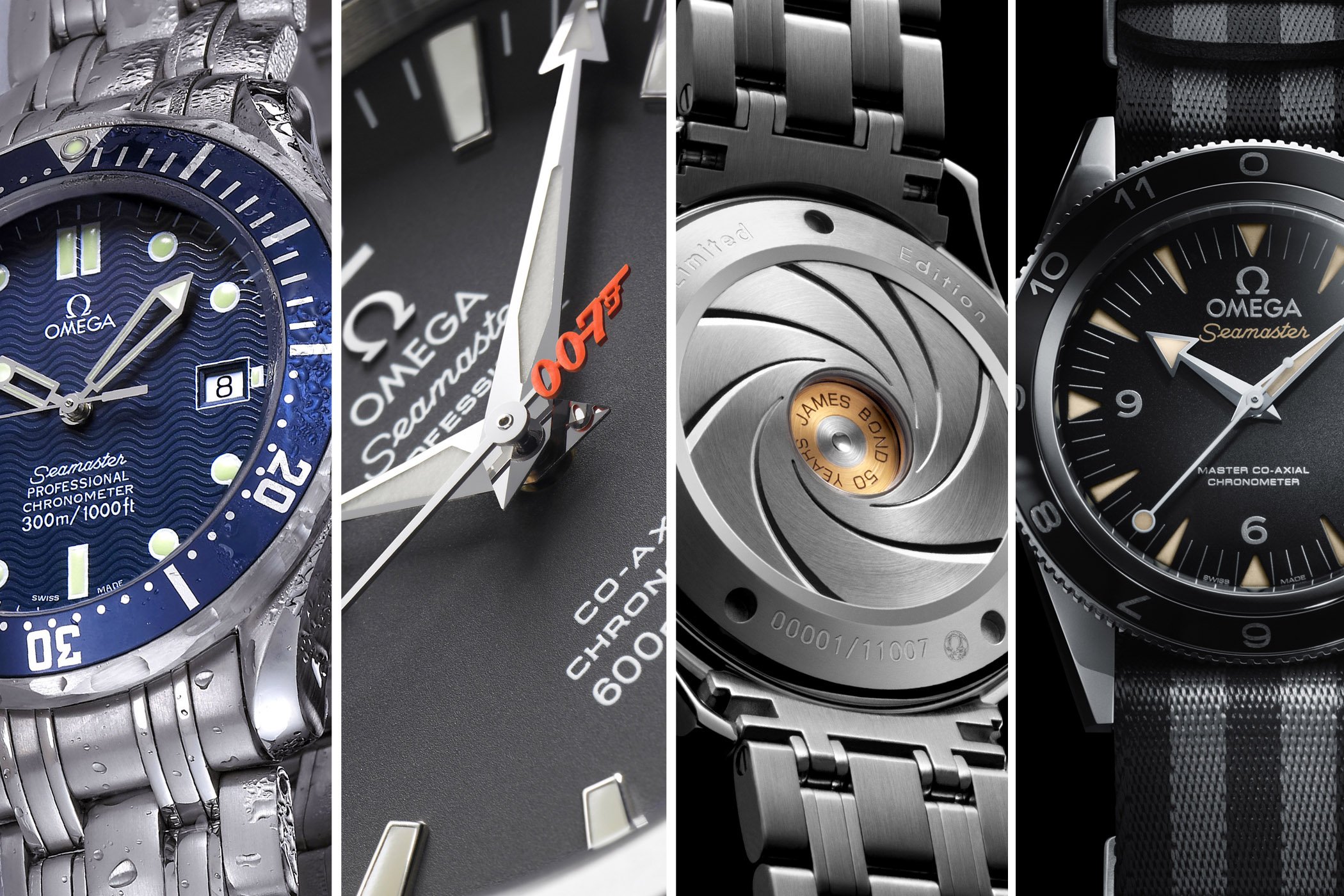 Neither of them need an introduction. On one side is the most famous special agent in the world. On the other side is one of the most respected Swiss watch brands. And their collaboration is as explosive as the movies. While in most films, watches only make short screen appearances, with James Bond 007, this accessory has gained a totally different status, becoming a character on its own. Here is an exhaustive retrospective of all Omega watches used in James Bond movies, from 1995 Goldeneye to 2015 Spectre.
The Omega X Bond collaboration started with the actual revival of the series, as for quite a number of years, the 007 franchise languished in the shadows. However, back in 1995, some fresh air was given to the 007 concept, bringing back elegance – in the name of Pierce Brosnan – as well as action, perfectly controlled humor and up-to-date stories – everything that made 007 famous and loved.
Since the first movie, watches have been part of 007's equipment. However, it's mainly since the arrival of Omega as an official partner that this accessory has gained a more important status. Not just worn, the Omega watches presented in the movies play a proper role, helping 007 to solve critical situations. Of course, visibility for Omega is immense. Still, this collaboration is thought of as relevant and cleverly executed.
GoldenEye (1995) – Omega Seamaster 300m Quartz Professional
For its first appearance on the big screen, Omega chose to equip James Bond – played here byPierce Brosnan – with a watch that later became emblematic, the Seamaster 300m Quartz Professional. Indeed, at that time, mechanical watches were not yet entirely back on the scene and the quartz model was certainly the most successful of the collection – ref. 2541.80.
The choice for this watch is perfectly explained by Lindy Hemming, Oscar-winning costume designer, responsible for casting 007's watch in GoldenEye. She said, "I was convinced that Commander Bond, a naval man, a diver and a discreet gentleman of the world would wear the Seamaster with the blue dial."
Pierce Brosnan as James Bond 007 wearing an Omega Seamaster 300m Quartz Professional – GoldenEye, 1995
The watch itself is a professionally-oriented diver, with midnight blue dial and bezel – with the dial showing the signature wave pattern. The Seamaster 300m was already fitted with a Helium escape valve at 10.
The watch is not only a timepiece that tells the time. Following a long tradition, this piece of equipment is loaded with gadgets, such as a laser, which helps 007 to evacuate a soon-to-be exploding train. The Seamaster seen in the movie also contains a remote detonator. It features as a major plot device several times in the film.
Tomorrow Never Dies (1997) – The World Is Not Enough (1999) – Die Another Day (2002) – Omega Seamaster 300m Professional Chronometer
For the three following movies, all featuring Pierce Brosnan as main actor, the choice was made to feature an automatic and chronometer rated version of the Seamaster 300m Professional. In terms of design, no major changes compared to the Quartz version. This watch – ref 2531.80.00 – only differs from the movement used, a Calibre 1120 with 44h power reserve.
This Omega Seamaster 300m professional chronometer 007 ref 2531.80.00 featured in Tomorrow Never Dies (1997), in The World Is Not Enough (1999) and finally in Die Another Day (2002).
It features the same blue dial with wave pattern, a blue bezel, the same 5-link bracelet and the same 41mm steel case with 300m water resistant and Helium escape valve at 10. However, if the watch itself is the same in these 3 movies, it is fitted with different gadgets.
The Omega Seamaster 300m Professional Chronometer, as worn by James Bond 007 in Tomorrow Never Dies, was outfitted with a detonator, in order to blow up villain Elliot Carver's ship.
The Omega Seamaster 300m Professional Chronometer, as worn by James Bond 007 in The World Is Not Enough. In this episode of James Bond, an ex-KGB man turned terrorist wants to detonate a nuclear bomb. The watch is retrofitted with a strong light and a miniature grappling hook, which helps to escape a missile base.
The Omega Seamaster 300m Professional Chronometer, as worn by James Bond 007 in Die Another Day. In order to neutralise an arrogant industrialist that is working on a diamond-encrusted space weapon that can concentrate sunlight, 007's Seamaster Diver 300m has a detonator pin and a laser in the watch's crown. In this episode, Q mentions that the watch he issues Bond is "your 20th, I believe"
Casino Royale (2006) – 2 watches, Seamaster Diver 300m Co-Axial and Seamaster Planet Ocean 600m 45.5mm
New actor, new director, new production team, and overall new style for a modernized, more realistic Bond. Thus, even though the watches are still appearing throughout the entire movie, gadgets are not part of the equipment anymore in Casino Royale.
2 watches appear in the movie though. At the beginning, when in Uganda, 007 James Bond, played now by Daniel Craig, is seen wearing one of the new (at that time) Seamaster Planet Ocean 600m in the larger size (45.5mm). At that time, the watch still had a metallic bezel and featured the Calibre 2500, the modified ETA with Co-Axial escapement. Bond wears the watch on a black Rubber strap.
Later in the movie, while at a Casino in Montenegro, Bond has to participate in a dangerous and tactical poker tournament. To match with his tuxedo, he wears the new version of the iconic Seamaster Diver 300m, which while visually identical to the previous versions, has been fitted with the new Co-Axial movement, Calibre 2500. Both the dial and the bezel keep the emblematic blue color and the watch retains the 41mm steel case with Helium escape valve.
Even though the watches have no gadget and are not key in the story, they made strong appearances during the entire movie.
Quantum of Solace (2008) – Omega Seamaster Planet Ocean 600m 42mm
With Quantum of Solace (2008), Bond seeks vengeance for Vesper Lynd, the woman he felt in love with during Casino Royal. Once again, serious and modern style, meaning no gadgets and no specific role for the watch in this movie. Yet, appearances are not rare and the watch is clearly visible.
For this episode, Daniel Craig alias James Bond wears a Seamaster Planet Ocean 600m, however in the smaller 42mm case, with a steel bracelet. It sill retain the metallic bezel and the Co-Axial Calibre 2500. The version used here has a black dial and black bezel.
Skyfall (2012) – Omega Seamaster Planet Ocean 600m 42mm Ceramic and Seamaster Aqua Terra 150m
As in Casino Royal (2006), two different watches appear in Skyfall (2012). In this episode, suffused with meditations on mortality, Bond is face to face with his own past and is fighting for his life and the life of those who matter most to him.
Bond can be seen at the beginning of the movie, during a mission with Eve Moneypenny in Istanbul, wearing the latest version of the Planet Ocean 600m. This new model was now fitted with a ceramic bezel, a redesigned dial and the new in-house movement, Calibre 8500 Co-Axial. Bond wears the 42mm steel version with black dial and dark grey bezel.
Later in the movie, Bond wears a more surprising watch, a Seamaster Aqua Terra 150m. This was the first time that 007 was seen with a dressier watch, and not a toolish / professional dive watch. The model chosen here has a dark blue dial with nautical-inspired stripes. It is worn on a metallic bracelet and has a smaller 38.5mm steel case. Inside is the in-house calibre 8500.
Once again, as in other movies featuring Daniel Craig, the watches have no specific role in the story, however make numerous appearances on screen.
Spectre (2015) – Omega Seamaster 300 Master Chronometer Spectre Edition
For 007's latest adventures, Omega did very well, as not only did they create a specific watch for the movie, but the watch itself makes a strong comeback as a real actor, with an important role in the story.
Omega chose the newly introduced Seamaster 300, with Master Chronometer movement. This vintage looking watch was given a great military look for the movie, with a specific 12h bezel, a lollipop second hand, large patinated indexes and a 5-stripe NATO strap, reminiscent of those used by RAF. This Seamaster 300 Spectre was later made available as a limited edition.
While at the beginning of the movie, when Bond receives his watch from Q, he's clearly told that "it tells the time" when he asks "does it do anything?" Yet, at a certain point in the movie, fans of Omega and Bond were happy to discover that the watch actually does more than just indicating the time. This marked the comeback of the gadget-watch, after being absent from the previous 3 movies.
The Seamaster 300 worn by Bond in Spectre actually features a countdown and a bomb. Once activated, the indexes indicate the remaining time before explosion by turning red. Once again, 007 is saved thanks to his Omega watch.
https://monochrome-watches.com/retrospective-omega-seamaster-james-bond-007-history/