Parmigiani Fleurier Bugatti Super Sport
Following up on their 2012 release of the Parmigiani Fleurier Bugatti Vitesse at Pebble Beach, they have just announced the Super Sport version. A watch for the super wealthy, Bugatti owning watch connoisseur.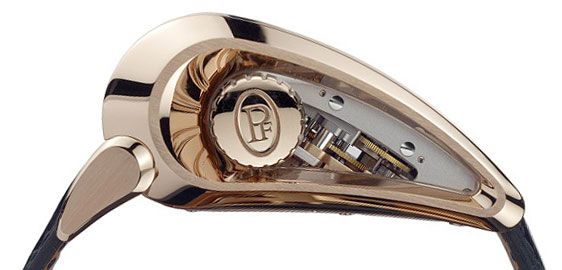 The Bugatti Vitesse was releases in white gold, at the prestigious annual Pebble Beach event back in 2010. It accompanied the car the design inspired on, and matches it pretty close when it comes to sheer "awe". The car surpasses everything that the industry has to offer to this date, and holds the world record for highest top speed by a production car. To do that it uses a 1,200 bhp strong W16 cylinders with a total capacity of 8 liters. Funny note; on full tap, the turbo's strapped to the engine use an equal amount of air in one minute, as a human being does in 4 days!
In order to match the superlatives surrounding the car, a watch has to be equipped with some very distinguishable features and a very unique design. You can easily ask the craftsman at Parmigiani Fleurier to fulfill that task. The basic design has been among us for a period of just about 2 years, but it still packs enough punch to impress when you first come in contact with it. The most notable feature by far is the 90 degree angled dial, facing the driver when his or her hands are 'glued' to the wheel, doing close to 268 mph (431 kph).
Apart from the unconventional design, the movement inside is pretty awesome too. Built on two separate planes, required by placing the dial at an angle, it consists of 333 components. Just like the car, it packs quite a bit of power: 240 hours or 10 days. On top of the movement, where you would normally find the time-indicators, you can find its power reserve indicator.
There are a lot of subtle design notes, if one can talk about subtle with a watch like this, reminiscent of just what inspired this watch. The balance wheel, escapement and their bridge-plates are set up like an arc, mimicking the famous Bugatti logo. The side of the ergonomically shaped case resembles the tension lines on one of the wings. You have to use a bit of imagination, or squint your eyes a little, but the shape is definitely there.
The dial, with its Delta-shaped hands, is made of black opaline with a circular cutout revealing parts of the movement once more. The 18ct rose gold case is curved and combined with articulated lugs it ensures a snug fit. The rose gold case is polished and satin finished. The finishing of the movement contains Côtes de Genève, circular graining and sand-blasted parts, along with hand beveled main plates.
All this is packed in a case measuring 36mm wide and 50,7 mm tall. Being 22,7mm thick it is no small watch by any means but it still is manageable. The case is attached to a black alligator Hermès strap, with a rose gold folding buckle. Water resistance is 10 meters, more then enough to park your Bugatti Veyron in a small lake if you feel the need to. Just like the real car, this watch will be a limited production run of 30 pieces, each individually numbered.
No information regarding availability or a price tag, but rest assure it will be steep. The white gold versions retails for around $ 233,600 USD.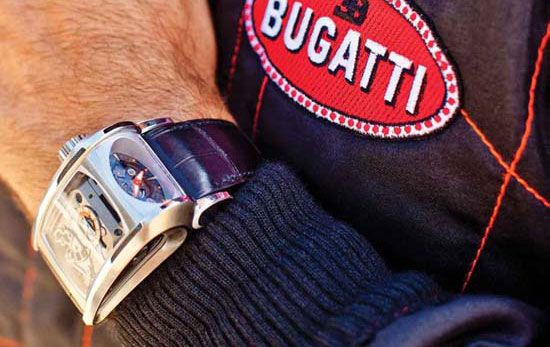 For more information about Parmigiani Fleurier please visit their website or their Facebook-page. For more information about the Bugatti Veyron Super Sport please visit their website or their Facebook-page.
This article is written by Robin Nooij, contributing writer for Monochrome Watches.
https://monochrome-watches.com/parmigiani-fleurier-bugatti-super-sport/