New Habring² Chronos ZM with Central Minute Counter
Habring² just released three new chronographs, all with a central minute hand counter. Maybe not unique in the market, as we've seen this Clerc Hydroscaph Central Chronograph already, but still a very nice development and in my opinion a development that improves the mere function of a chronograph.
Two of the three models measure 42 mm in diameter, the Chrono ZM and the Chrono COS ZM. COS stands for Crown Operating System, meaning this can be seen as a single-pusher (or mono poussoir) chronograph, although the crown needs to be turned instead of pushed to operate the chronograph. That's anothere feature that I really like!
The ZM addition to the name reflects the novelty on these models, at least if you know German. ZM stands for "zentraler Minutenzähler" or central minute counter in English. When the chronograph isn't activated both the central seconds hand and the minute counter hand are pointing to the 12 postision, with the minute counter being tucked away under the seconds hand. Together these two hands allow you to emasure times up to 60 minutes.
The small sub dial on the left side of the dial is the regular running seconds hand. The dial is typical for Habring², showing a very clean design with stick markers for the hours. The middle of the dial, that is brush finished, features Arabic numerals at the 12, 3 and 6 position and the brand's name and country; this is no Swiss made watch, as Richard and Maria Habring are working in their workshop in Austria.
The third version is a single-pusher chronograph in 36 mm diameter, also featuring a central minute hand counter for the chronograph. Unlike the Chrono COS, this one has a real single-pusher or mono poussoir to activate all chronograph functions (start, stop and reset).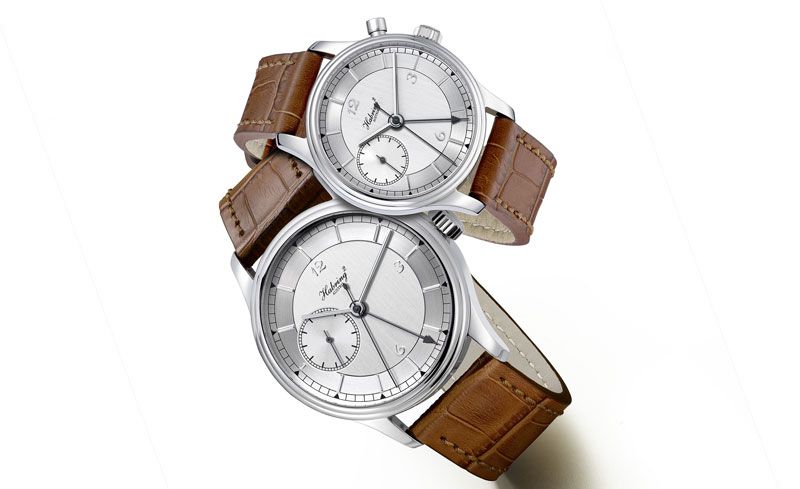 Although the company's own calibre A08MCOSZM is based on the wheel train of the ETA 7750, there are many in-house manufactured and modified parts. Key is, they share reliability and ease of service.
The Chrono ZM in 42mm (2 pushers) and the ZM in 36mm (monopusher) are starting at € 4,050 and the Chrono COS ZM is available for € 5,850 Euro. Excellent value for money! 
Further information is available at http://www.habring2.com/
This article is written by Frank Geelen, executive editor for Monochrome Watches.
https://monochrome-watches.com/new-habring-chronos-zm-with-central-minute-counter/