Editorial
Microbrands vs. Accessible Established Brands – Are Newcomers Shaking up the Industry or Just Small Fish in a Big Pond?
How disruptive is the "Microbrand" business model?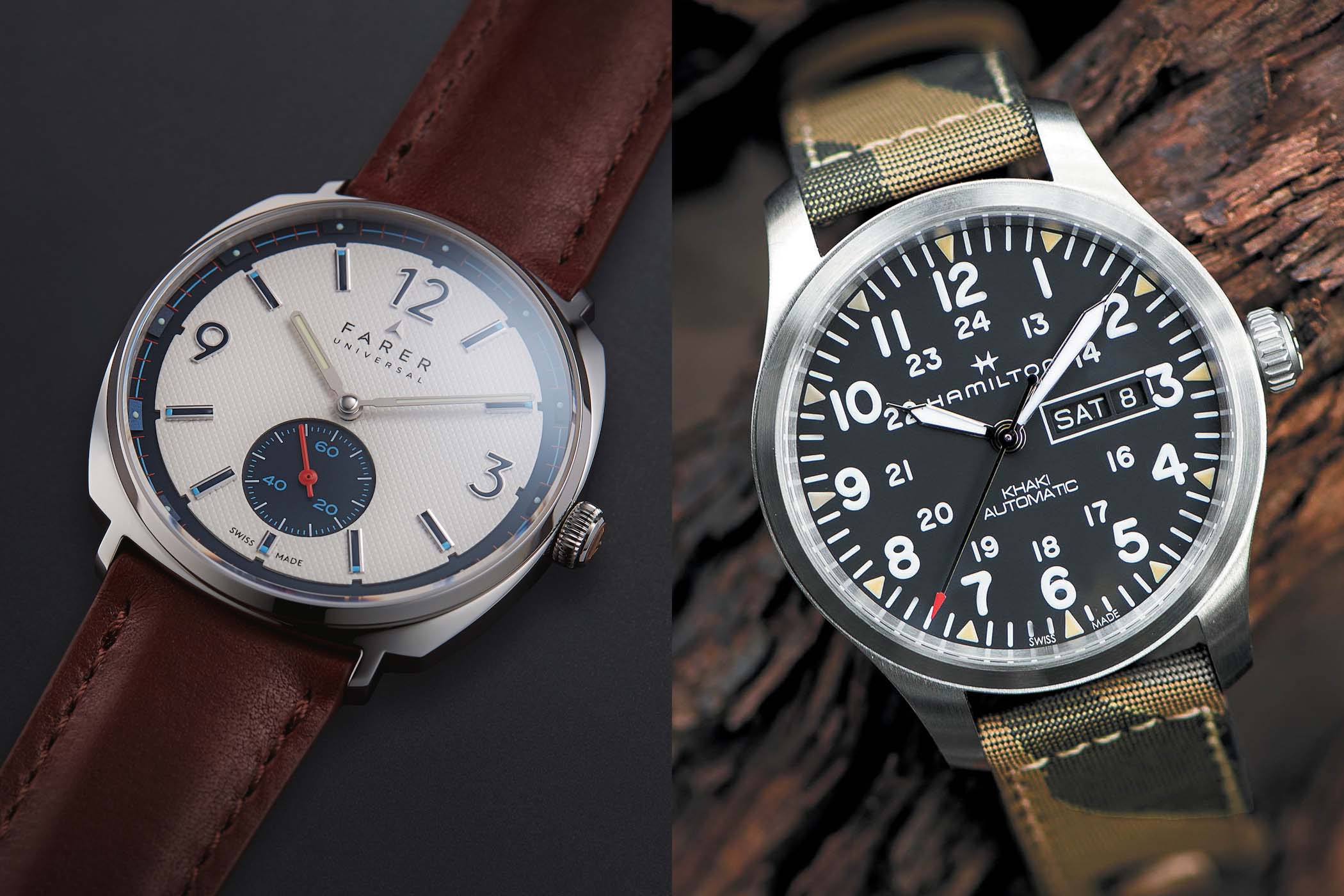 It's an interesting time to be a watch enthusiast. Fuelled by sites like Kickstarter, a phenomenon of inexpensive, quality movements and parts is unfolding, available with the immediateness only online media outlets can offer. Small startups (or microbrands) are producing compelling watches with capital raised via crowdfunding and online-only storefronts, minimizing overhead that established brands still bear. A flurry of online watch publications cover a particular launch and suddenly a new watch is born. While microbrand offerings are often thought of as inferior, cheap watches thrown together in Asia, enough of these brands have surpassed the stigma and grown into competent watch companies. An excellent example is Farer Universal, a microbrand of just a few years that recently released a trio of unique chronographs that can go head-to-head with established brands like Hamilton or Tissot. Dedicated entrepreneurs are working tirelessly to steer your attention away from familiar brands.
You don't have to go with a microbrand to find a quality yet inexpensive mechanical watch. Brands like Seiko and Hamilton have great pieces for only a few hundred dollars, with some coming in under USD 200. And like an established car company, these brands have a history and reputation that no microbrand can match. Does that matter? If an established player like Junghans, a brand of over 150 years, produces a watch with an ETA 7001 calibre, is it superior to a microbrand piece with the same movement? In many cases, a microbrand's small design team can develop a fresher, more aesthetically interesting piece. And many are building their watches in Switzerland, Germany, France and other traditional locations (in other words, not China). Let's look at three comparisons between new and old brands, and see just how disruptive this business model can be.
Junghans Meister Handaufzug vs. Farer Stanhope
In 2016, Junghans introduced the Meister Handaufzug, a hand-wound watch inspired by a 1932 Maybach DS 8 Zeppelin. It was a super-luxury car at the time and only 25 exist worldwide today. The colours of the dial and strap match the original vehicle's cream, light grey and anthracite palette, and the watch is a unique standout in Junghans' Meister line. When I recently reviewed this watch, I concluded that the Junghans design team hit it out of the park.
The steel case is 37.7mm in diameter with a domed plexiglass crystal that's treated to be more scratch-resistant than standard acrylic. While I'm usually turned off by "plastic" crystals, the unique character of the material works well with this piece. The caseback has a sapphire exhibition window displaying a well established ETA 7001 Peseux movement. It has 17 jewels, beats at 21,600vph (3Hz) with a 42-hour power reserve. It's a simple movement with hours, minutes and small seconds, and is seen in many brands such as Nomos, Stowa and even Blancpain.
Farer Universal, a microbrand that sold its first watch just a few years ago, launched a series of three hand-wound watches in April of this year. The Stanhope model, named after iconic British explorer Lady Hester Stanhope, was the most popular and sold out in just four months. Like the Junghans Meister Handaufzug, it has a unique, standout dial and impressive attention to detail. Farer's design team went a step further by creating a more sophisticated dial and case.
Unlike the traditional round case from Junghans, Farer produced a compact cushion case that's 37mm in diameter with sapphire crystals on both the front and back. The dial is the star of the show, presented with multiple layers, colours and textures. A piquet textured main dial has small notches around its perimeter for each hour and a punched section for the recessed seconds sub-dial. Polished numerals and batons sit on this textured section, while the outer second layer of the dial is dark blue. Raised markers with Super-LumiNova mark the hours on the outermost perimeter and everything combines into a deceptively complex aesthetic. The same ETA 7001 calibre from the Junghans Meister powers the Stanhope.
Is one better than the other? That's a tough question to answer. I think that both are on the same playing field, despite Junghans having more than 150 years of experience behind it. This is quite an accomplishment for Farer, producing a refined, competitive watch in such a short period of existence. Prices for the two are fairly comparable, with the Junghans Meister Handaufzug selling for USD 1,295 and the Farer Stanhope selling for USD 1,175. Is the Junghans worth an extra USD 120? I'm sure there are a lot of opinions out there, but in my case, I would simply choose the piece I'm more enthused about. The price difference and company histories will mean more to some than others, but I wouldn't consider either of them a long-term financial investment.
Hamilton Khaki Field Auto vs. Mercer Airfoil
Hamilton was once a great American watch brand, founded in Lancaster, Pennsylvania in 1892. It was bought by Buren Watch Company of Switzerland in 1966 and Hamilton stopped all US operations in 1969. Although it is now part of the Swatch Group, its unique style and character have endured the acquisitions and is among the most recognizable watch brands today. The Khaki Field collection has a clear military aesthetic and is designed for the "adventurous, active wearer."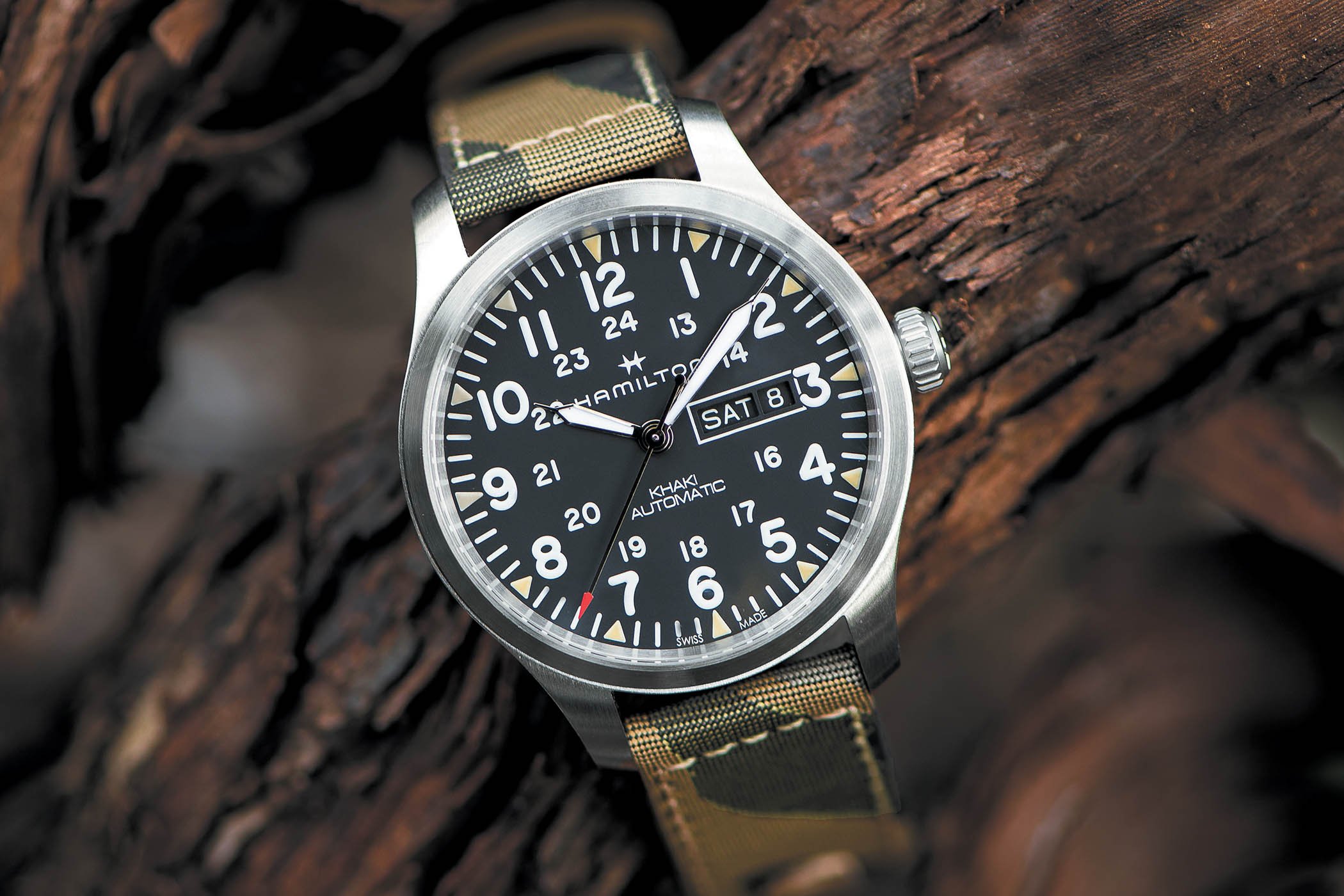 Cases range in size from 38mm to 42mm with dials featuring lume-filled numerals spanning the perimeter, while a 24-hour track sits inside. The hour and minute hands are also filled with lume, along with the tip of the central seconds hand. A date window sits at 3 o'clock, accented with a printed frame (some have day and date complications). The overall look is timeless and sporty, and the round stainless steel cases have a combination of brushed and polished elements (water-resistant to 100m). The beating heart of (most) Khaki Field Auto watches is a Hamilton H-10 calibre, which is a slightly modified ETA C07.111 movement. It has 25 jewels, beats at 21,600vph (3Hz) with a sizeable 80-hour power reserve. An exhibition caseback shows off the H-10 with a decorated rotor. Both front and back crystals are also sapphire. Why did I include the Khaki Field Auto series and not a particular model? It shows how much broader an established brand's series can be (I'll get to this later).
Mercer Watch Company is based in Princeton, New Jersey and sold its first watch in 2014 (powered by a Miyota 9015 automatic). I recently reviewed the Lexington Chronograph, which has a hand-wound Seagull ST1901 movement and walked away impressed. One of its latest watches is the flagship Airfoil, a pilot watch sporting either a matte black or white dial. The 40mm stainless steel case matches the diameter of the 40mm Hamilton Khaki Field Auto and is also water-resistant to 100m. There are sapphire crystals on the front and back as well. Applied indices and numerals span the perimeter of the dial with an unframed date window at 6 o'clock (matching the dial colour). A black minute track spans the outermost perimeter (contrasting nicely with the white dial) and round 5-minute markers, the applied indices and hour and minute hands are filled with lume. Legibility is excellent on both the Airfoil and Khaki Field Autos, although the white Airfoil seems to have the best contrast.
A Swiss Sellita SW200 automatic powers the watch and has 26 jewels, beats at 28,800vph (4Hz) with a 38-hour power reserve. The movement is basically an ETA 2824 but is more accessible to smaller brands as the Swatch Group has limited ETA movement supply. Mercer decorated the rotor with blue Geneva stripes with MERCER engraved at the end, also filled in with blue. Comparing the Sellita SW200 to Hamilton's ETA C07.111 is interesting. The Sellita beats at 4Hz compared to the ETA's 3Hz, but the ETA has an 80-hour power reserve, more than double the Sellita's 38-hour reserve. A particular Hamilton Khaki Field Auto in 40mm has an ETA 2834-2, which also beats at 4Hz, but with the same 38-hour power reserve as the Sellita. No one seems to have a clear advantage.
Unlike the Junghans and Farer comparison, the microbrand has the more expensive piece, although Hamilton's much larger selection of Khaki Field Autos have prices climbing to USD 995. The Mercer Airfoil sells for USD 649 (down from a recent USD 799 price), while the Hamilton Khaki Field Auto sells for USD 575 in 42mm and as low as USD 545 in 40mm. I'm a big Hamilton fan and have always liked its military-inspired line, but I find the Mercer Airfoil a more interesting piece. The USD 74 price difference, for me, isn't a factor. In just four years (like Farer), Mercer has produced a watch that can compete with an old veteran like Hamilton.
Seiko Prospex "Turtle" vs. UNDONE Aqua
Seiko, like Hamilton, is among the most recognizable watch brands in the world. Founded in 1881, it wasn't until 1892 that the company produced its first clocks under the name, Seikosha. In 1924, Seiko produced its first wristwatches and 45 years later in 1969, created the Astron, which was the first production quartz watch (with a price tag matching a mid-size car). Although not an overall value proposition today like Timex, it has a vast portfolio of well-priced watches. Seiko also carries luxury and limited edition watches that can reach more than USD 50,000. Some of the best dive watches at any price are from Seiko and its Prospex series is very popular. Exclusive ones, like the Prospex Diver 300m Hi-Beat SLA025, have specialized movements that beat at 36,000vph (5Hz) and a price north of USD 5,000. Clearly not for everyone.
The Seiko Prospex Turtle, however, is a dive watch for the masses with a price under USD 500. It sports a sizeable 45mm stainless steel case that's water-resistant to 200m and a screw-down crown set at 4 o'clock. Large, LumiBrite-filled hands and indices against a matte black or sunburst blue dial provide excellent legibility both above and below the water. Seiko's LumiBrite is among the best for both brightness and endurance and is a favourite for divers. It can even be featured with a blue and red "Pepsi" bezel with the red marking the first twenty minutes of the 60-minute scale. The black silicone strap or steel bracelet completes its no-nonsense vibe and it's a stylish tool for both divers and anyone looking for a sporty piece.
The movement in the Prospex Turtle is a Seiko calibre 4R36 automatic. It has 24 jewels, beats at 21,600vph (3Hz) with a 41-hour power reserve. It features a day and date complication with central hour, minute and seconds hands. Seiko's in-house movements are reliable, serviceable and often inexpensive.
UNDONE is a microbrand based in Hong Kong that specializes in customization. Founded in 2014 by Michael Young, the philosophy of the brand is that luxury is all about products being tailor-made, not simply having a desirable logo. Its Aqua series of dive watches features a level of customization that is almost overwhelming. Case and bezel materials (not just colours) can be chosen, along with over 30 hand combinations, dial options with or without date, and even a black or white date display wheel on the movement. The core features are a 43.5mm diameter case with a sapphire crystal (and optional exhibition caseback), 200m water-resistance and tank-like durability. There is such a comprehensive level of customization that it's hard to describe the series in more specific terms. In my recent review, I said that the Aqua reminded me of a vintage atmospheric diving suit. Heavy, industrial and just begging to be submerged.
A Seiko NH35A calibre automatic drives the series, making this an interesting comparison to the Seiko Prospex Turtle. This movement has 24 jewels, beats at 21,600vph (3Hz) with a 40-hour power reserve. Sound familiar? Those specs are almost identical to the Seiko calibre 4R36 in the Prospex, although not quite as accurate. It's still a robust, reliable and serviceable Seiko movement.
Prices are fairly comparable with the Undone Aqua starting at USD 475 and the Seiko Prospex Turtle selling for USD 495. This creates an interesting dilemma. Do you want a refined, no-nonsense yet stylish dive watch from a storied brand? Or would you rather build your own dive watch with options so deep that even elements of the movement can be tweaked? Either way, you're getting the reliability of Seiko and the same 200m water-resistance. In this case, I would personally go with the Prospex Turtle as I find it a more refined, aesthetically pleasing piece. But I'm still impressed with what UNDONE is offering and would happily wear an Aqua.
CONCLUSION
I've reached three conclusions from these comparisons. First and foremost, microbrands have the tools needed to effectively design and produce watches that can, in some cases, genuinely compete with established brands. For example, I wouldn't say that the Junghans Meister Handaufzug is superior to the Farer Stanhope as far as design, overall quality and reliability are concerned. I would say that history and provenance have (perceived) value, however, and are things only the established players can claim – in addition to one important factor: these established brands are… established! Thus, they can easily bring peace of mind when it comes to warranty and after-sales service.
My second conclusion is that established brands can compete on price with microbrands, despite the younger companies' use of online-only storefronts, limited production runs and crowdfunding campaigns. You can easily find a new Seiko 5 series automatic piece for around USD 100. That just blows my mind.
My last conclusion wraps up the topic I started with. How disruptive are microbrands in the industry? My answer – Not disruptive at all. Wait, what? Let me explain. Despite the competitiveness with both quality and price, microbrands simply don't have the means to effectively mass produce and market watches like the big leaguers. You can find Hamilton, Seiko and Junghans watches at thousands of retailers around the world. Their experience with supply chains, marketing and mass production will overwhelm even the most confident of microbrands. James Bond wore a Seiko, after all. Who wore a Mercer? That being said, you have to start somewhere and successful microbrands will grow into established brands down the road. In the next decade, Farer could be a real force to be reckoned with. For now, watch enthusiasts can stray into the world of microbrands and find a unique, high-quality piece that their friends probably won't have. But the established players won't be losing any sleep.
https://monochrome-watches.com/microbrands-vs-accessible-established-brands-are-newcomers-shaking-up-the-industry-or-just-small-fish-in-a-big-pond/