Men and their bags, where are they suddenly coming from?
There was a time when men hardly dared to carry an attaché briefcase and suddenly we see men with bags everywhere. In all the cosmopolitan cities around the world, men wear their bags proudly and most major brands offer a wide range of bags for men.
Let's take a step back… It probably started in the seventies when men often carried a small hand-bag (a pochette). These small bags with a loop around the wrist with a few zippers that contained their wallet, cigarettes, lighter, drives license, maybe sunglasses and some other small things. But that were the seventies and beginning of the eighties….
During the late eighties, nineties and beginning of the new millennium bags were almost absent in the streets, except… back packs. However times changed when all necessary gadgets like digital camera's, mobile phones and PDA's came on the market and men also needed to find a suitable way to carry their 'things'. It seems hard to find enough place in the pockets of our trousers and jackets, so the (stylish) men bag made its new entrance.
Italy, France and Asia took the lead by embracing the small shoulder bag, that was worn around the body. Sometimes these cross body bags were barely large enough to carry a few things.  There is a huge variety to choose from, since any brand has a few models in their collection, but I like to mention this sporty bag by British company Mulberry. Very nice grained leather and interesting lock system with three options. The bag sells for €870 Euro and is available from the Mulberry boutiques or their website.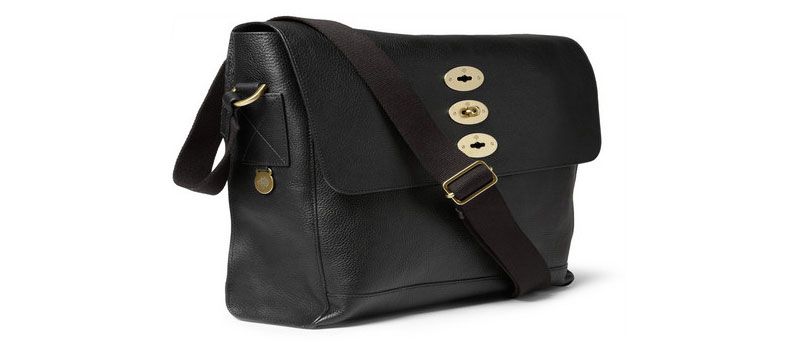 Let's move on to the well-known briefcase or attaché that younger men prefer wearing as cross body bags (messenger bags) or shoulder bags to fit their laptop, papers and mobile phone. A good and well made briefcase is for instance this large Cartier bag from the Saddle-Stitched Range for men, in ebony colored grained calf skin that will never go out of style and carries even your largest laptop with ease.
Inside are various pockets and everything finds its place; the internal zipped pocket, the external zipped pocket, the holder for keys, the two pen holders, the two telephone pockets (one small and one large), the two pockets on the front and the two roomy interior compartments, make this into a complete portable office. A very classic bag, that will set you back about €1700 Euro and is available from the Cartier Boutiques and concessionaires.
Lotuff has a more affordable and smaller solution, that can be carried across the body too. Simple, straight forward and not too eye catching attaché for the more serious among us. American made and available in chestnut, chocolate, yellow and black for around €542 Euro or $680 USD from the Lotuff website.
Crocodile briefcases are still pretty rare in the western part of the world and are, despite their beauty, still more accepted and appreciated in Asia. These bags are real lookers and the one made by Santiago Gonzalez is certainly no exception. No doubt that combined with the right outfit, you steal the show at your next meeting or presentation.
The bag is fully lined with suede and has enough inner pockets to hold your laptop, papers and documents. You might wanna skip a holiday or two, since the price of legal exotic leathers is not mild; €4200 Euro. Choose your favorite retailer from the Santiago Gonzales website.
The Blue bag by Ally Capellino, comes from London and it immediately caught my eye. Although it will not be for everyone and not match any outfit and season, it will steel the show when matched with jeans and shoes in matching light colors. The Ally Capellino bag is crafted from vegetable-tanned leather to ensure the color develops a deeper tone with use. Dimensions are 35 x 26 cm and the website will charge your card for €549 Euro.
Louis Vuitton was very early with promoting mens bags and different styles of conventional mens bags. In the eighties the company already launched a mens line in dark green, from briefcases to cigar cases. New for men is the tote bag, that was already introduced for men by Louis Vuitton, a while ago, but that just recently is seen more often in the streets. And no wonder the mix between a shopping bag and an attaché and can be used for both, office or leisure.
This Tadao bag, in graphite Damier, by Louis Vuitton that was made for men, has two inner pockets and a zipper on top to close it, so you're sure your camera is still in there, when leaving Grand Central Station. Only available for around €1200 Euro from the Louis Vuitton Boutiques around the world.
In the meantime this type of bag is available from almost any good brand, in leather and/or canvas, but usually in an non closable design. Bally of Switzerland introduced quite an interesting model this year. It's more bag than a tote bag and an, although quite large, absolute great bag for the city with it's various pockets on the out and inside.
It looks like it is inspired from the Steamer bags, but it is of course much smaller. Available in various colors, from Bally Boutiques and the Bally website, for around 950.- euro.
Basil Racuk, the extra ordinary California based designer, has a very own style of creating bags. His shapes, connections, handles and twig-shaped zipper pulls, set his 'Arti' collection apart from the rest. All his bags and briefcases are made entirely by hand from local cow, buffalo and even deer hides.
The Basil Racuk 'JackBag', that I selected from his collection, is a nice and exclusive product with a very masculine appearance. Its his smallest attaché kinda bag, that holds your laptop or iPad, news paper and passports; various inner pockets and an outer pocket with an additional zip stow pocket underneath.
The understated design breath quality and while the name of the artisan is only visible on the inside of the bag, they're recognizable from a distance. A Basil Racuk bag has a perfect nonchalance, for a more creative self-conscious man.
Very smart bag for people that don't have too much to carry, and are looking for a smaller bag. Handmade in Northern California, by the designer himself and produced on order. Production time can take up from a few weeks to a fee months.
Dimensions: 26.5cm x 37cm x 7.5cm and available from Bergdorf Goodman and Leffot in Manhattan, but if you're not there right now, you could order yours straight from www.leffot.com. The JackBag sells for around $1328 USD or €1060 Euro. Check the Basil Racuk website for more info.
Bags for men have reached the point that almost anything goes, as long as it is useful, good looking and masculine.
Italian brand Pierotucci understood that very well and released one of the most interesting mens bags I have seen this year, a bag that was always meant to be for men; The classic Doctors bag, that doctors used to carry in the early years. This very well made classic bag, comes in tan, dark brown or black supple vachetta leather, that grows more beautiful as it ages, its durability and the quality is very good and strong.
Not too small, not too large and ideal to carry your iPad, phone, camera and other accessories. The bag has inner pockets for passports, tickets etc. Dimensions are 38.50 cm x 21.50 cm x 14 cm and to me, this is a great travel companion. The fact that it stays open, when it's opened, makes the model very easy to use.
A large Canon 5D MKII plus 100mm lens and extra's, will fit easily in there, and will make a perfect entrée along the catwalk or during work at exhibitions. Pictured above is the tan version, the black model lays open on the couch in the back ground. 100% Made in Italy and available from the Pierotucci website for around €350 Euro.
Great bags compliments the clothes and personal styling of any man they look só much better than the thin plastic bags, where the cashier puts your books and magazines in. So next time you're on Peking road, Via Napoleone, or Rue St. Honorée, waiting for your espresso or café latte, grab an extra chair to put your bag on.
This article is written by GEO, guest contributor for Monochrome Watches.
https://monochrome-watches.com/men-and-their-bags-where-are-they-suddenly-coming-from/