Introducing
The 4 New Gold-Toned, US-Only Seiko 5 Sports Models
Bringing the Midas touch to the accessible sports watch by Seiko.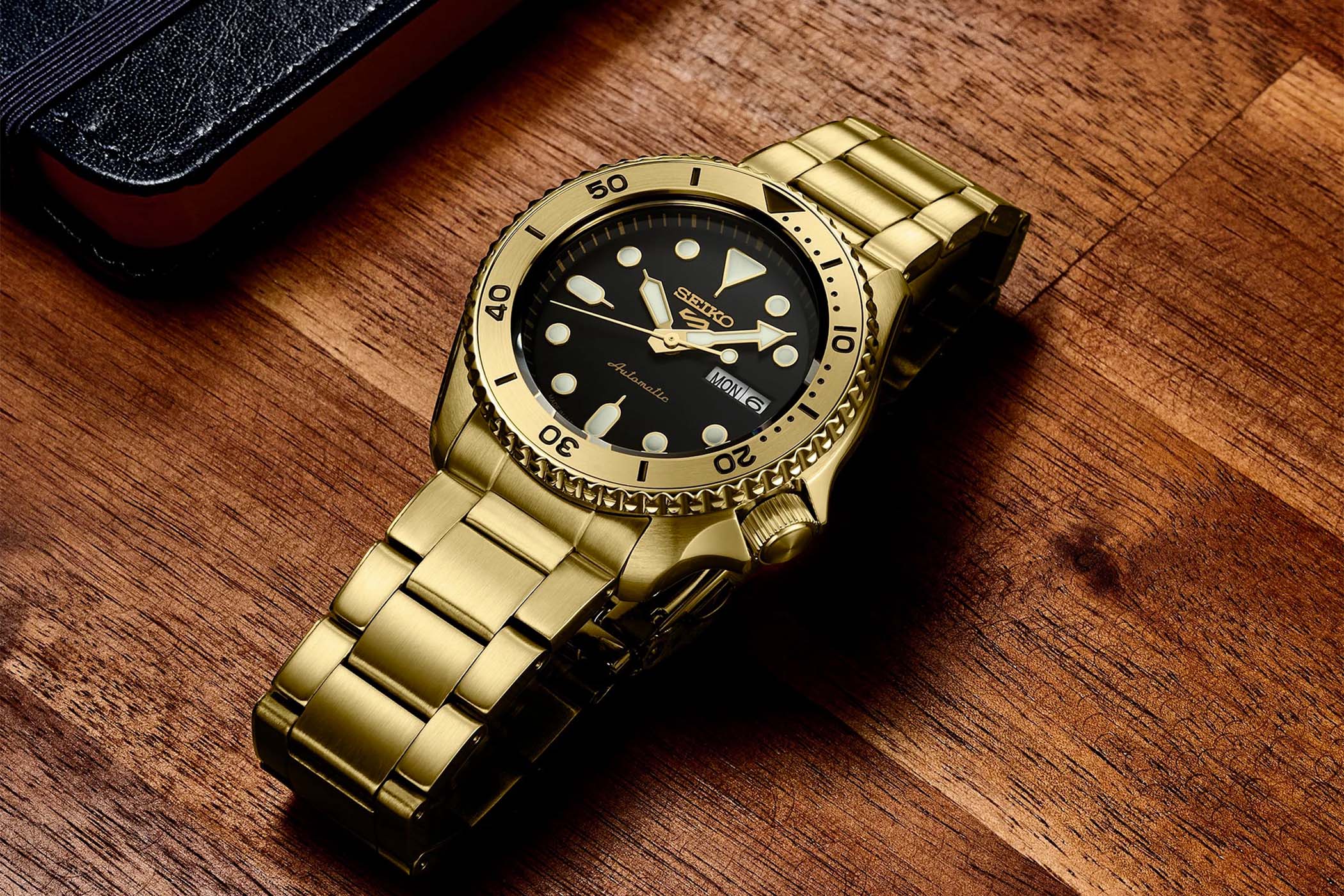 There's something genuinely desirable in a solid gold watch… Something cool, something that somehow says that you made it. But it's also rather frustrating when you see the prices. Whatever the watchmaker, a solid gold new timepiece comes at a cost. Two-tone models are certainly a solution, mixing stainless steel with a bit of gold. Nevertheless, they are hardly ever affordable. With this in mind, combining the sheer accessibility of a Seiko 5 watch with gold seems to be nonsensical. Unless you talk gold-coloured treatment. Specifically for the US market, the Japanese watchmaker releases 4 new editions of its beloved Seiko 5 Sports watches (with the cool SKX-inspired case), all showing a fair amount of Midas touch. Let's talk about the new SRPK18, SRPK20, SRPK22 and SRPK24.
The recipe is simple. Take the best-selling model in the Seiko 5 Sports collection and give it a luxurious touch, by adding a layer of gold colour to the cases and bracelets. The look of gold, without the cost of gold. Some purists will probably say that this is cheating, but not everybody can afford a solid gold watch. There's nothing wrong with a bit of bling from time to time, right? Specifically when it's done by flexing a robust watch with true pedigree and undeniable watchmaking credentials.
All 4 new models in this Seiko 5 Sports U.S. Special Creation collection are based on the classic; understand by that the SKX-inspired watch that combines the look of the no-nonsense dive watch of the past with a touch of casualness. This means a watch made in stainless steel, with brushed and polished surfaces, a shape that is reminiscent of classic dive instruments of the 1970s, with the crown at 4 o'clock, a uni-directional bezel, a push-pull crown (these aren't proper divers), a Hardlex crystal and a comfortable 100m water-resistance – which is more than enough for 99% of situations. Typical go-anywhere, do-anything specifications.
The dimensions are also on the classic side, as these 4 editions are based on the standard case (not the new 38mm mid-size version). This means a rather sizeable diameter of 42.5mm and a height of 13.6mm, however, with a fairly compact lug-to-lug measurement of 46mm. All 4 versions are worn on a 3-link steel bracelet with a folding clasp, have a metallic insert with a 60-minute scale on the bezel and are powered by the everlasting calibre 4R36, an automatic entry-level movement with 3Hz frequency, 41h power reserve and day-date function. It is visible through the caseback.
Let's now talk about what makes these Seiko 5 Sports U.S. Special Creations unique. As you've seen, it's all about the colourways. The SRPK18 features a fully gold-coloured case and bracelet, a brushed and gold-toned bezel insert and a matte black dial with gold-coloured markers and hands. The SRPK20 is housed in the same gold-toned case and bracelet, yet offers more contrast with a brushed sapphire-blue dial, a black bezel insert and gold accents on markers, tracks and hands.
The two other models in this US-exclusive collection are so-called two-tone or bicolour watches, mixing steel with gold-coloured elements (bezel and mid-links). The SRPK22 mixes this bico effect with a black bezel and a charcoal-toned brushed dial. The SRPK24 adds a warmer effect with a gold-coloured and brushed bezel insert, while the dial is brushed and brown. Both have golden accents on the markers and hands.
All 4 models in the Seiko 5 Sports U.S. Special Creation series (SRPK18 – SRPK20 – SRPK22 – SRPK24) are now available, but exclusively from the US-based brand's website and retailers. All 4 are priced at USD 395. For more details, please visit seikousa.com.
https://monochrome-watches.com/introducing-seiko-5-sports-us-special-creation-gold-and-two-tone-srpk18-srpk20-srpk22-srpk24-specs-price/