Introducing
The New Colourful Rubber Straps For The Classic IWC Portugieser Chronograph 3716
Perfectly timed to coincide with the warm summer days, IWC is expanding its range of vibrant rubber straps.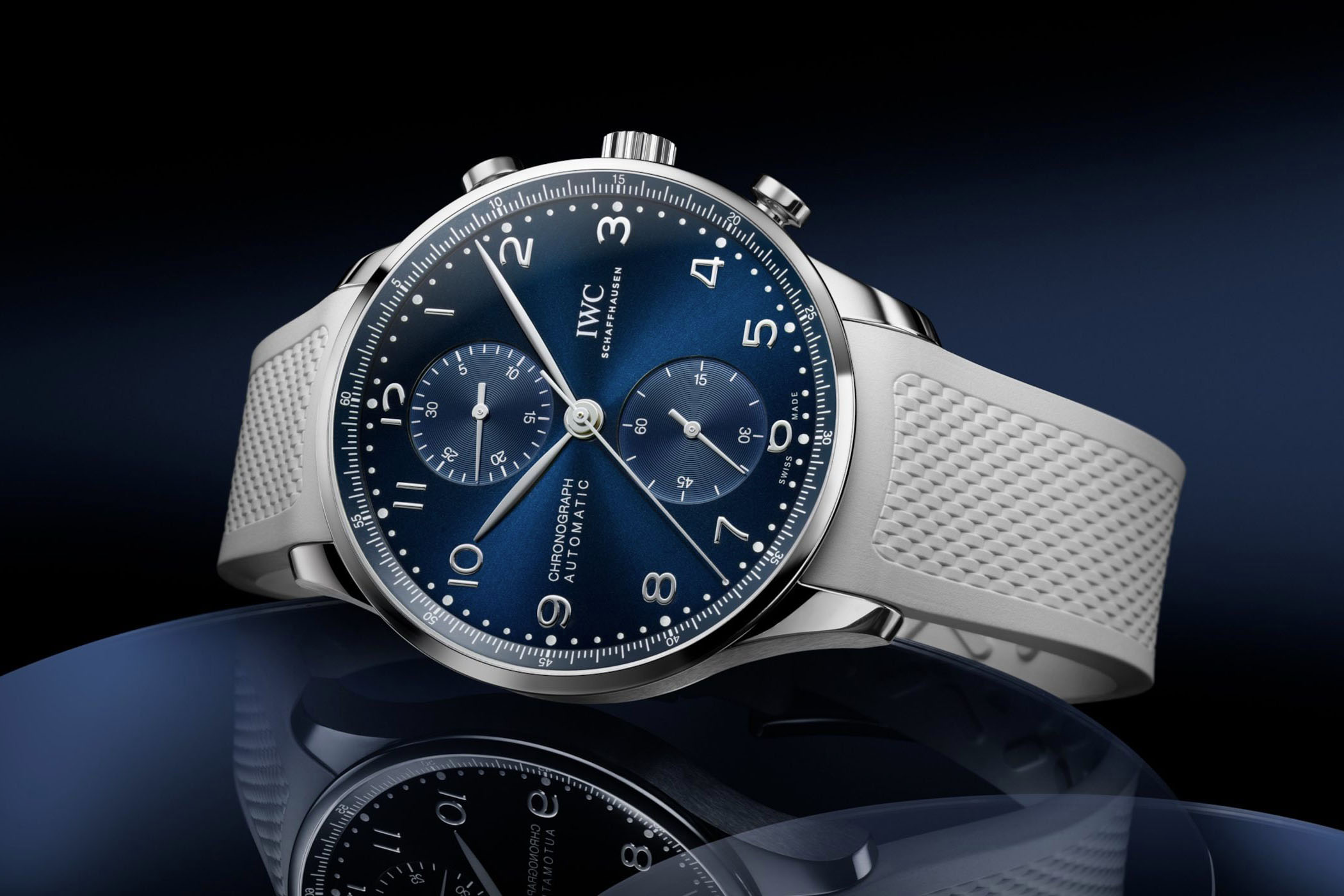 Looking at IWC's portfolio, the Portugieser Chronograph is, without a doubt, one of the most emblematic watches around. Now in its second generation (ref. 3716), it's a classic with a timeless appeal. In recent years, however, the Schaffhausen-based brand expanded the collection with brighter colours and more daring styles and even created an Individualisation Program to create your own version. But what if you already own one and want to spice it up, or make it more summer-ready? Right in time for warmer days, IWC launches a wide range of rubber straps for the Portugieser Chronograph, in classic or original colours, to create your own personal version of the emblematic Chronograph.
A watch says a lot about its owner. We all know that perfectly. It is a reflection of your personality and your lifestyle. The way you wear your watch tells even more about your activities. Changing a strap for something more personal, transforming a dress watch into a more casual timepiece, has become more than common and many of us watch enthusiasts have been there and done that. IWC is fully aware of that and has, for many years, offered numerous straps and bracelet options to its clients in order for them to create a watch as close as possible to their personality or lifestyle. In recent collections, this "strap-exchange game" has even become part of the conception, with the practical EasX-CHANGE system.
This summer, it's time for the classic IWC Portugieser Chronograph 3716 to become even more versatile. As standard, this watch – which has been around for almost 30 years now – has always been on the safe side, worn on a classic, quite formal alligator leather strap. Sure, recent iterations have been made with steel bracelets, but those with a classic version had to deal either with something possibly too elegant, or look for externally-sourced solutions.
We've seen with the recent Portugieser Chronograph Blue Panda that a rubber strap could drastically change the look of this reference 3716, making it sporty and more in line with its initial nautical vocation. Now, the brand of Schaffhausen is introducing eight new coloured rubber straps for the IWC Portugieser Chronograph reference 3716… And unfortunately, only for this current generation, as these straps are not compatible with the older versions reference 3714. A missed opportunity, in our opinion here at MONOCHROME. But those with the current version will have plenty of options to choose from.
The collection ranges from classic colours – dark blue, black or brown – to more audacious options such as olive, green, violet, burgundy or white. The reference 3716 itself is available in eleven different versions, be they in 18k red gold or stainless steel. There are thus a large number of combinations possible. Some, such as the white strap with green dial, or the gold model with olive strap, truly bring a fresh look to the classic Portugieser Chronograph. Some, such as the violet strap on the silver-plated dial, will remain more debatable.
This new collection of rubber straps is available in three sizes – XS, standard and XL – and can be ordered with or without a pin buckle. They are now available at IWC boutiques, authorised retail partners or from the brand's website for a (quite high, to be honest) price of CHF 320 with buckle, or CHF 220 without buckle. More details at iwc.com.
https://monochrome-watches.com/introducing-new-colourful-rubber-straps-for-the-classic-iwc-portugieser-chronograph-3716-specs-price/