Interview
Adrian Buchmann, CEO of Sequent, a New Brand of Automatic Smartwatches
A new brand that offers something connected differently.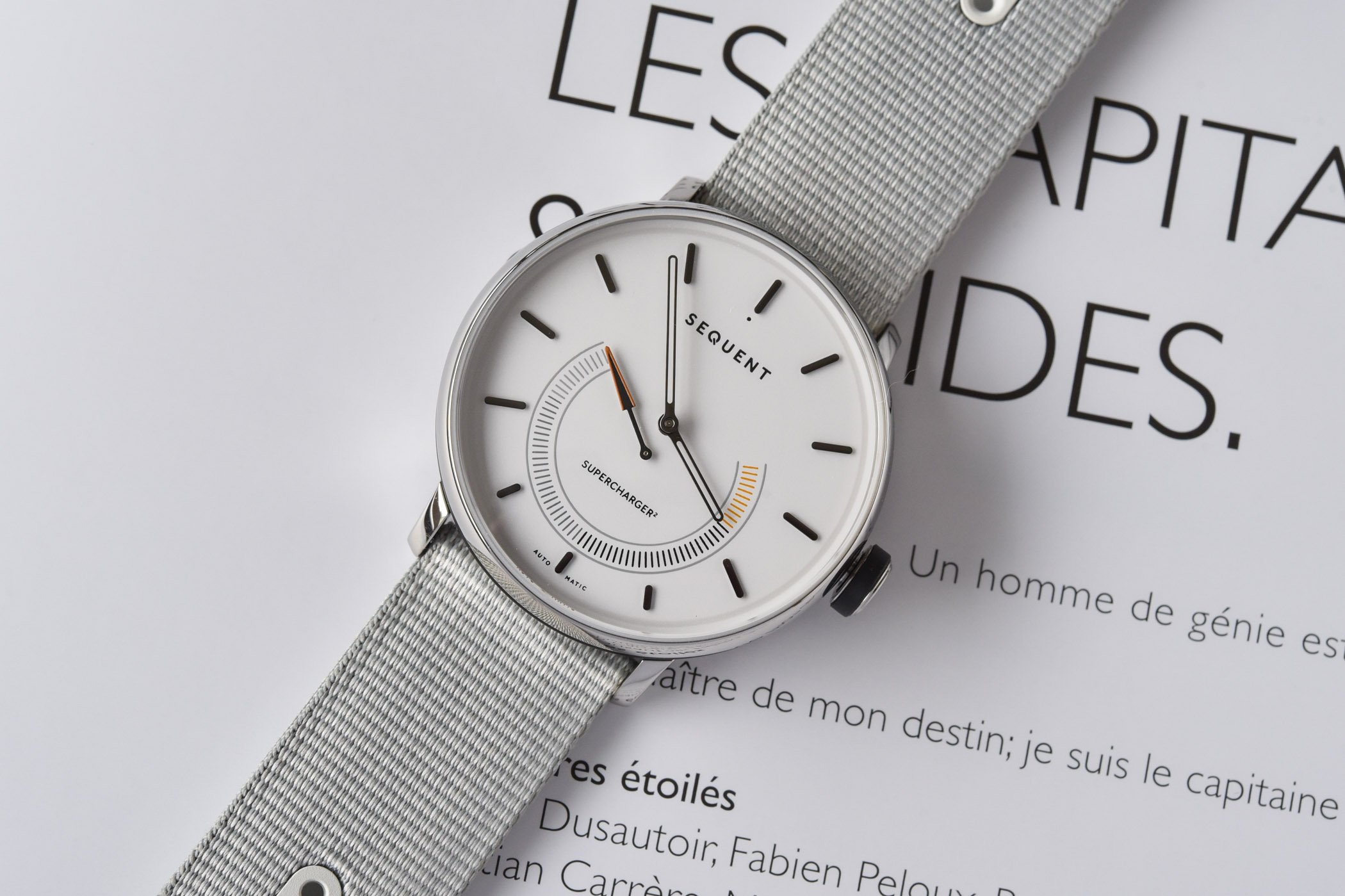 As our readers know, we don't usually cover quartz or connected watches at MONOCHROME. But the news that two acquaintances, Harry Guhl (one of the founders and the Chairman of Czapek) and Adrian Buchmann (a Swiss watch designer), have developed a smartwatch piqued our curiosity. Sequent, the company they founded, stands out for offering automatic smartwatches. Adrian Buchmann tells MONOCHROME about this original project.
Xavier Markl, MONOCHROME – Adrian, how did you get into watches?
Adrian Buchmann, Sequent – I grew up in Le Locle and spent most of my youth in the watchmaking school in Le Locle, where my mom worked. I loved drawing and creating things, so that was quite nice. I went to technical and design schools and got to work in a design studio in Le Locle called Neodesis with Antoine Tschumi. There I worked behind the scenes for different brands for eight years. Then with Antoine and Jean-François Mojon from Chronode (Editor's note: a high-end movement maker also based in Le Locle), we developed successful high complication concepts for different brands through a start-up called Yno. I ended up following my wife to the UK and have been the head of design for Christopher Ward. 
And then came the Sequent project?
Four years ago, the idea of Sequent was born from discussions with Harry Guhl. We realised that the Swiss watch industry was paralysed when it came to smartwatches. We thought that bringing health to the wrist was an interesting function. One of the main issues with smartwatches is their battery life. People buy smartwatches, they like the idea, but they get tired of charging them continuously. Our idea was to define how a Swiss brand could tackle this issue without necessarily competing directly with Apple or Garmin. These brands are doing amazing things, and we have no pretensions of challenging them. Our idea is to introduce a traditional watch with added functions in the 21st century. We found that the auto quartz concept/idea would be the solution. We took this as a base to develop our concept. 
We started from auto/quartz concepts with some 40 parts, and now our Supercharger 2 has less than nine parts. It's a straightforward construction, everything is concentric with no gears and no screws, and everything is super reliable. At first, we thought we needed to have all the functions of other smartwatches, but we had to find our own way. Instead of having a smartwatch with automatic winding, we have conceived a 'smarter' automatic watch. It is still a watch but with added functionalities. Timekeeping is naturally ultra-precise, time adjusts automatically, it tracks your steps, you can trigger sports sessions with it… some versions can track your heart rate. We have carved our own niche.
Where do you stand in terms of price positioning?
Our entry price is an aluminium version that starts at CHF 349. The price is the same worldwide and includes shipping costs; we don't like surprises for our customers. We have a very direct approach with our customers. We work with retailers but not watch retailers. Our margins do not allow us to work with traditional watch distribution schemes. Our retailers are more consumer electronics or sports retailers.
How has your start-up evolved?
Harry and I got the project started. We had different partners around the table, particularly a company in Taiwan looking after the electronics working in collaboration with Kinetron, one of the inventors of auto quartz. We have Sequent, but we also want to offer our movement to other brands. The watches are designed and engineered in Switzerland, but they are assembled in Taiwan. Next year, we will bring everything that is mechanically related to Switzerland, while the electronic part will remain in Taiwan. The final assembly will be performed in Switzerland. We currently have 20 people, and by the end of the year, we will be 26. So it's already different from the garage start-up we started with Harry!
How many watches are you selling per year?
The goal for this year is to sell 15,000 watches. It is small for the electronics industry, but we start to get interesting volume. Our goal is to reach 50,000 to 100,000 watches per year for Sequent. Then we have the movement business. There is definitely an appetite for such movements. A Swiss brand trying to compete with an Apple watch is impossible. Even with Garmin. Think that the Swiss watch industry turnover is as big as that of the Mercedes SUV. We need to do things our own way. 
And getting something in between quartz, which is in decline, and automatic has quite some potential.
Any new watches coming?
Yes, we'll be introducing the Sequent Elektron titanium version in May, just like this gun-metal finish, with luminous indexes.
---
For more information, please visit sequentworld.com.
https://monochrome-watches.com/interview-adrian-buchmann-ceo-sequent-automatic-smartwatches/