I think every watch collector remembers that first watch that made an incredible impression. The watch was so beautiful and intriguing, you kept thinking about it. But why was it so expensive?
Over the years i've had quite a few watches. Sometimes when i look at the photos of the watches that came and went away, i see how my taste for watches changed. It also makes me remember watches that used to be on my wish-list, that never made it to be part of my collection. With some of them i wonder what attracted me in these watches. But not with my first 'real' watch… my Heuer Autavia.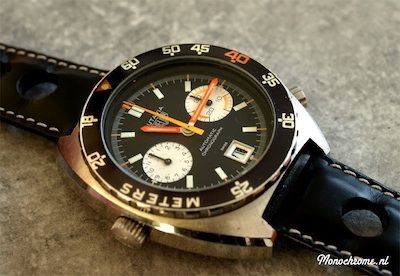 It was before my vacation to Vietnam. I planned to do a scuba dive course, stay some days in the jungle, 6 weeks traveling from south to north and back south again. And i really needed a watch that would be up for such a task. So i started searching the internet, became a member of some forums and searched the online buy&sell websites. And there it was… somehow everything of this watch was perfect and i desperately wanted it.
It took me some internal debate and some time to raise the funds required, but in the end i bought this beautiful Heuer Autavia and i never stopped liking it. Of course i didn't wear the Autavia during my trip to Vietnam. For that purpose i bought a Citizen automatic dive watch, that still accompanies me on all my vacations and is on my wrist during every dive i've made.
During Baselworld i met fellow blogger David, who is the man behind Calibre 11, one of my favorite wristwatch weblogs. At Calibre 11 he shares his passion for vintage Heuer watches, like his recently restored Autavia GMT, and modern TAG Heuer watches.
David told me he had a meeting with Jack Heuer. Wait… hold on… he was going to meet and interview the man who was responsible for the brand that made my beloved Autavia!! A month after Baselworld i received a package that contained something that put a smile on my face immediately…. and it still does now i write about it.
During his meeting David asked Jack Heuer for an autograph…
For me as an avid Heuer fan and proud owner of a vintage Heuer Autavia ref.11630 this was just perfect! Thank you David for this more than kind gesture.
Heuer was known for it's excellent and ground breaking innovations on mechanical chronographs. No wonder they came with the first automatic chronograph, which they developed together with Breitling, Buren and Dubois-Depraz. To this day TAG Heuer is still at the frontier of innovative chronographs, an amazing achievement.
More details at www.tagheuer.com.
https://monochrome-watches.com/heuer-autavia-11630p/