Hands-on with the new Jaeger-LeCoultre Master Compressor Extreme LAB 2 – Photos, Specs and Price
Jaeger-LeCoultre introduced the original Master Compressor Extreme LAB 2 five years ago, during the SIHH 2010. Shortly after this year's SIHH (Salon International de la Haute Horlogerie) they introduced a slightly redesigned version with blue hints. It is still one of the most technical sports chronographs on the market and it leaves many of the 'design' sports chronographs far behind, when it comes to robustness, functionality and practical use. Today we go hands-on with the new Jaeger-LeCoultre Master Compressor Extreme LAB 2, a proper sports chronograph.
What do you expect from a chronograph? That it measures elapsed time? Let's ask the similar question for dive watches? Do you expect it to sport an abundance of technical features, or will you settle for a uni-directional rotating bezel and the correct depth rating of say 300 meters? When it comes to dive watches it seems that there's so much more available than just the 300m depth rating and a uni-directional rotating bezel. Think of a helium escape valve (when was the last time you really needed that?), various colours of Super LumiNova for improved time reading at great depths (or showing off in the sports club), chronograph functions that can be started, stopped and reset at several hundred meters below the surface and more. So when it comes to dive watches, there really is an abundance of technical features, while the vast majority of chronographs does no more or no less that measuring elapsed time. Well, Jaeger-LeCoultre begs to differ.
When JLC introduced the Extreme LAB it was a showcase of technical prowess, as it would not require any lubrication over its lifetime. And there's much more than "just" that open-worked movement that doesn't need lubricating oils. Let's have a look at a few of its novel functions and features, like the crown-integrated function selector (which handles very smoothly), a patented digital counter to indicate the chronograph jumping minutes, a manual stop seconds device, a radial power-reserve indication and a GMT function enabling at-a-glance readings, and more.

Function selector
Integrated into the crown is a selector that allows you to switch between several functions. It serves to adjust functions without having to pull out the crown. Not an entirely new idea – Grönefeld and Richard Mille also use something alike – however it's perfect for this sports watch. The crown-push system eliminates the need to pull the crown and potentially compromise the water resistance of the watch. Once a specific function is selected the adjustments can be made by turning the crown.
1st position – the crown can be used to wind the main spring barrels
2nd position – adjusting the second time zone and/or the date
3rd position – adjusting the main time zone
One additional push brings the system back to its initial position.
Chronograph pusher construction
The traditional chronograph pushers are covered and protected by two L-shaped metal levers that pivot around the crown. These levers provide a larger contact area and at the same time, they serve as a crown protector. The upper surface of the pushpiece is coated with rubber grooves to ensure a non-slip grip. Just the thing that comes in very handy for a proper sports watch!
Stop seconds device
When adjusting the main time zone, the second hand continues running, in order not to impair the precision of the watch. However most watches have a so-called hacking system, or hack-seconds; a mechanism that stops the second hand when adjusting the time. This allows to perfectly synchronize your timepiece with a "time signal" or with the time on your smart phone or laptop. For this purpose Jaeger-LeCoultre came up with a solution: you can operate the slide located on the left side of the case, and simultaneously pressing and sliding it, to stop the seconds hand. Once the slide is released, the second hand will continue running again. This two-action handling – sliding and pressing – serves to avoid any accidental impairing of the watch' precision.
Dual time zone
The Jaeger-LeCoultre Master Compressor Extreme LAB 2 has a second time zone indicator, or GMT function. This indicator is meant to display the home time, and does so by a second central hour hand and an additional 24-hour hand at 6 o'clock.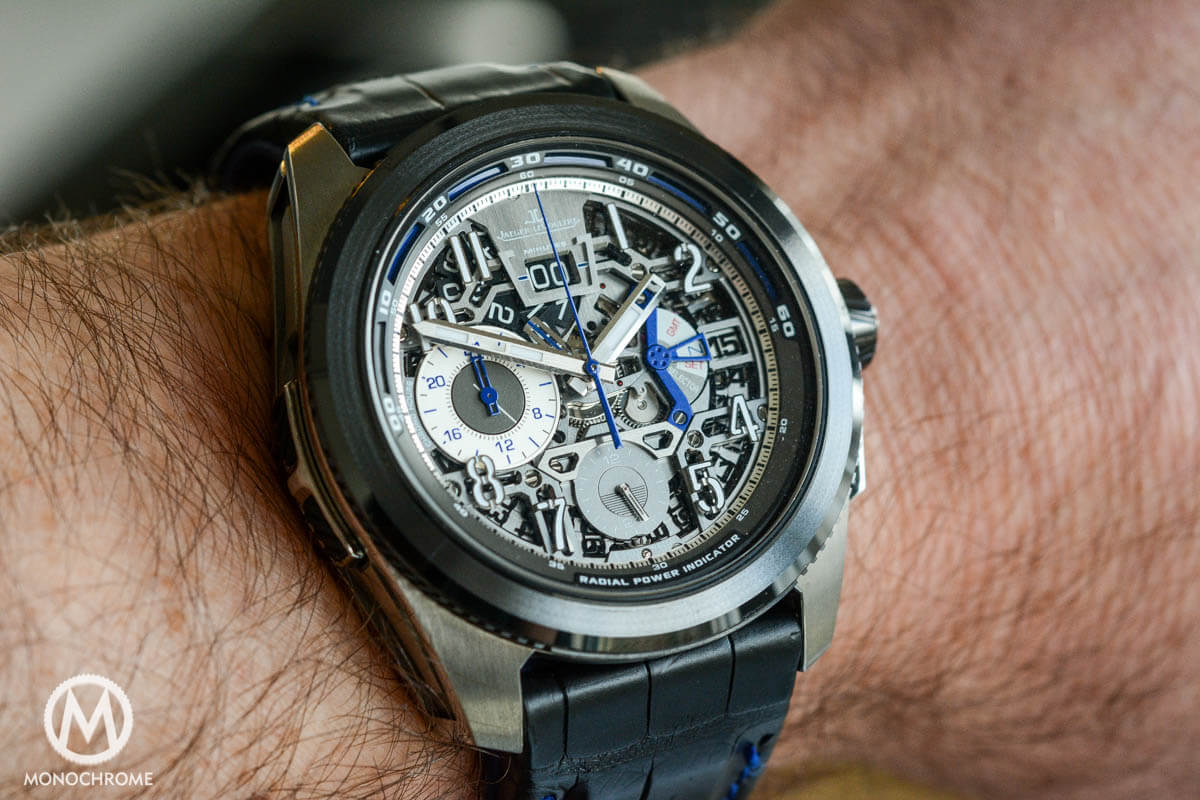 Digital chronograph minutes counter
How often do you actually use your chronograph? Most people who own one hardly do, although it's always fun to time cooking the spaghetti, waiting for the traffic light to turn to green, or how long your better half can stay on the phone with her mom. The thing that 'annoys' me most about chronographs, is that it is actually not easy to read the elapsed time. There's one small sub dial that indicates the elapsed minutes and I find it difficult to read it. Maybe it's my age, and/or a need for reading glasses? However with this JLC Extreme LAB 2, then no worries, because reading the elapsed minutes is very easy. You'll be able to see the elapsed minutes at-a-glance, and the large double-digit minute counter is situated at 12 o'clock.

The minute counter is based on an instant-jump mechanism, which is activated at the exact moment when the seconds hand completes one full turn. The chronograph hour's totalizer is located at 9 o'clock, coaxially with the running seconds.
Chronometric precision and a novel power reserve indicator
The Jaeger-LeCoultre Master Compressor Extreme LAB 2 offers 60 hours constant supply of energy and the remaining power reserve is indicated by a novel display. This is a new patented radial display, which is easy to read, and is arranged around the rim of the upper dial section. When the power slowly reduces, the segments in the semi-circular indication turn from white to blue. So blue meaning the watch should be wound (or worn, so the self-winding system does its work) and white meaning the main spring is fully charged.
After so many specific functions/functionality it might be good to focus on the movement. We're dealing with JLC calibre 780, which, as said, has one main spring barrel, which stores enough power for 60 hours of autonomy. It features a column-wheel to actuate the various chronograph functions, and a vertical clutch to engage or disengage the chronograph mechanism with the gear train.
The large balance, with 11.5 mg/cm2 moment of inertia, beats at 28,800 vph and because of the rather impressive moment of inertia its amplitude varies only marginally when sustaining shocks. Regulating the movement is done by means of variable-inertia adjustment screws, which are screwed in the rim of the balance. The rotor is mounted on ceramic ball bearings, which is another factor that will reduce wear, and makes lubricants superfluous.
Case and strap
The case is far from the ordinary round case, and comprises an inner case that houses the movement, and an external 'carrier' that serves as strap attachment and as base for the inner case. This system combines robustness and lightness thanks to TiVan15, a titanium and vanadium alloy providing 15% greater traction resistance than traditional titanium alloys. The inner case has a black ceramic bezel and of course a (scratch-resistant) sapphire crystal. The crown which is also made of ceramic, echoes the particularly elegant ceramic bezel with its polished and satin-brushed finish.
The strap can be easily changed, by means of a new integrated interchangeable strap system, which is operated by a lever on the caseback. The strap has alligator leather on both sides, which guarantees a better durability and comfort. The buckle features a secure double pin which ensures a precise two-position adjustment between each notch.
Conclusion: All together the Jaeger-LeCoultre Master Compressor Extreme LAB 2 looks cool, looks (and is) very technical and packs a lot of interesting and useful features. Despite its large dimensions (close to 47mm in diameter), it wears remarkably comfortable and does not feel too large, nor too heavy. A thoroughbred sports watch, functional, and dare we say it, a contemporary tool watch.
It comes at a price of € 42.900 Euro (excluding tax). More info at www.jaeger-lecoultre.com
Some specs:
Case: TiVan15 alloy, water resistant to 10 bar (100m), 46.8mm in diameter, 16.6mm thick,
Functions: Hours, minutes, seconds, date, second time-zone, chronograph with digital instant minute counter, power-reserve indicator
Movement: Jaeger-LeCoultre in-house developed and manufactures automatic movement, calibre 780, 569 individual pieces, 70 jewels, 1 main spring barrel, 28,800 vph (4Hz), 60 hours of power reserve
https://monochrome-watches.com/hands-on-with-the-new-jaeger-lecoultre-master-compressor-extreme-lab-2-photos-specs-and-price/