Review
Grand Seiko Elegance GMT SBGM221
A dressy watch with GMT functionality, meticulous finishes, superlative performance and classic Grand Seiko aesthetics.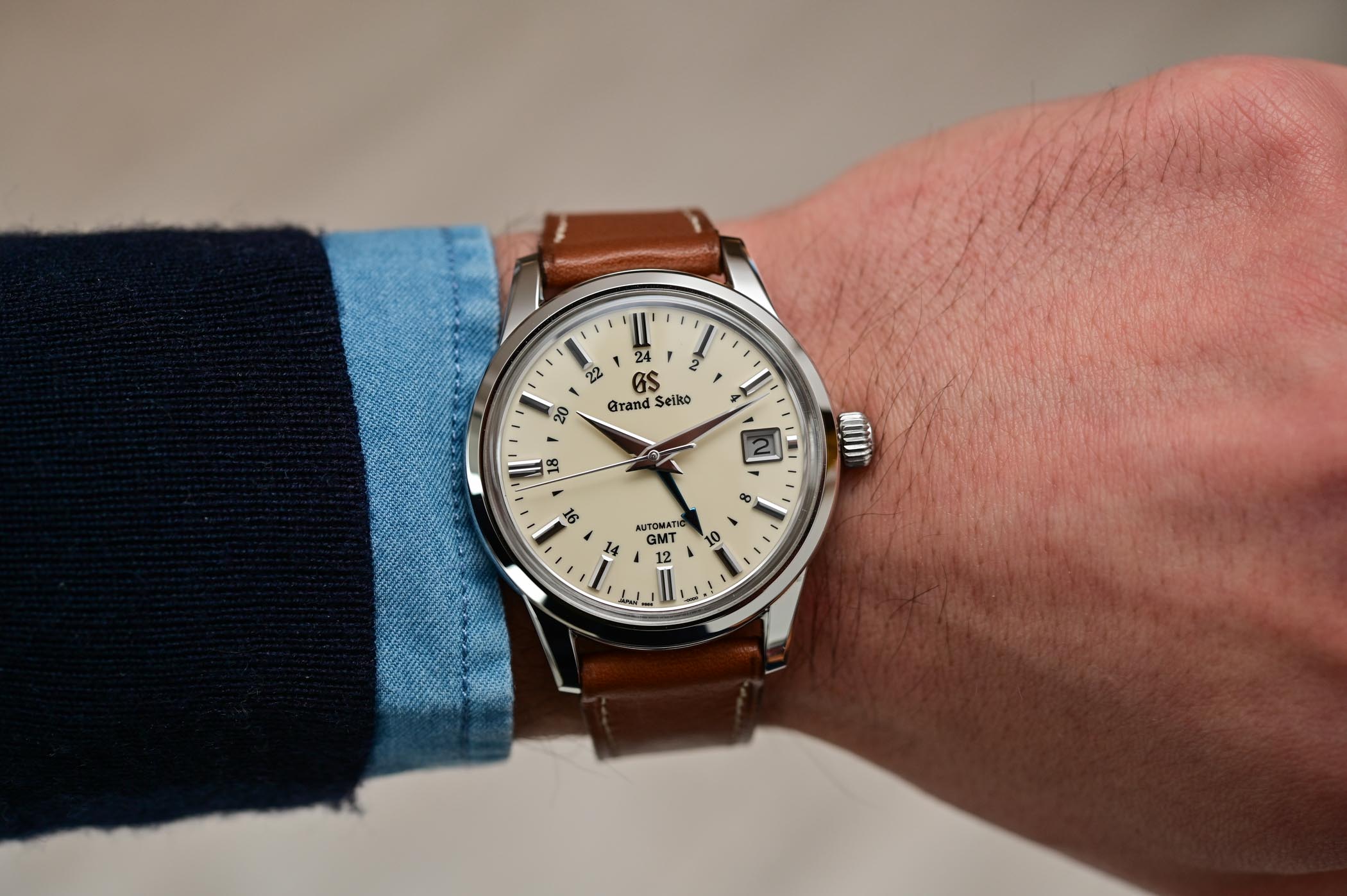 Precision, perfect execution and beauty are very real concerns in Japanese craftsmanship and Grand Seiko's mission, ever since its creation in 1960, is to live up to these demanding principles. Precision and superlative execution are easy to gauge in Grand Seiko's repertoire, but beauty is in the eye of the beholder and not everybody warms to Grand Seiko's conservative, often spartan styling. Like other watches in the Elegance collection, including the ultra-discreet and sober SBGW231 or the mesmerizing blue dial of the SBGK005G, this Elegance GMT SBGM221 needs to be seen in the metal to appreciate the exemplary finishes that are rarely seen on Swiss watches in the under 5k segment. So, let's go in-depth with this steel Elegance GMT model and see if it encapsulates Grand Seiko's quest to create the "ideal watch".
Grand Seiko – In pursuit of the "ideal watch"

Seiko has a long history marked by impressive technological feats. Originally called Seikosha, the first wall clock to emerge from Kintaro Hattori's fledgling manufacture was in 1892 followed by Japan's first pocket watch in 1895. Hattori dreamed large and was determined to build every component in-house. With typical Japanese dedication, by 1940 Seiko had produced its first temperature-resistant hairspring followed by the shock-absorbing Diashock system.

Seiko's first pocket watch, the 1895 "Time Keeper"

However, one thing is having all the necessary components but quite another to extract precision performance from them. Hattori had a team of specialised craftsmen trained for this very task resulting in the development of calibre 3180. The recipient of this ultra-precise calibre was the 1960 Grand Seiko; a new line of watches that would embody the very best Seiko had to offer. The idea behind the Grand Seiko was to create a watch that would become the paragon of precision, legibility and beauty, in short, the "ideal watch".

The first Grand Seiko Watch, 1960

With precision under his belt, the next step was to devise a series of mandates that would govern the design and legibility of the Grand Seiko family. Encapsulating a unique Japanese idea of beauty, nine strict rules were formulated by Seiko's famous designer Taro Tanaka in 1962. These rules governed proportions, finishes and angles and still govern the design tenets of the Grand Seiko today. The 1967 44GS model was the standard-bearer of Grand Seiko's design philosophy expressed with straight lines, planes and two-dimensional curved surfaces. But there was another detail that truly set apart these watches from anything else on the market: the incredible mirror-like reflections created by the zaratsu polishing on the case.

The 1967 Grand Seiko 44GS

In 2017, Seiko CEO Shinji Hattori announced that Grand Seiko would be a separate, independent brand. This step helped further separate Japan's most prominent luxury watches from Seiko's otherwise diverse portfolio. Rising from its relative obscurity in the West, since 2010 Grand Seiko has been available internationally and is fast becoming a presence for the Swiss to contend with. And in keeping with Hattori's ambitious programme, the goal for Grand Seiko in the US and Europe is to become one of the top five luxury watch brands with products positioned in the USD 5,000 – 10,000 price segment.

A simple case with extraordinary finishes
The stainless steel case has a diameter of 39.5mm, which nowadays is pretty close to dress watch standards. The 13.7mm height of the case is slightly thicker than dress watch mandates but the curvature of the lugs means that the watch hugs the wrist perfectly, as you can see in the photos of the watch on Brice's 17cm wrist. Finally, the lug-to-lug dimension is just over 46mm, which is by today's standards, rather small. Another aspect to take into consideration is the shape of the case. Models in the Elegance line have slightly less angular, blocky cases than models in Grand Seiko's Heritage and Sports lines upping the elegance factor noticeably.
The beauty of the Grand Seiko Elegance GMT SBGM221 lies in its not-so-conservative elegance and the insane way it plays with light.
Ok, we've covered the case specs and can now move to the 'wow' factor of this Grand Seiko Elegance GMT SBGM221: the polishing. It really needs to be seen in the metal to believe and I encourage any doubting Thomas to visit a local Seiko distributor to see what we mean. This is truly a level of execution you are not likely to find on your traditional luxury Swiss watch. Like gleaming Japanese katana swords, the zaratsu polishing on the case maximises the interaction of light on the flat surfaces to create sharp, crisp edges and a mirror-like surface with no distortions. The level of polishing is so perfect that you can see your reflection on the case.
Although the word 'zaratsu' might sound Japanese, it is, in fact, the Japanese pronunciation of the German word 'sallaz', the name of the German manufacturer of the polishing machines acquired by Seiko in the 1950s. Three years of training are required before a craftsman can lay his hands on the zaratsu polishing machine.
Dial
The dial of the Grand Seiko Elegance GMT SBGM221 has a warm, glossy ivory colour and is perfectly flat. If you view the dial with a loupe you will appreciate the amazing level of detail that has been invested in every single feature.
The rectangular hour markers are like miniature sculptures with facets and a mirror-finish on the superior surfaces. On the simpler hour markers, you'll find no fewer than 8 hand-polished facets. On the 12, 6 and 9 o'clock markers, it's 11 of them… And they are all perfectly executed, with reflections changing from bright white to almost full black, without distortion or flaws. It is just impressive.
The hands follow a similar procedure and are so sharply defined you could use them in an operating theatre. The top surface here is mirror polished – some GS watches have a brushed top surface – again to a flawless level. The sides of the hands have a sharp and wide bevel, again mirror hand-polished. Depending on the angle, the contrast between the surfaces not only looks stunning but also enhances legibility… when one surface is bright, the other is almost black and vice-versa. The Japanese craftsmen from Grand Seiko achieve have achieved beauty and practicality.
A 24-hour GMT scale with Arabic numerals is indicated with a heat-blued arrow-tipped hand. This hand is again beautifully executed, even though less demonstrative. It also adds a discreet touch of colour to this dial. The Grand Seiko Elegance GMT SBGM221 features a date window, which again comes with a  beautifully executed bevelled frame at 3 o'clock. I know lots of you have issues with date windows, but in the context of a GMT traveller's watch, it is really useful.
Setting the home and local time is a cinch and everything is executed via the crown. The main hour hand (local time) jumps forwards or backwards while the blue 24-hour hand can be set to home time. A box-shaped sapphire crystal, with anti-reflective coating on the underside, protects the dial.
Altogether, it is hard to find flaws in terms of execution on this SBGM221. All aspects – hands, indexes, dial, printings – reveal a level of execution you'll only find on high-end Swiss watches – in the EUR 15k category and up. Whether or not you like the design is obviously personal, but the combination of the bright, sharp and reflective case/hands/indices with the soft, cream colour of the dial has great elegance and enough audacity to make this watch far (very far) removed from classic.
Calibre 9S66
Still consumed by achieving the "ideal watch", Hattori's Grand Seiko watchmakers wanted to go one step further and created an entirely new movement, calibre 9S, released in 1998. Having passed the Swiss COSC chronometer tests with flying colours, Grand Seiko's team decided to up the ante and submitted its calibre 9S to its own chronometry test, the Grand Seiko standard (17 days of testing, six different positions, three different temperatures, precision of -3/+5 seconds per day).
Calibre 9S66 is a derivation of the famous 9S with an additional GMT function. Inside its state-of-the-art manufacture, Grand Seiko uses Micro-Electro-Mechanical Systems (MEMS) technology to produce lightweight precision parts, including the escape wheel and pallet forks. Grand Seiko has developed a cobalt-nickel alloy for its hairspring known as "Spron 610" providing more resilience to shocks and magnetic fields. The reinforced mainspring is capable of achieving a level of torque for a power reserve of up to 72 hours.
However, the adjustment of the hairspring is done entirely by hand by a specialised team of master craftsmen. Even the individual teeth of the gears are polished by hand to ensure the flow of power with minimal loss of energy.
You can see the finishes of the robust automatic Calibre 9S66 with its balance wheel under the sapphire crystal caseback. Decorated with Seiko stripes and perlage, the movement is well-finished but not perhaps to the levels you would associate with a watch from Glashütte. It is very sharp and neat, of course, but slightly technical. It might lack a bit of that Swiss or German exuberance in the decoration that makes a fine movement attractive. Some polished bevels and blued screws, even though not your typical Japanese way of decorating a movement, would make the watch even more spectacular.
Thoughts
A reliable travel companion with its simple-to-use GMT functionality and generous power reserve, the Grand Seiko Elegance GMT SBGM221 is an exemplary marriage of high-tech components and meticulous craftsmanship that Grand Seiko strives for in its pursuit of the "ideal watch".
Sizing is practically perfect but would be 100% perfect if the thickness were whittled down a bit and I would have preferred the date window to have the same colour background as the dial – even though it matches the window's frame… but these are personal preferences and, let's be honest, won't change the overall beauty of the watch.
My first impressions are always radically altered after viewing Grand Seiko watches in the metal. What might come across as a classic, conservative, low-key kind of watch in pictures shines in a completely different light when viewed in real life. It's a watch that needs time to be appreciated and admired, creating an intimate bond with its wearer. This watch has an incredible charm, a great presence and feels far less formal than you'd think at first. It's dressy without being strict and every single angle reveals incredibly finished details. And the way it plays with ambient light is mesmerizing.
Price
The SBGM221 comes with an elegant brown crocodile leather strap and folding buckle – the watch photographed here being a personal item and not a review/press watch, it is here worn on a smooth and more casual strap, which adds great charm to this piece. The OEM strap and buckle are, however, well-executed but maybe a bit too formal.
The retail price of the Grand Seiko Elegance GMT SBGM221 is EUR 4,800. That is quite a lot of money for most of us, but I challenge you to find a Swiss counterpart with this level of finishing and precision performance at this price.
More information at grand-seiko.com.
https://monochrome-watches.com/grand-seiko-elegance-gmt-sbgm221-review-price/