DeLaneau – pure feminine Haute Horlogerie and Haute Joaillerie combined
Introducing DeLaneau, pure feminine Haute Horlogerie and Haute Joaillerie combined. Together with GEO, Monochrome's new contributor, I visited DeLaneau in Geneva.
Visiting DeLaneau was an exotic and warm experience, I won't forget easily. Around 1987 I remember myself, dreaming in front of the shop window, looking at their mens watches. But that has changed completely.
When we entered the gorgeous DeLaneau palace on the Lake of Geneva, we noticed immediately a huge difference. DeLaneau now is a company run by ladies, exclusively for ladies. To my knowledge the only company in the world that produces only (high end) ladies watches. Cristina Wendt-Thévenaz, CEO and Artistic Director, who is wearing her extremely high stiletto's, like if it were sneakers, explained that designing a ladies watch, should be done from scratch, instead of reducing a mens watch and adding a few diamonds. And who could imagine better what a woman likes, than a woman herself.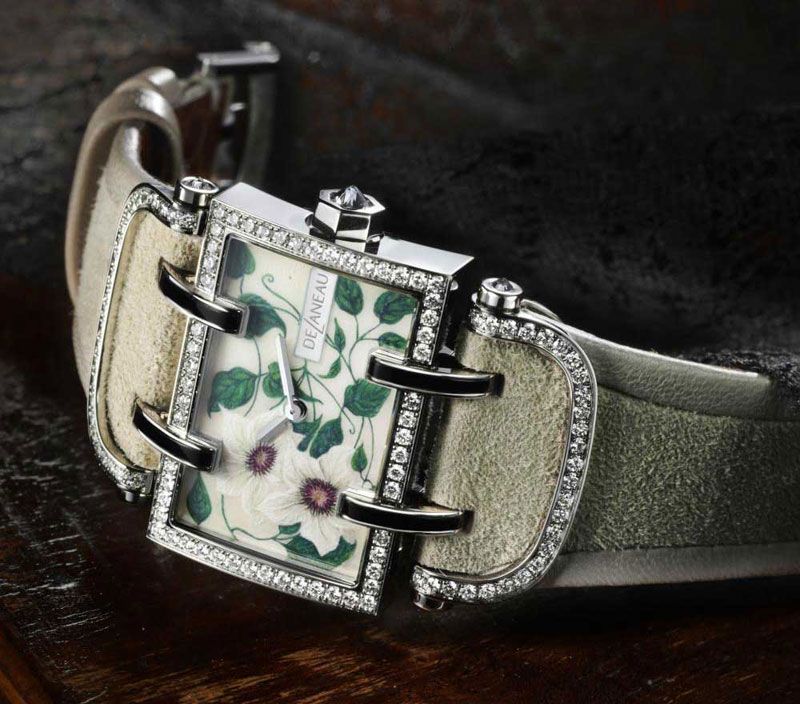 So the mens collection was skipped and the last pieces were melted back, to become raw material again. While talking about the change of DeLaneau, we walked up the marble steps and entered the scented showroom, that was designed like a lounge, overlooking he lake. While discussing the various production steps of the collection, part of the collection was presented on the table. Immediate attention got a new series of watches.
TIME TO BE TWO
This enchanting new concept of watches in pairs has been designed to create bonds between women, weather they are mother and daughter, sisters, best friends , partners or even complete strangers. 'Pairs' are a unique way to create a tie with another special person and reduces the distance when one of the two lives in a different part of the world than the other, when wearing the same timepiece. Two different models are in the collection. The Atame (pictured above) with an elegant rectangular shape and unique lugs that traverse the crystal, case and the strap. These 'Pair' watches are not identical, but belong to each other, since they share the same kind of hand engraved and decorated miniature paintings 'sous fondants', on the dial, but in a mirror reversed setting.
And the other pair of Magic Haute Joaillerie pieces, set with baguette rubies and diamonds, are also making a spectacular début in January 2011. With a total of no less than 23 carats of diamonds and rubies, these two ravishing Magic pieces are an ingenious interpretation of the long standing tradition of 'Montres a Secret'. A unique revolving system let the top of the watch slide away, in order to see the dial of the watch, when closed, it's a piece of jewellery, that does not look like a watch at all. An ideal evening and dress watch, since the time can be checked very discretely.
DeLaneau has presented, in my opinion, an unique concept of very feminine watches, for those ladies who desire a serious timepiece with a mechanical movement. The Atame has an automatic mechanical movement with a power reserve of 40 hours, while the Magic has mechanical winding movement.
This new concept by DeLaneau will not only strengthen the bonds between existing friends and relations, it will also open doors and hearts to new acquaintances. A first in the history of watchmaking.
Visit DeLaneau's website or more information.
https://monochrome-watches.com/delaneau-pure-feminine-haute-horlogerie-haute-joaillerie-combined/