Value Proposition
The Citizen Promaster Marine Automatic Diver 200m Super Titanium NY0100-50XE
Accessible but packed with everything you need in a proper dive watch... and more!
Even though we recently focused our attention on the (truly impressive) Citizen Caliber 0200, this highly accomplished model is an exception for the brand. When it comes to its core range, where Citizen has long excelled, we have to look at far more accessible watches. And one, in particular, has long been a fan's favourite, a watch with its own community, the Promaster. And today, we'll look at the brand's latest iteration, the Citizen Promaster Marine Automatic Diver 200m Super Titanium™ NY0100-50XE with its green dial. And even if it has moved into fashionable territories with a dial bearing the industry's hottest colour, it remains one of the best value proposition dive watches on the market. 
Promaster
As you've probably guessed from its name, the Promaster collection is all about professional applications, meaning watches with a purpose. This collection includes watches for sea (dive watches), land (exploration watches) and sky (pilot's watches) and the actual name Promaster was first coined in 1989. But there's more to discover before this date.
The whole professional collection actually started first in 1956 and 1959, with the Citizen Parashock and the Citizen Parawater – which were respectively shock-resistant and water-resistant watches. The latter is also said to be the first fully waterproof watch made by a Japanese company. Thanks to a series of exhibitions across Japan, where the brand intentionally launched a Parashock model from a helicopter or with the Trans-Pacific Test, where 130 Parawaters were anchored to various floating buoys across the Pacific Ocean, the brand gained both respect and popularity. 
Fast forward, Citizen continued its development and, for instance, was the first brand to use titanium to make (commercially available) wristwatches back in 1970. One crucial step in the construction of the Promaster collection occurred in 1982, a few years before the actual existence of this collection, with the launch of the Citizen Professional Diver 1300m. This impressive, ultra-robust, uncompromising dive watch paved the way for what would become the Promaster collection. It was also, back in the days, the watch with the greatest water-resistance available for public use.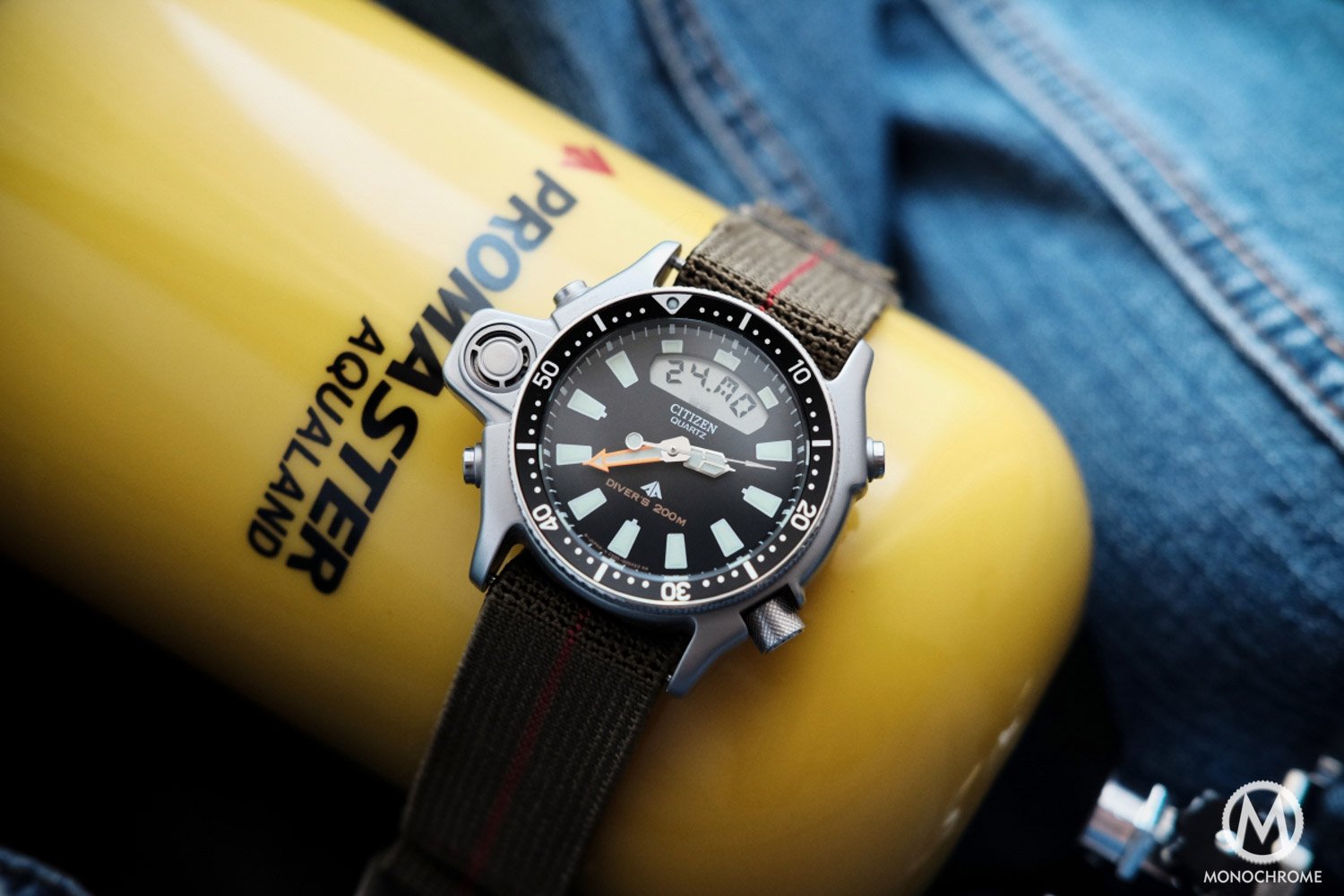 In 1985, Citizen introduced a watch that would become a favourite of divers and watch enthusiasts, a watch that made an impact and that is still, today, one of the brand's most emblematic models, the Aqualand – which is extensively explained in this in-depth article. It was the world's first watch fitted with an electronic/digital depth gauge, which anticipated what would eventually become the standard equipment for divers: diving computers. But still, when presented, the Aqualand wasn't yet a Promaster.
The collection took shape in 1989 as the "brand for land, sea and air professionals" with purpose-built models. The collection initially comprised three models – one for each application – with the Aqualand for divers (even though already launched four years before), the Altichron, a watch with an altimeter capable of measuring altitudes from -300m to 5000m, and finally the Promaster Sky, with a world time function.
Finally, among the multiple watches produced under the Promaster collection, there's one that has always ranked highly in the heart of enthusiasts, the Promaster Marine Automatic Diver 200m, also known as the NY0040. Launched in 1997, this watch (made of steel, in this instance) is one of the rare fully mechanical models of the collection and yet remains one of the most accessible, enduring, robust and, obviously cool-looking models. Consider this watch the SKX007 of Citizen, in terms of accessibility, attractiveness and robustness. And this NY0040 is the base for the watch we'll be discovering today, the NY0100-50XE. Titanium and green dial for comfort/resistance and fun, but still the same old brilliant watch underneath.
The Promaster Marine NY0100-50XE
The watch you see here is clearly not disruptive and sticks to the recipe invented almost 25 years ago with the first steel Promaster Marine 200m Automatic. Yet, this new reference incorporates multiple upgrades to an already fairly complete package, that of resistance, lightness and comfort with a titanium case, and also a certain cool and trendy attire with the introduction of a green dial/bezel combination, which is the hottest colour on the market now. Nothing wrong with that, a bit of colour doesn't change anything to the potential of this model.
Visually speaking, we're in familiar territory with this NY0100-50XE. And it all starts with the case, bearing the exact same shape as the original watch of 1997, including the rather surprising crown positioned at 8 o'clock. Of course, screwed-down to guarantee water-resistance, this left-sided crown might not be the best option when it comes to adjusting the time or the day-date complication; however, if, like most people, you wear your watch on your left arm, it certainly adds to the wearing comfort as the crown becomes entirely forgettable and is never a bother. And since this is an automatic watch, you shouldn't have to use the crown to wind or adjust the movement too often. Plus, it differentiates this Promaster from the rest of the crowd of accessible dive watches.
At 42mm in diameter and 12mm in height, the Promaster Marine Automatic Diver 200m is a respectable watch, with average dimensions for a watch of this category. The lugs are short and also well shaped, meaning that the watch sits comfortably on most wrists. What's important, though, is the material, since this Promaster NY0100, on the contrary to the NY0040, is made of Super Titanium™, which is solid titanium coated with a proprietary surface hardening technology called Duratect. This gives the watch a handsome shine (not the usual dark grey colour, but something brighter), lightness (40% lighter than steel) and scratch-resistance, with more than 1,000Hv hardness. As a result, the watch on its bracelet weighs just 110 grams, compared to more than 150 grams for an equivalent model in stainless steel. And believe us, it does change everything once strapped around the wrist.
The rest of the watch is straightforward yet satisfying. The case displays a combination of satin-finished and polished surfaces (something that can't be done with grade 2 titanium but can be done with Citizen's Super Titanium), and so is the bracelet. The bezel also retains the same profile with its specific grip on the periphery. The list of features includes a unidirectional bezel (firm but precise), screw-down crown and caseback, 200m water-resistance, a mineral crystal on top and, even though a contender in the accessible category, this watch is an ISO 6425 certified dive watch… Yes, this means that it's a fully loaded professional watch.
New for this year, in addition to the existing blue model, is the introduction of a dark green bezel insert and dial. Thanks to its sunray-brushed pattern, the dial adds some depth to this watch and a less rugged, more casual style that will make it easier to wear on a daily basis. While the metallic applied markers, all generously filled with luminous material, are identical to existing steel models, the hands have been redesigned and are larger and bolder than before. The all-important minute hand is painted in red, adding a cool touch to this green NY0100-50XE. The day-date function at 3 o'clock is still present and displayed on a black-coloured disc.
Under the titanium caseback is calibre 8203, an in-house automatic movement known for its simplicity and robustness, beating at 3Hz with a 40-hour power reserve. Accuracy is rated at +/- 20 sec/day (maximum, of course) which remains very decent considering the price of the watch. Plus, it is widely known that these Citizen Promaster Marine watches can perform much better than this.
To complete the package, the NY0100-50XE is worn on a solid Super Titanium bracelet with a folding clasp and diving extension. Even though it doesn't show the quality of a high-end dive watch, it is still pretty pleasant to wear and features all the necessary equipment. Plus, no doubt this green watch will look equally good on an accordion-style rubber strap, as found on the NY0040.
Verdict
We, at MONOCHROME, are used to seeing, touching and wearing all kinds of watches, from accessible to ultra high-end. And still, this Citizen Promaster Marine Automatic Diver 200m Super Titanium Green Dial NY0100-50XE (sorry for the long name…) is an impressive model. If you add the price into the equation, the overall quality is stunning, with a watch that rewards you with durability, comfort, resistance and, not the least of factors, a very cool design too.
With its new green colour and this Super Titanium case and bracelet combination, there's really a lot to love about this watch. And yet, the utilitarian, blue-collar feel of the original Promaster Marine is still present, just with better specs all around now. Sure, it's quite a lot more expensive than an NY0040 (which comes at EUR 239), but this green titanium edition remains very accessible and brings a lot to the table for that price.
Availability & Price
The Citizen Promaster Marine Automatic Diver 200m NY0100-50XE is now available from retailers. It is priced at EUR 399 in Europe. For more details, please visit www.citizenwatch.eu or www.citizenwatch-global.com.
https://monochrome-watches.com/citizen-promaster-marine-automatic-diver-200m-super-titanium-green-dial-ny0100-50xe-review-price/