Buying Guide
6 Cool Mechanical Chronographs That Don't Cost A Fortune
Cool looks, true mechanical movements and fair prices...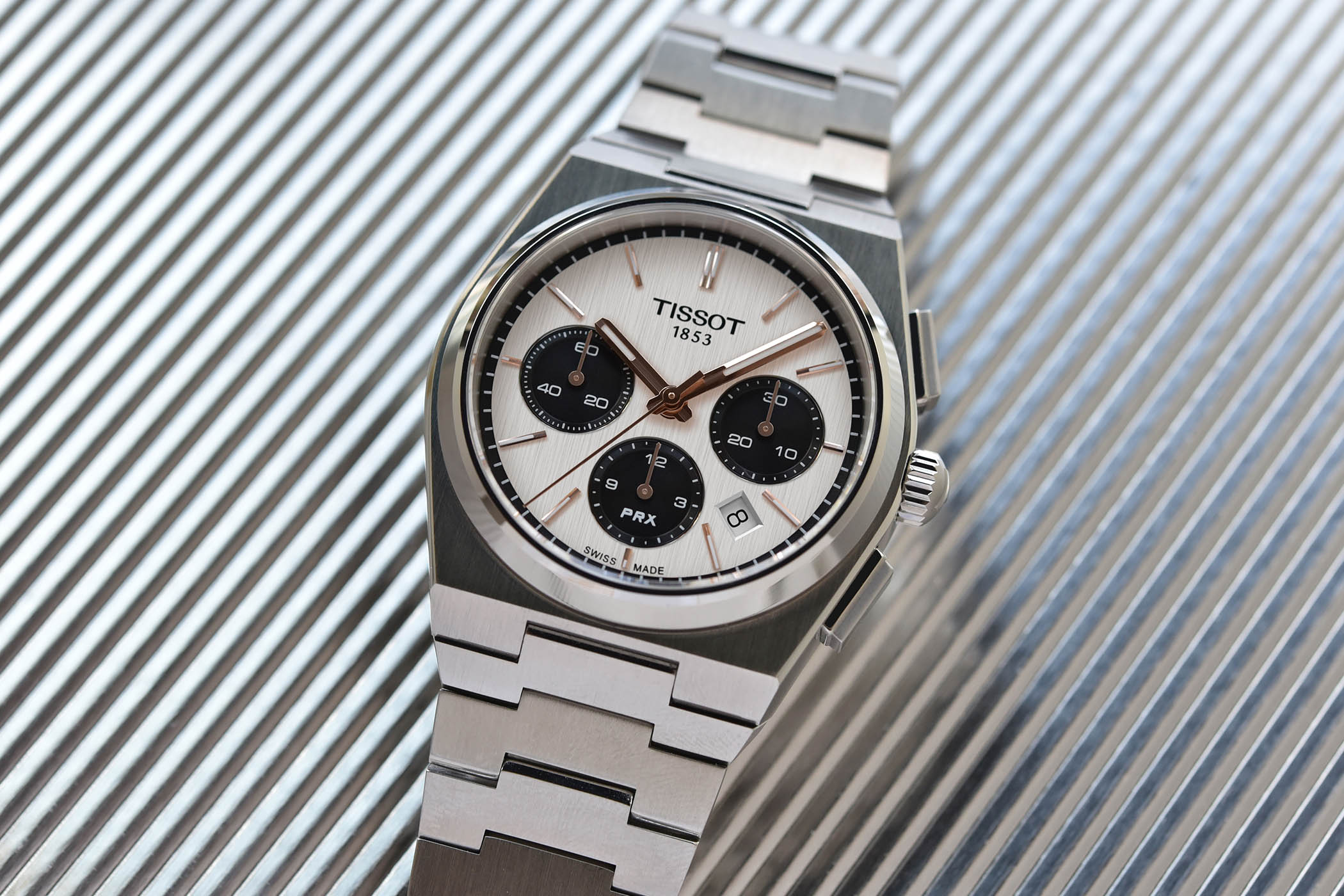 Chronograph movements are found all over the spectrum of the industry, from affordable quartz plastic watches priced below 200 euros to the very top of the range, where the sky is the limit. Moving from quartz to mechanical chronograph certainly is quite a large step for a watch enthusiast with a limited budget. Indeed, there's hardly anything interesting or really consistent below 1000 euros (with a few exceptions of course, like Baltic). If you're willing to increase a bit that budget, however, you'll be able to find properly cool watches – and that is mostly credited to the very existence of the Valjoux base movement… Here are 6 recently-launched, cool-looking mechanical chronographs that are fairly priced and have true watchmaking credentials too. 
Alpina Alpiner 4 Chronograph (2022 Update)
If Frederique Constant is specialised in accessible luxury watches with a rather classic, formal design, its sister company Alpina (both owned by Citizen Group) is all about robust, sport-oriented models – and that since the mid-1930s and the introduction of the Alpiner 4 concept. The modern version of this collection is composed of straightforward time-and-date models and, since earlier this year, of sporty, tool-like automatic chronograph watches. Quite large and on the instrument side of things, the Alpina Alpiner 4 Chronograph has a rather unique (and kind of cool) bi-directional bezel with a 0-36 bezel that serves as a 360° compass. The dial is all about legibility, with strong contrast with the blue background and markers/hands largely filled with SLN. Water-resistance is rated at 100m and inside the case is a Sellita SW 500 automatic chronograph (a clone of the 7750). This no-date, sporty bi-compax chronograph is all about adventure and retails for 2,795 euros.
Ad – Scroll to continue with article
Quick facts: 44mm x 15.70mm – stainless steel case, 360° bidirectional compass bezel (scale 0 -36) – 100m water-resistant – dark blue dial with lume, bi-compax layout, no-date – calibre AL-860, base Sellita SW 500 automatic chronograph, 4Hz, 55h power reserve – 3-link steel bracelet with folding clasp – EUR 2,795
Depancel Serie-A Allure Chronograph
A rather recent brand, Depancel has created a classic, motorsport chronograph that actually is the result of a co-creation project with its followers. And the result, this Serie-A Allure Chronograph, has a few arguments under its belt. The stainless steel case is 43mm in diameter and 15mm in height – not surprising considering the movement – and the vintage racing inspiration is evident. The dial is framed by a ceramic bezel with a tachymeter scale and water-resistance is rated at 100m. The dial shows impressive attention to detail, specifically considering the price, with an array of different finishings and textures. Combining batons with Arabic numerals, it has an original honeycomb pattern and circular brushed surface at the periphery. Inside, no surprises, as this watch relies on the all-time classic 7753 architecture. Priced at EUR 1,595 (subscription price and then EUR 1,895), it offers great value for the money.
Quick facts: 43mm x 15mm – stainless steel case, fixed ceramic bezel with tachymeter scale – 100m water-resistant – silvery-white dial with honeycomb pattern and circular brushed surface, lume and bi-compax layout – ETA 7753 automatic chronograph, 4hz, 48h power reserve – H-link steel bracelet with folding clasp – limited edition of 500 pieces – EUR 1,595 during subscription campaign
Hamilton Khaki Pilot Pioneer Mechanical Chronograph
Hamilton is a brand with strong background, specifically in the field of military watches. Think Hacked, W10 or Model 23… The latest watch to rely on these classic codes is this pilot's chronograph, directly modelled after the 1970s RAF-issued Chronograph known as the Fab Four. The look is just cool, with this original asymmetrical brushed steel case topped by an ultra-domed sapphire crystal. A true no-nonsense watch, with a comfortable 100m water-resistance. The dial is equally faithful and utilitarian, with a matte black base and larger luminous elements. And no date, of course. Inside, there's the calibre H-51-Si, a hand-wound version of the ETA 7753 with a lot of interesting modifications. Mostly, it is equipped with an anti-magnetic silicon balance spring and has an extended power reserve of 60 hours. And at EUR 1,995, it really is a watch that offers a lot for the money.
Quick facts: 40mm x 14.35mm – stainless steel case – 100m water-resistant – grained black dial with lume, bi-compax layout, no-date – calibre H-51-Si, hand-wound chronograph based on ETA 7753, 4Hz, 60h power reserve, silicon hairspring – brown leather strap – EUR 1,995
Longines Spirit Pioneer Titanium Chronograph
For this fourth entry, we move up in price, but we also move up in perceived quality, horological content and prestige. The Longines Spirit, the brand's latest collection with a retro-pilot-inspired style, already included a steel automatic chronograph since its introduction. But this year, the winged hourglass comes with a new model that has a few tricks under its sleeve, the Pioneer Edition. First of all, it's even more rugged than before, but also far more comfortable. The rather large and thick case is now made of grade 5 titanium, making it far lighter. Also, there's no date function anymore, and thus no pusher at 10 o'clock. Then comes the dial, which is a bit polarizing – well, I personally like it – with its neon green markers and hands… Inside, the Valjoux base has been heavily transformed with now a column wheel, a 66h power reserve and a silicon hairspring. And it's also COSC certified. So surely, it comes at EUR 3,740, but there's a lot offered in this package too.
Quick facts: 42mm x 16.50mm – grade 5 titanium case – 100m water-resistant – matte grained black dial with neon green-coloured lume, tri-compax layout, no-date – Calibre L688.4 (ETA A08.L01), COSC-certified automatic chronograph with column-wheel, 4Hz, 66h power reserve, silicon hairspring – synthetic textile strap – EUR 3,740
Tissot PRX Chronograph Automatic
Since its comeback in 2021, the Tissot PRX has created quite a wave… A watch with all the attributes of the luxury sports category, made by an established company, with all the quality of the Swatch Group, and priced almost like micro-brands on Kickstarter… In short, a successful recipe. One year later, the brand expands the collection of time-and-date quartz and automatic versions with now a mechanical chronograph. Sportier, bolder, larger than the 3-handers, it retains the overall integrated design and the same quality. Now, it's 42mm in diameter (and wears like it) and comes with a straight brushed panda dial with gold accents. Not the most consensual look, but one that is quite well executed in the metal. Inside is the ETA A05.H31, a modified Valjoux 7753 with an extended 60h power reserve and quite pleasant decoration. And it retains the same nicely shaped bracelet as before. All of that for 1,795 euros.
Quick facts: 42mm x 14.5mm – stainless steel case – 100m water-resistant – vertically brushed silver dial with rose gold accents, tri-compax layout – ETA A05.H31, automatic chronograph based on ETA 7753, 4Hz, 60h power reserve – single link stainless steel with folding clasp – EUR 1,795
Titoni Heritage Bicompax Chronograph
Last but not least, we have this cool, vintage-inspired chronograph by Titoni… Sure, you'll have to be a bit audacious and be brave enough to look further than just a bunch of mainstream brands, but the result is actually pretty satisfying. Indeed, Titoni has worked hard to create a modern watch with strong retro feeling and original look. The 41mm case is nicely shaped, with sharp lugs and oversized pump pushers, and the dial is all about cool, vintage colours with blue hands, warm silver background and multiple tones for the scales. Inside is the Sellita SW 510BHa (a clone of the Valjoux 7753) with here a bi-compax and date layout. It comes on a cool, casual taupe leather strap and is available for 2,220 euros. Quite fair.
Quick facts: 41mm x 14.5mm – stainless steel case – 50m water-resistant – Vintage Tachymeter/Telemeter dial in warm silver, bi-compax layout – Sellita SW 510BHa, automatic chronograph, 4Hz, 48h power reserve – taupe-coloured leather strap – EUR 2,220
https://monochrome-watches.com/buying-guide-best-accessible-mechanical-chronographs-of-2022-longines-hamilton-tissot-prx-specs-price/