Bremont Squadron Watch for United States Navy Test Pilot School
Seems like every watch company offers a pilot watch. Some of these companies have an aviation heritage from the past, while others are simply marketing campaigns.
Bremont is a company who continues to have significant military connections by supplying squadron watches. Instead of reminiscing about old war stories like a kindly grandfather, Bremont reports for active duty in the modern military. The USNTPS (modified civilian ALT1-Z GMT) for the United States Navy Test Pilot School is a fine example.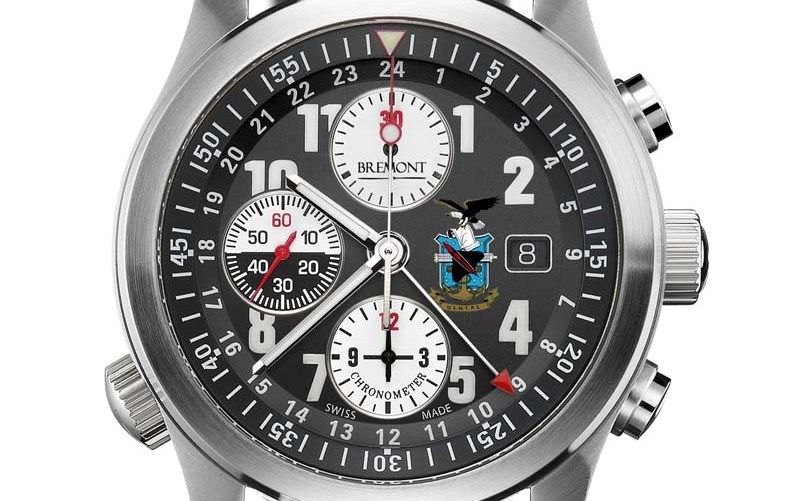 Test pilots are a breed apart. Thomas Wolfe's The Right Stuff introduced us to a cast of characters who risked their lives in pursuit of the sound barrier. On October 14, 1947, Chuck Yeager successfully piloted his Bell X-1 to Mach 1, opening the door to supersonic flight. As many of his fellow test pilots joined the Mercury Space program, Yeager continued to yaw, pitch and roll his way through the skies in experimental aircraft. It was and is dangerous work.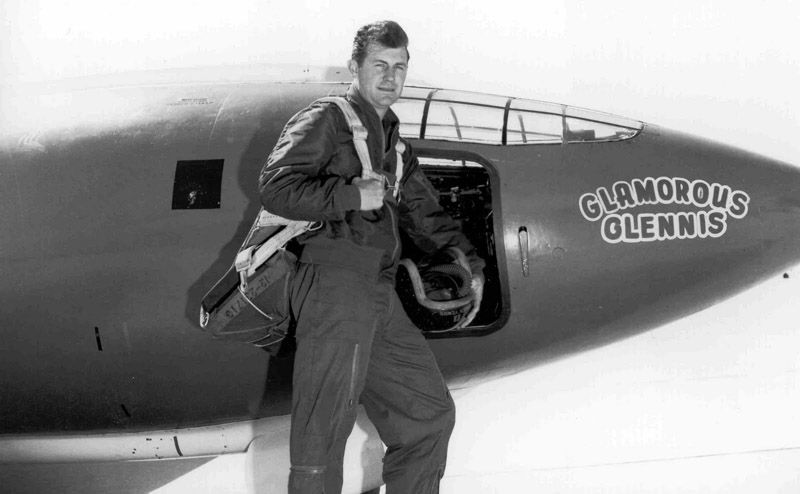 Chuck Yeager is the epitome of the test pilot, and he once said, "I was always afraid of dying. Always. It was my fear that made me learn everything I could about my airplane and my emergency equipment, and kept me flying respectful of my machine and always alert in the cockpit." A vital piece of equipment for any test pilot is his watch, and Bremont makes a watch worn by those who push the envelope. Bremont has the right stuff.
Today in the United States Navy (USN), kindred souls continue Yeager's legacy at Naval Air Station Patuxent River, Maryland. The opportunity to fly the latest in aerodynamic technology outweighs the risk of death and paves the way for the fleet's future aircraft. USNTPS, United States Navy Test Pilot School, is the namesake of Bremont's squadron watch. At the school, Test Naval Flight Officers fly roughly fifty aircraft of thirteen types. From the X-26 glider to the F/A 18B, students grapple with futuristic aeronautics and weapons systems. When you are flying at or beyond the limit, you need a watch that can keep pace. USNTP chose Bremont as their squadron watch, and only their members can purchase a USNTP watch.
For the rest of us, there is the ALT1-Z Zulu. Zulu refers to "Zulu Time," designating the watch's GMT function. Zulu Time (Aviators), or Universal Coordination Time, or Greenwich Mean Time eliminates confusion around AM and PM or different time zones, giving the aviator a universal reference. The ALT1-Z has the Zulu navigational aid at its heart. Notice the 24-hour markers at the base of the chapter ring as well as the GMT hand for a second time zone. The white, narrow GMT hand with its red arrow tip indicates an alternate time of 0910 hours. When flying through multiple time zones, the aviator can track Zulu time or a secondary time zone.
Aviation tool watches must be precise, thus the company tag line, "tested beyond endurance," but Bremont also adds the beauty of British sensibility. Refined is the right word. The dial has a chronometric instrument aesthetic that recalls the cockpit. The sub-dials take cues from the attitude indicator, altimeter and air speed indicator. The watch resembles an instrument panel. The must-have chronograph solidifies this watch's readiness for action. The quality of fit and finish, especially the overly decorated movement, has become a Bremont hallmark. We have written previously about the rugged case construction, and every Bremont watch combines strength with charm. On the Vickers scale of hardness, the B-EBE2000 hardening process produces a watchcase with a value of 2000, which is approximately seven times that of the normal stainless steel used for watchcases. Black, dark grey, light grey or cream dial, the ALT1-Z makes test pilots of us all. Much like an aircraft can entice you with its sleek prowess and long lines, the ALT1-Z is a looker.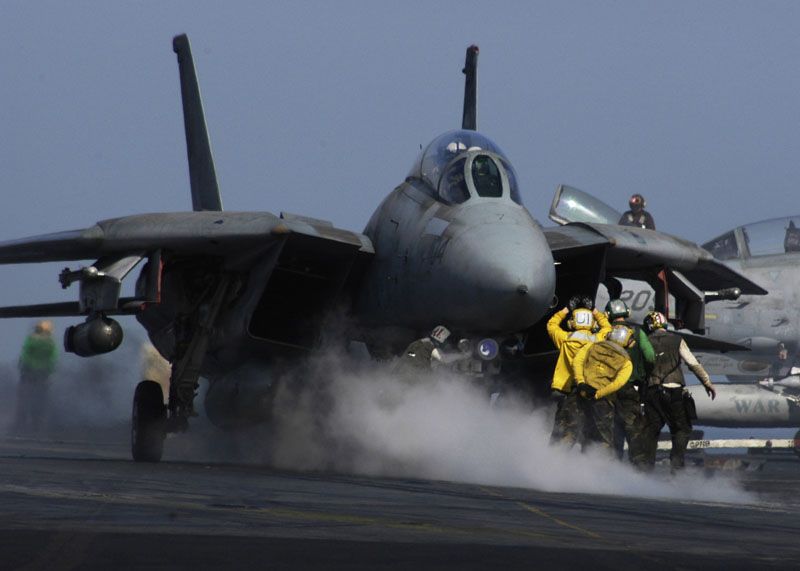 Aviators tend to talk with their hands, mimicking the day's maneuvers with hand gestures, and you can image a Bremont strapped to a wrist, making a gravity defying S turn. Bremont is no poser. The company shares, "Bremont has always had a very tight working relationship with the military, and as a result, operates very closely with multiple elite squadrons around the world such as the U-2 squadron, C-17 Airlift Squadron, Apache 3 Regiment AAC, VFA-81, VFA-11, 29(R) Typhoon Squadron, 30-RS to name a few." These other elite squadrons mean the company is well represented on the flight deck with various watch models. Bremont serves alongside the brave men and women who guard the skies.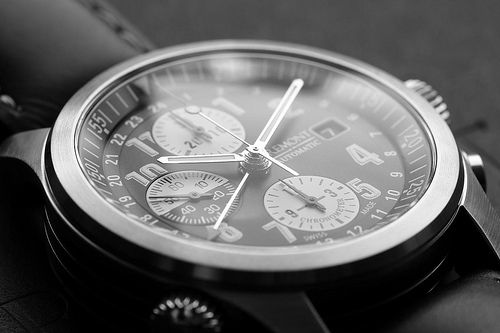 FEATURES OF A CIVILIAN ALT1-Z GMT
MOVEMENT: Modified calibre 13 1/4" BE-54AE automatic chronometer, 25 jewels, Glucydur balance, Anachron balance spring, Nivaflex 1 mainspiring, 28,800bph, 42 hour power reserve, Bremont moulded and decorated skeletised rotor
FUNCTIONS: Hour/minute/second, date at 3H, chronograph small counters with seconds 30 minutes and 12 hours, 24 hour UTC hand
CASE: Hardened stainless steel Bremont Trip Tick construction with scratch resistant PVD treated case barrel, case diameter 43 mm, lug width 22 mm, case thickness 16 mm, stainless steel case back with integrated flat crystal
BEZEL: Patented inner bi-directional Roto-Click bezel, operated by crown at 8H
CRYSTAL: Domed anti-reflective, scratch resistant sapphire crystal.
WATER RESISTANCE: Water resistant to 10 ATM (100 metres)
RATINGS: C.O.S.C. chronometer tested and certified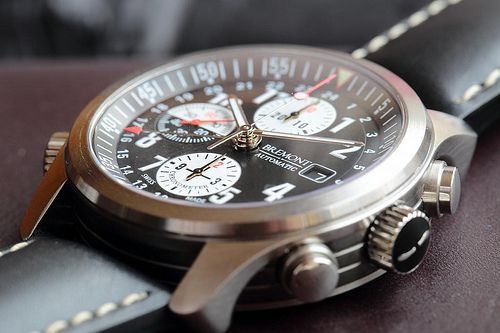 More info @ the Bremont website.
This article is written by Max Reddick, contributing writer for Monochrome Watches.
https://monochrome-watches.com/bremont-squadron-watch-for-united-states-navy-test-pilot-school/