Award winning Grönefeld One Hertz now also in platinum and titanium
Last week the Grönefeld One Hertz was elected Watch of the Year 2011 by the members of Timezone. A magnificent achievement for the two Dutch watchmakers Tim and Bart Grönefeld. And today the One Hertz goes platinum (and titanium)!
For frequent visitors of Monochrome, the Grönefeld One Hertz doesn't need an introduction. We already wrote about it from the very beginning, wrote an extensive review of the finishing of the stainless steel bridges, shared the launched of the One Hertz Dune and the One Hertz featured as Monochrome's Weekly Watch Photo on several ocassions.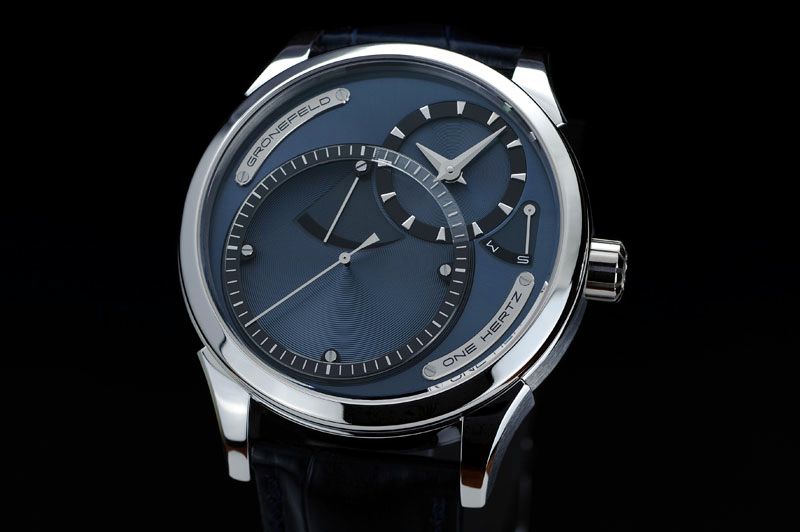 The One Hertz features a rare complication called dead beat seconds (or seconde morte in French). This means that the seconds hand, which has a promiment place on the dial, makes one tick per second. Like a quartz watch actually. This complication was popular in the most expensive timepieces, at least before the quartz watch came.
A dead beat seconds complication used to be a showcase for being so precise that the watch could be fine regulated to the second. Now-a-days that's considered normal, but not when this complication was invented. This complication is usually one that actually disturbs the precise going rate of a mechanical watch, because of the jumping second. The reason is that power is stored for a second and than released. This means a variation in power load, every second. The One Hertz features an independent dead beat second, meaning that all this negative influence on the watch's rate can be neglected and it has become a magnificent precise timing instrument again.
In the first lines I mentioned that the One Hertz goes platinum… and titanium. Besides the new titanium version, there are three new versions in titanium. From left to right we see the One Hertz Classic, One Hertz Ice and the One Hertz Fire. Gosh… which one to pick?
At the Grönefeld website you can see bigger photos of all versions of the One Hertz.
The One Hertz in titanium is priced at € 39,900 Euro and the platinum version € 79,500 Euro (excluding taxes).
https://monochrome-watches.com/award-winning-gronefeld-one-hertz-now-also-in-platinum-and-titanium/