An evening with Ochs und Junior and MIH Watch
An evening with Ochs und Junior and MIH Watch. Beat Weinmann of Switzerland's famous jewelry and timepieces store The Embassy, presented the MIH Watch and the Ochs und Junior collection to a select group of watch collectors.
Last Friday, the 24th of September 2010, was the first 'an evening with' event in The Hague (Netherlands). During this event, watches created by Ludwig Oechslin where the centre of attention. Ludwig Oechslin is probably well known to most watch aficionados as the creator of Ulysse Nardin's the Freak and the Trilogy of Time.
According to reactions about my MIH Watch, not many watch collectors know this watch was also created by Oechslin. But what you should know, is that the MIH Watch is the most affordable mechanical wristwatch with an annual calendar and a mono-poussoir chronograph!!
Personally I also love the looks of the MIH Watch, which was designed by Christian Gafner. It's obvious that a 'real' designer had a hand in this as the design is so strong and consistant. Another huge plus is the fact that the MIH Watch is being produced by Paul Gerber, one of Switzerland's best watchmakers and AHCI member.Besides producing the MIH Watch, he also produces (among others) the Ochs und Junior watches.
The Ochs und Junior Anno Cinquanta (photo above) even features Gerber's own automatic movement with 100 hours of power reserve.
That's why I'm saying that Ludwig Oechslin created the Ochs und Junior collection and Paul Gerber produces them. The entire collection starts with Oechslin's ideas, inventions, vision. Paul Gerber's role in by no means less important! His knowledge of watchmaking reflects in the quality of the MIH Watch and Ochs und Junior watches.
The Ochs und Junior collection has a different 'conception' than any other watch. It starts with one of Ludwig's  ideas, for which he might have found inspiration in his daily life. He'll start thinking, drawing and whatever it takes to find a sollution that does not have to be adding some extra gears! And this is probably why Oechslin's watches are so remarkable… a good mix of technicality and plain simple logic.
After the first ideas are oin the sketchbook, Oechslin builds a prototype, in his own basement, that will be thoroughly tested. If the prototype works, it  will go to the next fase, the 'idea' fase. Based on the prototype, this  watch will be made and it will already be for sale. Take for instance the newest 'idea', the Ochs und Junior Luna Mese idea.
Starting soon several Ochs und Junior models will be released in a titanium case, with a similar diameter as the MIH Watch (42mm) but due to different movement the case will be not as thick. By using titanium cases and using brass in stead of white gold for the dial and several other parts, the price will be reduced significantly.
A nice 'thouch' for this new collection is the option to choose your own dial color. Of every pantone color no more than 5 pieces will be produced, so keep this in mind if you want a black dial.
AN EVENING WITH
During Baselworld 2009 the idea of  'An evening with' was conceived and after more than 1,5 year of focusing our ideas, the first 'evening with' took place on Friday the 24th of September.
The idea to organize an evening where watch enthusiast meet watchmakers or representatives of a brand isn't new of course. These kind of evenings will (hopefully) be a pleasant experience for those involved and also generate media attention for the watchmaker/brand.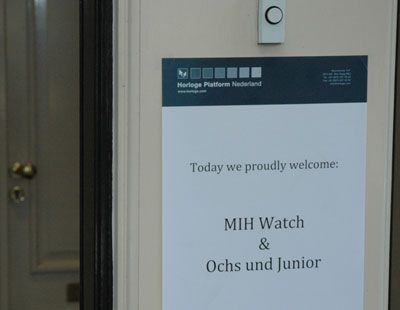 An evening with wants to offer something extra, both for the guests and for the watchmaker or brand. The guests are all serious collectors who already have an interesting collection and who are seriously interested in the fine art of watchmaking. And because 'An evening with' focuses on independent (haute) horlogerie, the fine art of watchmaking will get plenty of attention.
This was the First 'evening with' which means more will follow. Stay tuned to learn about the next evening with.
More information can be found at the website www.aneveningwith.eu
https://monochrome-watches.com/an-evening-ochs-und-junior-mih-watch/