At Baselworld it was finally time to receive my new MIH Watch. Probably the most affordable mechanical single button chronograph with an annual calendar. And it's a beauty!
Last year i emailed Beat Weinmann from The Embassy, a watch store specialized in (independent) haute horlogerie, that I wanted to buy a MIH Watch. Since the MIH Watch has a limited production of only 100 pieces a year, i was happy to hear Beat could reserve one for me. That was because i wanted to pick up the MIH Watch myself. I have a habit in picking up my own watches, even if i have to go all the way to Helsinki.
When the deal was made i planned to pick up the MIH Watch at the Embassy in Luzern. Unfortunately because of back problems i had to cancel the planned trip to Switzerland. A few months later it was already close to Baselworld and Beat Weinmann told me he could meet me there and bring my MIH Watch. Well, that was an offer i couldn't resist 🙂
Like all MIH Watches, it was wrapped in a copy of the Neue Zürcher Zeitung. The choice not to deliver the MIH Watch in a luxurious box but in a newspaper, was Ludwig Oechslin's. Unconventional, but it somehow suits. And this can be said about the technical aspects as well…
Ludwig Oechslin designed an annual calendar that is built around just nine moving parts and it's display is contained within one easy-to-read window. And there's more 'unconventional' about the MIH Watch. Looking at the dial you wouldn't notice it's complexity. However besides the annual calendar, there's also a chronograph… a mono-poussoir chronograph or single button chronograph.

Some specifications:
Diameter: 42 mm
Thickness: 15 mm
Waterproof: 100 meters
Crystal: Sapphire with double sided AR coating
Movement: ETA Valjoux 7750
Functions: annual calendar, day/night indicator, single button chronograph
The titanium case is beautifully finished and feels soft as silk. It wears very comfortable and the attachment of the rubber strap is partially integrated in the case, which looks very nice. This way there's no opening between the strap and the case.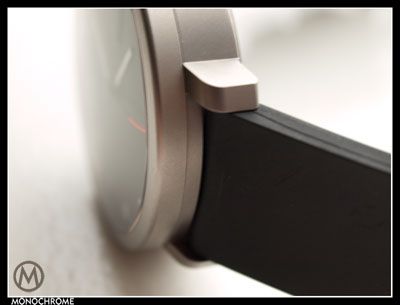 Paul Gerber, member of the AHCI, chose the basic movement for the watch: an ETA-Valjoux calibre 7750. This reliable workhorse has enough power to drive the calendar's disks reliably. The calendar mechanism is entirely manufactured at Paul Gerber's ateliers, which is also where every MIH Watch is assembled and brought to life.
https://monochrome-watches.com/my-mih-watch/