A World's First: Christiaan van der Klaauw Real Moon Tides indicates the Sea Level Tides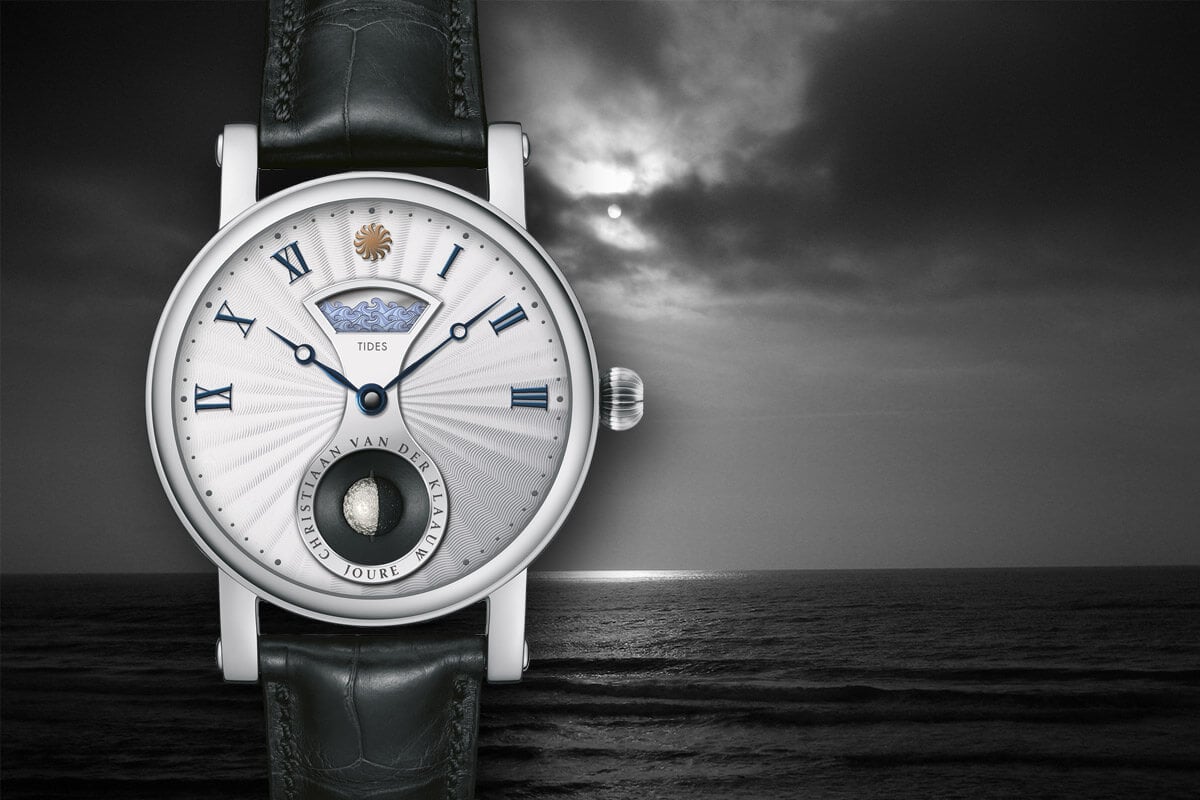 From the makers of the smallest planetarium that can be worn on the wrist – in a wrist watch of course – comes a new complication that has never been seen in a wrist watch before: the Christiaan van der Klaauw Real Moon Tides. As its name already indicates it comprises the CvdK 'Real Moon' moon phase indication (which is the most precise moon phase indication in a wrist watch) and a 'Tides' indicator. As you might know, the tides are influenced by the combined effects of gravitational forces exerted by the Moon, Sun, and rotation of the Earth, and now you can see your local tides on your wrist watch. 
Do you live near the sea? Most of the world's population does, so chances are good that you also live close to the sea, and maybe the sea plays a big role in your life. Going to the beach after work, or on a sunny weekend day? Or maybe you love to go fishing in a nearby harbor or on the beach? Or do you own a sailing boat and like to take her out onto the waters? All perfectly good reasons, to get yourself a Christiaan van der Klaauw Real Moon Tides, and you'll always know when it is high or low tide.
Besides the tides indicator, this watch also features the world's most precise moon phase indication, that only needs adjusting once every 1,971,000 days. This means the next time it has to be adjusted, is in 5400 years from now (so better tell your children, who have to tell their children, who on their turn have to tell their children and repeat this several times). The phases of the moon are indicated by a miniature moon, which is placed close to the 6 o'clock position, while the tides indication is at the 12 o'clock position, just below the CvdK logo.
To learn more about the various tides, please check wikipedia, however here's the condensed version: in most places on Earth you'll find the 'principal lunar semi-diurnal' sea tide, also known as the M2 tidal constituent. Its period is approximately 12 hours and 25 minutes and 14 seconds, which is half a tidal lunar day. This is the average time separating one lunar zenith from the next, which is the time required for the Earth to rotate once relative to the Moon. While simple tide clocks track this constituent, the CvdK Real Moon Tides 'knows' that the lunar day is longer than the Earth day because the Moon orbits in the same direction the Earth spins. In the aperture, the waves move up and down to make this beautiful phenomenon visible.
Movement: CVDK7383, automatic winding, 35 jewels, twin barrel, 96 hours power-reserve, CvdK Real Moon Tides module
Functions: Hours, minutes, tides indicator, 3D moon phase; the watch is equipped with the most accurate 3D moon phase in the world
Case: stainless steel or 18K rose gold, diameter is 40 mm, sapphire crystal, sapphire crystal case-back.
Strap: Black alligator leather strap, folding clasp in matching metal (stainless steel or 18K rose gold) with CvdK logo engraved
https://monochrome-watches.com/a-worlds-first-christiaan-van-der-klaauw-real-moon-tides-indicates-the-sea-level-tides/