A Day with Jaeger-LeCoultre – Masterclass in Amsterdam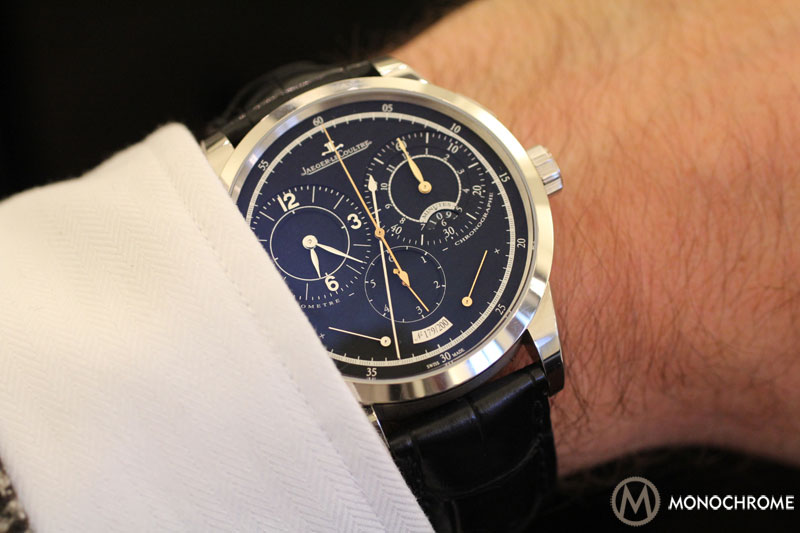 Last month I had the pleasure of attending a Masterclass organized by Jaeger-LeCoultre. Several years ago I attended a similar Masterclass and now I was curious to see how much of my knowledge and "skills" remained. 
The entire day was a lovely escape from any daily routine and very well organized, great place, great program, great food. And it gave much insight, again. Want to know how I did? Well, let me put it this way, after the Masterclass I respected watchmakers like I respect a good surgeon. By the end of the day, we got to see many pieces from the current Jaeger-LeCoultre collection, so prepare for many wrist shots!
The Masterclass is something Jaeger-LeCoultre organizes for member of Le Club and people selected by Jaeger-LeCoultre dealers and their own boutiques. If you're not a member of Le Club, then by all means visit the Jaeger-LeCoultre website and see how you can enlist.
The Masterclass started with explanation, training on the computer and then the real thing… taking apart AND assembling the movement of a Reverso Grande Date. Luckily watchmaker Niels guided us with patience 🙂 Here the group is ready, with white jackets and a loupe.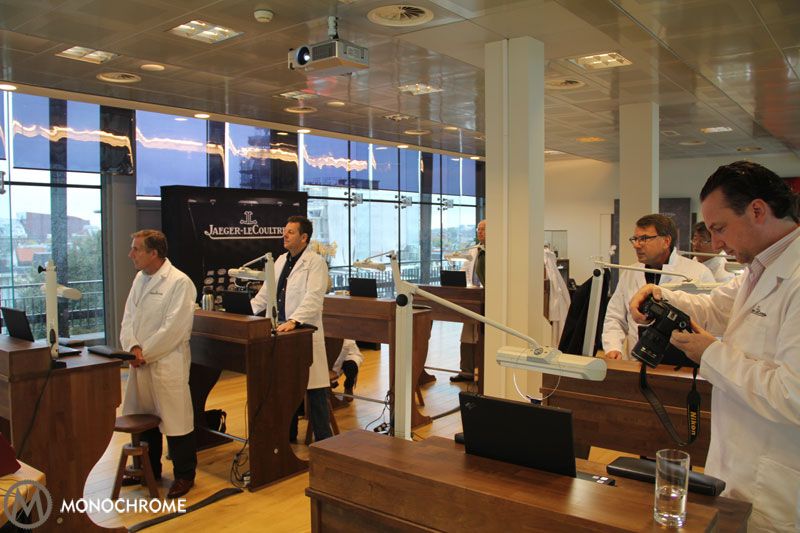 Eagerly awaiting the moment that we can put the screwdriver onto the movement. However first Niels van Gaas told us something about JLC caliber 875, the movement of the Reverso Grande Date, which is not in the current collection anymore.
All parts that we were about to encounter during the disassembly were discussed and some got some extra attention/explanation. The photo below shows a digital simulation (on screen) of disassembling the movement. That was incredibly helpful, although by the time I started on the movement I had totally forgotten where to put which part.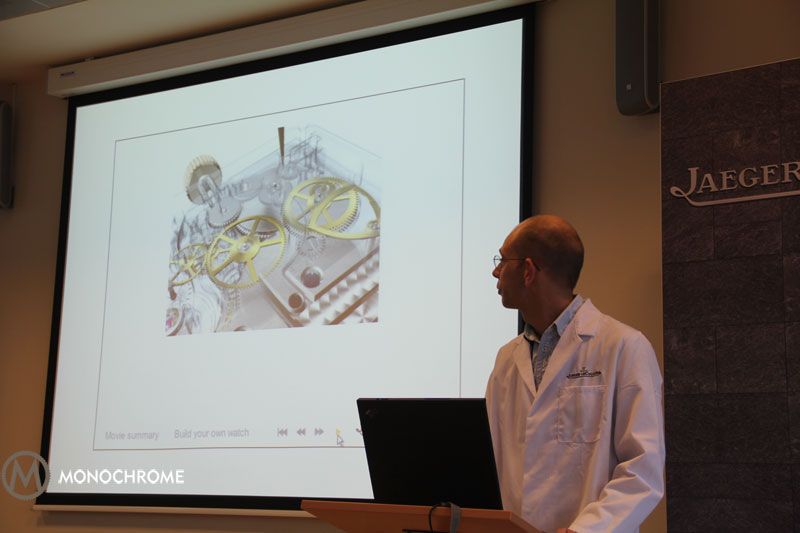 We all gathered around Niels's desk, so he could explain us about the tools we were going to use. And then on to the movement…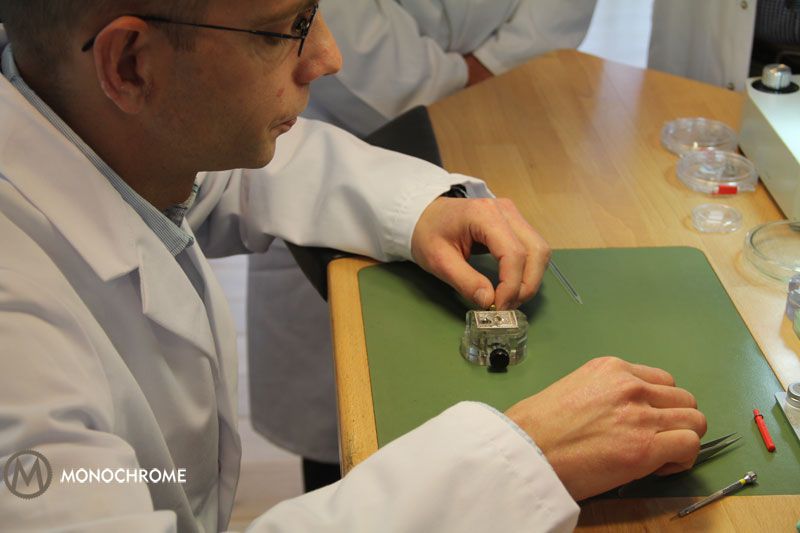 Here it is, caliber 875… Luckily the movement was already partially disassembled, so we just had to disassemble (and afterwards assemble) just some of the 218 parts. Check here for more photos of the Reverso Grande Date that I shot some years ago.
After the splendid day, there was time for drinks and a moment to try many pieces of the new collection on my wrist. However first a nice see-through of the impressive Grande Date Ultra Thin SQ (SQ stands for skeleton).
And on the wrist it also looks stunning!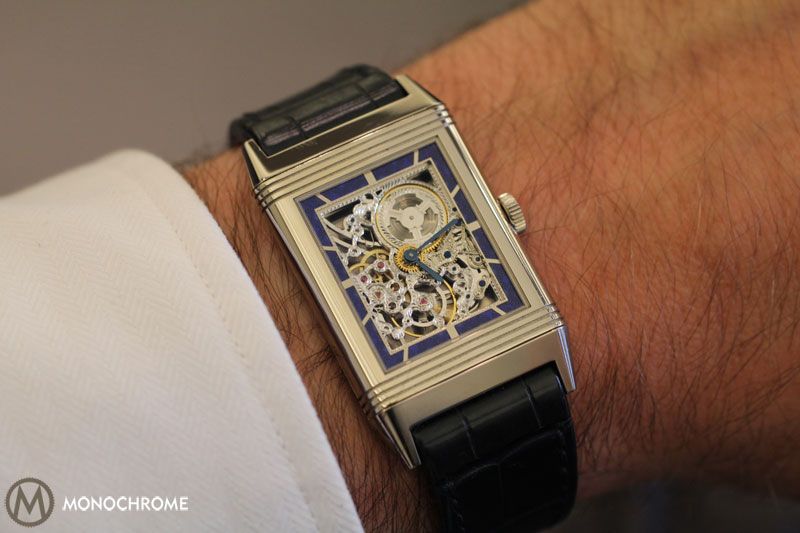 The good people of JLC brought several more Reverso models, something I liked a lot because I have an incredibly weak spot for this iconic model. If you're a frequent reader of Monochrome then you have seen many posts about the new Reverso models and some classic that did great on an auction in Paris.
This is a pink gold version of the Grande Reverso 976, a larger version of the classic Reverso.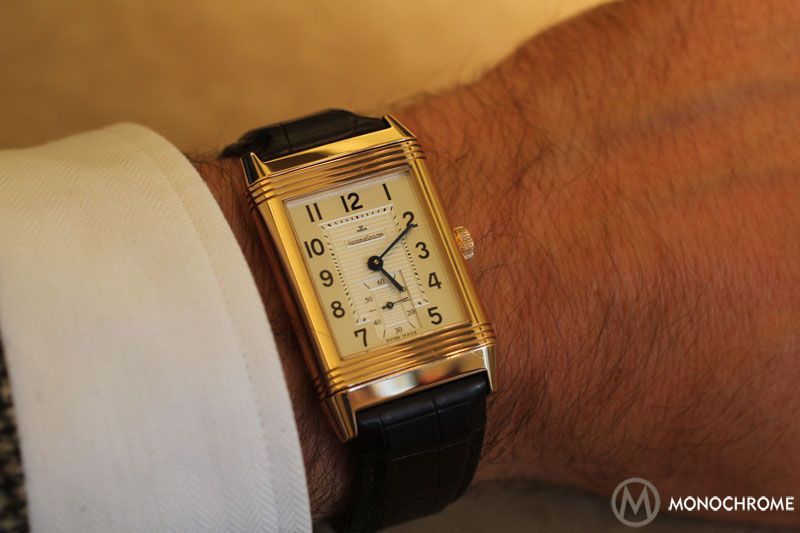 And here's a photo of the new Grande Reverso Calendar, that was introduced early this year.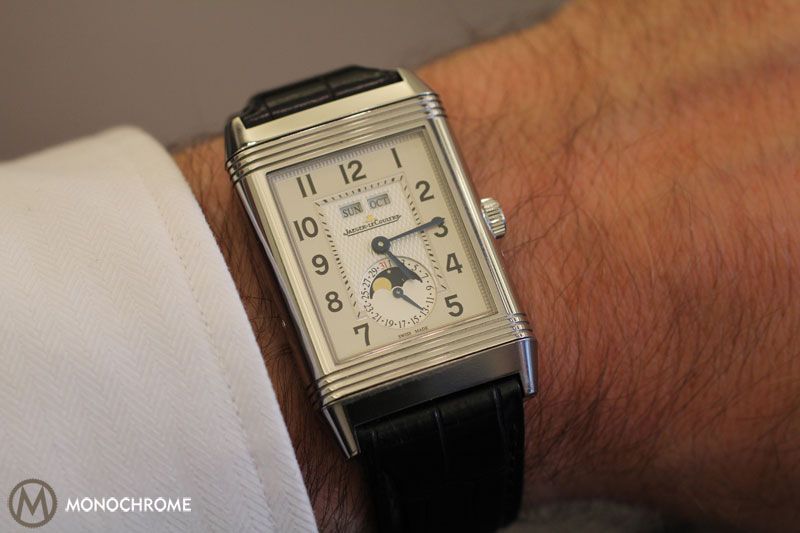 And my personal favorite Reverso… the Grande Reverso Ultra Thin Tribute to 1931 that was introduced shortly before the SIHH 2011 and of course we wrote about it on numerous occasions! Here when it was introduced, and here when we did a hands-on review and when JLC launched a limited edition for the hit series Mad Men we of course informed you about it. And of course we also told you how very much we love the Grande Reverso Tribute to 1931 with red lacquered dial that was introduced this year.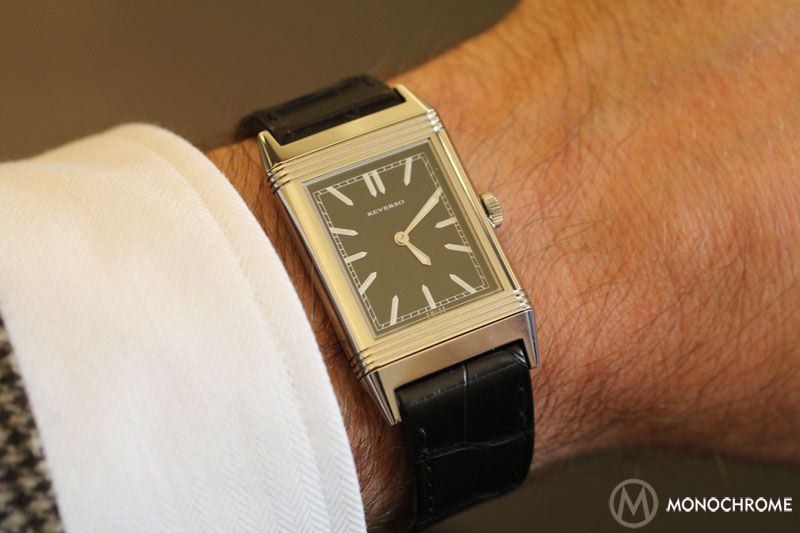 Of course there were many, many more watches… but later more about them. Especially the Master Ultra Thin and the Master Ultra Thin Tourbillon will be getting some extra attention in another article. For now we end with the same watch that I opened the article with, my favorite timepiece from the Manufacture Jaeger-LeCoultre… the Doumètre à Chronograph in white gold. I'd love to add a Grande Reverso Tribute to 1931 to my collection, however this Duomètre à Chronograph really is tha bomb 🙂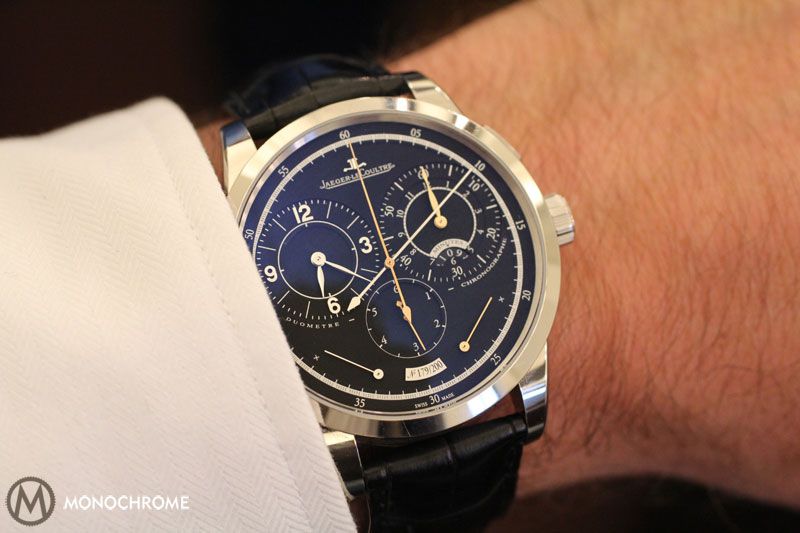 A big thanks to the good people from Jaeger-LeCoultre in Amsterdam for organizing such a splendid day! (and inviting me of course)
This article was written by Frank Geelen, executive editor for Monochrome Watches.