Jaeger-LeCoultre Grande Reverso 1931 Rouge – with photos of the original
For those who follow Monochrome, it's no secret that Jaeger-LeCoultre paid tribute to the Reverso in quite an astonishing way this year. Today we show you the pre SIHH 2012 launch of a new version with a beautiful dark red lacquer dial. 
During the recent auction of more than 500 Jaeger-LeCoultre timepieces, we saw where they found the inspiration. Indeed, it was the original Reverso from 1931 that inspired JLC to make the Grande Reverso 1931 Rouge. Only a few changes were made…
In the 1930's Jaeger-LeCoultre offered a broad palette of dial colors. The vast majority of those acquiring a Reverso opted for white, cream-colored, black or gold-toned dials. Even during this period, referred to in French as the "Années Folles" (Crazy Years), it took a distinctly non-conformist attitude to add a colorful dial. Whereas only a very small number of people chose chestnut brown or blue, those who opted for red showed their extravagant taste.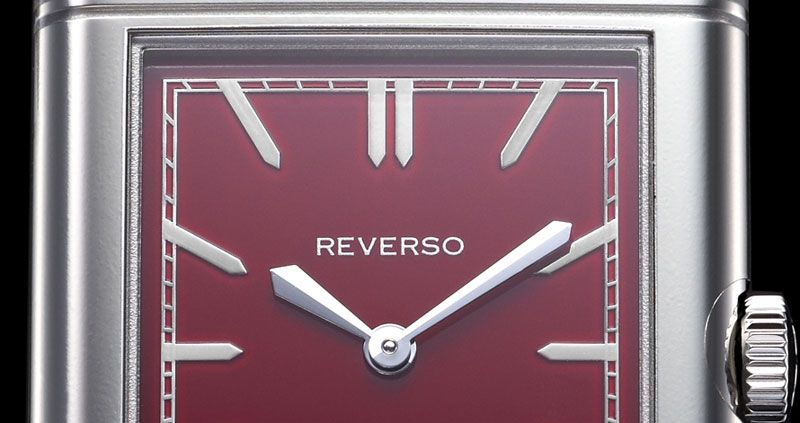 The new Grande Reverso 1931 Rouge shows a deeper, darker red dial. One of the neat features is that only the word "Reverso" is printed on the dial only and not the name of the manufacture, like on the vintage version we showed you and like the Grande Reverso Ultra-Thin that was released during the SIHH in January of this year.
The hour markers look like applied markers, like on the vintage version, however the hour markers at 12 and 6 are different. The 12 o'clock marker are two stick markers and at 6 we see the same single stick marker like on all other hours. Personally I find this more attractive and it makes the design more in balance.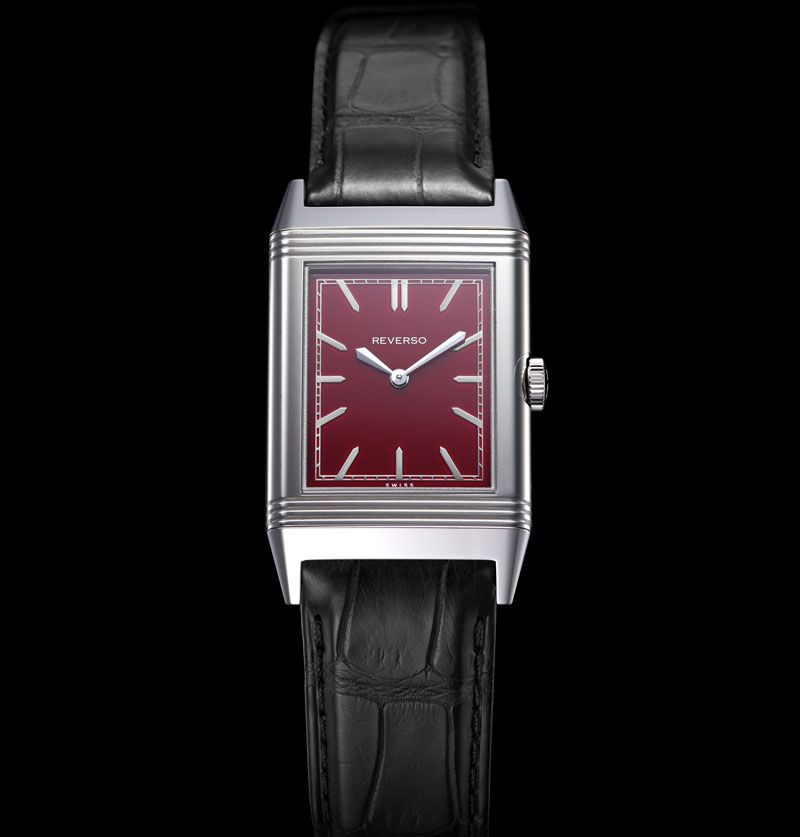 Now the biggest difference are a different case size and a different movement, which is the manually-wound caliber 822. The stainless steel case is relatively large yet very slender and measures 46 mm from top to bottom, 27.5 mm wide and 7.27 mm thick, or shall we say thin.
This 'Boutique' edition was tested for 1,000 hours, like the Master Control collection, and this is emphasized by the '1000 Hours Control' inscription on the caseback.
The new Jaeger-LeCoultre boutique in Milan got the review of the Grande Reverso 1931 Rouge. More info can be found at the Jaeger-LeCoultre website and official Facebook page.
https://monochrome-watches.com/jaeger-lecoultre-grande-reverso-1931-rouge-with-photos-of-the-original/