Weekly Watch Photo – Panerai PAM386 Luminor Composite Marina 1950
The Panerai PAM386 Luminor Composite Marina 1950 is Monochrome's favorite new Panerai of this year. The material of the case, the size and the rugged looks are simply awesome. 
Monochrome's Weekly Watch Photo is made by Martin Wilmsen who is specialized in watch photography and Panerai watches and his blog is on Monochrome's daily reading list. We always enjoy to see nice photos of nice watches. Hey, that's why we started the Weekly Watch Photo in the first place. This new Panerai PAM386 is made of 'composite' that Panerai first used for the Radiomir PAM339, that was launched in 2010.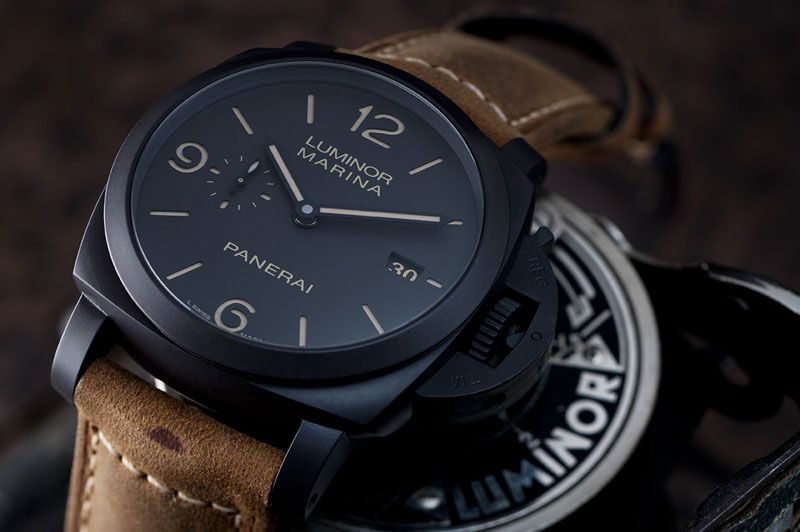 Although the case seems black, the composite case is brown and so is the dial. The strap this watch comes on, is the so-called Assolutamente strap, one of Panerai's nicest straps! Inside the PAM386 ticks the self winding caliber P.9000 that is entirely developed and produced by Panerai. The movement has 3 days of power reserve, that is 'stored' in 2 main springs.
Since the larger Panerai models with a diameter of 47 mm or sometimes even larger, are not for everyone's wrist, we are pleased to see that Panerai used the composite material for a watch with a 'modest' 44 mm in diameter. This size fits very well on an average wrist with a circumference of 17-18 cm.
The luminous markers on the dial are beige, which suits the brown dial very well and even the date is printed in beige on a black date wheel. Absolutely superb how Panerai has an eye for these small details that matter. The price for the Panerai PAM386 will be approximately $9300.
More photos of this Panerai PAM386 and other Panerai watches can be admired at Martin Wilmsen's Wristwatch Photo blog. Information about the watches can be found at the Panerai website.
https://monochrome-watches.com/weekly-watch-photo-panerai-pam386-luminor-composite-marina-1950/