Vincent Bérard Luvorene 1
Vincent Bérard, a Swiss watchmaker / artist, makes probably the most beautiful movement i've ever seen. His Luvorene 1 is a true gem. Last week the newly renovated atelier & office was inaugurated.
Watchmaker Vincent Bérard got fame by making an incredibly beautiful pocket watch, the Quartre Saisons Carrosse (Four Seasons). At that time (2005) he also had a prototype for a wristwatch, the Luvorene 1, and was looking for investors.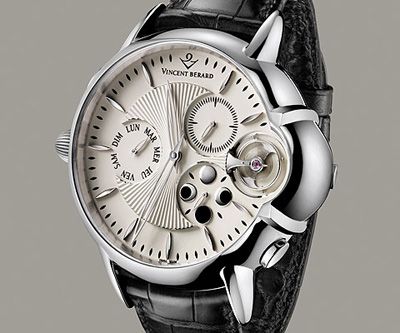 Developing a watch from scratch is not cheap. After business man Herbert Gautschi and Vincent Bérard joined forced they found an investor in the Timex Group. Seriously, i was 'slightly' amazed when i heard this, but it actually makes sense. The Timex Group is a family business and they don't have stock holders. This means they can see their investment in Vincent Bérard as a long term investment. Thus time to create something really special 🙂
This is probably the most beautiful mechanical movement i have ever seen, Vincent Bérard's caliber VB441. I've never seen a watch movement that is designed like a piece of juwelry. Some movements are beautifully finished with côte de Geneva or even black polished bridges. Especially interesting for people with knowledge and appreciation for watchmaking history. This is something from a completely different league!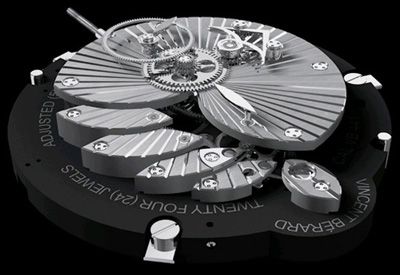 The Vincent Bérard caliber VB441 is a complicated hand-wound movement with beautiful guilloché-worked and hand-bevelled bridges. Five spindle-shaped bridges standing out on five levels and evoking the "steps" of a spiral staircase. It's equipped with mysterious balance with screws and a Breguet overcoil balance-spring. Caliber VB441 has a heart-beat of 21,600 vibrations per hour and offers a power reserve of no less than 10 days!
The first model in the collection, Luvorene 1, has a nice size for a wristwatch, measuring 42 mm in diameter and 13 mm thick. The openworked dial at 3 o'clock reveals the oscillations of a balance from which the escapement and the pallet-wheel have 'mysteriously' disappeared. Besides the time (hours, minutes and seconds) The Luvorene 1 tells the moon phases and days of the week.
The mechanical movement, entirely developed in the Vincent Bérard atelier, is partially visible through two sapphire crystals in the case-back. The left opening exposes the small second hand and the other opening shows the 10 days power-reserve "gauge".
The Luvorene 1 is available in 8 variations, depending on the color of the case, dial and crocodile leather strap. Check Vincent Bérard's website to see all different variations and additional information.
Check this post on Horomundi for lots of photos and information of the inaugeration of the new Vincent Bérard Atelier in La Chaux-de-Fonds.
https://monochrome-watches.com/vincent-berard-luvorene-1/