Value Proposition – Review of the Minuteman RWB DLC, a Military-Inspired Watch Assembled in the United States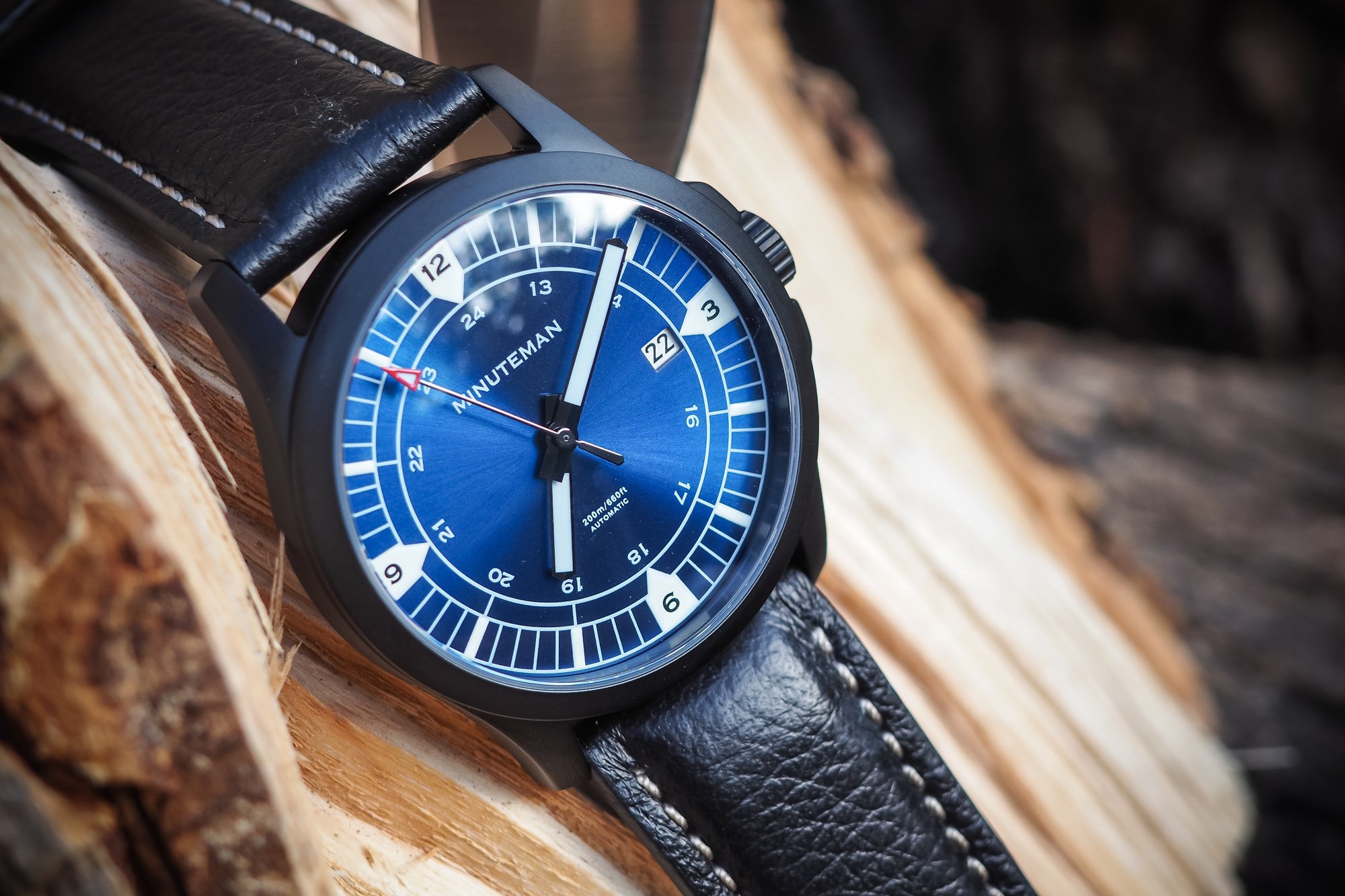 American Minutemen earned their nickname by being so well-prepared and ready to fight that they could assemble at a minute's notice. I hate to admit, but it took me a while to realize just what a good name "Minuteman" is for a watch company, as it brings to mind both time and the military. Let's go into a bit of Minuteman's background for those unfamiliar with the company, and then dig into the details of the RWB DLC we are reviewing today.
With a disabled veteran father, the owner of the company clearly cares a lot about the plight of veterans and their families, so he created Minuteman around the concept of helping veterans and their families. An impressive 25% of the company's net profits are sent to veterans' charities. It's always nice to know that a portion of your purchase goes towards a worthy cause. Like all Minuteman watches, the RWB DLC is assembled in the United States. Based on the RWB Brushed Finish model, Minuteman has changed little aside from the colour of the case. Now that you are familiar with the company, let's discover what kind of watch we're dealing with.
Case
The RWB DLC uses a rather modest stainless-steel case with a black DLC finish, as the name would suggest. The case back engraving features a burly Revolutionary-war era soldier charging straight at you, bayonet drawn. Measuring in at a reasonable 42 millimetres wide, the case tries not to draw too much attention to itself, with its thin bezel and plain design devoid of any flourishes, aside from the minuteman engraving on the back, of course.
A double-domed sapphire crystal with an anti-reflective coating applied to the inner layer does its best to ward off glare, and from what I can tell, it seems to be successful. A 200 -meter water resistance rating was a welcome surprise. Featuring a real screw-down crown, this watch could be used as a diver if you wanted, although it is lacking many of the customary dive watch attributes like a rotating bezel, and large, clear hour markers. But yet, it feels like a watch made for an adventurous and tough life.
Dial
A blue sunray design features white hands and minute markers, with a red accent on the arrow tip of the second hand. The lume on the minute and hour hands, as well as the hour markers, is quite good.
Even though it uses a very patriotic red-white-and-blue theme, the dial design still leaves a lot to be desired. The grid-like pattern of the minute markers is rather dull and uninspired, while the 12, 3, 6, and 9 o'clock numerals are printed in an undersized black font that gives the impression that they chose the standard font on their design software and didn't bother to change it. The main strength of the dial is the blue sunray design that has a great level of depth to it and easily outclasses the rest of the design.
Strap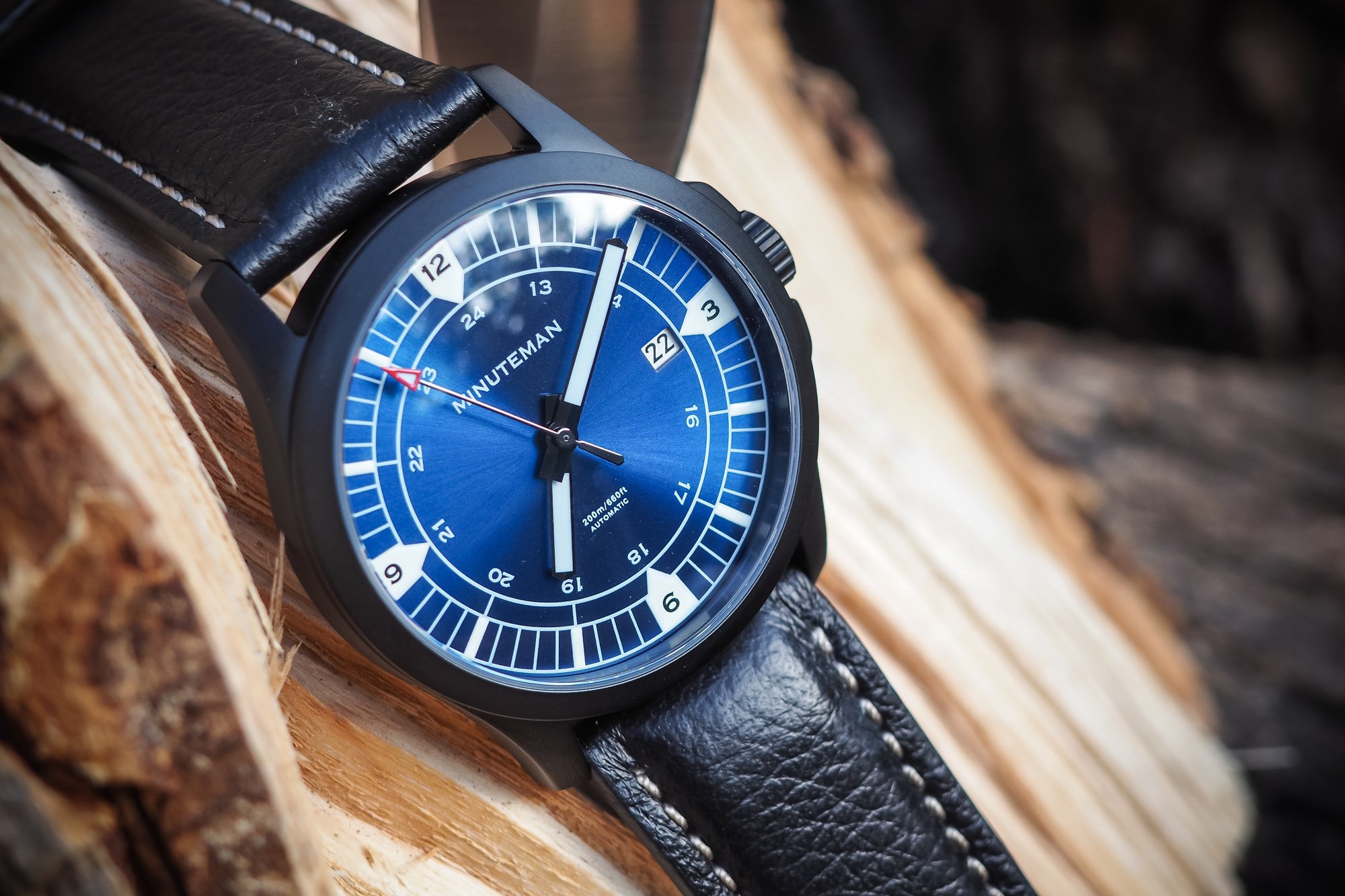 Don't you hate it when a watch company decides to cheap out on the strap, so you end up toting your nice, expensive watch on a flimsy, uncomfortable strap that you end up having to switch out? I know I do, so I am happy to report that this Is not the case with the RWD DLC. Manufactured in Largo, Florida by Hadley-Roma, this black leather strap retails for about $65 on its own, so it is clear that Minuteman places high priority on the quality of their straps. I would prefer a lighter-coloured band, considering the case is already black, but that's a minor issue.
Movement
One of the few parts manufactured and assembled outside of the USA is the Miyota 9015 automatic movement. I do not fault the company for looking to Japan for a quality, accurate movement. The 9015 is a very decent movement, designed by Citizen to be thin yet offer all of the features one would expect from a watch of this price. With 28,800 vibrations per hour, hand-winding capability, and 24 jewels, there is really nothing else to desire in an entry-level automatic movement, unless hacking is important to you, but I doubt this is a deal-breaker for too many watch collectors hunting in this price range.
Final Thoughts
Currently on sale for USD 530, the Minuteman RWB DLC ship in a padded, zippered case rather than a traditional watch box. The theory behind this decision was to allow watch collectors who like to keep their cases to have extra space as these cases are smaller than standard boxes. It also allows them to be able to use the case for other items or to store the watch in when travelling. We can applaud this theory here at Monochrome, even if the case isn't quite as good as the outstanding Watchpod. All things considered, the RWB DLC is a solid offering, and with my main gripe being a subjective opinion concerning the styling on the dial, I would encourage you to check it out if you enjoy the looks of the watch. More details on minutemanwatches.com.
---
Technical Specifications – Minuteman RWB DLC
Case: 42mm diameter – Stainless steel with black DLC coating – sapphire crystal on the dial side, A/R coating on the inside – screw-down crown – 200m water resistant
Movement: Miyota 9015 – automatic – 4Hz frequency – 24 jewels – 42h power reserve – hours, minutes, seconds, date – accuracy 

-10/+30 seconds/day

Stap: American made Leather strap
Price: USD 530
---
This article is written by Matthew Catellier, who covers "Value Propositions" for Monochrome, and also publishes affordable timepieces on his own website Watch Review Blog.
https://monochrome-watches.com/value-proposition-minuteman-watches-rwb-dlc-assembled-in-the-united-states-review-price/