UFO-Tourbillon lands at the Manufakturmesse in Baden-Baden
On 15th and 16th of October the town of Baden-Baden, Germany, will have a true watch fair, the Manufakturmesse. A perfect opportunity for watch lovers to see Don Corson's UFO-Tourbillon and watches made by Dirk Dornblüth, Jochen Benzinger and Rainer Nienaber. 
The upcoming Manufakturmesse in Baden-Baden will give all watch lovers the perfect opportunity to see Donald Corson's unique UFO-Tourbillon as well as his Dresdner Regulator. We already wrote about Don Corson's UFO-Tourbillon that we got to see and handle at this year's Baselworld.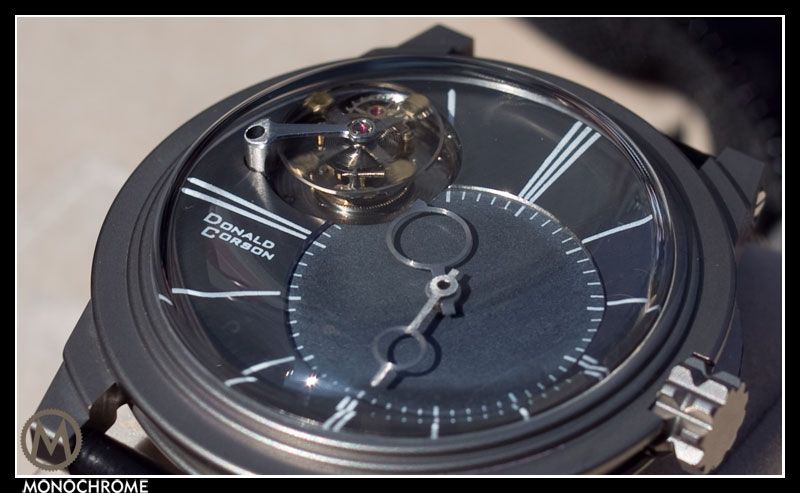 In this report you can see photos, a video and all specifications of the UFO-Tourbillon. The Tourbillon is a half flying tourbillon placed above the dial. Because of the domed plexi crystal it's perfectly visible, even from an angle. The dial with hour and minute hand is off-centre, to give enough room for the tourbillon, but still has the major part of the dial. This hand-made watch with tourbillon costs only 28,000 CHF which is a bargain considering what you get for it.
Don Corson, moderator of the PusistSPro Independent forum, creates watches in the old fashioned way. OK, he uses modern machinery which will reflect in the quality of his watches. In a 4 part report (here on the PuristSPro), you can see the entire process of manufacturing the Dresdner Regulator. A recommended read!
Don's Dresdner Regulator features the same geneva stripes on parts of the dial and on the beautifully crafted bridges of the movement. Just look at the hand beveled bridges, mirror polished (or black polished) gears that are also hand beveled and geneva striping. The hand-finished movement is a true feast for the eye.
At the Manufakturmesse you get to see and meet more interesting watchmakers. For instance Jochen Benzinger who creates gorgeous skeletonized and engraved watches based on vintage complicated timepieces, like the Grieb & Benzinger Blue Wave, which is based on a vintage Minerva column-wheel chronograph.
Also  independent watchmakers Dirk Dornblüth and Rainer Nienaber will be there. For those who can visit the Manufakturmesse in Baden-Baden in the weekend of 15th and 16th of October, this is a magnificent and rare opportunity. For details on location and time, please check the Manufakturmesse website.
https://monochrome-watches.com/ufo-tourbillon-lands-at-the-manufakturmesse-in-baden-baden/