Hands-on
The Tudor Black Bay 54, Small But Impactful
The new BB54 is a trip down memory lane. But is it any good...?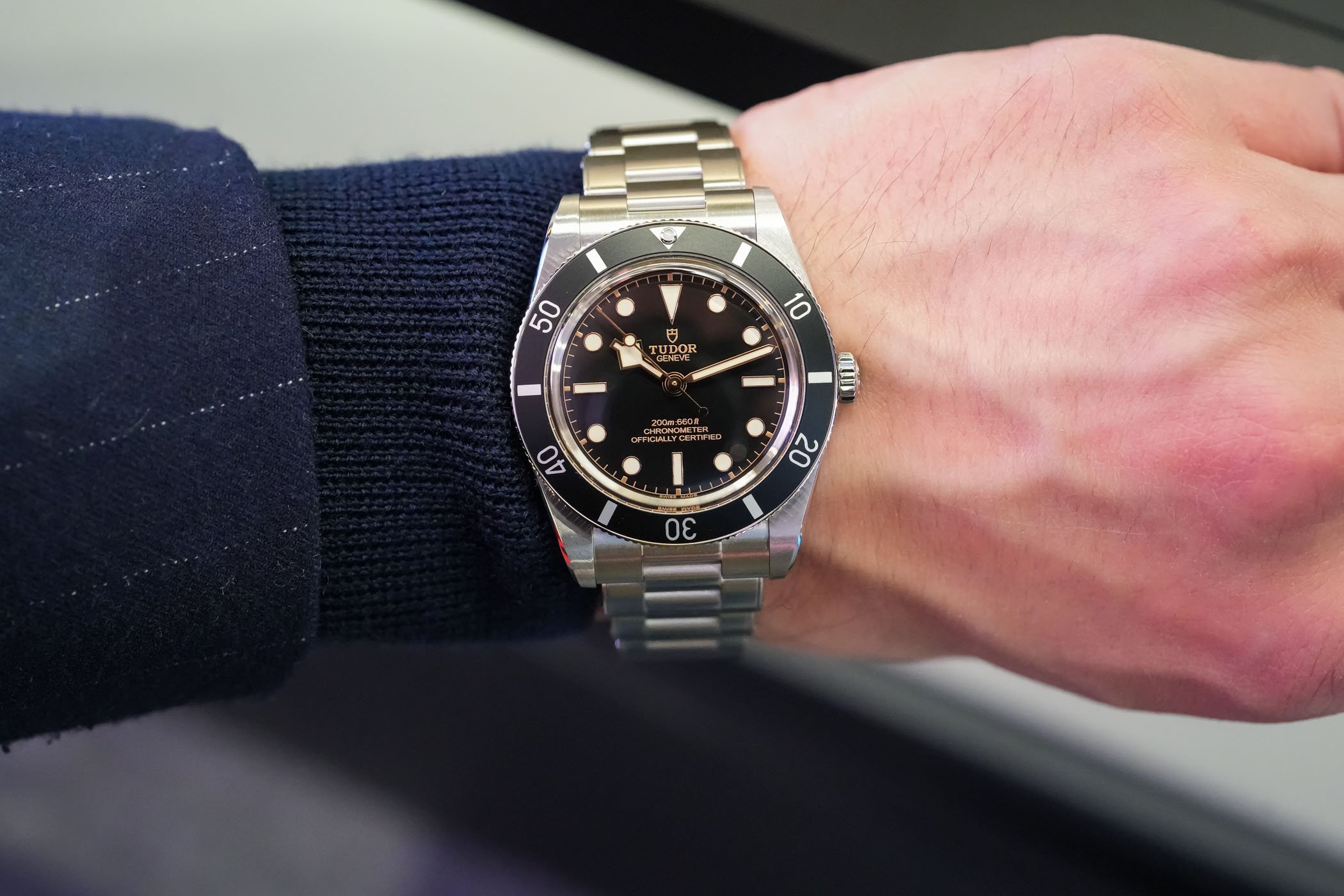 Black Bay, Black Bay 58 and now, Black Bay 54. Tudor continues to expand its signature dive watch collection… by reducing it again. The BB is typically a watch that lives with its times, a watch that follows the trends. When it was first presented, back in 2012, the original Black Bay Burgundy watch was in tune with the current market; vintage style in a relatively large case. But things have changed quite drastically over the years. And now that the market is asking for more reasonable diameters, the classic diver comes back… to the original diameter of the 1950s. But that Black Bay 54 remains typical Tudor; vintage style, modern features. Let's check if it's any good.
Background
Compact, clean, historically relevant and yet full of modernity, the Black Bay 54 is a direct tribute to the past of the brand. In fact, it has to be seen as a modern interpretation of Tudor's first ever Submariner watch, to be precise the Oyster Prince Submariner reference 7922. And guess what was the year of its introduction? Nineteen fifty-four. Alright, now you know why this new model is named the BB54 – just like the Black Bay 58 was paying tribute to the first Big Crown model, the 1958 reference 7924.
Back to the topic of the reference 7922. It was the first generation of Submariner by Tudor, a watch that was a slightly reduced, slightly more accessible version of the first generation Rolex Submariner, the reference 6402. In fact, it uses a Rolex case with a Rolex bracelet and a Rolex crown. The 37mm case was water-resistant to 100m, equipped with a bidirectional bezel with a clean 60-minute scale over an aluminium insert and featured a small (5mm) screw-down crown and a screwed back. The black dial was domed and gilt, however, the handset was still the classic Rolex style with Mercedes hour hand (snowflake hands only appeared much later). You can read more about historical Tudor Submariner watches, including the reference 7922, here.
The Tudor Black Bay 54
Now that you've seen the vintage 7922, you certainly see where Tudor was going with its new BB54. Previous watches from the Black Bay collection were drawing inspiration from the past, no doubt about that. But never the brand has been so faithful to a historical model before. And it's not only about design this time, it's also about proportions. And yes, by today's standards, boy does the new BB54 feels compact.
At first sight, the new Black Bay 54 appears as yet another reduction of the original concept of 2012. But you'll see, it goes deeper than that. First released in 41mm, with an objectively thick case (that has been corrected recently with the new-gen BB), Tudor then came with the Black Bay 58 in 2018, in a 39mm case. And now, there's the 54, which goes back to the original diameter of the Oyster Prince Submariner, meaning 37mm.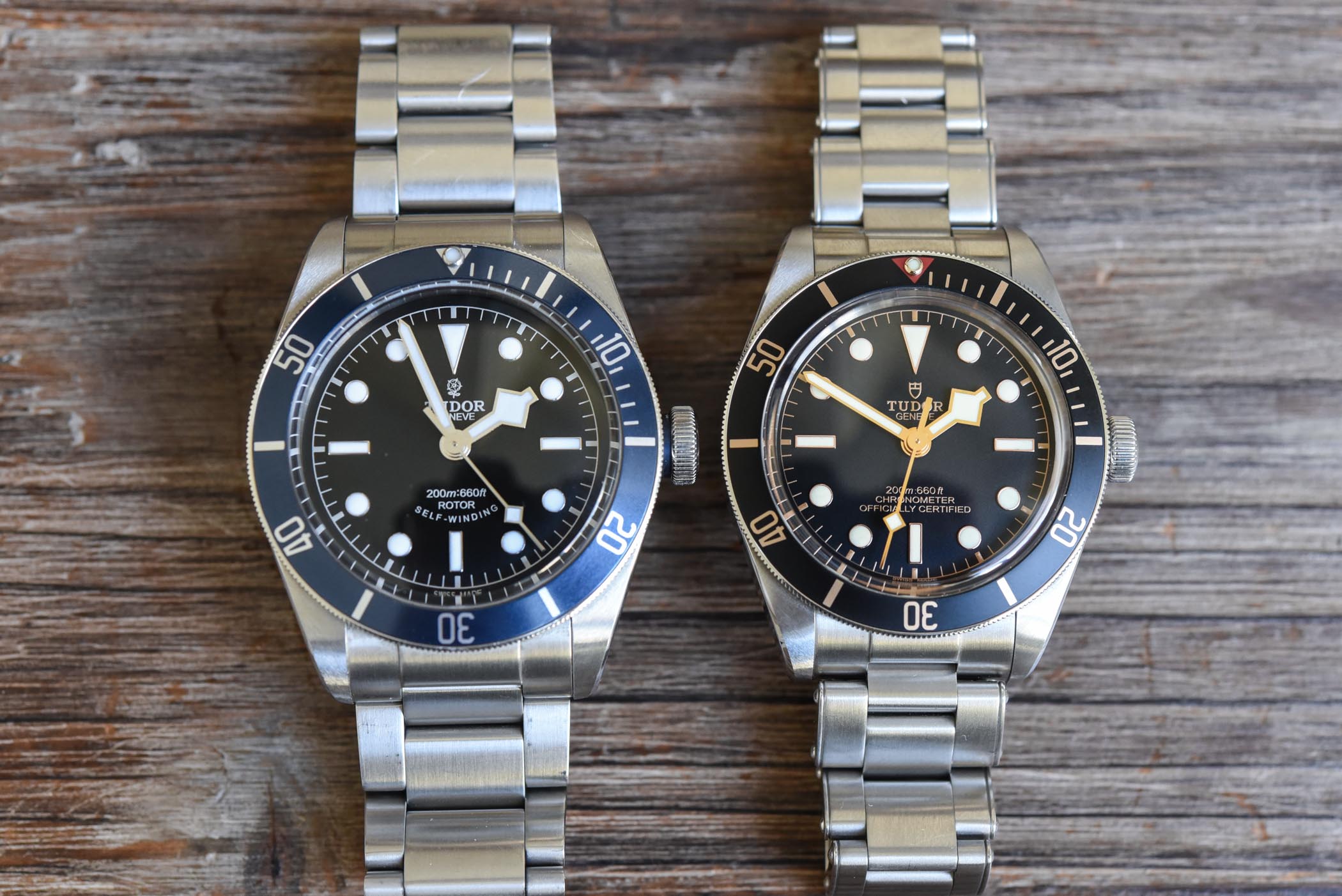 The steel case of the BB54 retains most of the classic traits of the collection, with brushed surfaces on most parts, and a few polished accents to enliven the design – including the all-important polished bevels on the side of the lugs. But, as said, it's been reduced in size, and not only in diameter. The 37mm case is also much thinner, with an 11.2mm height (which is objectively on the thin side for a dive watch), and a lug-to-lug measurement of 46mm. As a matter of comparison, the original BB was 41mm x 12.7mm x 50mm with ETA movement, later 41mm x 14.5mm x 50mm with manufacture movement, and the BB58 is 39mm x 11.9mm x 48mm.
Now, size reduction often comes at a cost in dive watches. Many small dive watches are on the lower side of water-resistance (100m for many of them) but not at Tudor. The Black Bay 54 doesn't give away any of the features of its bigger sisters, as it retains a 200m water-resistance and all features of other models. Understand by that an ultra-domed (and thus ultra-charming) sapphire crystal, a screw-down crown and a screwed caseback. Showing that it is possible to conceive thin yet capable dive watches. Just saying…
But looking more closely at the Tudor Black Bay 54, you'll see that there have been some updates to some elements of the habillage. It's more than just a Black Bay 58 reduced. First, to stay true to the original 1954 reference 7922, Tudor has here opted for a small crown, a huge departure from all previous BB watches, both in terms of size and shape. The crown has here a smaller diameter and a much more classic fluted texture too, reminiscent of the old days. Decorated with the vintage Rose logo in relief, it also sits flush with the case now, and no coloured tube can be seen. In the same vein, the bezel has a new lateral design, with a vintage coin-edge profile, again faithful to historical models.
Last but not least, the unidirectional bezel, with its smooth 60-click motion, has a new insert, which is devoid of minute graduations. There are only 5-minute markers and numerals for the tenth, and a luminous pearl in the triangle. Printed in silver over a black anodized aluminium base, this muted bezel participates dramatically in the appeal of this smaller watch. Clean, vintage, focused and yet easy to associate with the Tudor/Rolex heritage.
Talking about proportions, the combination of a compact diameter, short (but not too short) L2L measurement and thin case is simply stunning on the wrist. It's a case study in comfort and style. And now Tudor has a watch that both men and women can wear – and I'm thinking about our feminine audience, who now has a real sports/dive watch on offer, and one without the traditional old-school diamonds and girly colours.
The dial, even if it shows slight evolutions, remains very Tudor Black Bay. Domed, as always, it now has a very discreet sunray-brushed texture. Applied numerals and hands are rose gold-coloured, with all the track and printings done in a warm, vintage gilt style. As seen with the updated Black Bay Burgundy, the handset has been modified compared to previous BB watches. Now, only the hour hand features the signature snowflake style, while the minute hand has a pencil profile and the second hand a lollipop look.
Inside the case is the Calibre MT5400, a movement made by the Tudor/Kenissi joint venture. Nothing new here, it's the same base movement as most Black Bay watches, with a 70h power reserve, a transversal balance bridge and a regulator beating at 4Hz, with variable inertia balance and non-magnetic silicon hairspring. This automatic movement is chronometer-certified by the COSC (no Master Chronometer certification here), yet with more stringent standards from Tudor, with a -2/+4 accuracy range.
Last, the Tudor Black Bay 54 is available on either a classic rivet-style steel bracelet or a black rubber strap. Both are closed by the brand's recent folding clasp with T-fit system, allowing to carry out a fine, instant adjustment of the total length of the bracelet along an adjustment window of 8mm. And yes, it does come on the rubber strap too!
The Tudor Black Bay 54 reference 79000N (N for noir, or black… which opens the door to potentially new versions) is now available and priced at EUR 3,780 or USD 3,850 on steel bracelet and EUR 3,570 or USD 3,635 on rubber strap (about EUR/USD 100 less than a Black Bay 58).
Thoughts
I have to admit, this new BB54 is quite brilliant. Its sleek design is fantastic, it wears like a charm, and it has everything you'd expect from a vintage watch and yet all the modern features of a Tudor watch. Best of all, the size reduction comes without compromises. The price is fair, specifically compared to comparable watches on the market (few can rival it in terms of price/feature/quality ratio).
But… I have one concern. And it's not about the watch. As said, putting aside the question of taste, I have a hard time finding something wrong with the BB54. It's more about what Tudor can do next. With yet another Black Bay dive watch in the collection, Tudor feels more and more like a one-model brand. (Almost) Every watch style is positioned under the BB range; pilot with the Black Bay GMT, adventure/Explorer with the Black Bay Pro, and racing with the Black Bay Chronograph. Even daily-oriented models with the Black Bay 31/36/39/41 collection.
As good as this BB54 is, it might be time to do something different. Something a bit more innovative.
https://monochrome-watches.com/tudor-black-bay-54-dive-watch-79000n-hands-on-review-specs-price/