Women's Watch Wednesday
Tudor Black Bay 32 – A Small Diameter But It Packs A Punch
The Black Bay advances into its next theatre of operations: the female wrist.
A campaign is underway at Tudor to increase the Black Bay's area of operation. With a solid corps of models, including the newly released GMT Black Bay Pepsi model and the 39mm Black Bay Fifty Eight, there is no stopping the expansion envisioned by Tudor. With the Black Bay 32, Tudor advances into female territory with a model that packs the technical specifications of a mechanical tool watch with a small, more feminine diameter. With Lady Gaga posing as brand ambassador, Tudor is targeting young, dynamic women who don't necessarily equate femininity with diamonds, flowers and a quartz movement. Sporty with just a touch of stylish vintage-Sub, the watch is designed as a resilient everyday companion for women who want a watch that can keep up with their active lifestyle.
Mission domination
In the last year alone, Tudor has deployed a growing arsenal of Black Bay models – including a chronograph, a hyper-cool bronze model and a flashier two-tone steel and gold variant – in its quest to conquer the market of mid-priced luxury watches and win over a new generation of potential watch buyers. As repeated again and again during the presentation of the models at Baselworld 2018, Tudor's mantra is to provide customers with, "the highest quality watch at the most accessible price".
Founded in 1946, Hans Wilsdorf's objective for Tudor was to be an affordable counterpart to Rolex enabling it to cater to a wider audience. For years, Tudor was regarded as the "working man's Rolex" and was rebranded in 2007 with a solid, invigorating line of masculine sports watches. When Tudor unveiled the new Black Bay GMT model with a Pepsi bezel just minutes after the launch of the steel Rolex GMT Master II, the two-pronged strategy of Rolex and Tudor became clear. The goal is to corner the market: Rolex with models from EUR 4,500 and up and Tudor with models under EUR 4,500.
The new face of Black Bay
When the Heritage Black Bay surfaced in 2012, fans were thrilled to see how Tudor had amalgamated traits of the robust 1950s Tudor Submariner with a modern twist. Like the versatile sizes of Rolex' best-selling Oyster Perpetual watch, the Black Bay is being configured in different diameters. The 41mm and 36mm brothers (those with flat bezel) of this particular family are now joined by a little sister in 32mm making sure no wrist is left untouched.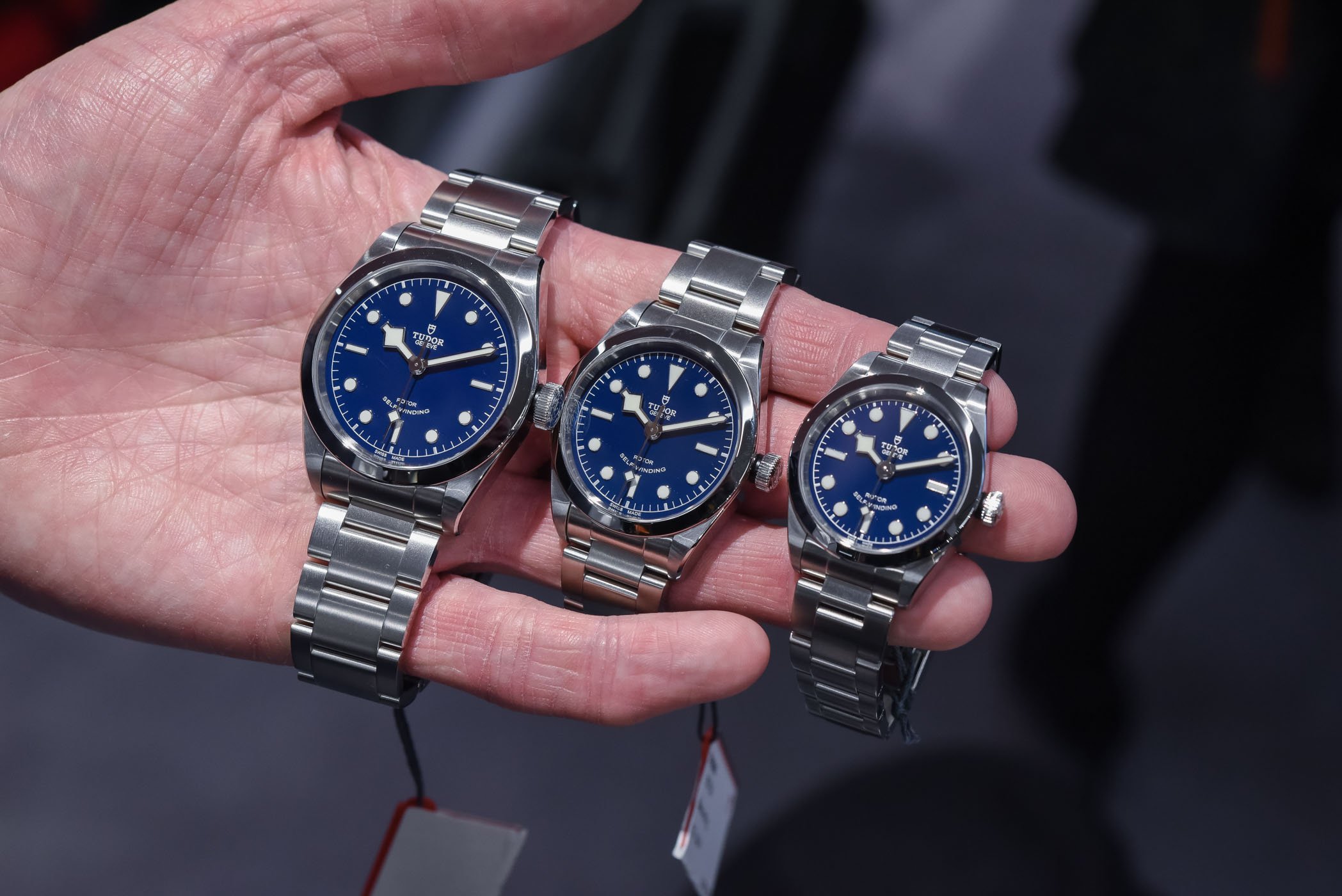 Faithful to its heritage, the 32mm Black Bay displays the characteristic boxy 'snowflake' hands (first featured on the Oyster Prince Submariner Ref. 7016 of 1969) and the large winding crown (from Ref. 7924 of 1958) that originally ensured water-resistance to 200 metres. What is not perpetuated in this new collection, however, is the rotating dive bezel, no doubt a design concession to make it less of an 'instrument-watch' and more an everyday wear and tear watch. The 32mm stainless steel cases, offering water-resistance of 150m, features a polished bezel and satin finishes and the screw-down winding crown is decorated with the Tudor rose.
All three sizes of the new Black Bay models (41, 36 and 32)  are now offered with a choice of a classic flat black lacquered dial or the new blue lacquered dials. As a sports watch, legibility is fundamental and the dark backgrounds with the large luminescent round, rectangular and triangular hour markers make sure you can consult the time in even the poorest light conditions.
The movement inside the Black Bay 32 is the rock-solid automatic ETA calibre 2824 with a 38-hour power reserve. In production since 1982, Calibre 2824 is a tireless beast of burden and will keep the hours, minutes and central seconds of the watch ticking under duress.
Versatility
In 2010 – when the brand was staging its comeback under Philippe Peverelli and Davide Cerrato – Tudor decided to supply an additional fabric strap for all its watches in the Heritage line. What looked like a traditional NATO nylon strap was, in fact, a hand-woven strap made in France by a traditional passementerie company – one of the few in the country still practising Jacquard weaving. The result is a sturdy, flexible strap that can be exchanged for either a steel bracelet with a smooth satin finish or a brown leather strap.
The Tudor Black Bay 32mm on a black woven strap retails for EUR 2,290, on a stainless steel bracelet for EUR 2,580, and on a brown leather strap EUR 2,290. Please consult Tudor's official webpage for updated prices in your currency: www.tudorwatch.com.
https://monochrome-watches.com/tudor-black-bay-32-79580-hands-on-review-price/