The Petrolhead Corner
Three-Wheeled Cars Throughout History
These didn't reinvent the wheel... they removed one!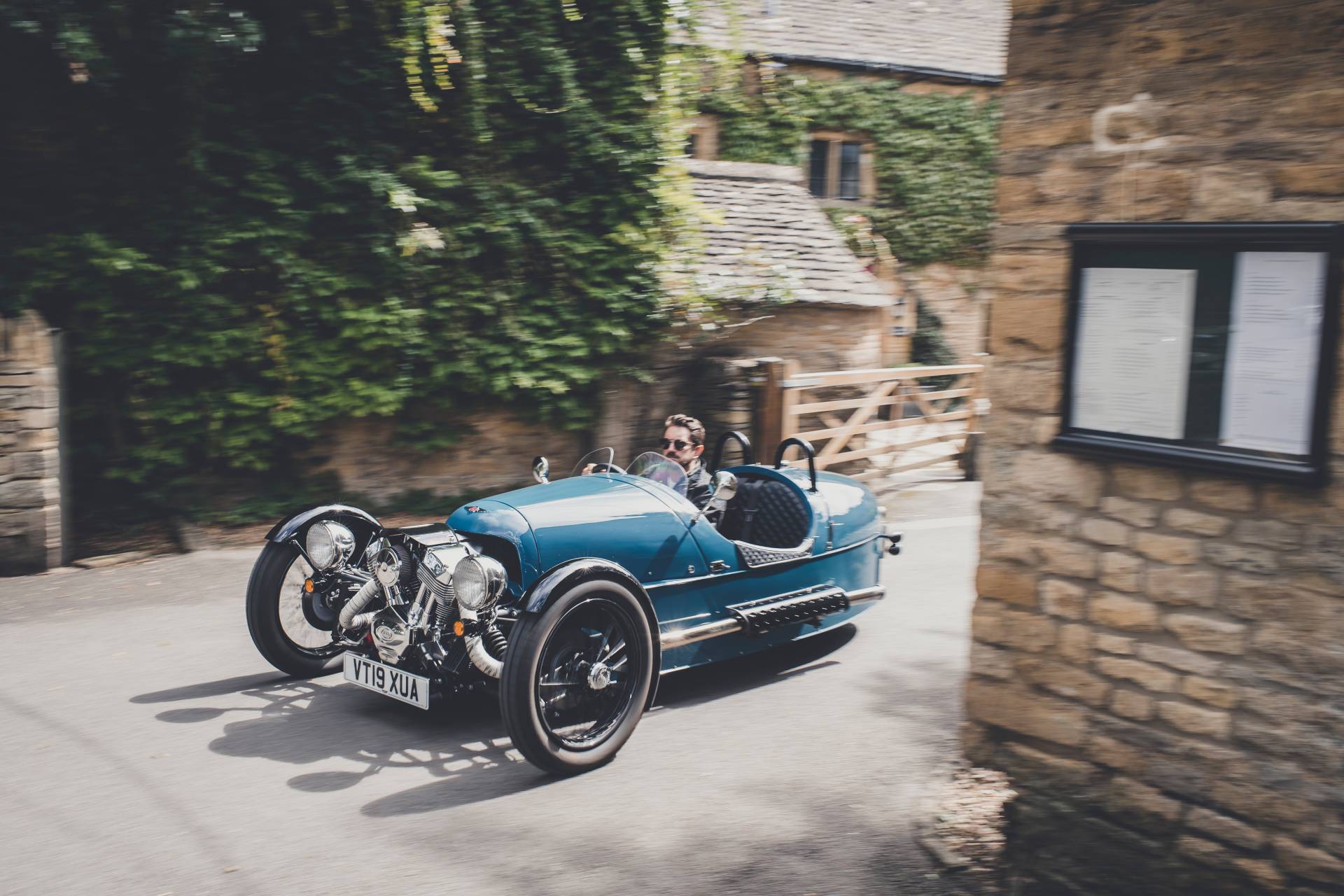 We've already discovered that six wheels can be just as much fun as four or two for that matter. Transportation generally has an even number of wheels, for obvious reasons; two for bicycles and motorbikes, four for cars, vans and small trucks and six or more for anything else. Still, throughout history, there have been plenty of attempts to convince the people that THREE is also a good option, perhaps even the best! After all, a 3-legged table will always be rock steady, despite an uneven floor, right? 
For Petrolheads, driving pleasure is always a thing to factor in when on the move. A good road, a nice handling car, some creature comfort, a bit of power, stuff like that. Perhaps a bit of power to make it a touch more exciting, but that's the basic recipe. But what about removing a wheel? And does it make a difference if a front or rear wheel gets axed? Let's investigate!
Benz Patent-Motorwagen
In 1885 Karl Benz from Germany built what is regarded as the first car ever. And by car, it is stated as a vehicle that could move under its own powers, with the help of an internal combustion engine. That is pretty much the birth of the automotive industry and we've not looked back since. The car was more or less a small coach without a horse in front of it, but boy did it work!
Following his development of an internal combustion engine a few years earlier, Karl Benz soldiered on to implement in a motor carriage. It took about twelve years from that single-piston two-stroke engine to be fitted into a working vehicle. The engine produced less than 1 horsepower which seems ridiculous but the car weighed less than 100 kilos. Steering the car would be done with a toothed rack and a handle in front of the driver. A large horizontal flywheel stabilizes the engine and was used to fire it by giving it a strong tug/push. 
To get the interest for this ground-breaking new machine rolling, Karl Benz's wife decided to take their two sons on a road trip with it, starting in their hometown of Mannheim and drive to Pforzheim and back again. The one-way distance for the trip was roughly 100 kilometres which took her about 12 hours during which she had to overcome quite a few technical issues, including needing to top up on a combustible liquid, Ligroin. Mercedes-Benz has made a lovely 4-minute feature on the car and her trip:
More detailed information on the world's first car, the Mercedes-Benz Patent-Motorwagen can be found on Car and Driver.
Davis Divan
Perhaps the most elegant oddball of the bunch, the Davis Divan offers up more three-wheeled galore. Built in 1947, it was the brainchild of Glen Gordon "Gary" Davis, a used-car salesman from the United States. His idea was based on a Kurtis-Thorne "The Californian" and featured a single wheel up front, two wheels at the back, a sleek and curvaceous body with hidden headlights and came with a removable hardtop.
Coming out of the Second World War, many entrepreneurs sought to fulfil the demand for new cars, which the industry simply couldn't keep up with at the time. Revolutionary new cars were being developed left, right and centre, to various degrees of success. This is one of the plans that didn't make it into full production, mostly due to lack of funding (allegedly due to fraud).
Only 17 cars have been built, and power came from industrial four-cylinder engines, usually powering forklifts and such. The layout allowed to theoretically seat four people side by side on a bench seat. The turning circle for the vehicle was incredibly tight for that time, which was one of the benefits of the unique characteristics of the three-wheeled setup. The downside is cornering stability of course, with only a single wheel up front and most of the car's mass right behind it. It wasn't spectacularly fast, the engine only produced about 65 horsepower, but it is quite aerodynamic so it gets along nicely.
Jay Leno featured this car, on loan from the Peterson Museum in California, in a Jay Leno's Garage episode a few years ago:
Reliant Regal/Robin
Of course, this list wouldn't be complete without the Reliant Regal and/or Robin. Made famous by the antics of Mr Bean, often cutting off a Reliant three-wheeled car in his mustard-yellow Mini which resulted in the Reliant tipping over. Besides Rowan Atkinson portraying the iconic character and as such making fun of the Reliants, Top Gear is another institute responsible for rolling the Robin on multiple occasions.
Reliant is a UK based manufacturer, no longer in existence. Their first attempt at a three-wheeled car was the Reliant Regal, in production from 1953 to 1973 (so more than "just" an attempt). It was updated into the Reliant Robin in 1973, which would be produced until 2001. All variants of the Regal and the Robin were powered by small four-cylinder engines and the small car weight around 400 to 440 kilograms in total, depending on the body type. The Reliant Robin was raced in the UK, at one point even had its own racing class.
The car was known for its instability, so driving it, let alone racing it, must be exciting every single time. It is a bit of a pop-culture machine and featured in numerous movies and videogames. And to crown its career, Top Gear even tried to launch one in space!
Morgan 3-wheeler
The final three-wheeled vehicle on this list, is perhaps the coolest one. Not just because it is still in production now, but also because it has some unique characteristics not shared with the other cars on this list; it has two front wheels and only one rear wheel instead of the other way around!
Morgan introduced the Runabout in 1911, a small single-seater cyclecar with two front wheels and a single one at the back. From 1912 onwards Morgan regularly participated in races with the machine, often competing for the longest distance in a set period of time, and garnering interest for its concept. This resulted in 'Grand Prix', 'Aero' and 'Sports' models.
The Runabout was in production up to 1939 but by 1932 Morgan had already introduced the F-series three-wheeler and that is the foundation for the current three-wheeler. The concept was revived in 2011 with an entirely new, very retro-inspired car. It has a large V-twin engine in the front, mounted outside of the body, two narrow wheels upfront, a bomber-style rear body and a single tyre in the back. 
Where the original was mainly intended as a small, economical and low-taxed vehicle, the modern equivalent is focussed on one thing only; driving pleasure! The large engine up front makes a very characteristic sound, and you can even spec it to look like a WWII fighter plane. But don't be fooled though, this is a pretty quick little machine; zero to 100 kilometres an hour takes around 5 seconds and the top speed is about 135mph (217kph). Sadly production will end in 2021 but Morgan is working on a plan for its successor. 
In 2014 the UK motoring TV show The Fifth gear tried to drift one, with Tiff Needell behind the wheel, which almost ended in disaster:
Peel P50
For decades, the Peel P50 was listed as the smallest car in the world. It measured a measly 54 inches (137cm) in length, and only 41 inches (104cm) in width and weighed less than 60 kilograms. It is a true microcar, built for three years only by the Peel Engineering Company from the Uk. It was designed as a car to motor around congested cities and other tight spaces. The car is in fact so small it can navigate buildings, clear doors and even travel up and down in most elevators. 
The Peel P50 was fitted with a 49cc two-stroke petrol engine, similar to most mopeds and scooters. Initially, it didn't have a reverse gear, but a handle at the back instead. Got stuck? Just step out, lift up the rear, swivel it round and off you go again! A feat comically demonstrated by Jeremy Clarkson in a Top Gear segment. 
The tiny machine had two very small wheels upfront, a side-mounted engine, single headlight and a tiny wheel at the rear. Only 50 or so have been built of which just half remain. Originally the Peel P50 cost about 300 GBP (330 euro, 404 USD) but a few years ago a meticulously restored 1964 model was auctioned at a hammer price of 80.000 GBP (88.500 euro, 108.000 USD). In 2011 two UK businessmen funded a continuation program for the Peel P50 and since are building about 15 cars a year, equipped with either a petrol engine or an electric one. If you're interested in one, more information can be found on P50cars.com.
There are plenty other examples out there of three-wheeled vehicles, recreational or not, so the list could be a lot longer. These are the ones that stood out to me though, and I hope you've enjoyed them!
https://monochrome-watches.com/three-wheeled-cars-throughout-history/