Spotted
Lionel Messi has Arrived in Paris' PSG, his Rolex Yacht-Master Everose on the Wrist
A relatively discreet watch (by football player standards...) for a highly anticipated transfer.
This is it… After a week of rumours and gossips, the news is official. Leo Messi, probably one of the greatest football (or soccer, if you live on the other side of the Atlantic) players of his generation, one of the most awarded players of all times, has left his historic club of Barcelona after more than 20 years of loyal service to join Paris Saint-Germain PSG and the French Ligue 1. But since you're reading MONOCHROME and not Sports Illustrated, there was something more to spot yesterday when Lionel Messi arrived in Paris, prior to his press conference… And yes, this has to do with watches, as "La Pulga" was spotted wearing a Rolex Yacht-Master 40 Everose/Oysterflex reference 116655. 
Born 24 June 1987, Lionel Messi is an Argentine football/soccer player long associated with the FC Barcelona. Until leaving the club in 2021, he had spent his entire professional career with this team, starting at the age of 13 at Barcelona's youth academy, La Masia. On 24 June 2005, his 18th birthday, Messi signed his first contract as a senior team player, and for the coming 16 years, he was one of the star players of the Spanish club. During his career, Lionel Messi won a record six Ballon d'Or awards, and with his club, he won a club-record 35 trophies, including ten La Liga titles, seven Copa del Rey titles and four UEFA Champions Leagues. He has scored over 750 senior career goals and has the most goals ever by a player for a single club. But while everybody was associating Leo with the FC Barcelona, as if it was something cast in stone, on 1 July 2021, Messi became a free agent after his contract expired… But yesterday, on 10 August 2021, Messi joined Paris Saint-Germain.
Back to MONOCHROME's favourite subject: watches. Like many of his former or new colleagues of both FC Barcelona and Paris Saint-Germain, Lionel Messi has often been spotted wearing luxury watches. But on the contrary to his long-time opponent in La Liga, Cristiano Ronaldo, Leo Messi has a somewhat more discreet taste in watches. Yesterday, after landing in Paris and prior to the official press conference, he was spotted wearing one of his well-known watches, a Rolex Yacht-Master 40 Everose gold and Oysterflex reference 116655 – not the first time Leo has been seen wearing this watch.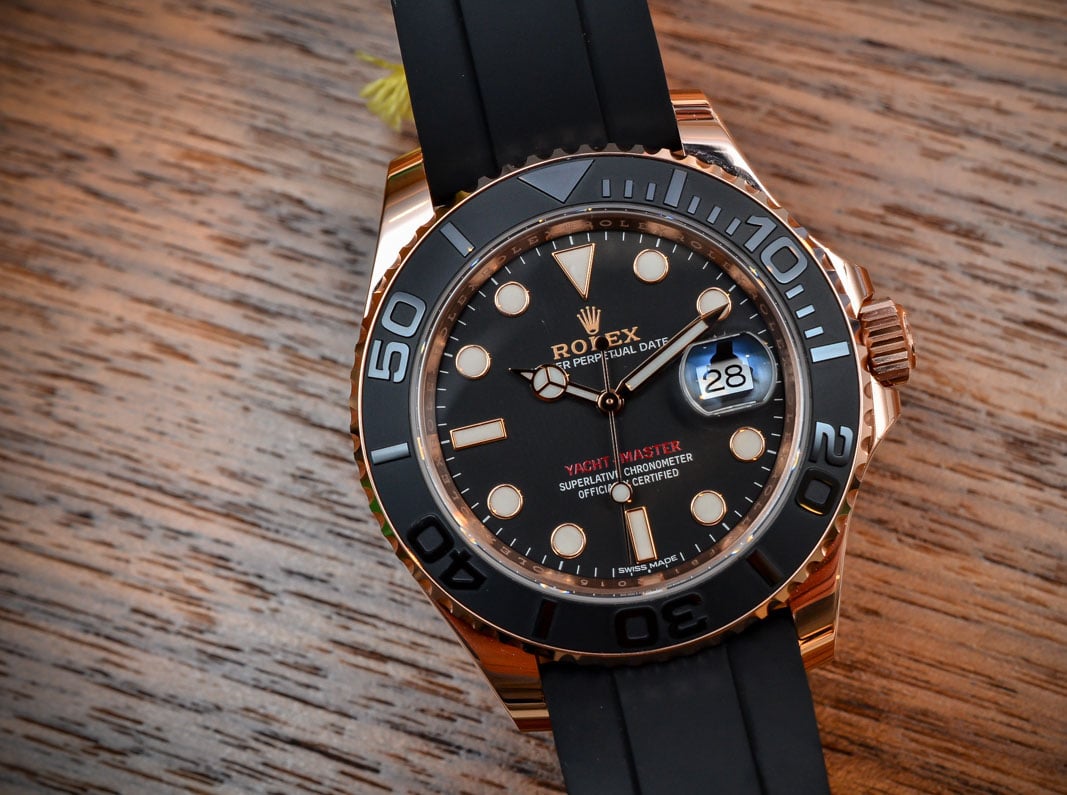 https://monochrome-watches.com/spotted-lionel-messi-paris-psg-arrival-with-rolex-yacht-master-everose/