Romain Jerome Dia de los Muertos
Romain Jerome finds inspiration in the strangest things. So far they have always paid homage to iconic landmarks of historic events, such as the Statue of Liberty, the Delorean DMC, or the Eyjafjallajökull-Volcano. Now however, they have found inspiration in something a bit more morbid.
Sure, we have seen lots of watches celebrating historical figures, and even people who are still around today. But have we ever seen a watch that actually celebrates death? I believe not. Maybe the Artya Son of a Gun comes close, but that has nothing to do with death itself. It always requires some form of action to find death through bullets.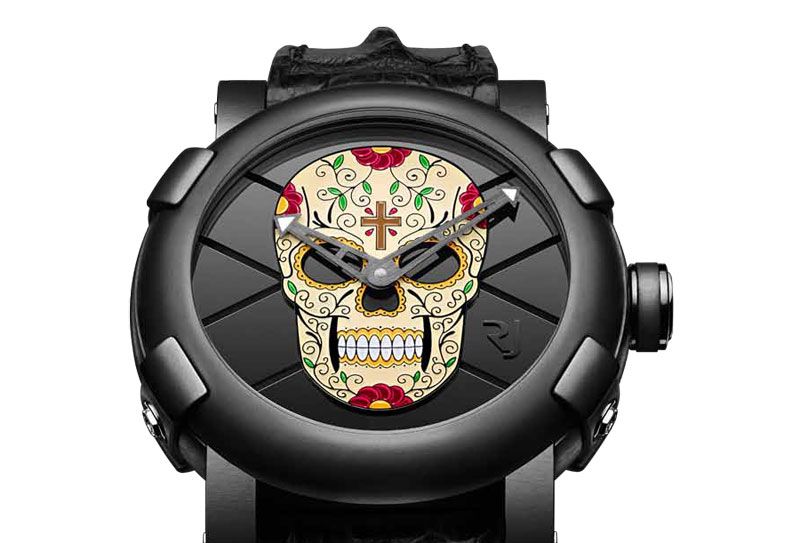 No, death itself has never been a part of watchmaking history if you ask me. But celebrating death is not as uncommon as it might seem at first glance. Many cultures have festivities, rituals, or holidays surrounding death. The most famous and probably widest spread celebration regarding death is the Diá de los Muertos. This festival is part of the Mexican culture, but is celebrated throughout most of the Spanish-speaking parts of this world.
Diá de los Muertos finds it origin some 3,500 years ago, in Aztec culture. Family and friends were found gathering around the graves of deceased to honor them by singing, dancing, and place offerings to fulfill the needs they might have in the afterlife. They worshipped the ancient goddess of Mictecacihuatl, queen of Mictlan, the underworld. She and her husband Mictlantecuthli are believed to guard the bones of the dead. That must look good on someone's resumé right?
With the arrival of the Spanish colonialists, the celebration blended with catholic's All Saints Day celebrated at the beginning of November. Since 2003 Diá de los Muertos, or Day of the Dead, is part of UNESCO's "Intangible Cultural Heritage of Humanity". Nowadays, Mexicans take part in the festivities, laughing at the face of death with a certain irony and humor. It's about colorful decorations, music, singing & dancing, sweets and Tequila, as opposed to grieving, dark clothing, tears and all-round sadness.
Ofrendas remembering the deceased are set up, like shrines. Back in the Aztec-days next of kin used real skulls, or calavera's in Spanish, for these altar to the deceased. Over time, traditions changed into a slightly less macabre way to honor their family members. The real calavera's have morphed into things like sugary-sweets and small figurines known as Catrina's. I think they look quite intriguing, a long slender female skeleton statue with a colorful dress, an eerie smile, usually holding a bouquet of flowers.
Now, let's take a look at the watch Romain Jerome created to celebrate this Diá de los Muertos. Like the Liberty-DNA, it is housed in an all too familiar but striking looking case. The paws grabbing on to the black ceramic bezel are ever present as well as the X-lines across the dial. Giving the case a black PVD-coating does change the look in a significant way though.
The 46mm wide case houses the RJ001-A movement, which is ETA/Valjoux clone by either La Joux Perret or Concepto. This movement only indicates hours and minutes. The two hands are the familiar RJ-hands which are black satin brushed with applied SuperLuminova that shines blue in the dark.
42 Hours of power reserve, 3 atm of water resistance are pretty much standard. Maybe the movement is fairly straight-forward, however the focus here is mainly on the big colorful skull slapped onto the dial. This is again not a watch for the inconspicuous one, but I feel that none of RJ's creations are.
The appliqué of the skull is adorned with a floral design, done in enamel. It resembles the masks worn in some parts of Mexico during the festivities. The decoration is applied in seven colors, in coherence with the seven stages a soul has to go through upon leaving ones mortal remains, and finding peace. The mirror polished black dial also features an engraving of the RJ-logo.
The RJ Diá de los Muertos comes in two different versions, one with a cross on the forehead of the skull and one without. Seems reasonable, not everyone wanting to celebrate death through their wristwatch might be into the religious expression of a cross. Both versions will be available in a limited production run of 25 pieces each, and will be supplied on a black leather, hornback strap.
Want one? Just drop of € 12,900 Euro or $ 15,900 USD (at a Romain Jérôme dealer) and you can claim to have tamed death and thus "made it a playmate" according to RJ.
For more information about the Romain Jérôme Diá de los Muertos, please visit the website of Romain Jerome or their Facebook-page.
This aricle is written by Robin Nooij, contributing writer for Monochrome Watches.
https://monochrome-watches.com/romain-jerome-dia-de-los-muertos/