Pre-SIHH 2015: Jaeger-LeCoultre Master Calendar Meteorite dial (specs and price)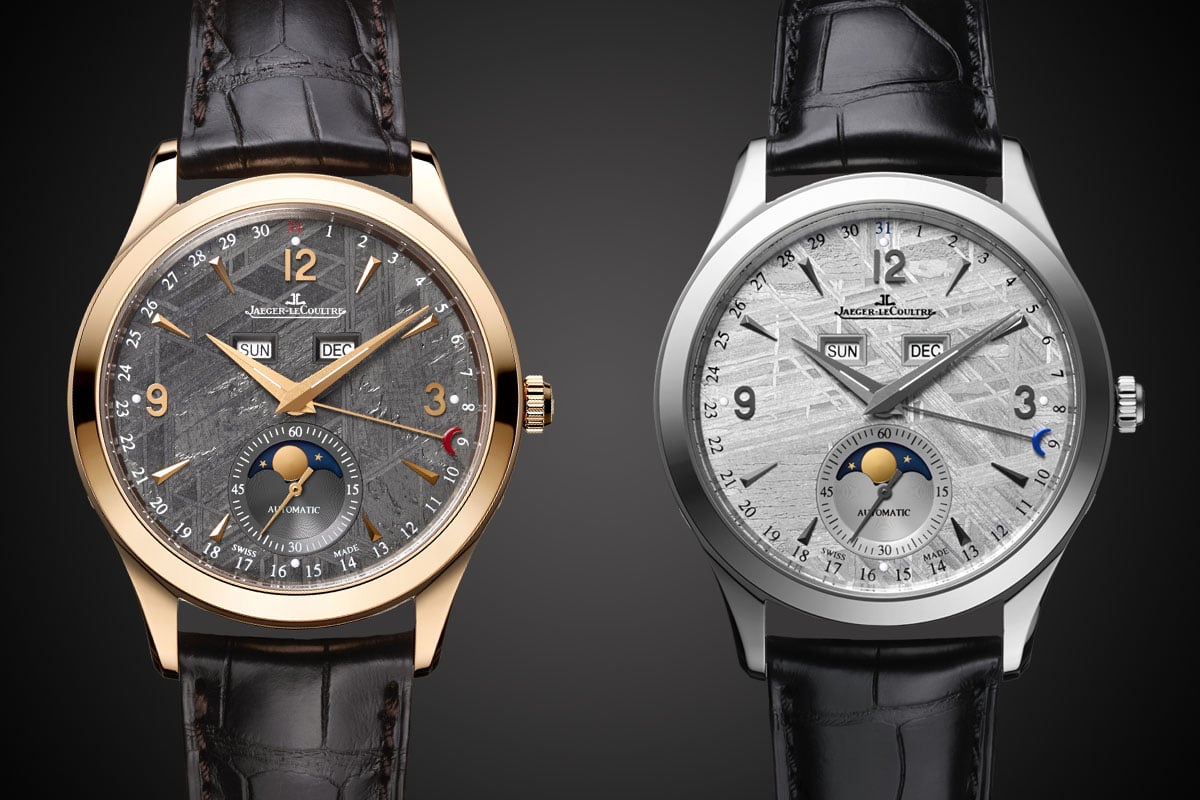 The Jaeger-LeCoultre Master Calendar isn't actually a new watch in the catalog. It first appeared during the 2013 edition of the SIHH (the Geneva watch fair that will take place in January). It uses a very classical display and a very restrained design. So, how to give a new attraction to an already known model and bring some freshness? By introducing new dials! And the ones that Jaeger-LeCoultre chose to release are pretty interesting. Welcome the Jaeger-LeCoultre Master Calendar Meteorite dial.
The Jaeger-LeCoultre Master Calendar is an appealing but very classical dress watch, with its round case, slim profile and extremely balanced design. Everything here is made to be discreet, elegant but efficient. It brings back an old layout, used in the 1950s and 1960s, a specific way to display a complete calendar: date on the external part of the dial (indicated by a hand), day and month discreetly displayed in apertures at 12 for a high legibility and moon-phases at 6. Clear and practical, this complete calendar gives all the required indications. Just keep in mind that it is a simple calendar, not a perpetual or annual calendar, that won't take into account the months with 30 or 31 (neither the 28 days of February or the leap years). Thus, it will require a correction every two months. However, it remains a very functional complication for a reasonable price level.
The main novelty for the SIHH 2015 are those new dials made of an unusual material: meteorite, a rare and extremely old material. Meteorite has this unique appeal due to its origins – million years old non-terrestrial stones coming from falling stars – and due its very specific crystalline structure. The one used for the Jaeger-LeCoultre Master Calendar Meteorite comes from an Asteroid Belt located between Mars and Jupiter and collected on the Swedish ground.
Once prepared, this stone has to be cut in thin plates to create dials – do keep in mind that meteorite is both extremely hard and fragile to prepare – and then polished to reveal its structure, which is unique to every dial. According to the edition, it presents a light grey or anthracite color. On the top of it are applied silvery or gilded indexes which match the hands.
The Jaeger-LeCoultre Master Calendar Meteorite comes with an elegant 39mm case made of stainless steel or 18k pink gold, fully mirror polished and reasonably thin – 10.6mm. It has two sapphire crystal, including one on the back to admire the movement, the Calibre 866. It is a self-winding engine, with 43 hours of power reserve, made in-house. It shows a clean and pleasant finish, with Geneva stripes, blued screws, bevelled angles and a gold insert on the rotor.
The Jaeger-LeCoultre Master Calendar Meteorite is a nice addition to the Master catalog, using a rare material – only a few watches, including the Rolex Daytona and Omega Speedmaster, are using it. Prices will be officially released during the 2015 edition of the SIHH but the normal versions, with silvery dial in stainless steel or 18k pink gold are respectively priced at 8,800 Euros and 19,700 Euros. With this meteorite dial, we should expect prices around 10,500 Euros in steel and 21,500 Euros in 18k gold.
More to discover on Jaeger-LeCoultre.
https://monochrome-watches.com/pre-sihh-2015-jaeger-lecoultre-master-calendar-meteorite-dial-specs-price/