Does Piaget set a trend with the Altiplano Only Watch 2011
Every two years an exceptional event takes place at the Monaco Yacht Show. Unique watches made by premier watchmakers especially for this event are being auctioned. This event does not only give connoisseurs and collectors the opportunity to acquire a so called Piece unique, but also helps in the battle against Duchenne Muscular Dystrophy because all proceeds from the auction are going towards research to fight this horrible disease.
Piaget has supported this cause by donating a watch for the three previous auctions but comes this time with something quite extraordinary and a potentially very significant watch; an Altiplano Skeleton. In itself, it is a very desirable dress watch, which combines Piaget's iconic expertise in the field of ultra slim movements with the art of skeleton movements. For this auction, Piaget made the watch a piece unique by applying a black PVD treatment for both the case as well as the movement.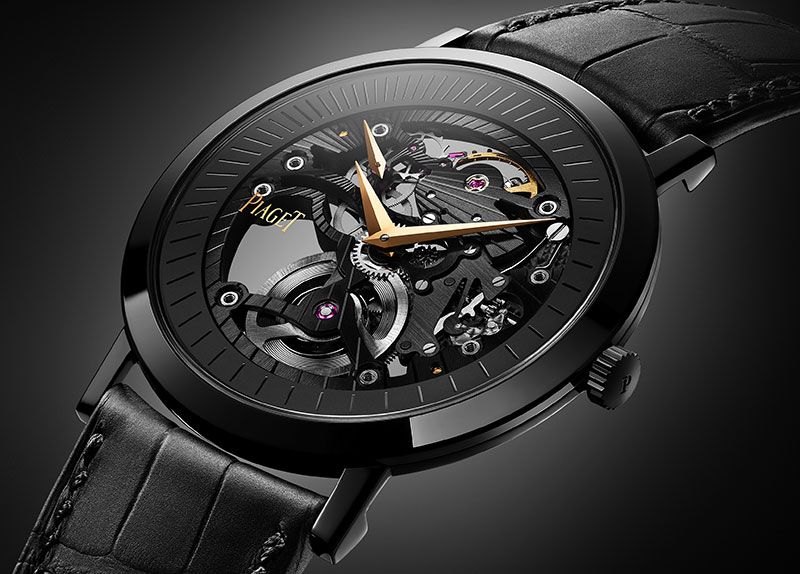 By itself, this is not very exciting. PVD treatments are quite trendy these days and most brands offer at least one model with this type of treatment in their catalogue. However, these are usually big, bulky sports watches. Dressier models with PVD treatment can be found in the catalogues of for example deGrisogono, but even there they are a far cry from the traditional, ultra slim dress watch. Basically we can credit Piaget with this Altiplano to be the first true, dress watch with a full PVD treatment.
The question is; will this be the start of a new trend or will this Piaget continue to stay as it was intended, a Piece Unique? Classic dress watches like the Altiplano are usually bought for their sense of understatement. With the PVD treatment, this understatement will be even more significant because now also the precious metal case goes hidden under a matted black layer.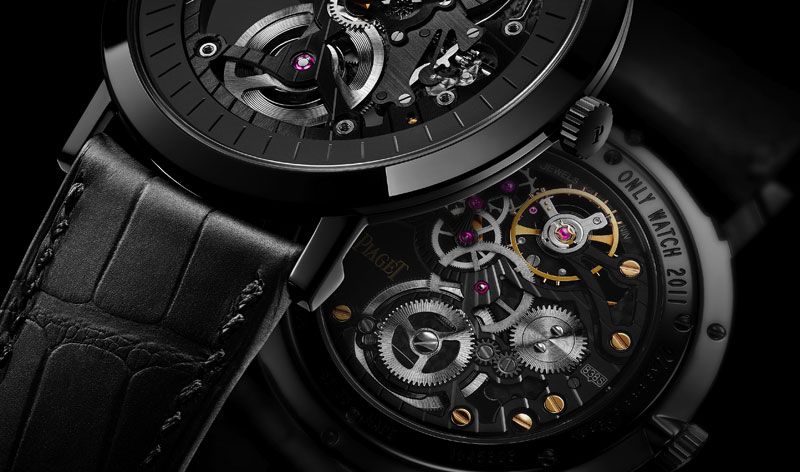 As an ultra-thin watch, a PVD treated Altiplano with a matted black dial and gold hands might be a beautiful addition to Piaget's current collection. Moreover, why should the brand stop there and not go for the ultimate understatement and unite several areas of expertise in one watch? Caliber 838P, the 2.7mm thin manual wind movement that Piaget uses in the Only Watch 2011 is also available in a non-PVD. Besides the 'normal' version, Piaget also has an entirely 'iced' version of caliber 838P in the Piaget Altiplano Gem-Set Skeleton.
It will be very interesting to see if this Piaget will indeed be the first of more, whether this will be the beginning of a wide trend or the opening of a small niche in the world of (ultra slim) dress watches.
Piaget's possible pioneering Altiplano will go up for auction at the Hôtel Hermitage, on September 23th 2011 in Monaco.
https://monochrome-watches.com/piaget-altiplano-only-watch-2011/