Panerai LAB-ID PAM700 – Pure Concentrate of Technology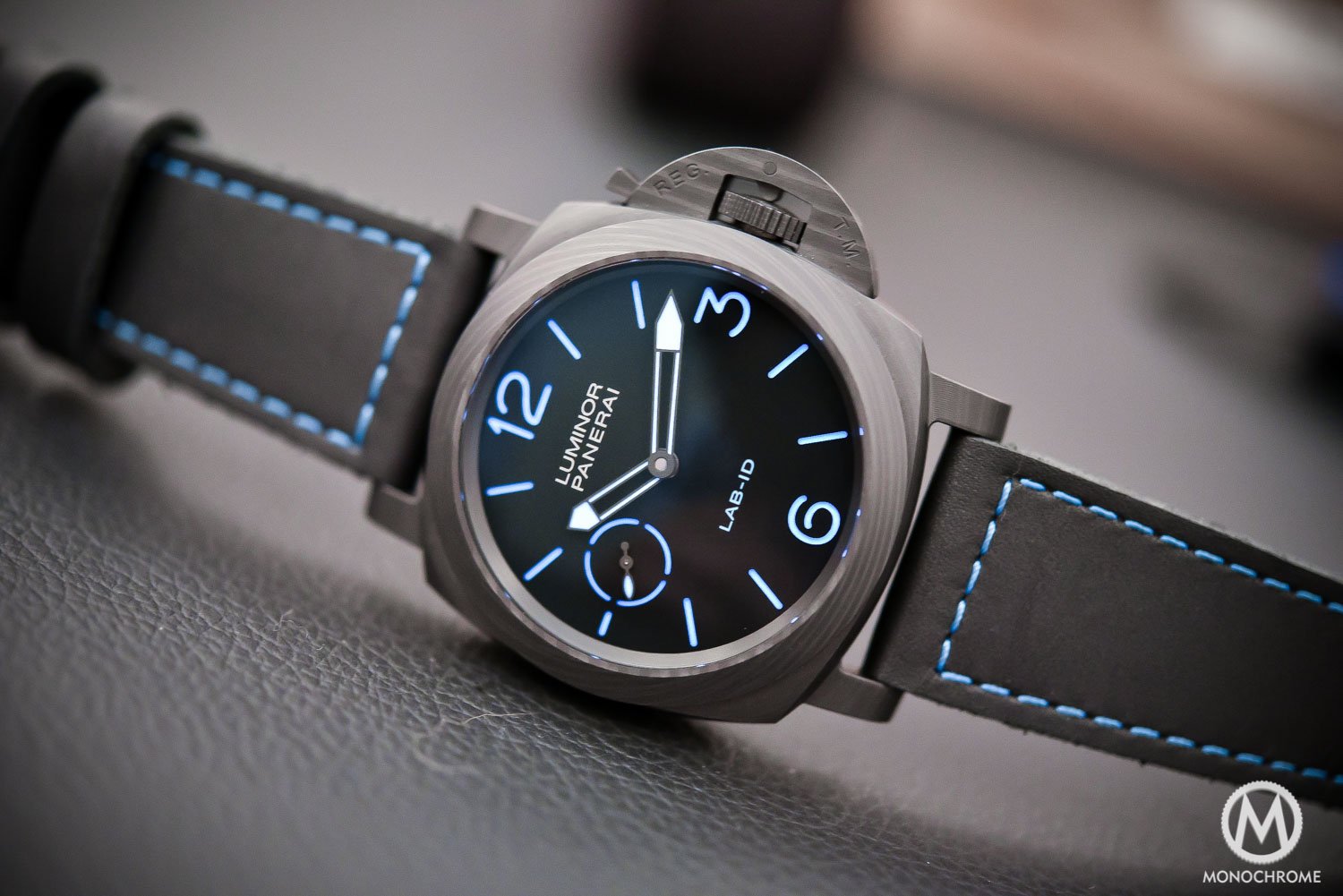 A common cliché is to let engineering and innovation in the hands of Germans / Swiss and design to Italians. Justified or not, you probably heard that dozens of times. Yet, for once, we'll let Italians their chance to show their skills in terms of innovation… And to be honest, they might have something here. Indeed, the new Panerai LAB-ID PAM700, presented at the SIHH 2017, is simply a concentrate of Panerai's technology. 50 years warranty, self-lubricated parts, almost no jewels in the movement, carbon everywhere. See, Italians can also jump into technology.
OK, this intro was kind of ironic, because, it has to be said, Panerai watches are mostly developed and manufactured in Neuchâtel, Switzerland. Yet, this doesn't remove anything to the interest behind this watch, a piece that sums up everything the Florentine brand can do best in terms of technology and movement design. Clearly, the teams of Panerai are both proud and extremely confident in this new concept. Listen to that: they advertise this watch as guaranteed for 50 years. This is 10 times more than the best deals you can usually find in the industry. Or the concept is really perfectly achieved and reliable, or they will have a few after-sales issues. That is a question we just can't answer now. Time will tell, and we wish time will make Panerai right.
As said, the Panerai LAB-ID is a summary of all the research and development done by the brand, merged in a single watch. Case construction, materials, use of space-like technologies, redefinition of the concept of frictions and lubrication, reduction of the numbers of jewels to what is usually found in a quartz watch, innovating coatings everywhere… On paper, this PAM700 could simply kill the idea of servicing a watch. Sounds promising. The main reason why a watch has to be serviced is because a traditional movement relies on lubricants placed on frictions points. Yes, there are frictions in a watch and because oils and greases will age, they need to be replaced otherwise you create wear on moving parts and axles of bridges and plates. Basically, Panerai gets rid of the maintenance by avoiding the need of lubricants. Yes, nice, highly interesting, but how?
To avoid the need of lubricants, Panerai introduces on the LAB-ID PAM700 some new bridges and plates manufactured in a low friction composite which integrates a Tantalum based ceramic. This new generation of composite is notable for its high percentage of carbon which minimises pivot friction. If this means that no additional lubricants are required, it doesn't mean that lubrication is not needed anymore. However, this is done directly by the material of the bridges and its inherent properties, not by an additional substance that will need to be change. And that also mean that jewels, which are used on friction points, are not required anymore either. This is why this Panerai LAB-ID PAM700 only has 4 jewels – and 2 of them, on each side of the balance pivot, are coated with DLC, avoiding the need to lubricate the Incabloc anti-shock device.
Then, there's the escapement, the most crucial part of a watch, as the one making the most efforts (here oscillating 3 times per seconds). No lubricants here either. The escape wheel is silicon, coated with DLC, and all the other parts of the regulating organ are also manufacture in silicon (which means antimagnetic properties on top of that). Finally, the two spring barrels have a multi-layer coating, the uppermost one being DLC (Diamond-Like Carbon), and thus being dry lubricated. All of that create a watch that, on paper, won't require to be opened as no oils will need to be changed. The base movement yet is know, as it is the 3-day power reserve, manually-wound P.3001. Being a non-traditional movement, don't expect manual finishing on the bridges and plate, yet the wheels and moving parts are traditionally decorated.
Then, for its Panerai LAB-ID PAM700, the brand also applied technologies on the case and the dial. The 49mm case is manufactured from carbon fiber, with CARBOTECH technology – a composite material obtained from very thin sheets of carbon fibre compressed together with a special polymer at a controlled temperature. This technique makes each case different from all others, with unique patterns. Carbotech is lightweight, hypo-allergenic and not subject to corrosion. If this watch remains a large piece on the wrist (you can't avoid the 49mm), it wears incredibly light and comfortable.
Last innovations concern the dial. In order to obtain a pitch black color, avoiding reflections and maximizing contrast, Panerai has created a dial that is coated with carbon nanotubes. The result is indeed a insanely black dial, with a velvety finish, which reflects almost no light. Contrast with the blue luminescent hands and indexes (with the usual sandwich dial construction) is perfect. One thing that might be good to invest research in would be the antireflective coating on the crystal, as the light reflections on it actually ruin a bit the effect of that pitch black dial. On top of that, usability at night time is impressive, with a luminous light that is both bright and long-lasting.
Overall, the Panerai LAB-ID PAM700 is an impressive laboratory watch, which could easily prefigure the future of watches and movement durability. If these technologies prove to be not only true on paper but in the reality of a daily use and if the watch really prove to be reliable over the years, these innovations could well be seen later, in more conventionally produced watches. The Panerai LAB-ID PAM700 will come with a 50 year warranty, at a price of 50,000 Euro and in 50 pieces only. The rule of 50… panerai.com.
---
Specifications of the Panerai LAB-ID
Case: 49mm – Carbotech case, carbon fibers with a special polymer – sapphire crystal on both faces – 100m water resistant
Movement: P.3001/C calibre, in-house – manual winding – 3-day power reserve – 3Hz frequency – hours, minutes, small seconds, power reserve on the back side – self-lubricated bridges and plates, no services required, 4 jewels only, 50 year warranty
Strap: black calf-skin leather with blue stitchings
Reference PAM00700 – 50 pieces
Price: 50,000 Euro
https://monochrome-watches.com/panerai-lab-id-pam00700-review-price/