Oris unveils the Aquis Depth Gauge
Oris just unveiled something remarkable, a mechanical dive watch with depth gauge for a retail price of just € 2.600 Euro! Compared to the few other mechanical watches with a depth gauge, this is spectacular.
I must admit that Oris didn't get much attention here at Monochrome. That is because we usually focus on much more high-end timepieces. I say usually, because when there's something very special to share with you, that's exactly what I do. And the new Oris Aquis Depth Gauge is exactly that, very special!
Oris is well-known for making very friendly priced diving watches, something they have been doing for quite some time now. Oris uses reliable ETA movements and will take care for the reliable, rugged case and bracelet themselves. Maybe no Haute Horlogerie, but definitely a great bang for the buck!
In their press release Oris states they have produced the first divers watch which measures depth by allowing water to enter the timepiece. Actually the first watch that allowed water to come into the case, in order to measure diving depths, was the IWC Deep One. Of course the water ran into a tube and didn't stream between the gears and pinions. Oris's construction is different, more simple, but very effective.
Oris' engineers have applied the Boyle Mariotte Law to the patented Oris Aquis Depth Gauge. The special sapphire crystal is 50% thicker than an average top glass and features a channel milled into the side. This channel runs anti-clockwise round the dial, stopping between one and two o'clock. At 12 o'clock, a inlet leads to this channel. The join between the crystal and the case is sealed by a rubber gasket.
On descent, the air inside the channel is compressed by the surrounding water pressure, allowing water to enter through the inlet at 12 o'clock. The transition between light grey and dark grey, marks the depth. It differentiates between water and compressed air on the scale around the outside of the dial, indicating depth while descending or ascending.
This means it will only indicate the actual dive depth and does not have a hand to indicate the deepest depth reached during a dive. On the other hand, this indicator benefits from no inertia, not delaying the accurate and actual depth indication, which is particularly useful in decompression breaks in lesser depths!
It might seem like a very simple and logical solution, but don't underestimate the difficulty of this solution. The crystal must be über-tight fixed in the case and margins to let water, with massive pressure, enter the channel around the crystal and not leak into the case.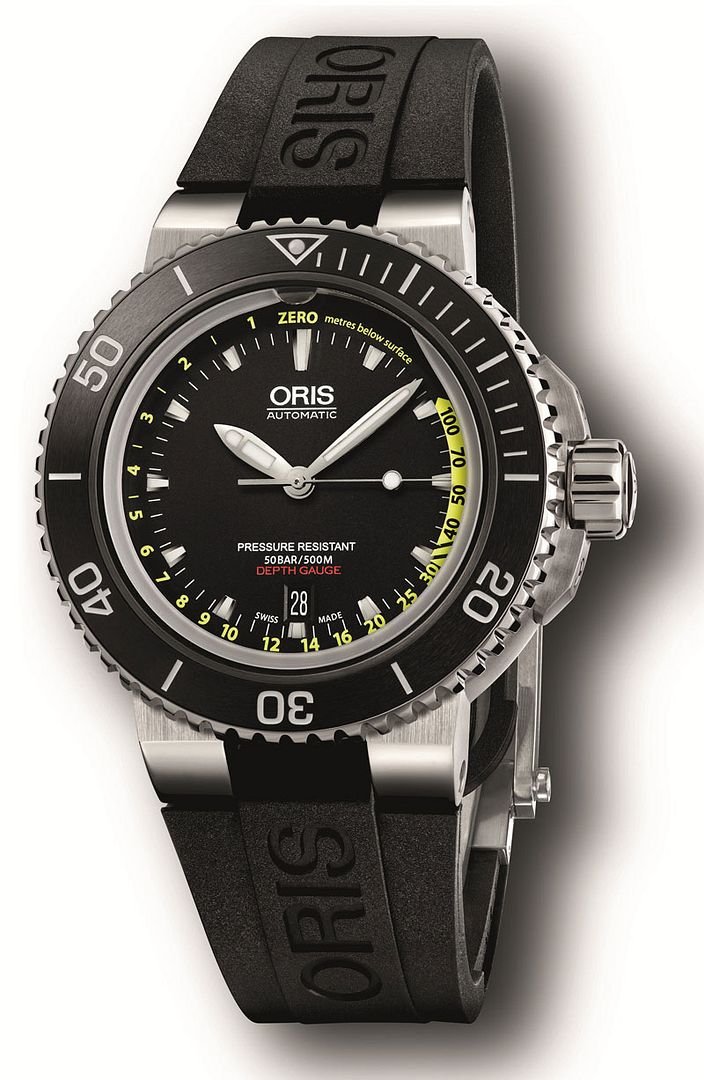 Also important info: the stainless steel case measures 46 mm in diameter and can be taken down to 500 meters. The depth gauge indicates to a depth of 100 meters, but that's much deeper then I will ever submerge in a dive suit. Like a true dive watch it features a unidirectional dive bezel with black ceramic inlay.
Oris Aquis Depth Gauge
Ref. No. 733 7675 4154 Set, Ø 46.00mm
Automatic Oris movement 733 with date window at 6 o'clock
Stainless steel case, water-resistant to 50 bar/500 metres
Unidirectional revolving top ring with black ceramic inlay and minute scale
Sapphire crystal, domed and antireflection coated on both sides, features a milled channel for depth gauging and a yellow metre scale
Rubber strap and metal bracelet as alternative
Set includes waterproof case, separate metal bracelet and tools
Retail Price CHF 3,500 or € 2.600
Check out the new Oris Aquis Depth Gauge and other pieces at the Oris website here.
This article is written by Frank Geelen, executive editor for Monochrome Watches.
https://monochrome-watches.com/oris-unveils-the-aquis-depth-gauge/