Hands-on
Oris Roberto Clemente Limited Edition
A truly handsome edition of the Big Crown Pointer Date, made for a humanitarian cause.
For some years now, Oris has committed to becoming a watchmaker that can "Change for the Better" (the brand's new motto). In addition to create some rather cool and fairly-priced watches, the brand is also greatly involved in charity, with multiple non-profit organisations and foundations to help save the planet and the oceans (among other things). Think Carysfort Reef Limited Edition, the Ocean Trilogy or the Aquis Lake Baikal. Recently, Oris announced a new partnership with the Roberto Clemente Foundation, a humanitarian organisation named in honour of baseball player Roberto Clemente. And linked to this, there's a watch, and a pretty nice one! Let's have a closer look at the Oris Roberto Clemente Limited Edition.
Roberto Clemente
Roberto Clemente, born in Puerto Rico in 1934, he is known as one of the greatest baseball players in the history of the game. He played 18 seasons in Major League Baseball (MLB) for the Pittsburgh Pirates. He won two World Series with this team. He was inducted into the National Baseball Hall of Fame in 1973 (posthumously), becoming both the first Latin American and Caribbean player to be enshrined. Clemente was an All-Star for 13 seasons. He would eventually reach 3,000 hits with the last hit of his career in September 1972, making him the first Latin American player to reach the mark. Altogether, Clemente has gained the status of baseball legend. But this isn't all you should know about him…
On December 23, 1972, Nicaragua was hit by a 6.3 magnitude earthquake, leaving as many as 11,000 people dead and 300,000 without a home. Clemente, who had been involved in community work throughout his career, sent aid, but discovered his shipments had gone missing in the chaos, almost certainly diverted by corrupt local officials. He insisted on accompanying the next shipment to make sure it reached the people who needed it most, and on December 31, he boarded a plane. It would never reach its destination. Roberto Clemente died, serving others, aged just 38. The plane crashed into the sea and his body was never found.
In 1993, the Roberto Clemente Foundation was established with a mission to "Build Nations of Good". Headed by his widow Vera and now his son Luis Clemente, it continues his proud legacy of bringing real change. This is a non-profit organisation incorporated in Puerto Rico, whose "purpose is to develop tomorrow's leaders through education, sports and service leadership. We encourage students to become goodwill ambassadors in their communities," says Luis Clemente.
On September 9, 2020 – which coincides with Roberto Clemente Day – Oris has unveiled the Roberto Clemente Limited Edition, as a tribute to this great man.
The Oris Roberto Clemente Limited Edition
If the Roberto Clemente Limited Edition feels familiar, it's entirely normal. It is indeed based on the Big Crown Pointer Date model, which has been seen already in multiple editions, such as the desirable bronze version or this original Oxblood model. Clearly, we're in known territories here, however, Oris has given this model a very attractive new colour scheme – which includes a new dial and a purpose-built strap – that has been inspired by baseball in general, as well as Clemente's outfit when playing for the Pirates.
Case-wise, no major evolution to be noted. The Oris Roberto Clemente relies on the larger version of the Big Crown Pointer Date, with its 40mm case. Made of stainless steel, it shows a brushed finishing on the top surfaces and is polished on the sides. The bezel retains its signature fluted profile, which suits well the overall design and brings some originality to this watch. The case is relatively compact, with curved lugs, and the thickness – about 12mm – is never an issue. The overall execution is that of a high-quality watch, with a pleasant weight on the wrist.
The crown, as the name suggests, is oversized – explained by the fact that this collection is inspired by vintage pilot's models. It screws in, and with the screwed caseback, it provides a 50m water-resistance. On top sits a slightly domed sapphire crystal that provides slight reflections and distortions, only adding to the charm of this edition. On my 16.5cm wrist, the watch had a certain presence, yet remained comfortable. I would have liked a 36mm option to be added to the collection too, however, this Oris Roberto Clemente will remain only available in the larger case.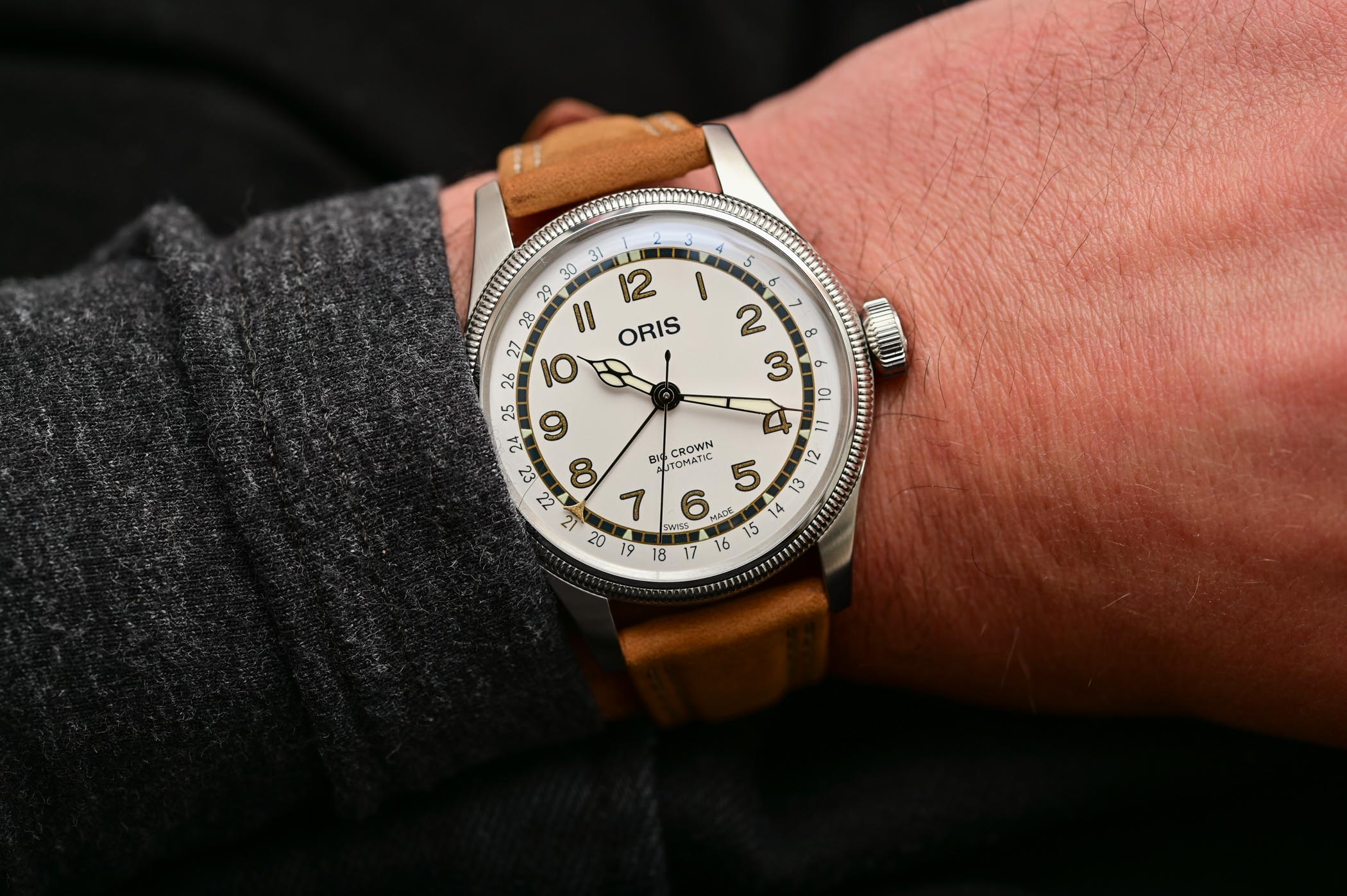 Greatly participating in the look of this limited edition, the strap! Made of light brown leather with suede texture, it features a double white stitching inspired by a baseball glove. Not only it makes sense in the overall context, as it feels appropriate and not exaggerated, as seen sometimes in sports-inspired watches, but it simply looks and feels great. Supple, soft and warm, it really adds to the desirability of the watch. The strap is equipped with quick-release spring bars, allowing to quickly remove it. The box also includes a black, gold and white NATO strap, here inspired by Clemente's jersey. A strap-changing too is also included.
The main unique feature for this Clemente edition is the dial – a handsome dial, to be honest. Usually, Oris Big Crown Pointer Date watches are presented in dark tones – black, brown, blue, green or red. Here, the brand has decided to rely on Clemente's uniform to create a light dial. The base is silvery-white, with a discreet texture for a matte effect. All the attributes of the standard Big Crown watches are still present, with equal fonts, tracks and numerals, however, all have been re-coloured.
Just like Clemente's jersey – white background with black contrasting elements outlined in yellow/gold – the dial has been treated with a black railroad minute track. In addition to that, this track is outlined in gold, a colour also found in the Arabic numerals, at the tip of the date hand and, a reference to Clemente's number, on the 21st day of the month. Note that the gold/glitter effect you can see on the numerals is here drastically emphasized by the macro photos. It is actually far more discreet on the wrist.
The rest of the elements are known, such as the display with a peripheral date – a solution that is often more elegant than a date window – or the cathedral hands filled with Super-LumiNova. Some lume is also applied next to the hour numerals, in the railroad track, for decent nighttime legibility.
Under a caseback embossed with an image of Roberto Clemente and with the unique number of the watch, is a robust automatic movement, Calibre Oris 754. Based on a Sellita SW 200-1, it has been modified to display the pointer date. It runs at a 4Hz frequency and delivers 38 hours of energy.
Price and availability
The Oris Oris Roberto Clemente Limited Edition Big Crown Pointer Date (ref. 754 7741 4081-Set) is a limited edition of 3,000 pieces, which is now available at retailers. It is priced at EUR 1,800 or CHF 1,850.
More details at oris.ch.
https://monochrome-watches.com/oris-roberto-clemente-limited-edition-review-price/