Introducing
Oris Big Crown Bronze Pointer Date 40mm
Oris wraps its signature watch in a warm full-bronze attire.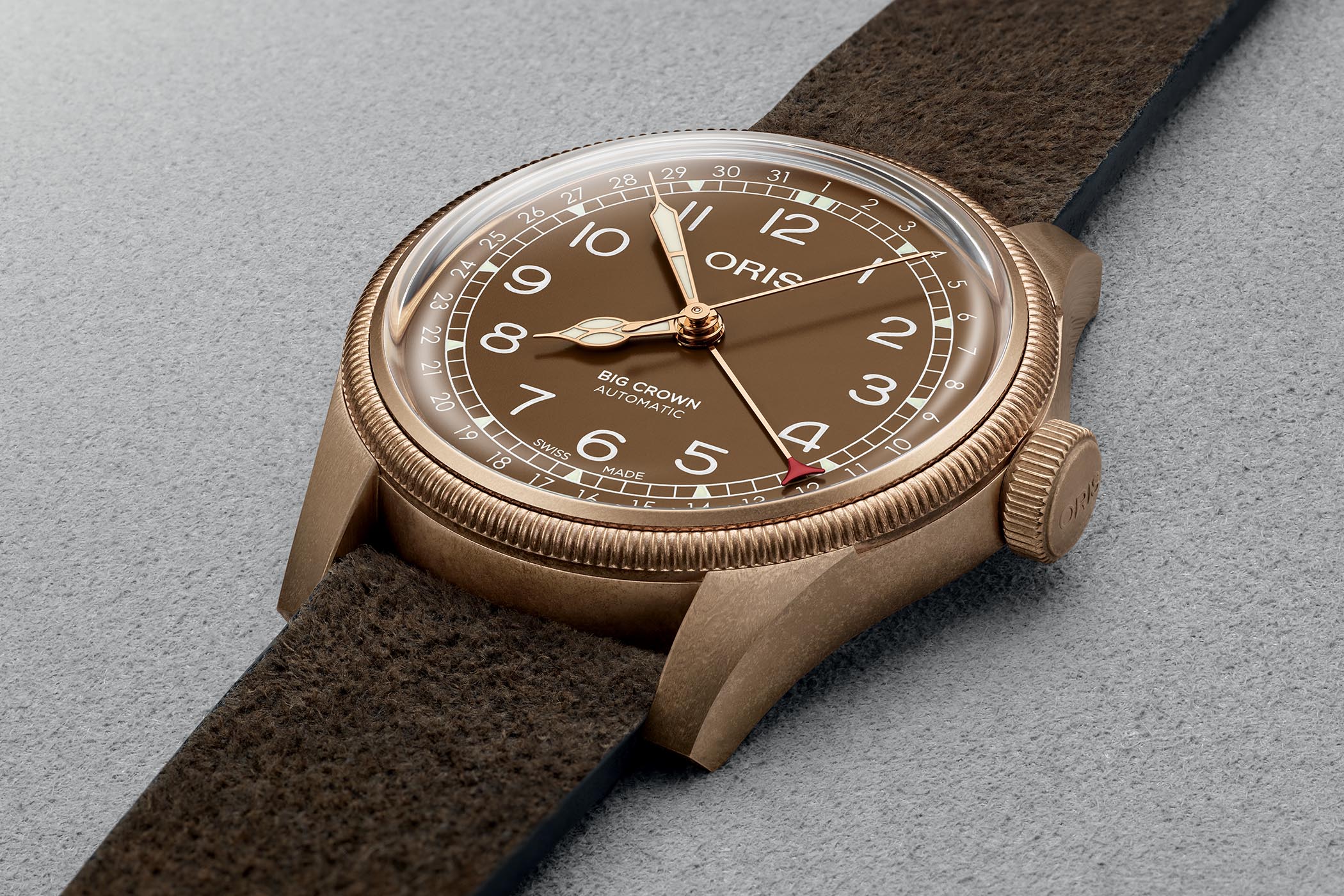 If you're into watches, the Oris Big Crown Pointer Date should be no stranger to you. In a few years, this watch has become the signature element of the pilot-oriented Big Crown collection, with its nice vintage design and practical function. Still, this apparently simple watch has a lot to tell, as it is far from a new design, and second, it actually helped to make Oris what it is today. After multiple editions in steel or in bronze, Oris presents a new Big Crown Bronze Pointer Date 40mm, with its typically patinated case and now a matching bronze dial. Overview.
History of the Big Crown Pointer Date
Oris has a well-documented history in the world of aviation, having made its first pilot's pocket watch in the early 1910s. This was followed by the company's first pilot's wristwatch in 1917, a watch that could only be adjusted when a button above the crown was activated – something featured on the 2017 re-edition. Eventually came the creation of the Oris Big Crown Pointer Date in 1938, which, as the name suggests, featured an oversized crown so that gloved airmen could adjust their watches quickly and easily, as well as a date by hand displayed on a peripheral track – back then, the concept of the date in a window didn't exist yet.
The design of the 1938 was simple, logical and purpose-built: in addition to the already mentioned oversized crown to be manipulated with pilot's gloves (it's apparently quite cold up in the sky), the watch featured large Arabic numerals for legibility and a central hand with a pointer tip that indicated the date. Some edition (not the one above) featured a fluted, grippy bezel. And there you have the base for the re-edited models, which celebrated the 80th anniversary of this important watch.
Fast forward to the 1980s… 1982 to be precise, with Dr Rolf Portmann, today Oris' Honorary Chairman. Dr Portmann started his career at Oris in 1956, but not with the intention of pursuing a career in the watch industry: "I was promoted to become executive secretary. Mostly, that meant working in manufacturing, human resources and property management." When Oris was sold to General Watch, part of the ASUAG Group in 1971, Dr Rolf Portmann became managing director of Oris. But, due to political unrest, Swiss Franc fluctuations and mostly, the arrival of quartz watches, Swiss watchmaking was facing hard times. After restructuring, ASUAG planned to close Oris down. But in 1982, they gave Portmann the chance to take over Oris, with its sales administration, inventory and production facilities. And by the mid-1980s, the decision was made to produce only mechanical watches – a strange decision back then, which might have saved Oris after all.
One of the first models part of this resurgence of mechanical watchmaking for Oris was a watch with a fluted bezel, a large crown and date indicated by hand… The Big Crown Pointer Date was back on track and quickly become a signature watch for the brand.
In 2018, Oris decided to bring back this model and introduced a new series of watches, with a more vintage design and multiple references to the original model. Available in 36mm or 40mm, in steel, in bronze or in a combination of both materials, with blue, burgundy, light green or classic black dial, it is now one of the brand's cornerstones again. And today, there's a new model to be introduced.
The new Oris Big Crown Bronze Pointer Date
With this new model, the recipe remains practically unchanged technically and in terms of proportions and design. This new bronze edition sticks to the case, display and movement found in this steel-on-oxblood red version we reviewed earlier this year, yet it introduces new materials and colours all around.
The base for this new Oris Big Crown Bronze Pointer Date is the 40mm diameter case, still with its oversized crown, its mostly matte surfaces and its large dial opening surrounded by a fixed and fluted concave bezel, which is not polished here. The novelty comes from the material: a solid bronze case.
While Oris already had a bronze 36mm edition last year, it is the first time the 40mm version is made in this material. But on the contrary to the smaller edition, this new Oris Big Crown Bronze Pointer Date shows some differences. The solid bronze case is chemically treated and coated with a transparent matte lacquer to create a unique finish for every piece. The idea here isn't to have a watch full of green patina, but something more stable. The choice of this material "symbolises Oris' industrial philosophy and the eternal value of a Swiss Made mechanical watch. A material that over time will patinate so it comes to tell its own story, to celebrate the role the Big Crown Pointer Date has played in Oris' history".
The other novelty on this Big Crown Bronze Pointer Date is the dial, which is also made of bronze, to match the case. The cathedral hands are kept and done in gold colour, resulting in a warm, almost monochromatic watch. The basics of the Pointer Date are, of course, still present, with the date track on the periphery and a central hand with a crescent red pointer to indicate the day.
Inside this Oris Big Crown Bronze Pointer Date is the classic Calibre 754, based on the Sellita SW-200, modified to accommodate with the central date indication. It runs at 28,800vph and offers 38h of power reserve. It is visible through a sapphire caseback and features the trademark red rotor.
The watch is worn on a brown chamois deer leather with a bronze pin buckle – another exotic material with a cool texture.
The Oris Big Crown Bronze Pointer Date (reference 01 754 7741 3166-07 5 20 74BR) is not limited in production. It is now available at retailers and on the Oris' website. It is priced at EUR 1,800 or CHF 1,900. More details at oris.ch.
https://monochrome-watches.com/oris-big-crown-bronze-pointer-date-40mm-bronze-dial-introducing-price/